Friday, November 30, 2007


CAMOUFLASH
an international artists meeting
and exhibition.


October 2007, Lodz, Poland.
Patio Art Center, The Academy of Humanities and Economics

http://www.patio.art.pl/_camouflash_eng.htm
Organized by

Mariusz

Soltysik

and Aurelia

Mandziuk



coordinators: Agata

Nowicka

, Mał

gorzata

Nowak


Correspondent: artist Erika Knerr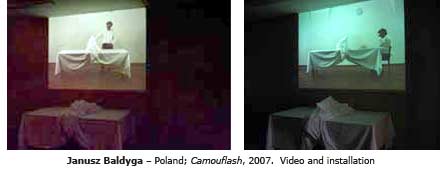 I have been intrigued by the city of Lodz, Poland for many years. In 1993, I was introduced to Construction in Process and the International Artist Museum in Lodz, while putting together an issue of

New Observations

Magazine that was guest edited by Suzy

Sureck

, about the

CIP

V event called "My Home is Your Home." This was a very fertile time for The International Artists' Museum, Lodz and this idea conceived by

Ryszard

Wasko

in 1981, and formally established as the

IAM

, in 1990. I met

Ryszard

Wasko

in New York in our tiny office in the Cable building at Broadway and Houston Streets. He was at once charismatic and generous in spirit. After going over the issue he said I should come to Sit-

ations

in Cardiff, Wales in 1994, and

hence

began my organic involvement with a remarkable group of artist organizers.

October, 2007 — Fourteen years and many projects later I have finally gone to Lodz. I was invited along with Suzy

Sureck

and Jessica Higgins from New York to participate in

Camouflash

, a media based exhibition curated by

Mariusz

Soltysik

and Aurelia

Mandziuk

.

Mariusz

is an artist, long time member of The International Artist Museum and Construction in Process events and professor of media studies at the Fine Arts Department of The Academy of Humanities and Economics in Lodz. Aurelia is an artist and the Director of the Patio Art Gallery, housed at the Academy, who hosted the

Camouflash

, International Artist's Meeting. Although the event lost some important funding and had to move it's location to another raw building, across the

courtyard

from the gallery offices, because of flooding from severe rain some months before, it came together in the last moments in a wink of brilliance. Projections, video, installations, sculpture, photography and performance were exhibited in a three story building, where each artist had a room for their site specific projects.



The beauty of the "International Artist's Meeting" is this group of artists who have been working together for about 15 years doing site specific events all over the world. The large majority of the artists had worked together in various events before and it is interesting what is happening through time with the international and cultural exchanges between the artists. A continually evolving consciousness is shape shifting over time and feels important to this particular moment in history. The idea behind "

camouflash

"

conceived

by Mr.

Soltysik

boldly yet poetically grasps the critical

dilemma

of contemporary society.

Camouflash

– is a free combination of the word camouflage, which means concealment, disguise, and the word flash which means a spark, moment, short message. The combination of these two words determines the subject of the exhibition, which is the condition of the contemporary man in the context of camouflaging oneself, and concurrently wishing to become known, to shine. This specific schizophrenia is by no means marginal, as proved, e.g. by the various reality shows, some of which attract artists, too.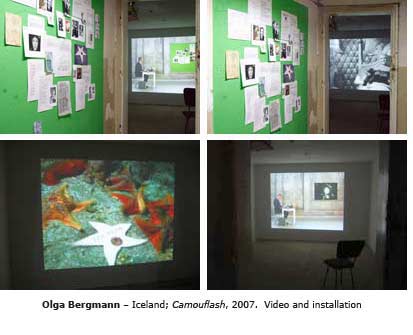 For me coming and going to Lodz was as much about absorbing the many histories there — personal, artistic and political, as it was in making my installation titled "

Atmospirit

," for

Camouflash

. So to stay on task of covering

Camouflash

, we were picked up at the airport in Warsaw by a very gifted and interesting student Ella

Wysakowska

-Walters and her husband Jeremy along with artist Olga

Bergmann

from Iceland. It is about a two and a half hour drive from Warsaw to Lodz. The next artist we met upon arrival at the

WSHE

in Lodz dormitories, where we lodged (about a half hour bus ride to the galleries) was artist Gabriele

Horndasch

who throughout the week was busily working on the streets of Lodz, casting five plaster moldings of different shaped bollards, or short posts outside of building entrances. She was the first artist to arrive almost a week before from Cologne, Germany. She was using Lodz artist

Tomasz

(

Tomek

)

Matuszak

's bicycle which she diligently rode around the city, back and forth to our lodging and all the way to and from

Manufactura's

large hardware supply store bringing many large bags of plaster to

Tomek's

sculpture studio at another art school where he teaches sculpture in town. The studio was generously open for use by the

Camouflash

artists. Gabby had brought along a video projection already created at a residency in South Korea and decided to do a second project upon arrival. She ambitiously chose to work with a plaster casting technique for the first time, with the assistance of

Tomek

. Her working process throughout the week,

buoyant

spirit, the bicycle, and it's fate, are

embedded

in my memory of the event.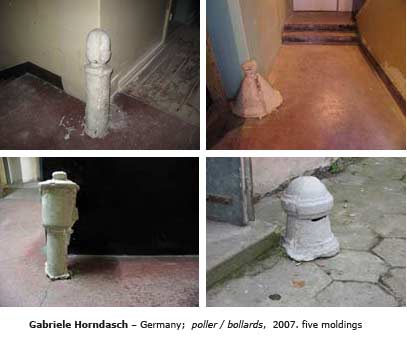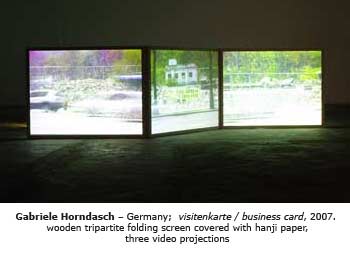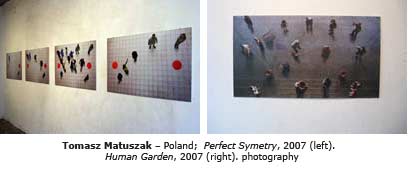 There was a lovely catered opening ceremony event at the The Museum of Cinematography for us, which is housed in the mid-nineteenth century palace residence of one of the most important Lodz industrialists from it's past as a centre of the textile industry. The outside of the building is in contrast to the beautifully elegant, historically restored interiors. Lodz is a lively city of the arts with a long history of cinema and the world famous, Lodz film school. It's been nominated as the Cultural Capital of Europe for 2016. I was told it is not as friendly to visual artists as it is to film and the attentions of Hollywood, and sorts like David Lynch who spends considerable time on projects there, collaborating with some of the artists I spent time with. Here at the museum we met Aurelia, who spoke to the group and all the artists were introduced.

Many of the participants had worked together during the past few years in the "Sense of Place" projects that took place throughout Europe and Iceland in 2005-06. A few artists were not in attendance. Aisling

O'Beirn

, worked on her project "Nicknames" from Ireland with Ella

Wysakowska

-Walters in Lodz who installed it at

Camouflash

.




Two other missing presences were

Charlie Citron

and Richard Thomas, both whom I was disappointed not to see again. Both have actively organized art events in their own countries. Charlie in the

Netherlands

and Richard in Australia. Charlie has organized numerous events, one that I participated in, in 2000, in Utrecht called "Misunderstanding." It was of a similar spirit and scale to

Camouflash

with quite a few of the same artists. For Lodz he presented his GI Joe photo series "Joe Goes Around the World." At the first floor entrance "Yosemite Joe" was projected with the sound track of an Otis Reading song. Upstairs on the third floor "Joe goes to India" played on a TV monitor. Citron has been working on the GI Joe photo series as long as I've known him. We met in 1995 at

CIP

Co-existence in Israel. He also guest edited a great issue of

New Observation

in 1999 call "A Memory Palace;" also an exhibition with the same name that year in Lodz. The "Joe" project becomes more interesting as the US role in the world is collapsing in on itself. Of it he says "I wanted to replay with my childhood puppet on the world stage. As a popular icon Joe personifies a reversal of himself by both revealing and camouflaging his identity within the cultural situations he participates in."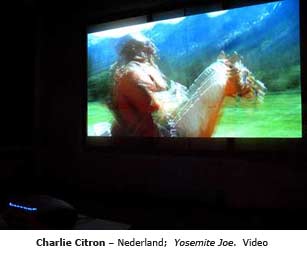 Richard Thomas

hosted "The Bridge" Construction in Process VI, in Melbourne,

AUS

, in 1998. Richard showed the video "Severance" (20

mins

). It was shot in 2004 in Tasmania, Australia during the burning season, when the loggers burn all the forest they have cleared during summer. "The video was made for an environment group 'The Wilderness Society' which is trying to stop the insane destruction of the largest remnant temperate

rain forest

in the world, the

Tarkine

Wilderness area... For me the experience was both stunningly beautiful and horrifying; it was a

camouflash

in that the harmonious integration of the complex natural ecology was periodically shattered by coming across shocking examples of destruction: human instigated ecocide," says Richard Thomas.



Interventionist and provocateur,

Belgian

artist

Eric Van Hove

was introduced to the organizers by Richard Thomas. They had previously worked together at a project in China. Van Hove, who currently lives in Tokyo, Japan, gave a lecture on Tuesday afternoon at the

Akademy

of Humanities and Economics. He showed and spoke about a lot of projects made around the world. Eric works often with

performative

actions that are documented. The documentation becomes the work. One project was in

Okinowa

, Japan, an Island in the south pacific, where 60,000

GIs

are placed. This project particularly caught my attention because my father (who passed away this year) was a medical doctor stationed there in WW II with the 6

th

Marine Division. 350,000 Okinawans fought and died to defend Japan in World War II.

Eric Van

Hove's

project was installed in a vegetable market there. The old women had only cabbages and some vegetable and were burning them at the end of the day. They were widows, whose husbands had died at sea. The idea was to do a sustainable piece. A piece that they would be able to get some profit from in the long run. He built a crate, about the size of a coffin, in the market, near the place they burnt the vegetables at the end of the day. Eric imported 80,000 worms from

Tokyo

and placed them in the wooden box. The liquid from the worms was sold to the florists for

fertilizer

. The manure of earthworms is very good fertilizer and was sold to the farmers. 80,000 worms were $800.00 dollars, so they could also sell the worms, since they double population every month and a half. This was the ecological, sustainable and educational part of the project. Second faze. The constitution of Japan was written by the US. Okinawa was under US soil until 1980. There is much anger toward the constitution as the only ground fighting in WWII was in Okinawa. Also being fascinated by the gesture of burning books, he got photocopies of the Japanese constitution and fed it to the worms. He then recorded the sound of digestion of the worms munching the constitution with tiny microphones and broadcast it on the radio for the next week. It makes a sound similar to that of fire. All the women could sit around and listen to this on the radio. They did not have TV, but they had radio. It basically became a cathartic tool or stomach that digests problems. People were writing names of people and thoughts about war, and things that happened, and would feed it to the worms and listened to the sound on the radio with there friends while having a beer.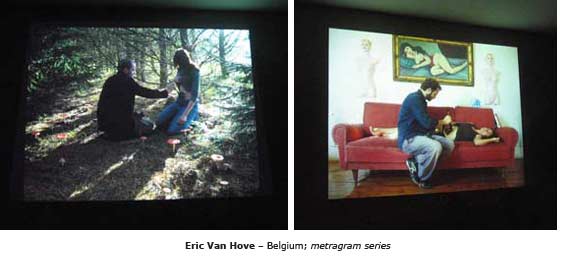 He ended the talk with works he calls "

Abreactions

." An

abreaction

is a psychoanalytical term for reliving an experience in order to purge it of its emotional excesses; a type of catharsis. He uses automatic poetry that is written on the ground in a busy area of a town. He uses a language on purpose, that cannot be understood in the country he is working in. He will write one long, automatic writing line in the city, written with 200 pieces of chalk. Many adventures and public reactions occur during these events and they are usually documented in video. Done In Tehran, Shanghai, Dakar and many other cities, Van Hove releases an emotional

abreaction

of himself, but soon it becomes a public space. Most people think an act of writing in public will be a political statement, but in the end it is just poetry. Eric ended his lecture with a video filmed in Shanghai, by Richard Thomas. During the discussion period

Lukasz

Guzek

, a professor at

WSHE

and editor-in-chief of spam.art.pl, who had brought his class, asked about

Fluxus,

and there was a dialogue about the influence of the ideas of

Fluxus

in Eric's work. It was quite interesting to find out that Guzek uses

Fluxus

founding member, Dick

Higgin's

famous

intermedia

chart in his classes and there is an emphasis on teaching "

Intermedia,

" coined by

Higgin's

at the

WSHE Akademy

.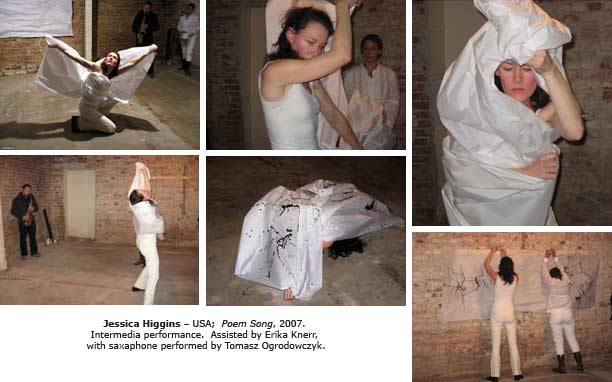 Jessica Higgins

, daughter of Dick, performed a precise

intermedia

piece called "Poem Song," at the opening of

Camouflash

. There was audio voice of

Higgin's

reading haiku poems she had written for an earlier work called "Poet Walk," 2002. She performed with

saxophone

player

Tomasz

Ogrodowczyk

and

myself

, Erika

Knerr

, wrapping herself in and out of a large vellum scroll. Sounds of crinkling paper emerged. The

saxophonist
played
to her movement and structure whenever she stopped. The first scroll was pinned the back wall. For the second scroll I made quick markings in black ink like musical notes to be interpreted by the musician. This

intermedia

work lives between poetry, music, dance and drawing. It was an enormous honor for me to perform with Jessica.
The same night we had a large group dinner at an Italian restaurant around the corner from Lodz

Kaliska

. This was our central meeting place, where you where sure to find the group after working hours at the gallery. Lodz

Kaliska

is a pub on the main

Piotrkowska

street, also named after the legendary

neo

-Dadaist artist collective formed in 1979, making films, actions, photographic stagings and exhibitions and are still active today. The interior is a tribute and museum full of the groups provocative photographs and documentation.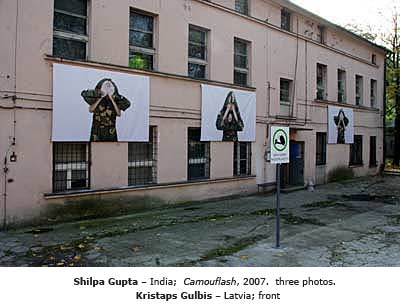 The other absent artist was

Shilpa

Gupta, from India who I would have loved to meet. Her honed and astute photographs were used to publicize the event on Patio's website. Her images and video performances have been receiving critical acclaim internationally. The work of this young artist stands out for it's clarity and razor sharp vision. The three photos shown here were of a young women dressed in

camou

gear and depicting the three monkey stories made popular in a speech by Gandhi. They stood for values propagated at the birth of a new nation "See No Evil, Speak No Evil and Hear No Evil."

Shilpa's

large photographs where mounted outside the buildings facade. Also outside the entrance was the Latvian artist,

Kristaps

Gulbris

' mounted signpost titled, "no security cameras here." A clever nod to the reality of the big brother world we are living in.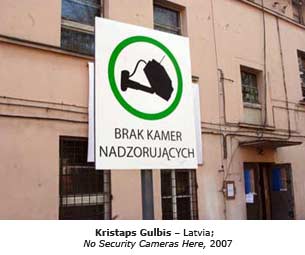 Because of the bare bones of the building designated for

Camouflash

, there was a lot going on to prepare the spaces; electricians working to ready the rooms for all the video equipment and lighting, painting and mopping etc. Most of the show came together at the last moments on Friday before the opening. A majority of the works were video and projections. The video works were quite stunning in the raw spaces. Suzy

Sureck

, from New York showed two video projections that were facing each other in another room created on the first floor. In "Groundless Earth, a Language of Roots" she was bringing her roots back to Poland, in a reversal of the original movement of her grandparents Eva and Edward

Sureck

who came to New York from Poland in 1904 and 1907. Both videos were made with dug up roots from her upstate NY home and the soft images were created using spot lights making the roots visible then disappearing through illumination. The work was dedicated to her mother who passed away last year. About it she says "Since my mothers death last year I have felt the

groundlessness

of her loss and felt the vastness of her spirit."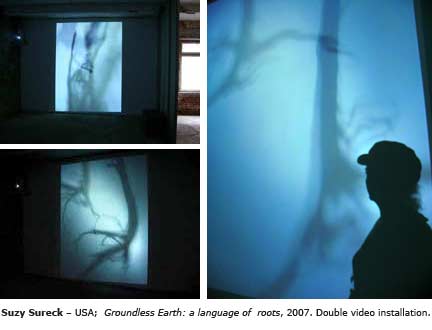 Suzy and I were in contact a great deal prior to coming to Lodz. As we were developing our pieces it was somewhat

eerie

, the similarities of our projects. It was of great comfort to me to have her attentions throughout this project. Without her support and enthusiasm I would not have been involved in

Camouflash

and I owe her a huge thanks. Suzy had been invited to participate a year or so ago and with her gentle prodding she suggested the possibility of Jessica Higgins and I also coming from New York. Lucky for us,

Mariusz

happily agreed and formal invitations arrived in our emails. Suzy and I both responded to

Mariusz's

theme in a similar way, seeing right away it's connections to Tibetan meditation practice, that we have both been studying together, and on our own for the last few years. We also both lost a parent not long ago and Suzy had been working with an idea for

Camouflash

about her mother's passing. She changed direction a few times, before coming up with presenting pure video, as transporting the dug up roots internationally became problematic.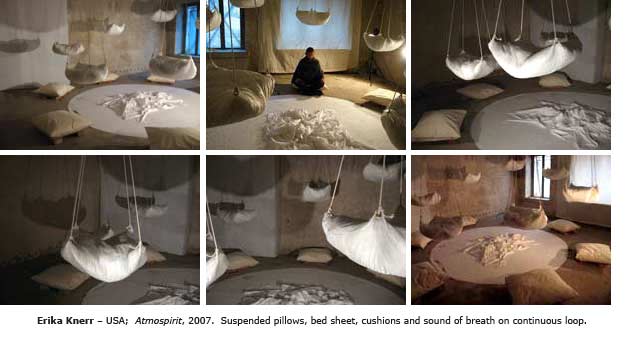 My interpretation of the

Camouflash

theme was an existential one based on the experience of witnessing my father's last breathe. Titled "

Atmospirit

,"
I
used a soundtrack looped with 30 seconds of my dad's breathing, a few days prior to his leaving his body, and 15 seconds of silence. I used seven suspended pillows in a circle, seven covered pillows on the floor underneath, that were meditation cushions, around a white painted circle on the floor of the square room on the first floor. Inside the circle was a white bed sheet. The moment of silence in the soundtrack is the spirit leaving the physical body and becoming camouflaged in the atmosphere, thus combining the two worlds/words atmosphere and spirit. It was a difficult, yet cathartic process for me to work through, so soon after my father's death. I had intended the viewers to come in and sit on the cushions, to listen to the breathe, as one would follow their own breath as the object of meditation practice, but no one did. People responded to it as a sacred and untouchable space to walk around and not interact with, much as they would view any artwork. This makes me want to continue working with sound, to find ways to invite the audience to participation, activating the room as a public space for meditation, and thoughts coming and going.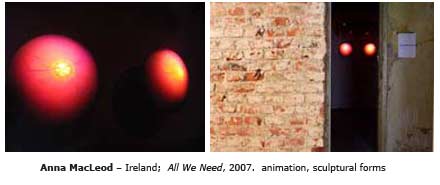 Anna Macleod,

from Ireland, brought two projections for her installation "All We Need," in a first floor room next to mine. She cast two circular discs in plaster, that were mounted to the back wall, then projected onto, with two aprox. one foot round, glowing red, organic circles. The scale and aura was quite powerful and strange. Anna is a lively conversationalist who filled us in on stories from the "Sense in Place" projects and The Leitrim Sculpture Centre in Manorhamilton, Northern Ireland where she works with Director Sean O Reilly. One late night Anna even sang us a beautiful Irish ballad at the Lodz Kaliska, after a day of rolling long blue strips of plastic for a second installation she created, on the third floor, called "Forecast" .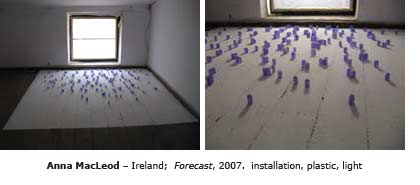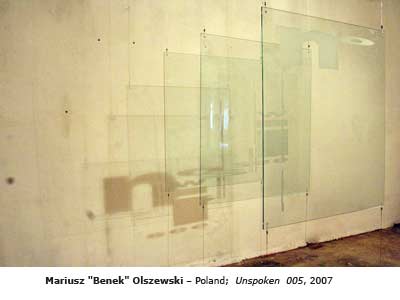 Mariousz "Benek" Olszewski, another important Lodz artist, collaborator, made a minimal suspended glass piece called "Unspoken 005." He spent many days waiting for the arrival of the glass and had to construct the work quickly in the last 2 days. In the mean time he worked with

Miyuki Yokomizo

with her complex work that came together in stages. She had shipped the many small, battery operated lights from Japan and covered them with ping pong balls, to create a softer light. These were set up outside and photographed to create the "runway" image, then made into a projection, on the second floor of the exhibition. The lights were then re-set up to re-create the runway in front of the projection where it continued out into real space.
Miyuki also did a second installation on the third floor using butterfies.

Mariusz
Soltysik

showed a haunting, black and white, large scale photo in a dark room, on the third floor using his own image running with what appeared to be a large bear or furry creature of the night
. He made another video installed at floor level, with viewing bench and blanket, titled, "interference."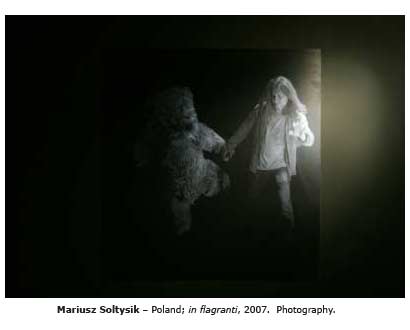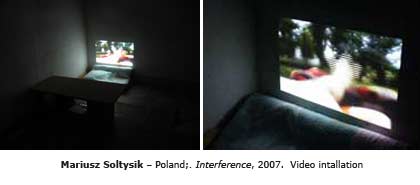 In my camouflash, I have decided to include a Polish female element. Average woman is a
mother first. It is not new; it has been like that for thousands of years.
Giving birth - the simplest, the most primitive and unquestionable way to identify own
identity. It is also a way of providing a justification for your own existence and a way to
satisfy the need to do something important which may be, at the same time, a camouflage
and a flash.

Ewa Szczyrek-Potocka

Adam Klimczak

who has often worked with the double image of himself, and his father, showed a video playing on a laptop computer. He had a second sound piece installed at the Gallerie Wschodnia, that he runs with

Jerzy Grzegorski

. After the Camouflash opening Friday night, we spent the evening at Adam's gallery, with the same name as the street in Lodz, at 29
Wschodnia. http://www.wschodnia.pl/wschodnia_ang.html It is an extraordinary living, gallery space, with two, equally sized, connecting rooms, about 1200 sq. ft. Adam and Jerzy created the first, independent gallery in Poland, in 1981. The artist's themselves have supported the gallery entirely from the onset, with some grants for individual projects. Adam Klimczak has been an important and dynamic force, behind much of the independent, artist organized activities in Lodz and abroad. It was clear to me that this is the place where the art spirit of Lodz is centered.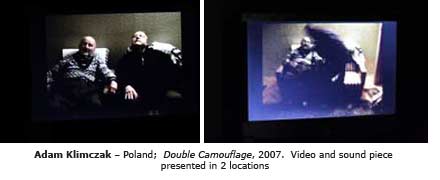 It is impossible for me to write about Camouflash, without including the historical context of the meeting of this group of artists, even though it is a small off shoot, of the global outreach of The International Artists Museum in Lodz. What is most important is the strength and undying spirit of the "IDEA." At this moment the IAM has no physical home in Lodz, since it's building has been taken back by the city, but has created a vital global network of artistic warriors.

The Idea being, that the originating visions and actions, creating societal change, movement and flux, comes directly from the artist. So rather than the Museum Director and curators (not the ones that are also artists) herd us into the coral of the white cube, to be milked for sustenance, why not create an environment for the artists, by the artists. Skip the middle man, and create from the the source, in a most direct expression. At times the artist as organizer can be quite unorganized, but it is out of this chaos of collaboration, and open hearted sharing of time and space, that dialogue and form takes shape. The collaborative spirit is the positive energy that comes out of this kind of organization.

The globalization of The Artist Museum has taken on a life and form of it's own, as "a worldwide channel of communication linking artists and intellectuals from variety of domains through a growing global network of autonomous, locally run art centers, interactive and independently creating an independent art-space for artists." http://www.creatingpeace.org/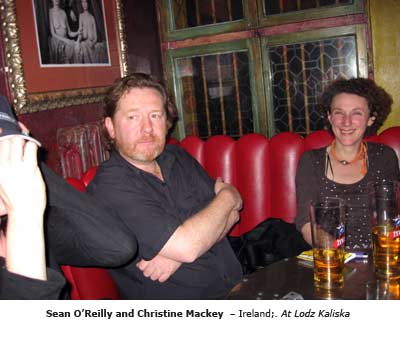 A recent and very significant undertaking to date is "Sense in Place, Site-ations International, Europe 2005/06" which produced an enormous, hard bound catalogue, documenting the origins of the Sit-ations projects, which grew out of The Artists' Project, IAM branch in Cardiff, Wales which hosted the first Sit-tations in 1994, directed by Sean O'Reilly with curators from both Wales and Poland. This event was my first encounter with this group of international artists. I was very happy to find out about the catalogue and receive a copy during the Camouflash event. I was also very pleased to meet up with

Sean O'Reilly

, who arrived the day before the opening with

Christine Mackey

from Ireland.





I was disapppointed not to be able to see Wasko in Lodz. I was told he is taking a step back from artist organizing, to make his own work. He was preparing for an exhibition of new paintings, which opened at Gallerie 86, in Lodz, the following Tuesday, after the Camouflash opening. Unfortunately, the U.S. contingent, left on Sunday to fly back to New York, and we were unable to attend. As Waskos' concept of Construction in Process has been embraced around the world members have moved out in different directions. In 2004 the first Lodz Biennale took place and was described by Richard Vine in

Art in America

, April, 2004 like this:

"The unconventional undertaking marks the culmination of a 23-year struggle by artist-organizer Ryszard Wasko, who conceived the artist-run IAM in 1981, in the heyday of the Solidarity Freedom Movement. Inviting well-known international practitioners to Lodz under the auspices of the largely fictional Archives of Contemporary Thought (consisting of an apartment closet filled with documents, a typewriter and some letterhead stationery), he launched Construction in Process, a freewheeling residency-cum-exhibition designed to engage local workmen and the general public, that has occurred seven times at sporadic intervals in locales ranging from Munich to Melbourne to the Negev Desert."
In 2006, another less ambitious Lodz Biennale took place, with mostly artists from Poland. It is unclear what will happen to this event, since The International Artist Museum space is gone. It may be a sign that taking on the conventional name of Biennale, was not the right direction for the founders to have taken this unconventional, independent Museum. In the mean time, "Hat's Off" to artist organizers making there own work. It will be interesting to see how the IAM evolves from here.

We treat the participants alike: the artists, writers, poets, musicians, critics, the assistants, the support staff—they are all artists, friends. There is no difference; without them, Construction in Process would not exist. Construction in Process has always been an artistic, social and political event generated by the artists. But it is not simply idealistic, romantic. What we do is also reality; it is people working together. Another definition for Construction in Process, if you like, is just conscious activity; who, if not artists, should champion conscious activity?

Ryszard Wasko


photo credits:
Mariusz Sołtysik

,

Pawel Pilat, Erika Knerr, Mariousz "Benek" Olszewski, Suzy Sureck
Thursday, November 15, 2007
Young Native Americans
On Contemporary Artmaking and Organization
correspondent: artist organizer
Nayana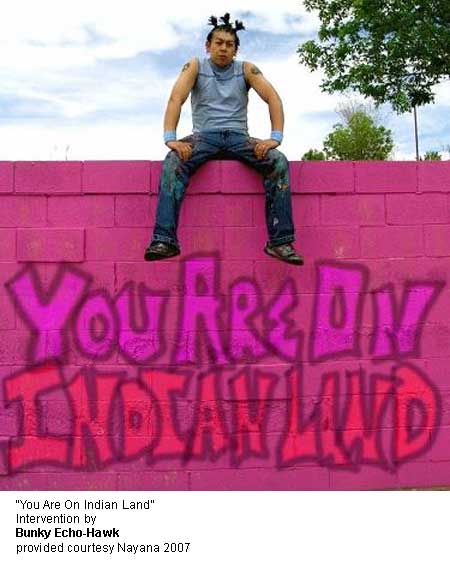 There is a generation of native Americans who feel there is something missing. Something they can't quite figure out. Something just feels off, lacking. These young native Americans are part of the second generation of native Americans who are so far separated from a cultural identity that it feels as though something was physically taken from them. But these people never actually had anything taken from them, they grew up in the same America as any other citizen and experienced much the same life style. Still something always feels a bit off for them. Unintentionally following in the footsteps of their ancestors these people are finding ways to express this feeling through art in many different media.
I found myself part of that generation with the same feelings of something missing, something just a bit off. My family is of the Ojibwe / Potwatami band known as the Wikwemikong first nation located in southern Ontario. My generation was the second in my family to be completely removed from the reservation life style, and from all knowledge and inkling of identity. I expressed these feelings through art creating a body of work which spoke directly about that subject, the feeling of being out of place everywhere.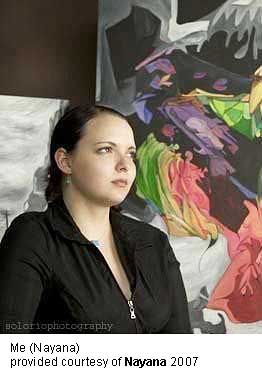 Through the internet I met others like myself each with their own stories of how their family lost all knowledge or recognition of their ancestry. The two artists who I spoke most with were

Bunky Echo-Hawk

(
http://www.bunkyechohawk.com
) of Colorado a member of the Pawnee/Yakama Nation. And

Dan Loudfoot

(
http://www.danloudfoot.com
) of Brooklyn NY a member of the Mashantucket Pequot Nation.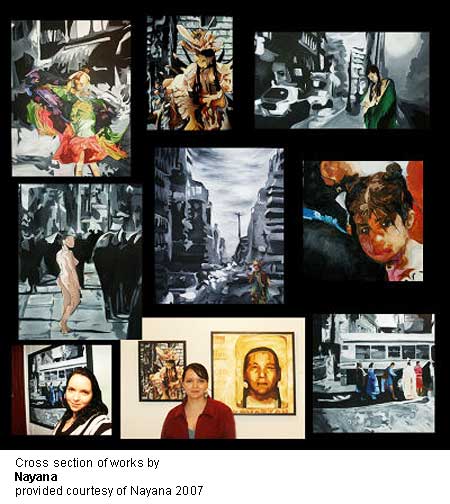 "Growing up in a non-Indian world, I was constantly faced with the responsibility of defining my identity as a Pawnee/Yakama Indian. We were not always away from home. We often traveled home for ceremonies and family reunions. I was always fascinated by the duality of the two worlds, and the juxtaposition of culture and identity. This is where my art has originated from: The pursuit of a true identity, and the need to share this identity with the world." –

Bunky Echo-Hawk
"Having yet to be recognized by the Mashantucket Pequot Tribe Loudfoot's work is fueled by the exclusion he has experienced from his own people. This isolation is portrayed through the paintings by his reflection on Native Americans. Today he is concerned with examining the impact of colonization and what labels and imagery contemporary society associates with Native Americans. Loudfoot warps early Native American iconography and contrasts it beside mascots and ads. Repetition is a key element in the work relating to commercialism and the in your face billboards exploring the irony of the images being used."–

Dan Loudfoot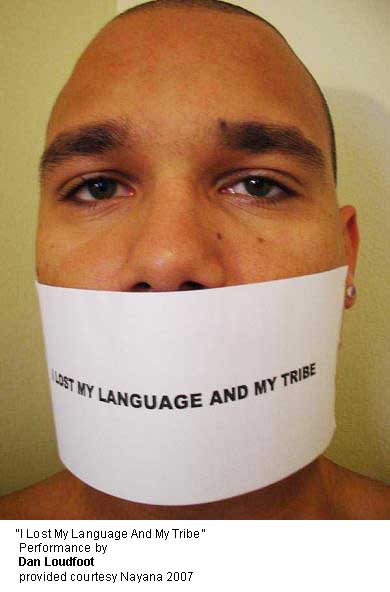 After spending a while corresponding we decided it would be easier to start a group for discussions. Progressive Native Art is what came out of it. We soon turned our conversations about our experiences in this generation to those about art and specifically the art we had independently created on the same subject. We soon came up with the idea of a group show on the subject. This decision came after discussing our mutual difficulty in finding a space to show that work. It did not fit with the works of any other artists and many galleries were hesitant to give solo exhibitions to a theme such as ours.
We began by planning, all the small details of what we wanted, to have the show travel from location to location. The idea of which would be that each of us would be responsible for setting up a show in our area. To start this all off we wanted to have a show in NYC. Dan was in the process of moving there for school and I have a close enough proximity that I could help him with it. Bunky would come out for the event but could not make it for the setting up etc. The concept behind having it in the city would be to present the ideas in the show to an audience who would perhaps not be accustomed to art related to native American life.
The majority of venues showcasing work by native artists is in the southwest and because of this we felt the best location for this show would be the opposite of the norm. Our plan was to have the show in 2007 and then use any momentum we had from that to have the show move to two other locations possibly more depending on how many other artists we chose to involve in the project. We would spend the year in the mean time finding the venue, choosing a few more artists and promoting the event as much as possible. We wanted to get as much press for it as we could in order to aid our ability to have the exhibition travel.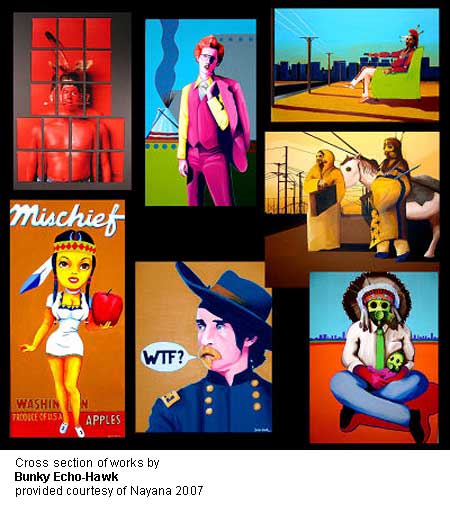 During this time Bunky had back to back shows booked and was fortunate to be featured in Native People Magazine. Dan graduated from school in Boston and moved to NYC for more education. I found myself with a busy show schedule with my other bodies of work and planning the event became less and less convenient. We went from communicating daily with an urgent excited feeling of anticipation to communicating weekly, and then monthly. Each of us with the best of intentions.
We were able to gain the attention of a woman in the city who had a large venue which she often held private art exhibitions in. She was interested in our event and all we needed to do was sit down with her and decide on a date. Internet communication is not always the best means of getting things accomplished and we soon lost our momentum. We would communicate every couple of months with an email, a quick "how's it going" and "we should get this back up again" but life has a way of running away with itself if you let it. Soon it was 2007 and we hadn't done the promotion we had intended. We met via our internet group at that time and decided we would get back into it once our schedules had slowed down again which would not be until after the following new year.
Just a couple weeks ago I received a message "how have you been? Hope you are well, we should do that project we were talking about" In the mean time we had our own exhibitions of the work on the subject, our previous inability to find venues had become an over abundance but there was never enough time. Now we are left with this idea, bodies of work and the same feeling we always had, only now it was different. It was a feeling of something missing, but there seemed to be a purpose to it. We felt connected by our dys-connection and busy in our fully assimilated American lives.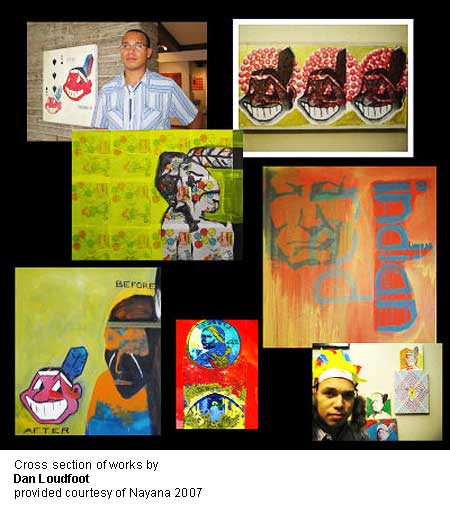 We have spoken recently and would still like to do this exhibition, but now it is less about getting our own voices heard and more about getting the work and the idea out there. If this is in fact an entire generation of native Americans removed from their cultural identity then there must be others, more native Americans who are expressing this experience through art, and what an exhibition that could be.
Now we are communicating as much as we can and considering taking on more members and finding the right venue with the right audience. This exhibition would be as much about the audience who sees it as about the artists who created the work.
In addition to this project I have been a founding member of NAM, "new art movement" which was based on the same structure of this event, artists coming together and collaborating for a group traveling show. This was non-culturally specific however under the idea of having artists who could not find a venue coming together to make their own way. NAM is still in communication and plans to have a show in 2008 at a location yet to be announced.
Along with two projects under the same concept other artist organized projects I have been involved with are USED records, an independent record company, Skeleton Crew Theater, an independent theatrical production with hand built sets and animatronic characters and most recently as director and curator to d.Art Gallery, an artist run gallery not to be confused with an artist co-op. All of these have distracted me from this project. Dan and Bunky have just as many things going on for both of them. Organizing anything over the internet is difficult, but we plan to keep pursuing it until we are able to hold the event we originally envisioned.
Thursday, November 08, 2007
Natalie Moore at artMovingProjects

166 North 12th Street Brooklyn NY 11211

(Link)
http://www.artMovingProjects.com
correspondent: NY artist,
Erika Knerr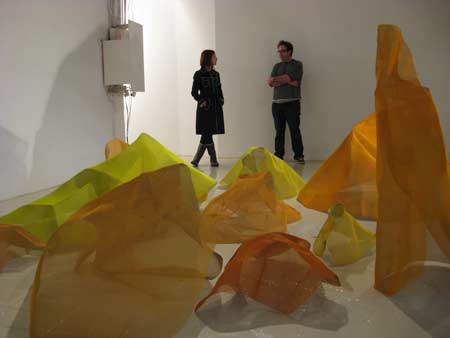 Mirage
Natalie Moore

's second one person show at ArtMovingProjects in Williamsburg, Brooklyn, titled "Mirage" is an graceful installation that rests between sculpture, painting and poetry. Layed out with a small map for viewers, of 12 individual pieces created from stainless steel wire mesh, with somewhat unrelated titles like Pompeii, Apricot, Lochness and Fire, the first impression is that the objects function together as a topography seemlessly inter-related. There is a casuallness to the way the forms are bent and molded into shape almost like a crumbled and discarded piece of paper, yet the thoughtful and alluring color is so over the edge elegant it creates an exquisite paradox.

Ms. Moore speaks of working with the idea of perception. The notion that we percieve things differently at different times. If we look at something one way it seems fixed, then suddenly we approach it from another angle and it becomes very different. Countless examples of this scenario occur in everyday life from thought patterns to political rhetoric, to just what we are seeing in and through the objects in this miraged perspective set up by Natalie Moore. Solid and opaque on one side, transparent and shear on the other, as you move around the room, moiré patterns, creating another level of drawing on the landscape are fleeting. You catch a glimpse of it and then it's gone. She attempts to create an image that goes in and out of visibility, like a mirage in the desert. The physical objects are smaller than human size and a curiously familiar scale and proportion that refer to large heavy rocks, yet are clearly light weight and fragile in reality, continuing the play on what is real and true and what is imagined, fantasy and false. Moore invited writer Melanie Neilson Junceau to write the statement for the exhibition that unconventionally functions as press release and only text accompanying the show. The poetic prose piece is titled, " Mirage: Morning Before the Fact," and is a dreamy revelation of associations to "Mirage."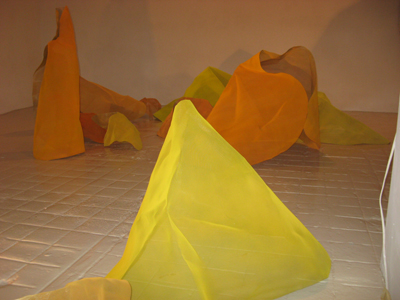 Ms. Moore's first show at artMovingProjects in 1998 was the inaugural exhibition for this artist-run space by

Aron Namenwirth

. Moore at that time had come out of running another artist initiated space called "Sauce" from 1992-95, with a small group of other artists, also in Williamsburg. It was one of the four original artist-run spaces featured in the show "OTHER ROOMS" at Ronald Feldman Fine Arts in 1995. Another was the senior artist organized venue Four Wall's which before moving to Mike Balou's garage space in Brooklyn in 1991, was founded by Adam Simon in Hoboken in 1984. The other two are the now long running Williamsburg haunts Perogi 2000 and the non-profit Momenta Art which emerged consecutively in 1994 and 1995. Like Momenta, artMovingProjects is going non-profit.
"Mirage" is a new direction for Natalie Moore's work which came as a surprise to some who know her as a digital media aficionado and professor. With the galleries often emphasis on new media art, this hands-on formal/informal approach is unexpected, but also a natural evolution from the physically conceptual installations of electrical, cable and/or computer wire that was embedded directly into the plaster walls of the spaces she was working as site specific installations. This work presented the idea of a room or house having a life of it's own; it's insides breaking out of the walls. The wires being the veins and hair of the space, pushing out of the walls and making the room itself come alive. Here she worked with combining mediums as well, working between drawing, sculpture and architecture. I look forward to where she goes from here and the role that intermedia might play.
The show is up through sunday, November 18th, 2007.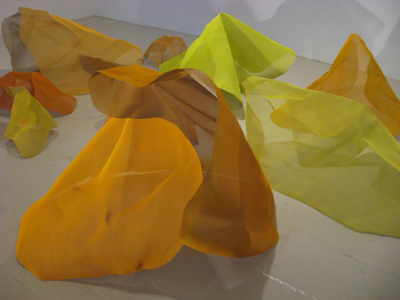 Natalie Moore at artMovingProjects






Artist Organized Art
as seen in:


help by linking us (click in box, copy code, paste code into your site or blog page)
http://artistorganizedart.org
Makes Example:
http://artistorganizedart.org
XML
::.. bookmark this page:
del.icio.us
Furl
reddit
Yahoo MyWeb
Get More Involved: Donate Now | Log In | Sign Up Now | Subscribe | About Us