All Entries: October 2003
Monday, October 6th, 2003
MORE AND MORE I FEEL THAT THE TIME HAS ARRIVED TO ESTABLISH A POLITICAL PARTY WHICH CAN BE CALLED ARTIST ORGANIZED ART. BEFORE WE FOCUS ON ART ISSUES WE WOULD HAVE TO START A GRASS ROOTS MOVEMENT TO REMOVE A DANGEROUS GROUP OF PEOPLE WHO MANAGED TO GET TO THE WHITE HOUSE.
#permalink
posted by Maciej Toporowicz: 10/06/03 08:48:00 PM
Saturday, October 4th, 2003
*21st CENTURY WORLD PREMIERE*
Dick Higgins
The Thousand Symphonies, 1968
Performed at Rutgers University on October 4, 2003
Conducted by Philip Corner
Organized by Artists Geoffrey Hendricks and Philip Corner
"So that's what artist organized music can sound like…"
"I've never heard anything like this played here…"

In 1968, Dick Higgins showed the world the fastest and most violent way to write a thousand symphonies. Using a machine gun, one thousand pages of orchestral open score were violated with a symphony of bullets. Philip Corner was able to move beyond the two dimensional result in this highly nuanced world premiere. It is fitting that Rutgers University should allow artists to organize the long awaited event. The energy of the artist organizing principle was released in a pure moment of communion. The Thousand Symphonies are symphonies of the artist organizing way. In this music one can experience the energy of revolutionary art practice.
Stalin would have hated its meaning
Wagner would have been jealous of its process
Wourinen would have denounced the composer
Bush would have sent the terror alerts to code red
Hollywood would have classified the event as an obscenity
McCarthy would have blacklisted the entire audience
Senator Helmes would have put Rutgers University under a permanent embargo
The Guggenheim would have preferred a symphony by Armani
Deutsche Gramophone would have re-melted all of the work's warehoused recordings
The surrealists would have commodified the piece under their trademark
The Police would have screamed bloody murder
Cage would have asked for at least a second chance
Bard College would have slept through it
| | | |
| --- | --- | --- |
| | These two dozen roses are reserved for The Thousand Symphonies, 1968 by Dick Higgins | |
#permalink
posted by Artist Organized Art: 10/04/03 01:51:00 PM
Friday, October 3rd, 2003
THAI PROJECT
"Last month I attended the "Overseas International Workshop" In Bangkok Thailand. The project brought together 4 Thai artists with 4 overseas artists with the intention of creating bonds between artists of diverse cultures but overlapping visions/work practises. as with many AOE's it was as much about dialogue, kinship and shared experience as it was about discrete objects and their display.
This project was not strictly speaking an "artist organised event", as it was funded by Silpakorn University, but in the absence of a central curatorial direction it did turn into one! Interesting to see how issues which would in the traditionally structured art event be resolved by the curator were resolved by the artists. My project was a collaborative work with renown Thai artist Kamol Phaosavardi, we spent 2 weeks excavating roots around trees in the garden and then used the clay to remodel root networks in the gallery space. To take a look at the work, go to:

www.richardthomas.com.au/roots.htm

Kamol and I were fortunate to have the very capable presence of New York based curator Karen Lim, who initially invited me to the show and became a defacto co-ordinator.

We also had 3 wonderful assistants who dedicated themselves to the project for the duration. As has been my experience in previous AOE's such as Construction in Process (I co-ordinated 'Construction in Process (The Bridge)' in 1998 and Cambio Constante, the artists in this project quickly formed empathy and repoire -a sense of being a small provisional community.
To attend projects such as this periodically reaffirms our strength and creativity as artists. The sense that we are part of a global brother and sisterhood is the great gift of such events, and allows us to return home renewed and refreshed and able to continue despite the mundanity and possibly isolation of our daily lives.
#permalink
posted by Richard Thomas Australia: 10/03/03 07:51:00 AM
Wednesday, October 1st, 2003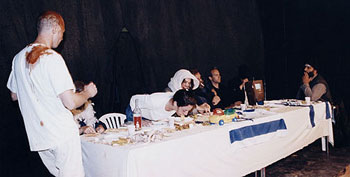 #permalink
posted by Maciej Toporowicz: 10/01/03 12:34:00 AM