LEAH POLLER at Jiangxi Tongqing
Metal Handicrafts Company
Nanchang, China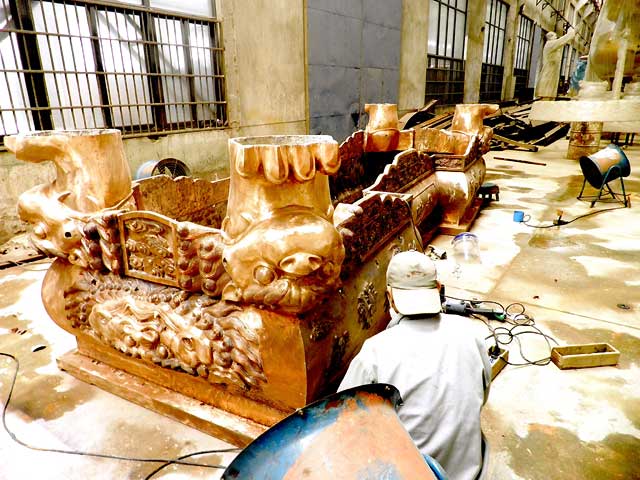 SUPERSIZE – MY SCULPTURE
A Chinese Puzzle Solved
Leah Poller
As adjunct to my participation in the Shanghai Contemporary Art Fair (AOA November 2012), I scheduled a two-day side trip to Nanchang to get a up-close view of the Jiangxi Tongqing Metal Handicrafts Company in the hopes of finding a solution to escalating casting costs in the US. Like many sculptors, I had become frustrated seeing my market shrink as the price for small works out-paced the economic environment, and the possibility of large-scale competitive projects faltered as fabrication costs collapsed available budgets.
Accompanied by Paul Cavanaugh, a Rhode Islander with years of foundry experience and representative of Jiangxi, I left Shanghai for the Nanchang ChangLeng Foreign Investment Industrial Zone, a 1.5 hour plane ride from Shanghai. A much-appreciated and necessary translator, Dr. Wei Chan, a US educated industrial engineer, joined us. Upon arrival at the newly opened Nanchang Airport, we were met by a car and driver from the foundry. The half hour ride on an under-exploited super highway traversed numerous construction projects and the sensation of seeing a region poised for explosive growth "a la China" was unavoidable.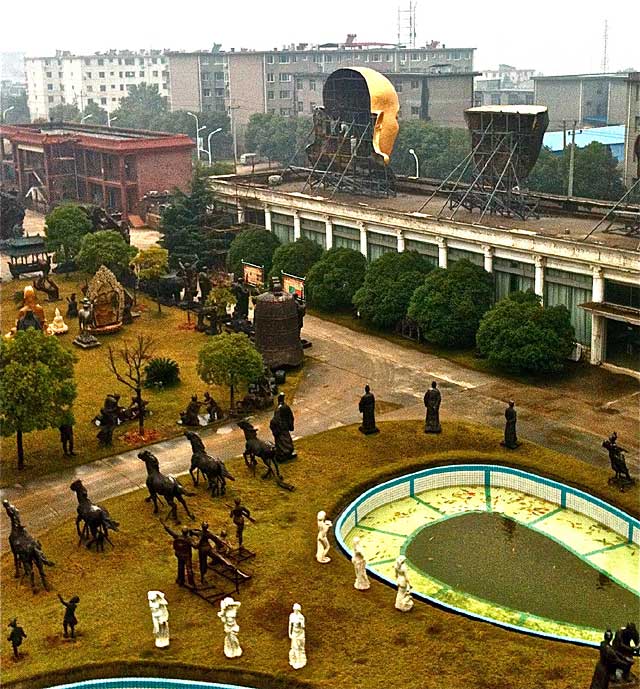 Courtyard: to appreciate scale, note the workers inside the Buddha heads on the roof
As I descended from the car, my first glimpse of Jiangxi was a super-sized industrial complex, the entrance framed by a sculptural world populated by Amazons. From the get-go, Jiangxi offers more than an eyeful. The grounds are peopled with 2-8 meter tall sculptures ranging from Seward Johnson's "Mariachi's" to a multiple size range of Buddha's or paired dragons ready for pick-up to instantly adorn a temple, restaurant, garden or doorway.
I was escorted to my room in the "hotel" , accommodations provided gratuitously by the foundry for visiting artists and clients; I dropped off my bags and began my official visit with a greeting from both the Foundry director and the Party representative who double-checked my passport to assure my identity.
My first activity was a multi-hour walking tour of the premises that barely revealed the complexity and capacities of this foundry. The foundry consists of 450,000 square feet of workshops (some as long as two foot ball fields and 4 stories high), sprawling over 105 acres, and staffed by more than 700 employees.
Suffering from a feeling of irrelevancy before such massive capabilities, I was nonetheless buoyed by their gracious treatment of me as if I were a visiting dignitary. In each work area I was introduced to the studio manager and given a thorough introduction to their activities and capabilities.

Gallery display: larger than life size bronze and cloisonné Buddhas
Having barely caught my breath from a power-walk through their indoor gallery of 4 floors, and a quick tour of their offices, I was personally greeted by Mr. Chen ZhenBo, President and Chairman of the Board of Jiangxi.
We were ushered into a dining room reminiscent of the settings from my days of diplomatic luncheons with African Ministers of State. A dozen men (I was the only woman present), including 3 visiting Buddhist monks and the top managerial staff of the foundry, were seated at a round table with the prerequisite Lazy Susan on which an assortment of local dishes turned graciously for the next hour.
At each place setting, a local brew that makes vodka seem like fruit punch provided the basis to toast our host and each other in a choreographed tour de role of "Campay" ("bottom's up!") of this firewater, punctuated by bursts of camaraderie, joking and shared cigarette lighting. This warm-hearted bonding is a necessary rite of passage for foreigners and fortunately for me, Mr Zhen Bo was kind enough to drink the first ¾ of my glass each time to assure I would remain conscious for the post-lunch program!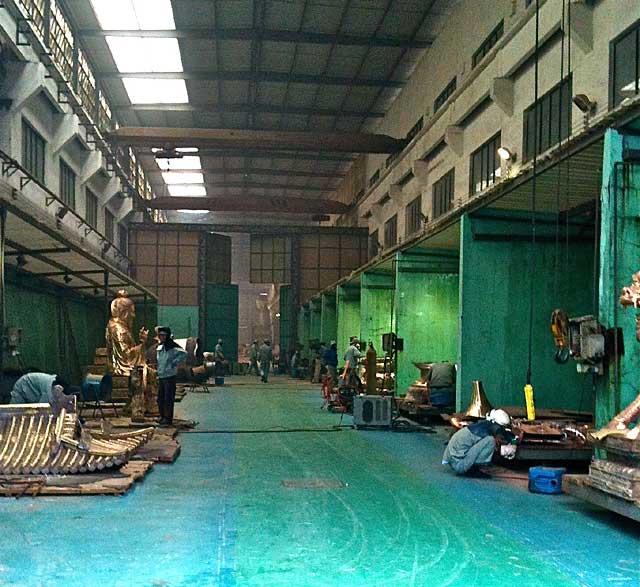 Chasing studio: note the organization and spaciousness
The remainder of my afternoon was spent hiking through cavernous mold-making, casting and chasing workshops, and then through the smaller ateliers specialized in enlargements, wax molds, ceramic shell, gilding, cloisonné, box making and woodworking, (the latter in-house activities support packaging and the display of finished works). In fact, the foundry is equally skilled in small works as well as large and maintains an on-going business in cloisonné clocks, traditional figurines and Buddha's.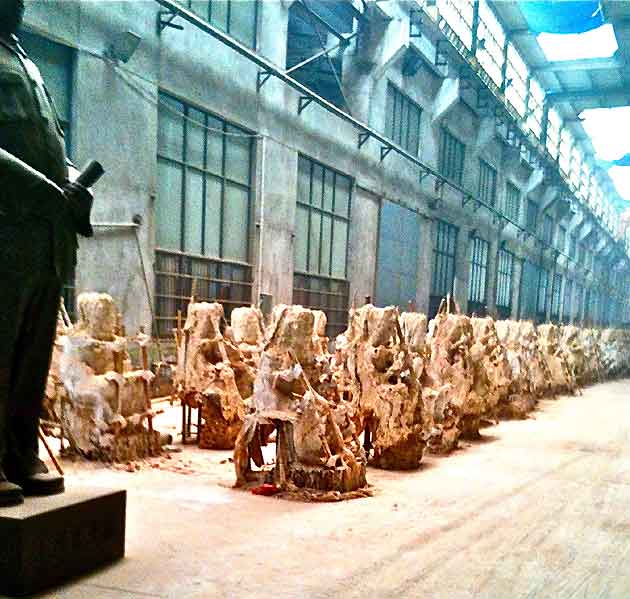 Prepared for casting: 500 larger than life Buddhas
I was left speechless as I viewed a seemingly endless line of massive works in progress that are commonplace to this foundry. As an example: 500 larger than life-size, individually sculpted Buddha's for a temple. I walked under the legs of an 8 ton, single-pour tripod destined for a town center, which apparently is dwarfed by a smaller version of a previously cast 50 ton, single pour, 10 meter high tripod.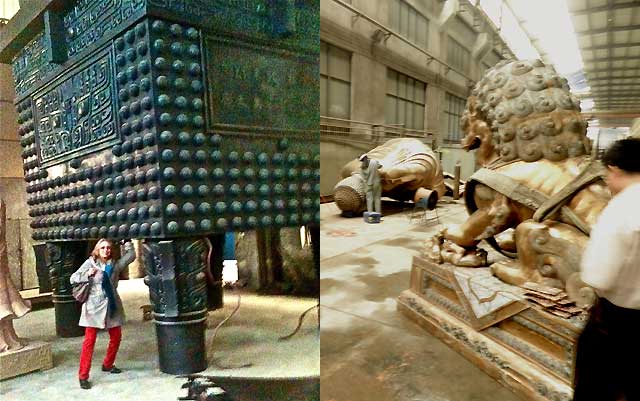 Me (Leah Poller) in relation to an 8 ton, single-pour, enlarged 12th Century tripod
Jiangxi also holds the record for the largest ever Chinese bronze project: a war memorial in Beijing consisting of 38 cylindrical bronze sculptures each weighing 6 tons, not to mention the world's record for the largest copper/nickel alloy bas relief measuring 39,000 square feet. Super-size me – without a doubt!
The visit concluded in the late afternoon with tea in the President's office and a very gracious explanation of the foundry's desire to reach a larger foreign market. Presently, 30% of their $600 Million annual gross is from exports to the US, Europe and Southeast Asia. As they retool for digital enlargement capability and technology driven services, they are excited about expanding their repertoire with new, challenging work from foreign artists.
During the discussions, it felt like my human – size, intimate work had become Pinocchio's nose, growing and growing with each successive conversation. And suddenly, the "Why not me?" question was answered. This was how and where a scale of 1:10 could be executed cost effectively and expertly.
Day Two I spent working side by side with a dozen lovely young ladies correcting waxes of my work that would be cast for my participation in the Hong Kong Contemporary Art Fair in May, 2013 (www.asiacontemporaryart.com).

Correcting waxes of my first project with Jiangxi
The compelling opportunity offered by the Asian marketplace had started to come together.
My visit concluded with a farewell luncheon identical in form if not in guests (this time, friends of the President and a sculptor from Thailand) and then I was back to Shanghai in time for dinner.
For the first time in my artistic career I find myself envisioning my works in public places, 12 feet high, brought in under budget, on time and executed effortlessly. And because I can now see this possibility, I am able to dialogue with an audience for them as well. The visit to Jiangxi has opened up a floodgate of creativity and for me, "build it, they will come" has become a reality.
Leah Poller was born in Pennsylvania. She received classical training in sculpture at the prestigious Ecole Nationale Superieure de Beaux Arts, in Paris, France where she resided for 20 years.  Partaking of a rich, multi-cultural environment, Poller interacted with foremost members of the international arts communities of France, Spain, Italy, Mexico and Latin America, through her art and from her collaboration on the facsimile re-edition of the major Twentieth Century Art Publications (Revolution Surrealiste, Dada, Cercle et Carre, Cobra, etc.).  Returning to the United States in 1992, she established her studio in Soho and began the  "The 101 Bed Collection" which has been exhibited in galleries and institutions in Europe, Mexico, Asia and throughout the United States. Her figurative work, notably 'Women Warriors" and the newest series "Sung Heroes" unites the classical and the surreal with a uniquely modern reinvention of the portrait.    She has been featured on CNN, Fox Television and in numerous art publications.   She has lectured extensively and held workshops on creativity. In 2002, she was named Director of "Intercambios de Arte y Cultural Internacionale", a Mexican/American association furthering cultural exchanges between the Americas and spearheading the restoration of a major twentieth century mural from 1935, recently discovered to be the work of Philip Guston. Poller lives and works in Harlem. www.leahpoller.com
Jiangxi Tong Qing metal handicraft Limited company ( formerly: Jiangxi metal crafts factory ) is located in Nanchang long barrow Foreign Investment Industrial Zone, covers an area of 79200 square meters, the plant area of 41000 square meters. Since the establishment of the company, in under the leadership of chairman Chen Zhenbo, from scratch, from small to large, from weak to strong, continuously improve economic efficiency of expanding the scale of production, is the world's largest art casting in one of the Professional Company. At present my company set up a mold, wax mold, casting, finishing, repair, maintenance, with painted gold, welding center workshop. Our advanced production technology, in the original large plaster pottery pattern lost wax casting process, 6 tons of weight, height of 6 meters below the statue can be one-time overall precision casting success. The development of gold, gold, gold and other products, its technology in the same industry in a leading position. Improve the quality management system, products of good quality, standardize enterprise management.In recent years, my company's products spread all over the world, 38 meters high martial god of wealth ( Taiwan county ), 20 meters high land public bodhisattva ( Taiwan Taichung City ), 20 meters high sided xenia a Buddism godness Guanyin ( Hainan Boao Temple ), 18.8 meters high statue of Sun Zhongshan ( Guangxi Qinzhou). The world's largest bronze tripod, Deng Xiaoping home and seek truth from facts, Hunan Heng Mountain Wanshou tripod ( pass 10 meters high, weighs 50 tons, overall casting success ), UN bonding Zhongxin century anniversary of the return of Macao, Hongkong, Baoding, by our company for the system; China 's largest art cast copper project — the Chinese people's anti-Japanese war memorial sculptures, the domestic first set of five hundred Luo Hanzhu copper gold project, high-quality completion; the world's largest copper art relief project, Taiwan Tzu Chi meditation hall 3900m2 white copper flying relief. www.jx-yf.com/en | www.jx-yf.com