GAIA & NANOOK IN BUENOS AIRES
Meeting of Styles Argentina: Ghelco Factory

A Meeting Of Styles, Buenos Aires 2012



I'm attaching a wall that Nanook and I just finished in Buenos Aires
for Meeting of Styles Argentina on a Ghelco factory.
Field Report By GAIA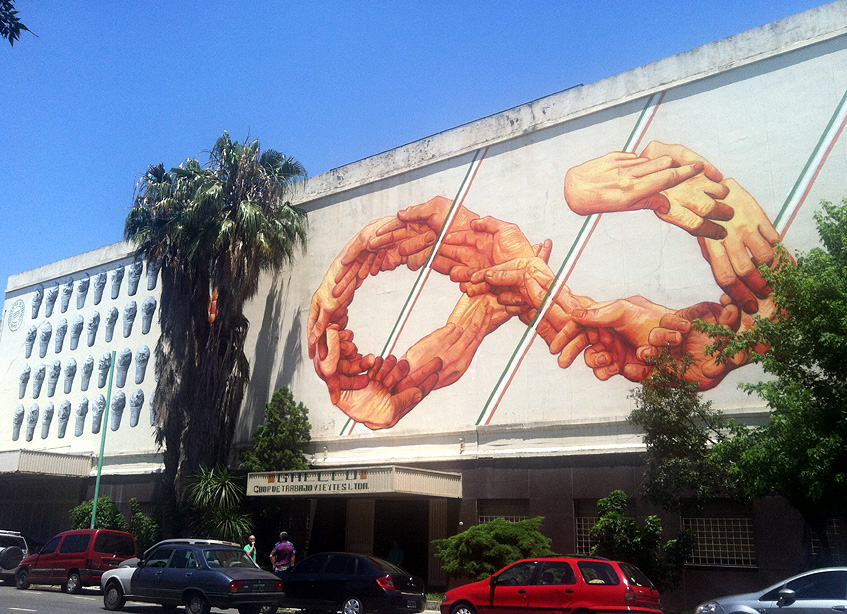 This is a particularly special place in Barracas as it is a fabrica Recuperada and is a phenomenon that I have always been aware of from afar, but never thought I would actually be able to paint for.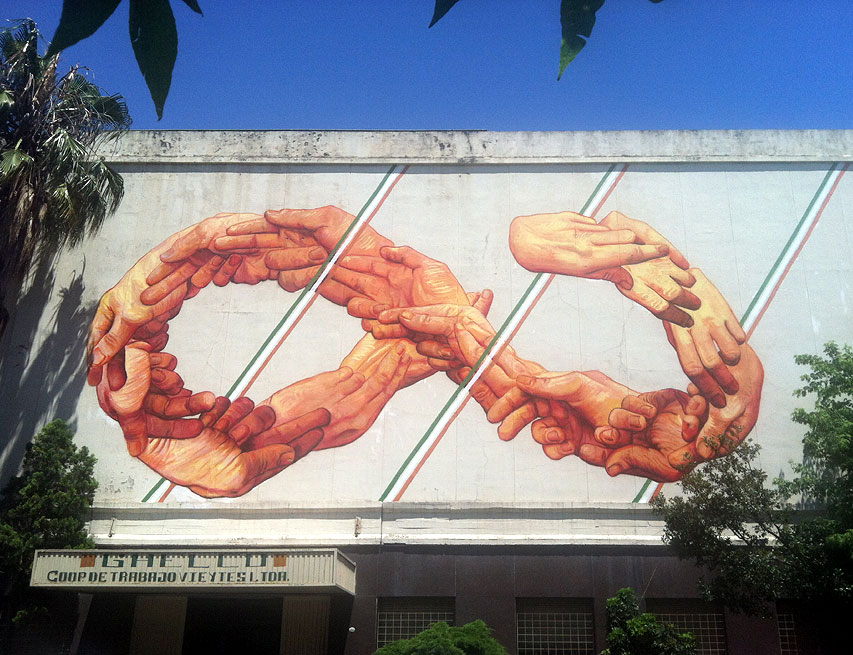 The cycle of neoliberalism is broken when in 2002 Ghelco was occupied by its employees during the Argentine financial crisis.  The last chain link hand floats, voting on the other side of the composition.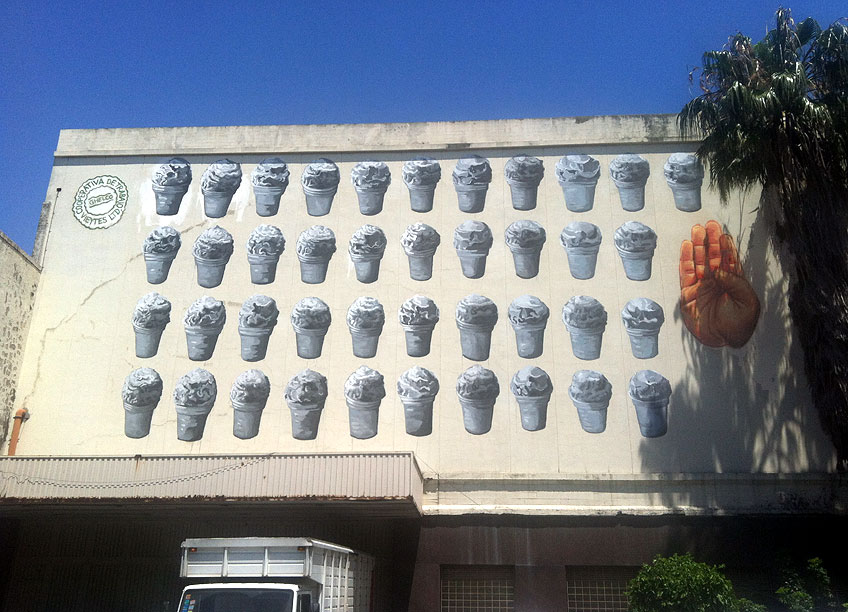 There are 41 Ice cream cones for each worker in the occupied factory. One hand voting represents the democratic decision making process of the cooperatively run ice cream plant.
much love guys
Barracas is a barrio, or district, in the southeast part of the city of Buenos Aires, Argentina. It is located between the railroad of Ferrocarril General Manuel Belgrano and the Riachuelo River, and the streets Regimiento de Patricios, Defensa, Caseros, Vélez Sársfield, Amancio Alcorta, Lafayette, and Lavardén. The name Barracas comes from the word barraca, which refers to a temporary construction of houses using rudimentary materials.
Argentina's fábricas recuperadas movement, which emerged in response to Argentine's 2001 economic crisis, is the current most significant workers' self-management phenomenon in the world. Worker self-management (sometimes called workers' control or autogestion) is a form of workplace decision-making in which the workers themselves agree on choices (for issues such as customer care, general production methods, scheduling, division of labour) instead of an owner or traditional supervisor telling workers what to do, how to do it and where to do it. Examples of such self-management allegedly include the Paris Commune, the Russian Revolution, the German Revolution, the Spanish Revolution, Titoist Yugoslavia, Algeria under Ahmed Ben Bella, the fábricas recuperadas movement in Argentina, the LIP factory in France in the 1970s, the Mondragón Cooperative Corporation which is the Basque Country's largest corporation, AK Press in the United States, etc.
The Argentine economic crisis (1999–2002) was a major downturn in Argentina's economy. It began in 1999 with a decrease of real Gross Domestic Product (GDP). The crisis caused the fall of the government, default on the country's foreign debt, widespread unemployment, riots, the rise of alternative currencies and the end of the peso's fixed exchange rate to the US dollar. Argentina's many years of military dictatorship (alternating with weak, short-lived democratic governments) caused significant economic problems. During the so-called National Reorganization Process (1976–1983), the country went into debt for never-finished projects, the Falklands War, and state takeover of private debts. The Neoliberal economic platform was introduced during this period. By the end of the military government the country's industries were severely affected—unemployment, calculated at 18% (though official figures claimed 5%), was at its highest point since the Great Depression.
Neoliberalism is a form of corporatocracy, the rule of a country by and for the benefit of large corporations. Since large corporations tend to fulfil all the conditions of a wealthy entity, they accrue many of the same benefits over smaller businesses. In addition, multinational corporations enjoy the benefits of neoimperialism on the international stage and can also move their base of operations from a country if that country pursues policies that it deems to be unfriendly to business, a threat which they provoke governments to enact upon. Although classical neoliberalism rests on the free flow of information, the neoliberal era has been marked by an unprecedented expansion of intellectual property and copyright, an expansion of libel laws to silence criticism (e.g. libel tourism) and expanding corporate secrecy (e.g. in the UK corporations used contract law to forbid discussion of salaries, thereby controlling labour costs), all of which came to be seen as a normal part of neoliberalism, but are wholly against its spirit. Finally, the fact that many media outlets are themselves part of large corporations leads to a conflict of interest between those corporations and the public good.
Gaia, a Baltimore-based street artist, whose name stands for Earth Goddess, is known for using animal imagery to convey nature's voice in urban landscapes, often evoking a sense of mythical feedback as an omen from global warming. Other subjects include portraits of urban developers Nelson Rockefeller, Robert Moses, Henry Flagler, James Rouse, Le Corbusier and Mies van der Rohe. Gaia recently curated the multi-site mural project Open Walls Baltimore (OWB) which was scheduled to include fellow artists Maya Hayuk, Swoon, Chris Stain, MOMO, Freddy Sam, Jaz, Jetsonorama, Overunder, Vhils, Nanook, Mata Ruda, Specter, Interesni Kaski, Ever, Doodles, John Ahearn and Sten & Lex. "The carrier pigeon perched within a hand is an image that I have revisited many times in the past year. Much like the hybridized creatures I have produced in the past, this gesture displays a moment of domination and submission but also of steward and nature. Pigeons are beautiful creatures and one of the few that can tolerate the city. This print is a celebration of a dying urban sport and of an unsung animal." – Gaia
http://posterchildprints.com/Carrier-Pigeon/
Purchase Gaia's limited edition print "Carrier Pigeon."
Size 22 x 28 inches, Edition Limited Edition of 135, Materials: Three Color Hand Pulled Silk Screen on Coventry Rag, 100% Cotton Archival Paper
http://www.artbma.org/press/documents/Nov_Dec.pdf
Gaia was recently commissioned by the Baltimore Museum Of Art
Open Walls Baltimore is an unparalleled street art project managed by and located in the Station North Arts & Entertainment District and curated by Gaia. The finest and most widely recognized street artists from around the world mounted an outdoor exhibition of extraordinary murals that enliven public spaces, stimulates community revitalization and national dialogue, and attracts visitors and investors to Station North with the installation of over twenty murals.
Map Of Mural Locations
Artists include: Gaia (Baltimore) – 1 W North Ave, Momo (New Orleans) – CIty Arts, 440 E Oliver St, Doodles (Port Townsend, WA) – 1539 N Calvert, Maya Hayuk (New York City) – 1715 N Charles Street, Ever (Buenos Aires, Argentina) – 10 E North Avenue, Overunder (Reno, NV) – 329 E Lafayette Street, John Ahearn (New York City) – Installation at Station North Arts Cafe, Specter (Montreal) – Joe Squared (North Avenue and Howard), Mata Ruda (Baltimore) – 1700 Latrobe, Josh Van Horn (Baltimore) – Guilford and North Avenue, Jessie Unterhalter & Katey Truhn (Baltimore) – St Paul St at Lafayette Ave, Freddy Sam (Capetown, South Africa) – Lafayette Ave at Charles St, Intersni Kazki (Kiev, Ukraine) – Complete (Maryland Ave at North Ave), Gary Kachadourian (Baltimore) – Barclay St at Lanvale Street, St Paul and North Avenue, Chris Stain (New York City) – 1701 Latrobe, Jetsonorama (New York City) – Barclay and Bowen Alley, Swoon (New York City) – Pittman Place, Sten and Lex (Italy) – Barclay and McAllister, Nanook (Baltimore) – Barclay and Lanvale, Jaz (Buenos Aires, Argentina) – Barclay St at E Oliver St, Vhils (Portugal) – 1539 N Calvert St

Documentation: Open Walls In Process, A Walk Through With Gaia, May 4, 2012
Artist Organized Art