Lance Fung Interviewed
Creating Community at Lucky Number 7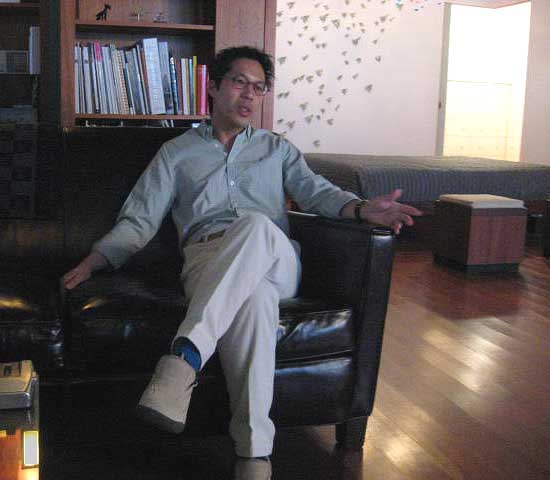 Lance Fung
in interview with Artist Organized Art, March 30 '08
This Artist Organized Art interview with curator Lance Fung is conducted by Joshua Selman and Erika Knerr, on March 30, 2008 at Lance's SOHO loft in Manhattan. It weaves together formative influences behind his first International Biennial, Lucky Number 7, at Site Santa Fe, opening June 20-22, 2008. The interview precedes a pot luck dinner at his loft attended by his core community of friends and family. Gathering at the space several times a year, most among them are former Lance Fung Gallery artists.
Here are two excerpts from the full interview:


AOA:

The question was if your way of curating is considered to be a reverse engineering of the normal curatorial process, and where the curatorial function of the institutional partners fits in?
LF:

I wouldn't say it's a reverse procedure, because that would mean there would have to be strategy to my work, there's no method to my madness, I am who I am. I act, say, speak, think, write, dress, the way I do, you couldn't, and I'm forty five now, so I don't actually give a damn what people think of me, I get it when Holly Solomon said she didn't care –"I'm Holly Solomon," — well finally now I'm Lance Fung, you like it, you don't, can it be improved? Yes. Will I change it your way? Maybe, maybe not, and this is the point of being free as an artist and curator, as an individual, its not that you're like "oh everyone doesn't know what they're talking about…" but it's just that you're not concerned about pleasing someone, and by not trying to please someone you have a greater chance of pleasing someone, because you're grounded, you're satisfied, you have something to give, so I don't think so, now surely that most people would look at it that way, because it isn't the way most people would curate a show, I do see, however, a trend in people, a trend with younger curators trying to curate. In approaching their new practices in the way that I live my life, so I'm not necessarily saying they're copying me, but collaboration is coming up quite often now, but in a very different way and typically in a very superficial way, but what's nice is I think that my work has somehow seeped into the way people are looking at things, including some of the seasoned curators. Because, you can't work in an antiquated mode, and that's why people are trying, the art speak is becoming less and people are doing more common speak when they're talking about a show. Or, they're having a greater awareness of the general public in appreciating the work where, in fact, after the fact, I realized that was the main audience for The Snow Show, and that's what made it so profound, so I don't know, that's not for me to answer.
AOA:

In terms of the process of Lucky Number 7, of course, there are ancestors, for example, The Snow Show, Lance Fung Gallery, Construction In Process, Ryszard Wasko and The International Artists Museum, Charlotte Moorman and the Avant Guard Intermedia Festivals, Allan Kaprow, Billy Klüver, George Maciunas, Nam June Paik, etc. This brings up the comparison of "curating" to "organizing." How do you see the comparison?
LF:

I almost had Construction In Process in my essay, but when I showed it to international curators. most of them had not heard of it. So I just linked to a very general subject of something that was much less interesting to me until much later in my Lance Fung Gallery time period and that was Fluxus. Okay, Nam June, yes, but I don't think of him as Fluxus even though he is Mr. Fluxus. So, it does parallel to a lot of what Fluxus was about, this impromptu happening sans curator, it's artist inspired, it's "artist organized art" and Construction In Process is a little bit like that, because it did have, from what I know in the books and what I've heard from you guys, less of a curatorial roll and more of an energy and synergy that came about. So, definitely aspects of Lucky Number 7 are coming from Fluxus, Construction In Process, Lance Fung Gallery and a ton of other references.
It's interesting. Everyone will call this biennial so many different things. "The anti-biennial," because they can either be talking in response to other biennials and what they stand for, marketing, branding, PR, or they can even talk about anti-market, because the works are ephemeral. It could be anti in many ways. Again, there's none of that strategy involved with Lucky Number 7. Essentially, in Lucky Number 7, I, as curator, have digested everything I've learned, seen and heard of in the art world that I like. Which has made me the curator that I am, because then I work in that mode as opposed to in a very commercial glitzy way. Which parallels Construction In Process, but the big difference there is that organization or production vs. curation are apples and oranges, and often as you well know with The Snow Show, I've had to wear all 3 hats, where I would most prefer wearing only the curator's hat. Not worrying about fund raising and legal and administrative issues, not worrying about promoting it, but just dealing with the curatorial end, would be great and that's what a curator "was." But, in the new decade or millennium it shifted where almost every curator is out there "shakin' a tin can." Whether you're working for a big proper museum or you're doing a freelance show you're out there with the Press, because that's another way to get visibility, so that when you're "shakin' the tin can" people are dropping a quarter in yours vs. someone else's. All of a sudden I kept feeling rather inadequate with The Snow Show, having to do all of this stuff. And, I felt slighted, like, "why am I having to do this as a curator?" Well guess what? The world caught up to me in a negative way when it was much better for the curator just to curate, someone else to write the check, and someone else to go out and talk about it. Another thing I've always been a little embarrassed about is my commercial background. In fact, I pulled it out from all of my bios and website and really eliminated Holly Solomon Gallery and Lance Fung Gallery, because very few, if any, curators made the transition from the commercial world to the not-for-profit world. Some went the other way because then by being an important curator, or with a museum, you can be paid more by working in a gallery, but going in the reverse direction, from "money" to "no money," is "crazy."
Also, the credibility is weak, because curator as dealer or dealer as curator has a lot of conflict of interest. We talked about it with The Snow Show. How many artists, that I'd worked with in the past, could I put in The Snow Show without it looking like there was favoritism, or commercial gain. Particularly when Finland was up, so was my gallery. I asked – people said "oh three to five artists based on your group." In the end I only did two, John Roloff and Top, otherwise I would have put more, not because I was trying to promote the gallery, but because I believed in them. So it's interesting, but I was speaking at this conference on public art with all these other curators Jan Debbaut (formerly of The Tate) organized and they said "but, weren't you at Holly's?" I said "yes, but I don't talk about that," and they said "why?" I said "well…" they said, "you're' wrong because right now that commercial background you have is so needed and most curators don't have that information." A) They don't know how to buy a work of art for the institution. B) They don't know how to talk about discounts etc. So it's very funny, curatorial work is evolving and it is including someone odd like me, because normally I wouldn't fit into that category, but I actually don't think it's for the better to be quite honest.
Lance Fung is an independent curator based in New York City. One of Fung's most well known projects was The Snow Show exhibition, realized in 2004 in Lapland, and in 2006 in Torino, Italy for XX Olympic Winter Games. Prior to his independent curatorial endeavors worldwide, he had an eponymous gallery in New York, and was the director of Holly Solomon Gallery.
Since its opening in 1995, SITE's mission has been to bring the global contemporary art dialogue to the Southwest region of the US. SITE's Biennial, organized by a guest curator of international reputation, always attempts a paradigm shift in the field of visual arts. SITE's Biennial is known worldwide for its innovation and for showcasing great curators ahead of the rest of the art world. In fact, three of SITE's six curators have subsequently served as Directors of the Venice Biennale, including this year's Robert Storr, and a fourth won a MacArthur "Genius" Award.
Lucky Number Seven Curatorial Team and Partner Institutions:

1. Ferran Barenblit, Centro de Arte Santa Mónica (CASM), Barcelona, Spain, www.centredartsantamonica.net
2. Iara Boubnova, Institute of Contemporary Art – Sofia, Bulgaria, www.ica.cult.bg
3. Gregory Burke, The Power Plant, Toronto, Canada, www.thepowerplant.org
4. Colin Chinnery, Ullens Center for Contemporary Art, Beijing, China, www.ullenscenterforthearts. org (Partnering with Centre for International Cultural Exchange, China, www.seechina.com.cn)
5. Alexie Glass, Gertrude Contemporary Art Spaces, Melbourne, Victoria, Australia, www.gertrude.org.au

6. Lukasz Gorczyca and Michal Kaczynski, Stowarzyszenie Integracji Kultury (Association of Cultural Integration), Warsaw, Poland, www.raster.art.pl

7. Laura Steward Heon, SITE Santa Fe, New Mexico, United States, www.sitesantafe.org

8. Barbara Holub, Secession, Vienna, Austria, www.secession.at

9. Vasif Kortun, Platform Garanti Contemporary Art Center, Istanbul, Turkey, www.platformgaranti.blogspot.com
10. Chus Martinez, Frankfurter Kunstverein, Frankfurt, Germany, www.fkv.de

11. Martina Mazzotta, Fondazione Antonio Mazzotta, Milan, Italy, www.mazzotta.it

12. Tsukasa Mori and Yuu Takehisa, Art Tower Mito, Japan, www.arttowermito.or.jp

13. Joseph Sanchez, Institute of American Indian Arts Museum (IAIA), Santa Fe, New Mexico, United States, www.iaia.edu

14. Patrizia Sandretto, Fondazione Sandretto Re Rebaudengo, Turin, Italy www.fondsrr.org

15. Guillermo Santamarina, El Museo Experimental, Mexico City, Mexico

16. Hyunjin Shin, SSamzie Space, Seoul, South Korea, www.ssamzies pace.com

17. Alessandro Vincentelli, BALTIC Center for Contemporary Art, Gateshead, England www.balticmill.com

18. Marc-Olivier Wahler, Palais de Tokyo, Paris, France, www.palaisdetokyo.com

19. William Wells, The Townhouse Gallery, Cairo, Egypt, www.thetownhousegallery.com
Special thanks to SITE's local residency partner,the Santa Fe Art Institute


Artists

1. Martí Anson Born in 1967 in Mataró, Spain Lives and works in Barcelona

2. Studio Azzurro: Fabio Cirifino (born in Milan), Paolo Rosa (born in Rimini), Stefano Roveda (born in Milan) and Leonardo Sangiorgi (born in Parma), Located in Milan, Italy

3. Erick Beltrán Born in 1974 in Mexico City Lives and works in Barcelona and Mexico City

4. Luchezar Boyadjiev Born in 1957 in Sofia, Bulgaria Lives and works in Worpswede, Germany

5. Michal Budny Born in 1976 in Leszno, Poland Lives and works in Warsaw

6. Ricarda Denzer Born in 1967 in Kirn, Germany Lives and works in Vienna
7. Hiroshi Fuji Born in 1960 in Kagoshima, Japan Lives and works in Fukuoka, Japan

8. Fabien Giraud Born in 1980 in France Lives and works in Paris

9. Piero Golia Born in 1974 in Naples, Italy Lives and works in Los Angeles

10. Soun Myung Hong Born in 1959 in Seoul, Korea Lives and works in Seoul

11. Scott Lyall Born in 1964 in Toronto, Ontario Lives and works in Toronto

12. Nick Mangan Born in 1979 in Geelong, Victoria Lives and works in Berlin

13. Eliza Naranjo-Morse Born in 1980 in Espanola, New Mexico Lives and works in Santa Fe

14. Nora Naranjo-Morse Born in1953 in Espanola, New Mexico Lives and works in Espanola

15. Ahmet Ögüt Born in 1981 in Diyarbakir, Turkey Lives and works in Amsterdam

16. Mandla Reuter Born in 1975 in Nqutu, South Africa Lives and works in Berlin

17. Nadine Robinson Born in 1968 in London, England Lives and works in New York City

18. Zbigniew Rogalski Born in 1974 in D_browa Bia_ostocka Lives and works in Warsaw

19. Wael Shawky Born in 1971 in Alexandria, Egypt Lives and works in Alexandria

20. Raphaël Siboni Born in 1981 in France Lives and works in Paris

21. Rose B. Simpson Born in 1983 in Santa Fe, New Mexico Lives and works at Santa Clara Pueblo, New Mexico
22. Shi Qing Born in 1969 in Inner Mongolia, China Lives and works in Beijing


Biennial Leadership


Lead Underwriter

Jeanne & Michael L. Klein

Curator's Patron

Marlene Nathan Meyerson

Honorary Chairs
Anne & John Marion, The Burnett Foundation Margarita & Albert Waxman

Exhibition Patrons
Anonymous, Karen & Steve Berkowitz, Virginia Dwan, Agnes Gund & Daniel Shapiro
,
Jeanne & Jim Manning, Millstream Fund, Mary Lawrence Porter, Margaret Robson, Alice C. Simkins, Ann Tenenbaum & Thomas H. Lee

Exhibition Supporters
Dottie & Dick Barrett, Cornelia Bryer & Herman Siegelaar, Bobbie Foshay, Marian T. Fung & Family, Katherine & James Gentry, Mari & Peter Kooi, Mihail S. Lari & Scott E. Murray, Rosina Lee Yue & Dr. Bert Lies, Toby D. Lewis, Joanne N. McCarthy, Alicia & Bill Miller, Cindy Miscikowski & Doug Ring, Rita & Kent Norton, Lorlee & Arnold Tenenbaum, Kathy & Charles Webster, Nancy Ziegler Nodelman & Dwight Strong

Artists' Patrons
Miguel Abreu Gallery, Susan Hobbs Gallery

Exhibition Friends
Anonymous, Gay Block & Rabbi Malka Drucker, Tina & Robert J. Denison, Sally & Thomas Dunning, Judith & Richard Greer, Pat T. Hall, Amanda & Keith Innes, Jeri Berger Hertzman & Dr. Philip Hertzman, Mary Kahlenberg & Rob Coffland, Carol Prins & John H. Hart, Crennan & David K. Ray, Courtney F. & Scott Taylor, Susan Steinhauser & Daniel Greenberg, David Teiger, Bebe Woolley & Daniel Gorski, Sandy Zane & Ned Bennett

Corporate Sponsors
UBS Financial Services, Houston Sotheby's

Special Events Sponsors
Gebert Contemporary & Chiaroscuro Contemporary Art,
Landfall Press, James Kelly and SITE Unseen 5


Supporting Cultural Organizations
Arts Council Korea, Austrian Cultural Forum, New York Canadian Council of the Arts, Cultural Services of the French Embassy, Goethe-Institut, Los Angeles Institut, Ramon Llull Italian Cultural Institute, Los Angeles, The Japan Foundation, Polish Cultural Institute, Sociedad Estatal para la Acción Cultural Exterior (SEACEX),
Biennial Weekend Event Chairs

Cornelia Bryer & Herman Siegelaar


Residency Partner

Santa Fe A rt Institute


Honorary Committee
Co-Chairs, The Honorable Bill Richardson Governor, New Mexico, The Honorable David Coss Mayor, Santa Fe

Committee Members
Dr. Indrasen Vencatachellum Chief of Section for Arts, Crafts & Design, UNESCO, Ambassador Dennis Richardson Embassy of Australia, Ambassador Eva Nowotny Embassy of Austria, Consul General Alain Dudoit Embassy of Canada, Ambassador Pierre Vimont Embassy of France, Ambassador Klaus Scharioth Embassy of the Federal Republic of Germany, Mariusz M. Brymora Culture & Public Affairs Counselor Embassy of the Republic of Poland

Off-SITE Location Partners
1005-G Alto Street Center for Contemporary Arts, Georgia O'Keeffe Museum, Institute of American Indian Arts, Museum of Indian Arts & Culture Museum of International Folk Art, National Dance Institute,
New Mexico Department of Cultural Affairs, Palace of the Governors Santa Fe Opera School for Advanced Research

Additional Support
New Mexico Department of Cultural Affairs' Office of Media Initiatives & students from the College of Santa Fe, NM Highlands University & Institute of American Indian Arts Santa Fe Art Institute, Warehouse 21,
www.santafelucky7.com
SITE Santa Fe is fortunate to partner with an extraordinary student documentary team, which is hard at work not only to document Lucky Number Seven, but also to incorporate the show's guiding principles-experimentation, collaboration, process, and community-into its final product. The documentary component of the project aims to convey the spirit of the exhibition and to serve as a lasting record long after the artists have gone and the exhibition is over. The finished product will be presented at SITE in the
exhibition and online at www.santafelucky7.com.

The filmmakers wish to thank biennial curator Lance Fung, the artists, and SITE Santa Fe for allowing the access and the opportunity to create this project. Thanks to the New Mexico Department of Cultural Affairs and the academic programs: the Media Arts Program at New Mexico Highlands University, the Documentary Studies Program at the College of Santa Fe, and the New Media Arts Program at the Institute of American Indian Art, and for funding from the Mandelman-Ribak Foundation. SITE wishes to thank HD Solutions for its support of this project.

Student documentation team
Kenneth Bachicha, Veronica Black, Jeana Francis, Jason Jaacks, Carlo Martinez, Megan Fisher McHugh, Marni Samuels, and Paul Conley. The project is coordinated by Eliot Fisher from the College of Santa Fe under the overall direction of Mimi Roberts, DCA Director of Media Projects. Faculty advisors are Professors Robert Drummond and Miriam Langer from the NMHU Media Arts Program, Tony O'Brien from the CSF Documentary Studies Program, and Carlos Peinado from the IAIA New Media Arts Program