Camouflash,

an international artists meeting


curators:

Mariusz Sołtysik

,

Aurelia Mandziuk
coordinators:

Agata Nowicka

,

Małgorzata Nowak

correspondent, Erika Knerr



The exhibition is currently on view until 27 October 2007 at Patio Art Center, The Academy of Humanities and Economics, in Łódź, Poland. Below are some shots of the opening night, friday, 12 October. The evening started with a press conference at the Patio Gallery space with the artists, curators, staff, students, faculty and public.



Participants and guests then moved across the courtyard to the Camouflash exhibition spaces.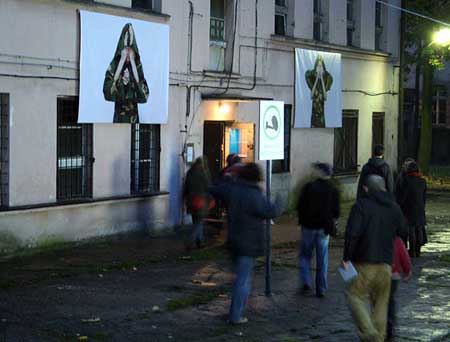 Shilpa Gupta

from India showed large photographs on the outside front of the building and

Kristaps Gulbris

from Latvia installed a signpost titled, "No Security Cameras Here." An intermedia peformance by

Jessica Higgins

took place at 6:30 pm called "Poem Song." She was assisted by

Erika Knerr

with saxaphone performed by

Tomasz Ogrodowczyk

.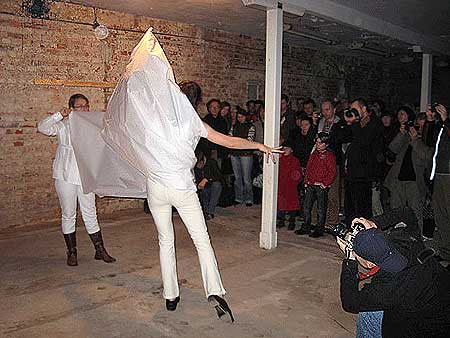 http://ww6.tvp.pl/6527,20071008575548.strona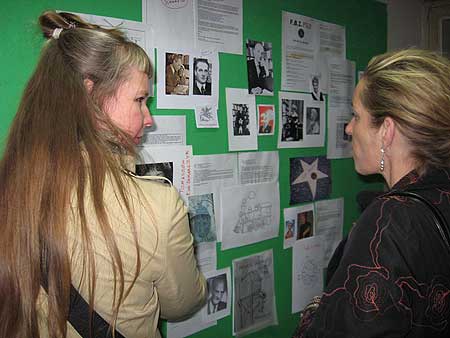 Participating artist

Anna MacLeod

(right) from Ireland discusses with viewer the research wall of drawings, photos and text for
Olga Bergmann's
video based on the poet

Julian Tuwim

from Lodz and Oscar winning actress

Judy Holliday

(Judith Tuwim), who are both distant relatives of Bergmann from Iceland.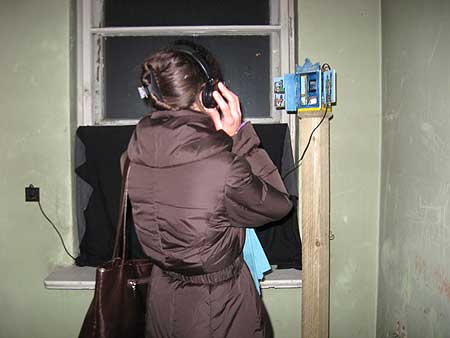 An opening goer interacting with Irish artist

Christine Mackey's

intimate video

"Beyond Soundings – (mobile shrine)"

which is a 'tourist' record of an event at Wagah Post, a road crossing that divides India and Pakistan.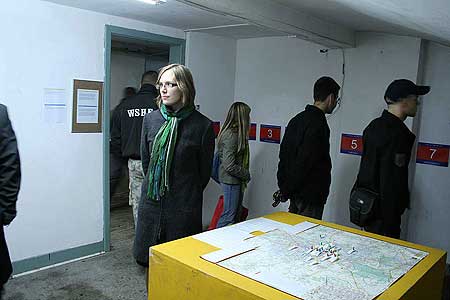 "Nicknames" by

Aisling O'Beirn

from Ireland.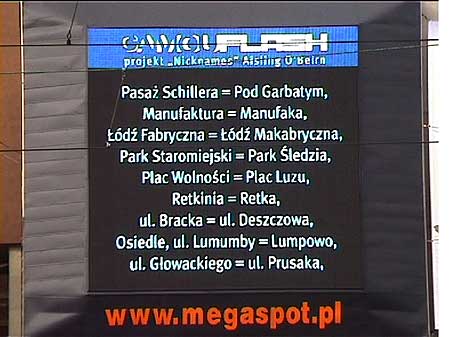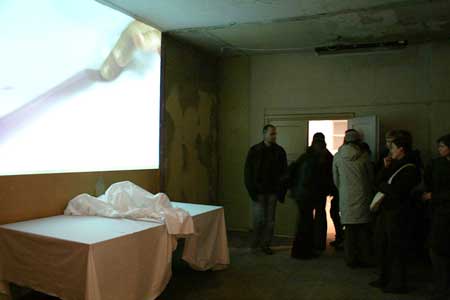 A video and table made for Camouflash event by

Janusz Baldyga

from Poland.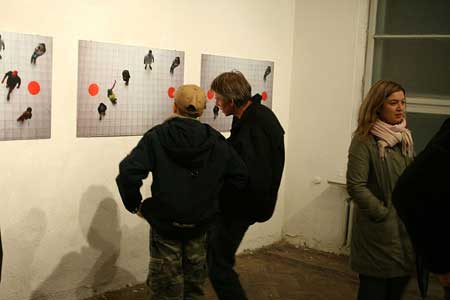 Eyeballing

"Perfect Symmetry

,"

photographs by

Tomasz Matuszak

from Lodz.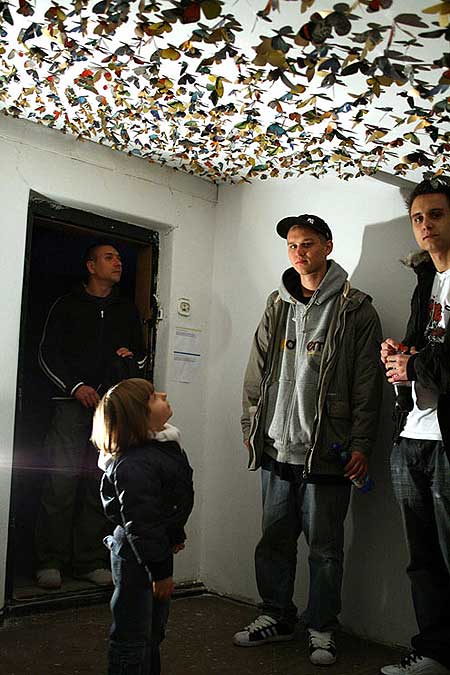 One of the younger opening attendees taking in the ceiling installation of butterflies by

Miyuki Yokomizi

from Japan.


photo credits:
Mariusz Sołtysik

,

Pawel Pilat, Erika Knerr

,

Kristaps Gulbris
Feature articles about Camouflash will be published throughout the following weeks.