MIND THE GAP in the age of the screen
Abacus | Early Morning Opera
Brooklyn Academy of Music
September 24, 2014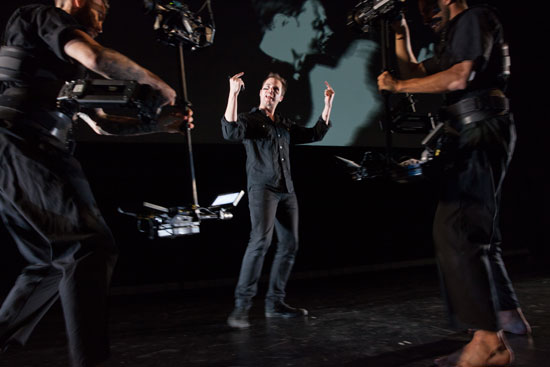 by Angie Eng
photos courtesy Max Gordon
In a country where both educational and religious institutions have been lost in the age of information and screenal technologies, something or someone will eventually, like in all nature, fill this Grand Canyon void. It is in this line between teacher and preacher where artist Lars Yan draws from forthe performance, Abacus. As long as organized religion remains exclusionary and multiple choice compliant questioning are the learning methods of choice, performances, such as this Early Morning Opera production will be considered art, rather than a spiritual awakening or a pedagogic rant. As a part of this digital age, I would rather have our children be taught in the form of a Paul Abacus presentation or, if in want/need, be religiously guided by a heightened audio-visual spectacle filled with irony and wit. But until there is an upgrade to our approach to education and spirituality that speaks more effectively to a techno-global-sophisticated audience, such audio-visual storytelling à la Early Morning Opera like Laurie Anderson will have a comfortable place in the arts.
At BAM this season, Early Morning Opera tells a story of the problematic direction humanity is heading and gives us the simple solution-humans without borders. Director/writer Lars Yan chooses to tell a story in a traditional fashion with one story teller speaking first person directly to his listeners. Hence, the press release likens Abacus to a Ted Talk. But one could equally refer to comedian George Carlin had he continued into the chapter of drones, smart phones and mega-oligarchic global unions. Better yet, Louis Farrakhan who replaced his choir with an algorithmic app. But like Ted Talk, EMO borrows techniques from the Preacher, the Comedian, the Professor and the Talk Show Host to deliver a simple message, 'Mind the Gap' or we are fucked and see the tactics they use to say it.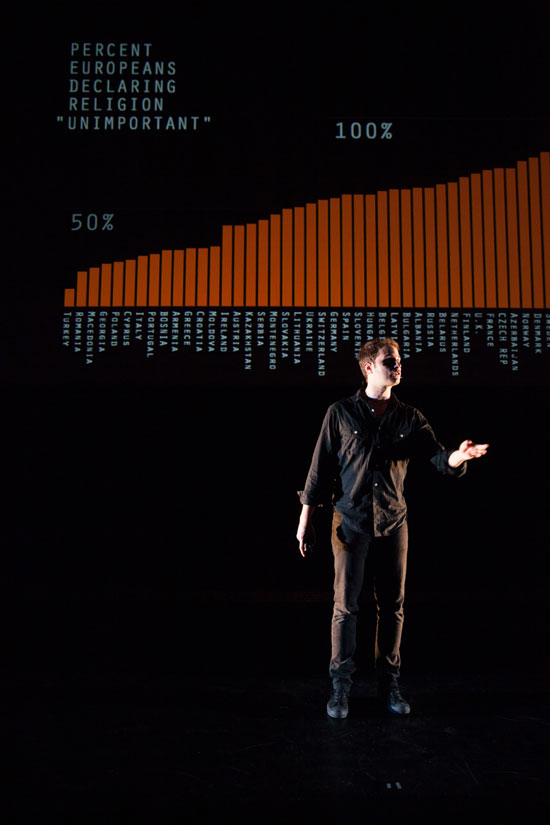 EMO's mockery of the talk show host-preacher-teacher-statistician had me so convinced that I almost completely forgot Paul Abacus was fictional even if he has a Wikipedia page and was discussed as if he were a real person during a Ted Talk. We live in a time saturated with social-media when its possible that a 6-year old can invent an identity, such as a middle-aged man from Guatemala with a pet cobra that lives apart from her real self in real-time online. I forgot to add Second Life avatar to the list of Paul Abacus' attributes. I wished they had gone one step further and taken the performance outside of the theatre and in front of the masses à la Reverend Billy, the artist who preaches against capitalist consumption in front of the Disney store and their partners in crime.Such faux hyper-reality performances can have more impact when context is taken into consideration. If the artist is committed to confining their work to an art space, then the concept of creating a character who appears in the real world as a real person has his limits within the black box theatre. This was less the case when Abacus was presented at Sundance's New Frontiers Festival 2012 when credit of the performance was given to Paul Abacus instead of Lars Yan. It was equally disappointing when Da Ali G came out as Sasha Baron Cohen. Pee-Wee Herman was much more faithful to himself.
In this version, Paul Abacus does attempt to step off stage and into the real world, or rather he brings us to his world (view). He physically moves above and beyond us. Front center or in the audience he lets us know that the proscenium is the world. On screen he becomes a symbol like the starry display of the universe. He captivates our attention while keeping our heads spinning looking up, at and through the screen, behind us as he runs upstairs and offstage, to the left, to the right and even further out into virtual space.
Actor Sonny Valicenti embraces his role as Paul Abacus and smoothly switches gears from one subject to the next at a speed that correlates to the average attention span of the multi-tasking ADHD screenal being. Paul Abacus bounces between reminding us of the inequality in distribution of resources, the wars, inhabiting the moon, the sub-primes scandal, blah, blah, blah. Abacus is borderline Asperger's. He gestures to his screen to make his point via 3-D data visualizations. Here EMO makes a comment on the negative consequence of the information age- disinformation. Like most statistical analysis, ridiculous conclusions and analogies are constantly generated to fulfill the propaganda machine. (the decrease of Catholic school attendance to the increase in consumption of Kashi cereal. )
There are short, albeit impressionable, poetic moments where EMO reminds us we are in the theatre. At one point, the two on-stage camera men escape their anonymity/invisibility and break out in Fred Astaire moves mimicking either floating satellites or mirroring the movement of statistical graphs. Paul Abacus recedes in the background while this little dance soon disappears as it appears.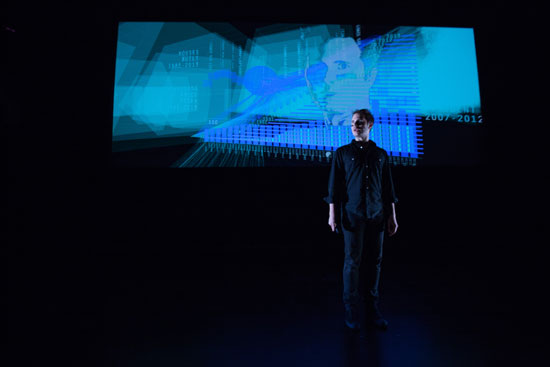 The visual props are reminiscent of 1970's experimental video with its low resolution contrasted with today's design trend of 3D data maps and our fond memories of watching David Letterman running back stage. The live video and animations literally illustrate or echo the actor and his words. All of this staging- the black box, the camera men, the live video feed, the giant screen, the ranting voice, the data graphs, the charisma are props that point out the various forms screen-based humans practice to persuade, to sell, to reason in an age where we can no longer just speak words to tell a story.
Angie Eng (
http://angieeng.com
) is a media artist who works in video, installation and time-based performance. Her work has been performed and exhibited at established venues such as, Whitney Museum at Philip Morris, Lincoln Center Video Festival, The Kitchen, New Museum of Contemporary Art, Renssalaer Polytechnic Institute, Eyebeam Art and Technology Center, Roulette Intermedium , Bronx Museum, Artists Space, Art in General , Anthology Film Archives, Experimental Intermedia and Cité de la Musique. Her videos have been included in digital art festivals in local and international venues in Cuba, France, Greece, Japan, Holland, Germany, Former Yugoslavia and Canada. For her multimedia and new media projects she has received grants and commissions : New Radio and Performing Arts, Harvestworks, Art In General, Lower Manhattan Cultural Council, New York State Council on the Arts, Jerome Foundation, Alternative Museum, and Experimental TV Center Finishing Funds and Foundation for Contemporary Arts. She has worked with composers, dancers, theatre, sound and video artists including: Ron Anderson (Molecules), Rhys Chatham, Audrey Chen, Luke DuBois, Vincent Epplay, Yuko Fujiyama, Jon Giles, Andy Grayton, Sofi Hémon, Jason Kao Hwang, Simon Hostettler, Jessica Higgins, Hoppy Kamiyama, Zach Layton, Okkyung Lee, David Linton, Jarryd Lowder, Shoko Nagai, Matthew Ostrowski, Jean Jacques Palix, Zeena Parkins, Ludovic Poulet, Rémi Préchac, Liminal Projects, Kyoko Kitamura, David Linton, Thierry Madiot, Geoff Matters, Ikue Mori, Pauline Oliveros, Jane Scarpantoni, Peter Scherer, Kevin Shea (Talibam), David Simms (Jesus Lizards), Jim Staley, Satoshi Takeishi, Yumiko Tanaka,Keiko Uenishi, Elisabeth Valletti, Vire Volte Theatre, Nancy Meli Walker and David Weinstein. She is also a European correspondent for AOA (Artist Organized Art) to support a critical dialogue between artists, art practice and dissemination via public events. She lives between New York City and Paris.