We are in our small to big ways,
undoing bombs.
An insider's portrait of the Global Culture Summit 2017 in Abu Dhabi
Mina Cheon, Participant of the Culture Summit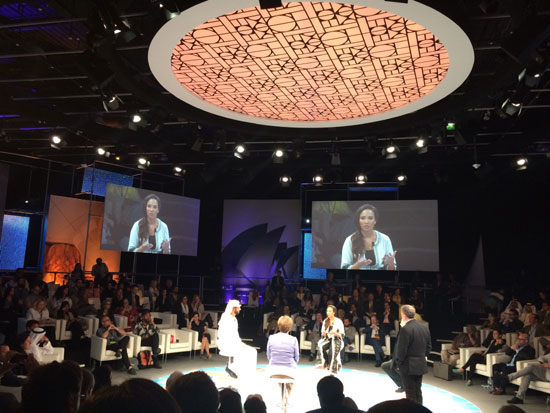 Global Culture Summit Abu Dhabi 2017 main stage discussion forum at the Manarat Al Saadiyat. Hosted by David Rothkopf, Editor and CEO of THE FP GROUP. The last panel on April 12 was on "The Future of Culture" and included Princess Alia Al-Senussi, Chair, Tate Young Patrons Board; Advisor, Art Basel; Adrian Ellis, Director and Co-Founder, Global Cultural Districts Network (GCDN); HE Saif Saeed Ghobash, Director General, Abu Dhabi Tourism & Culture Authority; Deborah Rutter, President, The John F. Kennedy Center for the Performing Arts.
If you have power, you can distribute movies like
Die Hard
. If you don't have power, you have to blow yourself up. If you are holding summits, you don't need to drop bombs. The very first
Global Culture Summit 2017 in Abu Dhabi (April 9 – 13)
promises change without bombs through cultural diplomacy while inviting the artists, activists, and advocates to the big table. (1) "Culture… is perhaps the most powerful force on the planet … … and Diplomats have found art and culture to be invaluable tools," writes David Rothkopf, Editor and CEO of THE FP GROUP on April 10 in an article "The Urgency of Art in a Dangerous, Rapidly Changing World." (2)
Through an invite-only cast of 300 cultural leaders, thinkers, activists, and advocates from around the world, representing more than 80 countries, the five-day event was a highly programmed super event (
full program can be found here
), that began its summit days with a "State of the Arts Plenary" with keynote speakers such as Madeleine Albright (Former US Secretary of State), Darren Walker (President of Ford Foundation), and HE Noura Al Kaabi (Minister of State for Federal National Council Affairs); followed by panels on specifically tied themes such as the refugees crisis, gaps of funding arts, climate change, and gender equality; and an afternoon with breakout workshops that included all participants to consider the role of culture in the world to come.
Change was the driving force; it was a hyper buzz term that was used to inspire us to gather. Say it over one too many times, the vast array to which change can apply, and how change is all around us, confuses and lessens the urgency of change agents and their roles. Nevertheless, we were all there, curious and eager to participate in what was yet to come.
The summit was held in Abu Dhabi's most renowned cultural center Manarat Al Saadiyat. For all the cultural policy makers, funders, innovators, and artists who got to stay at The Ritz Carlton or The Park Hyatt in Abu Dhabi, certainly this was a retreat like none-other. Artists were on their best behavior; treated with luxury stay, fine dining, and cultural performances at the highest level. Although jetlagged and sleep deprived, our eyes were wide open to actively partake in the scene of the invite. The summit unfolded with urgency towards the task at hand of redefining culture as a means of addressing the global wreckage led by violence and fundamental extremism. At the same time, we couldn't help wonder at times if we ourselves were becoming performers and audiences in a high-tech reality show spectacle that was our main discussion forum.
Sponsored by Foreign Policy Magazine and The FP Group, Abu Dhabi Tourism & Culture Authority, TCP Ventures LLC, and Etihad Airways; and hosted by Rothkopf with Carla Dirlikov Canales, with visiting artists of Academy Award-winning composer Tan Dun, Macarthur Award-winning choreographer Liz Lerman and internationally acclaimed visual artist Idris Khan, the star-lit elite cultural fest left us with cultural euphoria and escapism from the world where mother of all bombs was being dropped.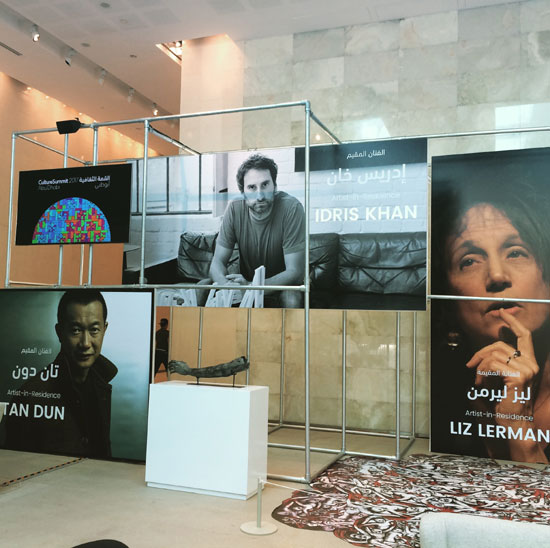 Photos of visiting artists of Academy Award-winning composer Tan Dun, Macarthur Award-winning choreographer Liz Lerman, and internationally acclaimed visual artist Idris Khan.
The topical themes of the summit — connectivity and technology, globalization and the other, funding mechanisms and institutions, sustainability and historic preservation, and the future of culture — were unquestionably timely, relevant and vital. Sometimes it takes global money to create a global village capable of bringing so many diverse producers and creators together in order to talk about the arts placed on the frontline of the conflict zone, highlighting artists assuming the role of cultural activists on the frontline.

Afternoon workshop Group 7 led by Faculty Panos A. Panay, April 10 Day 1, "identifying the major questions that participants feel we need to be asking about the future of global arts and culture with a specific focus on how culture can be used to produce positive social change." Day 2 and Day 3 included workshops on finding the "Answers" and seeking "Actions."
We were left with several major questions. For one, how to distinguish and prioritize which global conflicts to attend to in our increasingly chaotic geopolitical world. When we speak of the future of culture, whose future are were we talking about? And, although the summit was held in Abu Dhabi, regional United Arab Emirates (UAE) geopolitics was not brought up; the cultural success of neighboring cities was not shared. The awkwardness lingered, as the Sharjah Biennale, which is at the forefront of contemporary art discussion, was only two hours away, yet was somehow never brought up.
Lastly, the apparent lack of local contemporary artist participants was a missed opportunity, as we read Mohammed Fairouz stinging article in
The Daily Beast, "Did the UAE Exclude Artists from Its Abu Dhabi 'Culture Summit?'"
(3) published April 10, same day as the Rothkopf article. It was evident, we (the globalists) were missing out, since when else are we able to meet with local artists and have a real intercultural exchange? Shouldn't we hear and learn of the narratives and storytelling of their frontlines? This is not to say that there was no local representation at the summit, however it was not an equal representation and there lacked diversity of other kinds.
Coffee breaks included small talks pointing out the desire for participants to have had a greater say in the programming of the summit. Another concern was that too many people from so many different fields kept the conversation at a basic level. Where was Lerman's famous critical response process and the critical discourse? Moreover, while performance arts has always made ways in the sector of cultural diplomacy, what about placing exhibition arts on an equal footing with curating? Bar talks concluded with maybe this should all be a part of the agenda for the next summit round?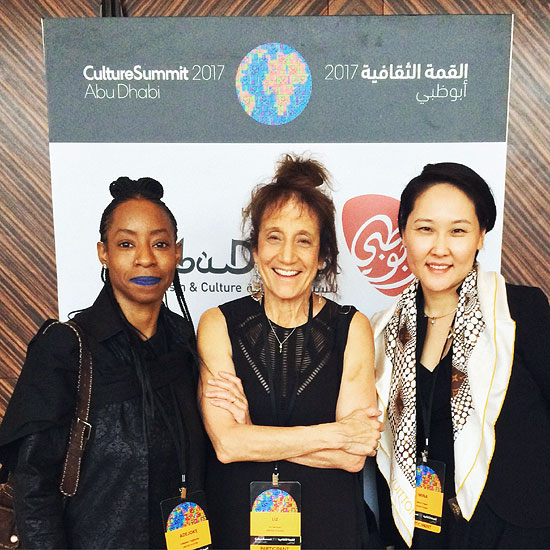 Mina Cheon with Liz Lerman and visual artist Adejoke Tugbiyele (left).
Certainly, the upside was that there were tremendous benefits with the summit as well. The afternoon workshops pushed ideas of change, community and collaboration into specific action, glocal (global local) outreach and mentorship, partnership (at least in the case of Workshop Group 7 led by Faculty Panos A. Panay). We explored bridging the gap between funders and fundees, including the use of innovative platforms of exchange, as a result of smaller group brainstorming break out sessions. Finally, there was The Culture Summit Underground, founded by a curator Nadim Samman, an underground forum for similar minds that allowed rebel artists to be a bit more themselves, and off the grid at times. This safe space to blow off a little steam gave way to honest discussions and possible life long global friendships, igniting a beginning of many possibilities of figuring future solutions based on friendship. After all, change starts at the micro-relational level of considering the other.
As an artist who participated in the summit and joined the summit's underground, I am certain, I have benefited the most by this summit, and I am grateful to have been invited. I have a new hit list of future projects birthed by the summit experience. The one that speaks directly to the summit is recognizing the need for a guide on The Pedagogy Teaching Future Advocates. I too, like many others educated as an artist, became a rogue activist going along and making it up by trial and error. The need was apparent for an overhaul of the entire educational system to support the pedagogy of becoming cultural advocates in order to raise the global cultural awareness as a priority.
Certainly, taking away what you can is an individual action, the impact of what you do with it is beyond the self. I believe that the summit gave all of us something more to work with and as we disperse back into our own realities and lives, know that there are at least 299 others in the global cultural ecosystem of cultural leadership at all levels from diplomacy, performance, exhibition and activism, contributing further to the anti-violence and human rights, and by that we are in our small to big ways, undoing bombs. Yes, let's make art not bombs.
A sincere thank you to the Steering Committee and sponsoring organizations for giving me and the many artists an opportunity to gather, to travel, and come together on this unique once in a lifetime adventure of the Global Culture Summit 2017 in Abu Dhabi.
Mina Cheon is a new media artist and Full-time Professor at the Maryland Institute College of Art.
1. "The arts and culture are the glue that bind together civilizations and the drivers of social change and yet, more often than not, they are forced to sit at the children's table when it comes to big public policy discussions," David Rothkopf, in "The Urgency of Art."
2. David Rothkopf, "The Urgency of Art in a Dangerous, Rapidly Changing World," April 10, 2017.