Jessica Higgins & Denis Luzuriaga
Intermedia Television, Holyoke Massachusetts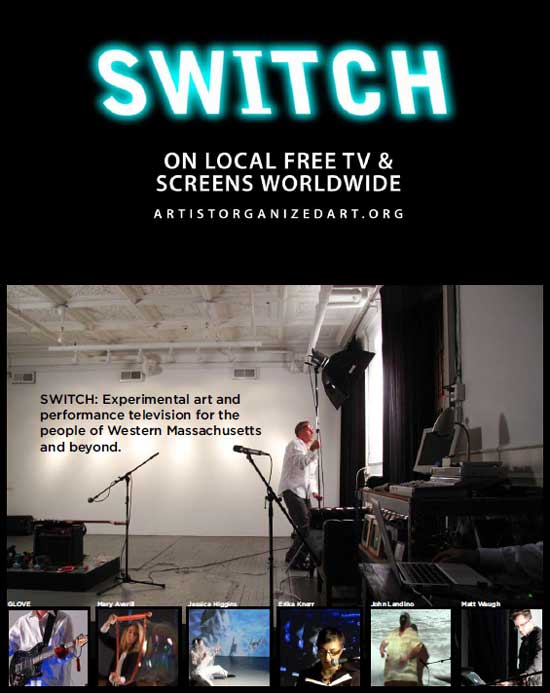 From a full page advertisement in newsprint, depicting the Holyoke studio space
and some of the artists involved with LAB, the experimental
performance gathering behind SWITCH
by Joshua Selman
An interview with the Creative Director, Jessica Higgins and Producer, Denis Luzuriaga, of SWITCH,  a new art for television project being syndicated throughout Massachusetts. The discussion examines global participation in a local media market:
Joshua Selman: Are you returning to public television as a resource for artists?
Jessica Higgins: Yes, it's a form of art making. On switch I'm trying to bring intermedia together with all the different modalities. Definitely influenced from the event score and intermedia to just allow an open, experimental place. I would say many people doing the performances there have taken the event score and the happening into the twenty first century using technology, producing video art, photography, painting, dance, poetry, conceptual sound, music…

A 7 minute documentary clip on making SWITCH in Holyoke Massachusetts.
The interviews with Jessica Higgins and Denis Luzuriaga
discuss global participation in a local media market.
Video: Artist Organized Art

Joshua Selman: Do you think television is to video as cinema is to film? How is the viewing experience unique to the form? Is Holyoke a public television kind of city?
Denis Luzuriaga: Holyoke doesn't have a public access channel so it would be great if we could show SWITCH in Holyoke as well, which is where it was created. The viewing experience is different just by the mere knowledge that there's a chance that someone's watching the exact same programming at the exact same second. When we do our once a month gathering in the studio to produce the show that we call SWITCH we definitely benefit from being a group and we work off of each other's energy. There is a very strong collaborative feeling. Everybody gains inspiration from what other people are doing. To document it properly I have to put myself in the mindset of being an audience member.
Jessica Higgins: What's interesting to me is the element of surprise. To see what happens. It doesn't always work, but most of the time it hopefully does. I mean I think of so many artists who have been pushed out of their spaces. There's like this whole air space that's now becoming available it's got a lot of potential for artists to do work and put it out there. The production is just a wonderful tool that artists are using.
Joshua Selman: Since you make these episodes for public television, but you also release them on a web channel (www.vimeo.com/channels/switchtv) are you encouraging global participation in a local media event? I heard you have also done intercontinental video chat sessions for local shows?

Denis Luzuriaga: Starting with your local public access television station is the way to go. People tend to overlook more traditional outlets such as public access and jump immediately to Youtube or Vimeo, but it's a little difficult to try to present material that is relevant to your community in a forum that is designed for billions of people to have access to. The phrase think globally act locally would be very much apropos.
Joshua Selman: I know, Jessica, that you performed with Elaine Summers' intermedia dance company at Lincoln Center and at Anthology Film Archives. The performances on SWITCH have a bit of a painterly quality as works on video, how did that aesthetic develop?
Jessica Higgins: Switch was such a natural unfolding. I mean we got together and basically experimented with creative ideas and many of the small Fluxus pieces that I grew up doing in the Fluxus Festivals that happened at the Anthology Film Archives and the Judson Church, doing very experimental, improvisational dance in Lincoln Center..
Denis Luzuriaga: Aside from doing the live performances once a month I paint here occasionally. This building is probably at least 150 years old. This space here originally apparently use to be a grocery store. Often during the performances we do, which we call lab we have video projections going on and so the performers may be performing in front of the video projections some people like to have the projection on them.
Joshua Selman: When I go to youtube the interaction is what I would term "webby." But with, public television, the webby experience is replaced by a different type of focus. In a way the web experience is lonelier. One person focusing on an interface, it lacks the camaraderie of living space. I like to imagine ancient Greek theater with everyone texting and searching for stuff, passing links, commenting on boards and leaving ratings… but, of course, on stone, wood or parchment and by calling out.
Jessica Higgins: Artists being in everyone's living room. You could switch on the television and have artists doing a short performance piece and have something that's refreshing and different. I would love to see intermedia and Nam June Paik's vision of having art in everyday life.. being able to turn on the television and see a short performance piece refresh people's everyday life in a way that's special and mysterious and experimental.
Joshua Selman: Denis, do you also have a background in experimental art and television?
Denis Luzuriaga: I used to live in New Jersey and in New Jersey I had a group. We were kind of experimental. We would show up on rehearsal nights, but we didn't really rehearse because there was nothing to rehearse. We would all show up with outlandish instruments that were prepared or just in whichever way they were modified with effects and we would always try to out do each other with just craziness. So that's kind of continued up here since I've moved up here to Western Massachusetts, we're in Holyoke right now.
Denis Luzuriaga: The kind of work I do that pays my bills is in the advertising industry. And it is specifically pre production artwork. They call it also storyboards and comps and animatics. When I started out doing it, it was all done by hand marker illustrations on paper and then that slowly transitioned to all digital. It's still drawn by hand, but it's drawn on, in this case, a tablet that also doubles as a monitor.
Joshua Selman: What else would you say are aims or goals of making SWITCH?
Jessica Higgins: My father's intermedia ideas and theories, which he struggled so hard to put out there, I think there was a reason that this culture wanted that.
Denis Luzuriaga: We would love for artists from other parts of the country and artists from all parts of the world not only to collaborate online with SWITCH but also to come to LAB, to come right here to Holyoke and get involved. We want to make connections with other people who have similar sensibilities.
Jessica Higgins: We decided we were going to do this LAB, which became SWITCH down in Holyoke.
Denis Luzuriaga: I mean take a look down this canal here, there are just some beautiful, beautiful scenes. It would lend itself very well to location shooting be it film or still photography or even just subject material for painters or photographers.
Joshua Selman: LAB is your actual performance laboratory? How is it different from SWITCH?
Jessica Higgins: LAB is more of this place that is so wide open that really anything can happen. But when you deal with switch which is something that's broadcasted you are dealing with a few very loose constraints such a time. I mean we have a 30 minute segment that we need to perform these pieces in, and we want everyone to get a chance to do their piece. Of course this isn't written in stone and sometimes if vintage Fluxus artists have come along or we've had a few guest artists to SWITCH that are very well known and structures vary a little bit in that case.
Joshua Selman: Holyoke is a very unique place to be doing this isn't it?
Denis Luzuriaga: When I moved up here I didn't really know much about this area. I didn't know about Holyoke at all. Physically it's a very interesting city. There's a new building that's being built here in Holyoke and they call it this High Performance Computing Center. It's going to house some of the most powerful computers in the world. One of the reasons they're building a center here in Holyoke is because of the fact that the electricity that's available to them is green electricity. It's all hydro-electric. It's just one block in that direction.
Joshua Selman: Jessica, your father, Dick Higgins, was not only a founder of Fluxus, but he coined the term intermedia as it applies to contemporary art. You also worked with Elaine Summers who is considered preeminent for intermedia as applied to dance and movement. Are you working with your those theories at LAB?
Jessica Higgins: Yes I'm trying to bring together an open space to experiment with intermedia.
Joshua Selman: How does Holyoke measure up as an enclave?
Denis Luzuriaga: Holyoke is definitely the most exciting environment, that people could come to, to collaborate in projects. For example, there's Bring Your Own Restaurant that happens here in Holyoke. People show up here on the canals and they bring tables and tablecloths and linens and real plates and some people even dress up and of course there's no money exchanged and that is another community driven event as an outdoor restaurant. The people who attend are artists, they're business people, they're politicians. That is an artist organized event.
Joshua Selman: Who thought of going back to television in the age of the streaming media server?
Jessica Higgins: When I saw Denis working it reminded me that Nam June wanted to put intermedia on TV in everyone's living room. It was a natural leap to ask Denis to put LAB on TV as a show called SWITCH.
www.vimeo.com/channels/switchtv
Public television episodes of SWITCH are available on demand

www.vimeo.com/​groups/​switchtvextra
Extra SWITCH content only available online

Jessica Higgins, Creative Director of SWITCH: American artist, lives and works in New York and Massachusetts. Formative dance studies at Juilliard and Joffrey. Daughter of Fluxus Founders Dick Higgins and Alison Knowles. She has direct experiential knowledge of Fluxus, having early formation in that culture by way of the original members and by participation in historic Fluxus events. She is a regular correspondent for Artist Organized Art and the Creative Director of 'Switch' a local access television series of performance and intermedia out of Western Massachusetts. Her works and performances have exhibited in numerous countries.
Denis Luzuriaga, Producer of SWITCH: visual artist working in Western Massachusetts. He combines video, painting, and sound in what can be termed "sense-scapes." His latest work "Temporis" is a two channel video and sculptural installation. Temporis is installed in a 150 year old mill building along the Connecticut River. Denis exhibits his work in galleries, exhibition spaces, and works with outsider artists performing irreverent versions of yester-year avant-garde such as Kurt Schwitters' "Ursonata" electrified.
Nam June Paik: A seminal pioneer of video art, closely associated with Fluxus and intermedia, during the New Year's Day celebration on January 1, 1984, he aired Good Morning, Mr. Orwell, a live link between WNET New York, Centre Pompidou Paris, and South Korea. With the participation of John Cage, Salvador Dalí, Laurie Anderson, Joseph Beuys, Merce Cunningham, Allen Ginsberg and Peter Orlovsky, George Plimpton, and other artists, Paik showed that George Orwell's Big Brother hadn't arrived. In 1974 Nam June Paik used the term "super highway" in application to telecommunications, which gave rise to the opinion that he may have been the author of the phrase "Information Superhighway". "The building of new electronic super highways will become an even huger enterprise. Assuming we connect New York with Los Angeles by means of an electronic telecommunication network that operates in strong transmission ranges, as well as with continental satellites, wave guides, bundled coaxial cable, and later also via laser beam fiber optics: the expenditure would be about the same as for a Moon landing, except that the benefits in term of by-products would be greater."
Dick Higgins: A composer, poet, printer, and early Fluxus artist. Higgins was raised in Worcester, Massachusetts. His daughter, Hannah Higgins is the author of Fluxus Experience, an authoritative volume about the Fluxus movement. Her twin sister, Jessica Higgins, a New York based intermedia artist closely associated with seminal curator Lance Fung, late Fluxus gallerist Emily Harvey and The Artists Museum's and Construction In Process, performed and collaborated as a youth in original Fluxus related events. Dick Higgins coined the word intermedia to describe his artistic activities, defining it in a 1965 essay by the same name, published in the first number of the Something Else Newsletter. His most notable contributions include Danger Music scores and the Intermedia concept to describe the ineffable inter-disciplinary activities that became prevalent in the 1960s. He was an early and ardent proponent and user of computers as a tool for art making, dating back to the mid 1960s, when Alison Knowles and he created the first computer generated literary textes.
Elaine Summers: A founding member of the workshop-group that would form the Judson Dance Theater and significantly contributed to the interaction of film and dance, as well as the expansion of dance into other related disciplines, such as visual art, film, and theater. She furthermore fostered the expansion of performing dance in new, often outdoor locations. Her movement approach Kinetic Awareness offers a comprehensive perspective on human movement and dance. Summers worked intensively with film and its inclusion in live performance. Her learning of filmmaking and her experiments at Judson finally led to her own intermedia presentation Fantastic Gardens in 1964. In 1971 the Elaine Summers Dance & Film Company premiered Energy Changes. The piece went into full premiere in 1973 at the sculpture garden of the Museum of Modern Art in New York City, including an early use of video showing dancers located in other parts of the garden, in collaboration with Davidson Gigliotti, composers Philipp Corner and Carman Moore, recorded on video by Nam June Paik.
LAB: A monthly gathering in Holyoke, Massachusetts or alternative locations where experiments with action and intermedia are shared by a local community of artists with guests from around the world. The LAB sessions are used as the basis for the creation of the show SWITCH.
Holyoke is a city in Hampden County, Massachusetts, United States, on the banks of the Connecticut River. It is part of the Springfield, Massachusetts Metropolitan Statistical Area. The city was named after Elizur Holyoke, who explored the area in 1660. One of the first planned industrial communities, Holyoke bears the nickname "Paper City"
Bring Your Own Restaurant (BYOR): Do it yourself fine dining on the streets of Holyoke. A plein air potluck held every other Friday, 7pm start, rain or shine and from Spring until late Fall. All are welcome. If you would like to join us, bring a dish of something edible to share, your own plate, chair, utensils, etc. and we will enjoy the lovely view in downtown Holyoke with good company. Bringing your own table is recommended, but if you are solo there is always space at someone else's table. We will have a couple of chairs on hand for those without access to cars. We would like this to be a trash-free event, so please do not bring disposable plates or other items that will end up in the landfill! Dress to impress or dress to de-stress. No reservations