The Fine Art Adoption Network
by Adam Simon
www.fineartadoption.net
The Fine Art Adoption Network was commissioned by Art in General, NYC, as part of their New Commissions program. The web master is John Weir. We launched FAAN in April 2006.

The goal of FAAN is to help increase and diversify the population of art owners and to offer artists a new way to reach their audience. Artists post images of works they are willing to offer for adoption and potential adopters email them through the site. The artists choose an adopter from among those that solicit them. The artist receives no money for the artwork and the only costs to the adopter are whatever is required to transfer the work. Once the transaction has been completed, the artwork becomes the property of the adopter.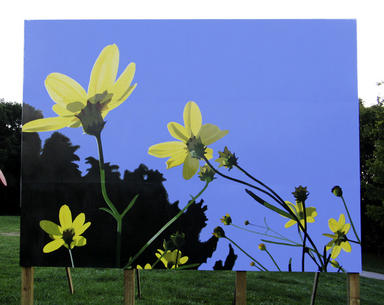 Carrie Waldman

,

More Moonbeams

, 2005. 192 x 144 inches

Since the launch of FAAN in April 2006, over two hundred artists have joined and bestowed their art, almost 1,000 people are participating as adopters, and 237 adoptions of contemporary artworks have taken place. In its first six months, FAAN recorded more than 80,000 visitors, and the audience increases monthly. Media coverage has included Art News, Italian Vogue, the Christian Science Monitor, the New York Sun and strong coverage on the internet.

What I would really like to see is FAAN expanding until it is functioning throughout the U.S. as well as internationally. If this were to happen, it would mean that we would truly have in place an alternative system for the distribution of art. Not one that is intended to replace the art market but one that serves as a necessary corrective, allowing artworks into homes without the prerequisite of purchase.

There is an interesting dialogue that naturally occurs around the subject of art adoption. It includes the art market, the relationship between art ownership and class, the degree to which artists are subject to market concerns and ideas about the concept of gift economy and its relation to art.

The art market is one of the few markets where supply is not dictated by demand. Artists continue to make art whether or not they are able to sell it. Meanwhile the market depends on an artificially created notion of scarcity of good art. The notion of rarity that the market requires depends on a small number of artists being selected from a large pool. Partly because of this, the art market can only accommodate a fraction of the art objects that are being produced. The market does a terrible job of putting art into a lot of homes.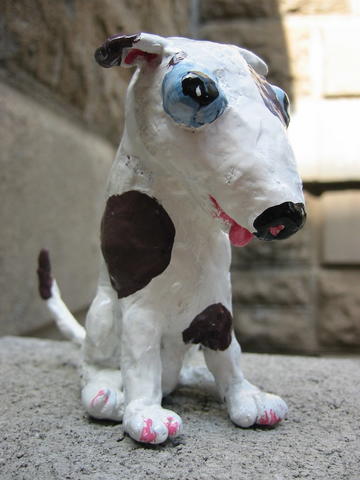 Matt Freedman

,

Lost Puppy

, 2006. 2 x 4 x 3 inches



Over 200 adoptions have taken place through FAAN in the past year. Artworks are finding homes in unlikely locations. A fifth grade class in New Brunswick, Canada adopted Matt Freedman's, Lost Puppy, an ironic site-specific work made for FAAN, as well as Perry Bard's Zone, a sculptural proposal for peace in Korea. A policeman in training adopted Cathy Quinlan's drawing of a head of the Madonna, after Duccio. Carrie Waldman's billboard-format painting, an enormous, slightly pop view of daises in a field, has been installed on the outside of a building facing the town diner (where farmers have their morning coffee) of a small town in upstate New York. No one has adopted Sheryl Oring's Writer's Block, a series of metal cages each filled with approximately 30 antique typewriters, but I believe she is waiting for an institutional adopter.








Sheryl Oring

,

Writer's Block

, 1999. 36 x 36 x 36 inches

The fact that both the artists and the adopters choose is one of the interesting features of art adoption. Ultimately though, it is the artist that chooses. Regardless of who gets to choose, a series of interactions is being initiated around the artworks. These interactions are multi-faceted and personal. For the adopters, it can resemble Internet dating. They present both who they are and the nature of their appreciation for the artwork. They are convincing artists by telling them what the artworks mean to them. For the artists, this can seem an unusual relationship to an audience. Typically in the art world, they are the ones soliciting recognition.

Art-lending institutions exist both in Europe and the United States and bartering art for services is not uncommon, but art adoption, as far as we know, is new. Both the artist and the adopter are aware of participating in something outside of the commercial norm. There is a shared sense of shaping a transaction differently, in part because they are in direct communication with each other. The art on the FAAN website is marked by its separation from expected venues. It is displayed, not as work soliciting buyers and not as part of an exhibition but as an object in a gift economy.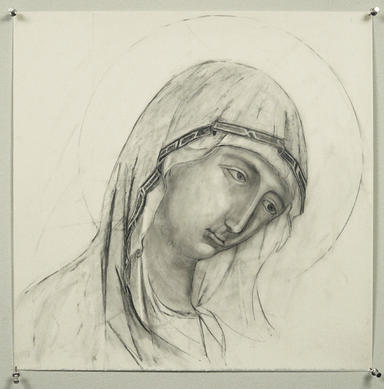 Cathy Nan Quinlan

,

Study for a Contemporary Portrait: Duccio

,
2001. 17 x 17 inches

Once a system is established as the norm it becomes difficult to look at or to look for alternatives. The art market replaced a system of patronage by the aristocracy. I don't think anyone wants to see art adoption replace the art market. If FAAN continues to grow at the current rate, it could have the opposite effect of strengthening the art market by expanding the population of art collectors. Collectors who adopted work through FAAN have gone back to the artist and bought additional work.

It is too soon to know how many artworks adopted through FAAN are reaching homes that would be unlikely otherwise to house original artworks. Potentially, we are talking about a different relationship between art ownership and class. It seems clear that the demographics of people adopting art through FAAN are wider and more varied than those acquiring art through the gallery system.

The art world is small but the world reached by the Internet is huge. Ideally FAAN will continue to expand geographically so that someone browsing the site in Boise, Idaho or Brennero, Italy will be able to find artworks both locally and internationally. The one thing the adopters will have in common will be an appreciation for what artists do.


*artists wishing to post work on FAAN should contact info@fineartadoption.net