Shake Out – End of Summer
Art/Music in Rockaway
Curated by Shaun Kessler, Patrick Walsh and Olivia Wyatt
Saturday August 22, 2009
192 Beach 96th street, Rockaway Beach, NY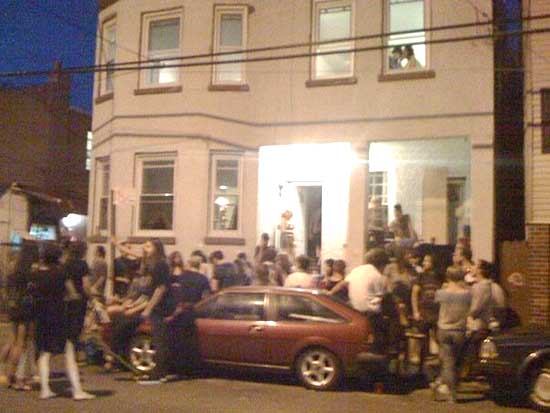 During the weekend of epic waves courtesy of Hurricane Bill, surfers weren't the only ones in the part of Rockaway Beach I've come to call MoSh FroP (Middle of Shore Front Parkway – a patch of Rockaway shorefront between Beach 90th and 96th street.) Shaun Kessler, Patrick Walsh and Olivia Wyatt organized the second of their art/music shows this summer in the part of Rockaway Peninsula that is experiencing an influx of surf/hippie/art/music culture hybrid; an endearing work in progress that I love to see mature to its full potential. The show occupied a building that is going through a gut renovation adjacent to Rockaway Taco. All through the day people went back and forth from the show to the beach, which is less than a block away.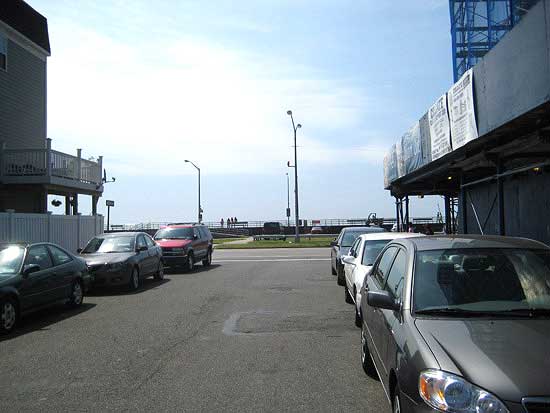 the Rockaway surfing beach is just steps away…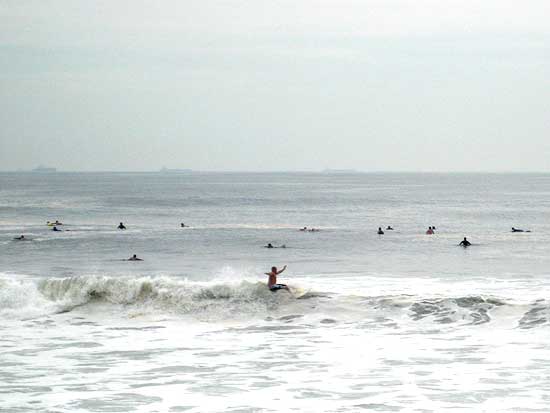 you can surf or swim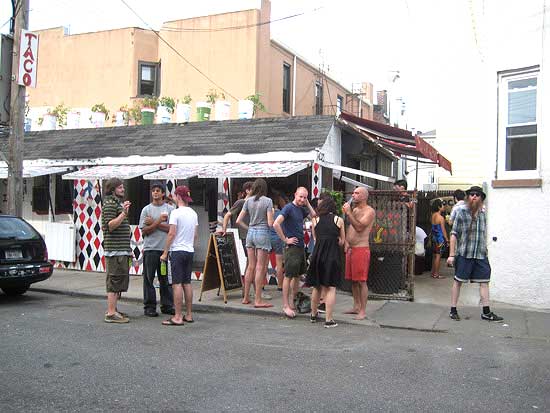 then get back to eat some tacos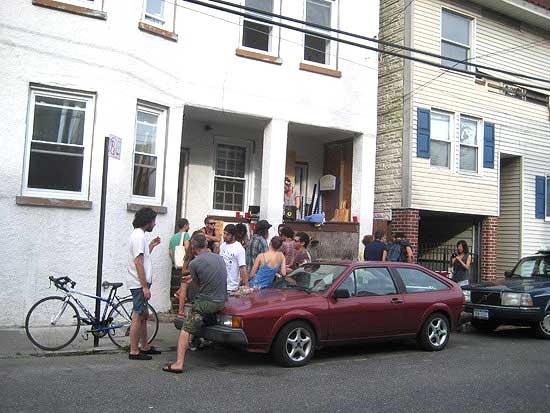 and see art and listen to bands
The work of 11 artists were spread throughout the second floor, while 6 bands played through the evening in a small room on the first floor.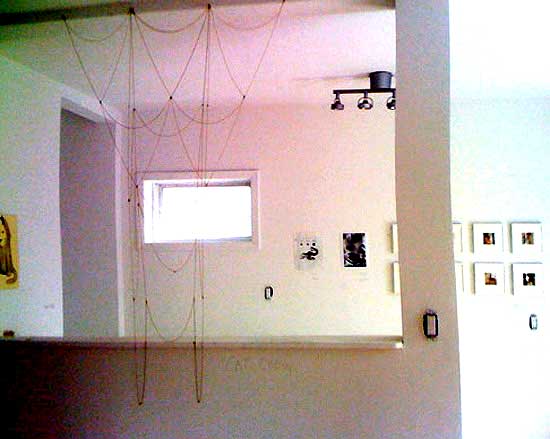 partial view of the 2nd floor, What a Feeling,
a hanging chain motif by Cat Chow in the middle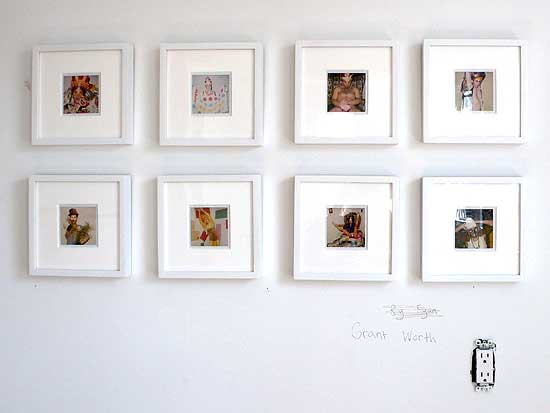 polaroid grid by Grant Worth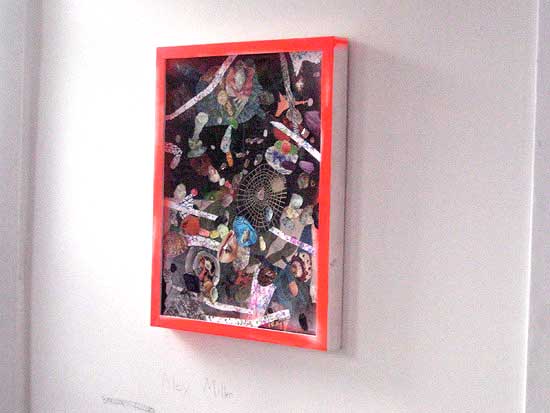 collage by Alex Miller

black abstract canvas by Wyatt Kahn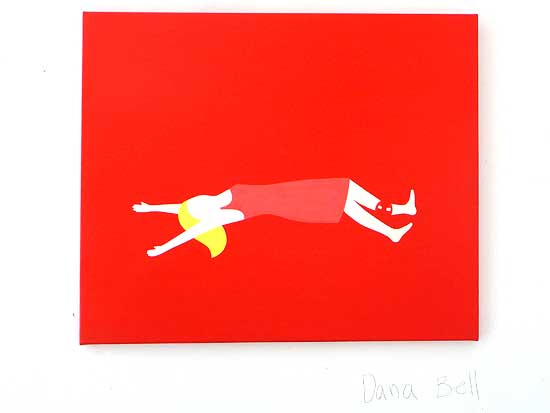 a Dana Bell painting Broken Leg (from a photo of Paris Hilton)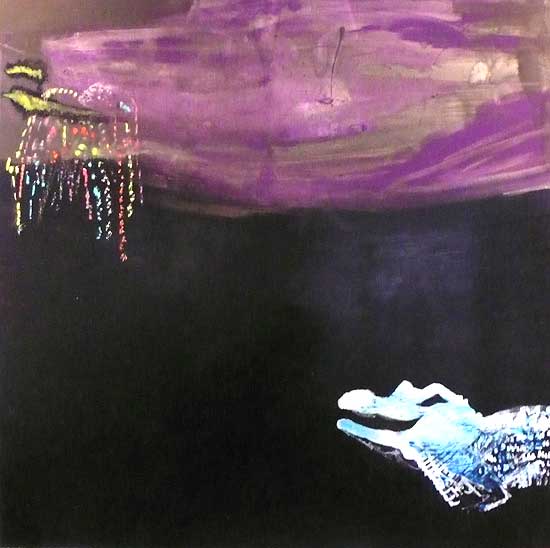 a painting by downtown music staple MV Carbon

candy wrapper Rockaway landscape by Taketo Shimada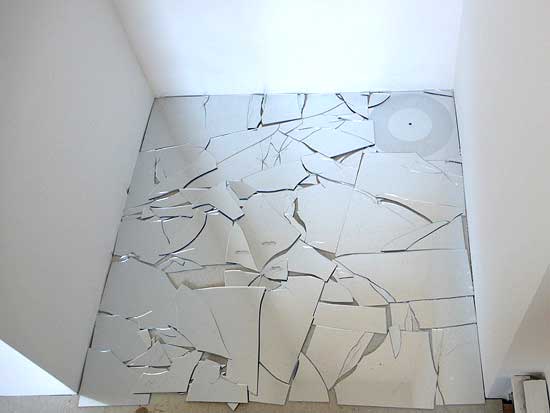 floor installation by Robbie McDonald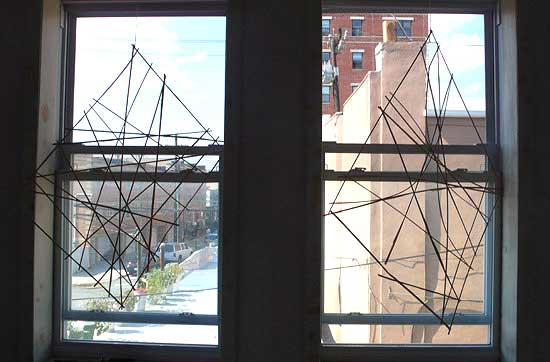 a pair of twig constructions Stick Chart by Bridget Donahue

an Olivia Wyatt video Seeking the Spirit
shows little known facts about Rockaway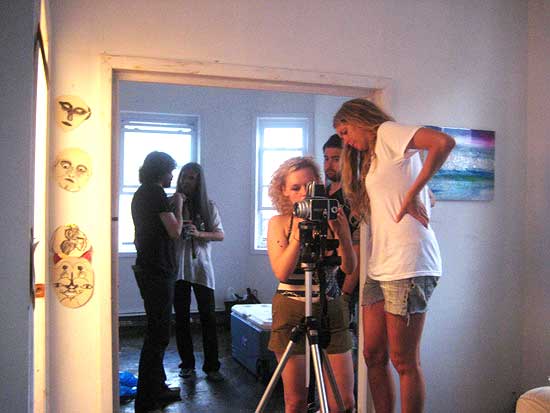 all through the day Blain Vandenberg and friends
took pictures of visitors in her custom photo booth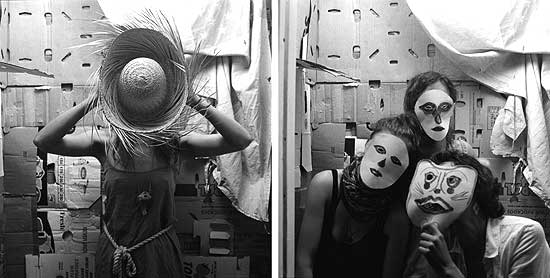 photos from the booth

It is easy to file this show away as another DIY art/music show that evokes such words as Noise or Institutional Critique, but it was much too disparate and instinctive to be pigeonholed into a curatorial schtick. For Shake Out – while also escaping the fuzzy New Age togetherness – contents were secondary to the phenomena of the series of collective action it generated, from curating to participating to spectating. This serial Summer group art shows with post-dusk performances by the ragtag lineup of NYC bands drew an astounding amount of spectators to the point where some had to wait to get inside. Considering the location and stigma attached to the Rockaway (it's faraway, has one of the highest foreclosure rates in the U.S., high crime rate) this is quite a feat.
Amidst this context, What a Feeling by Cat Chow, and Stick Chart by Bridget Donahue seemed at home and uniquely site-specific. Both employed semi-discarded material to construct loose geometry and presented casual sophistication that resisted being wall display (a la the artist-alchemist Arte Povera experiments of the 60s). Together, the artworks created an out-of-focus portrait of a future tenant.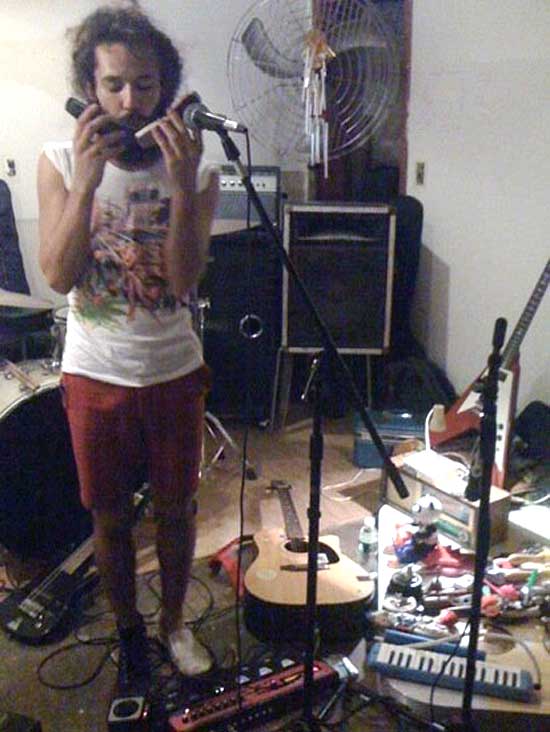 Lazaro Valiente and his toys. He might still be playing there.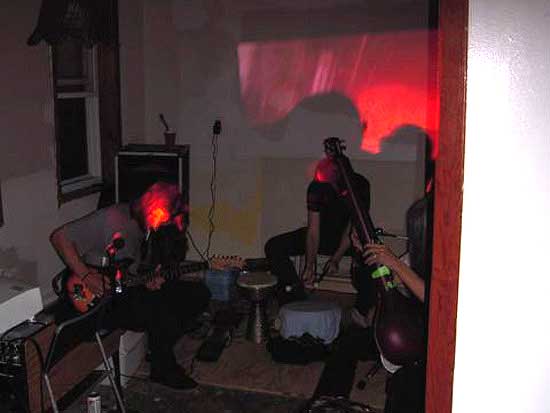 messages starting their set,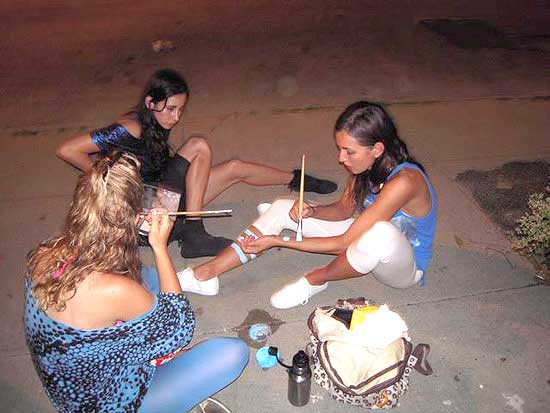 while SKINT get ready outside.

SKINT followed right after messages

As we are all aware, the fabric of NYC commercial art activity reaches far beyond Chelsea – new annexes come and go in a dizzying pace because infusions of capital come faster nowadays than the speed in which culture can grow. This pattern of gentrification known as the SoHo Effect is getting shorter and shorter. While gentrification of most of the neighborhoods in short distances from NYC is inevitable, the compression of time negates a kind of collective unfolding which SoHo of the early 60s was able to afford. It is important to note that the curators are year round residents there, and that all summer long they also organized and helped out at the organic vegetable stand that's open every Sunday.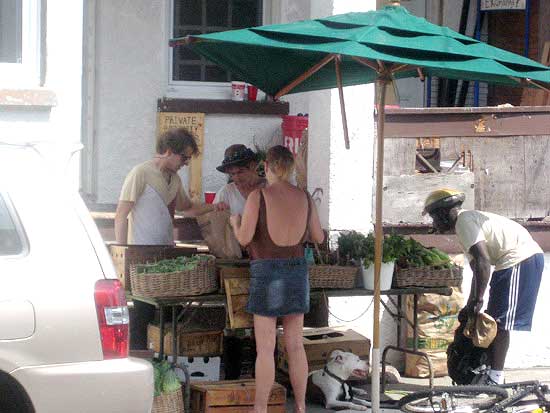 Next morning,

Shaun

was busy at the organic vegetable stand
run by

Elizabeth Gilchrist

of Blooming Hills Farm.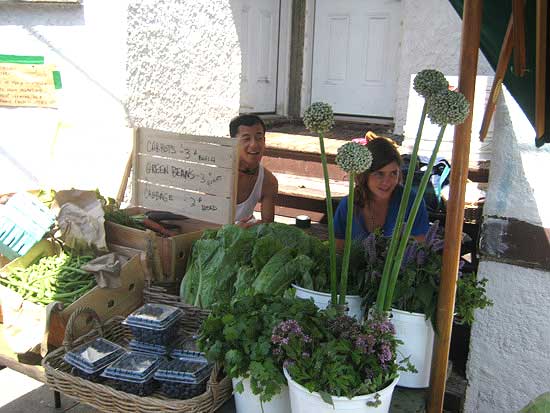 Elizabeth Gilchrist and Taka
The stigma attached to Rockaway, with its proximity to the surfing beach, is what gives MoSh FroP its potential – and what differentiated the Shake Outs. They weren't statements, but more like snapshots capturing enormous cultural potential from the neighborhood.
Taketo Shimada
Artists: Alex Miller, Blain Vandenberg, Cat Chow, Dana Bell, Grant Worth, Kyle Field, M.V. Carbon, Robbie McDonald, Scott Hug, Taketo Shimada, Wyatt Kahn
Bands: Skint, Wet Ropes, Revival Times, Little Wings, Lazaro Valiente, messages