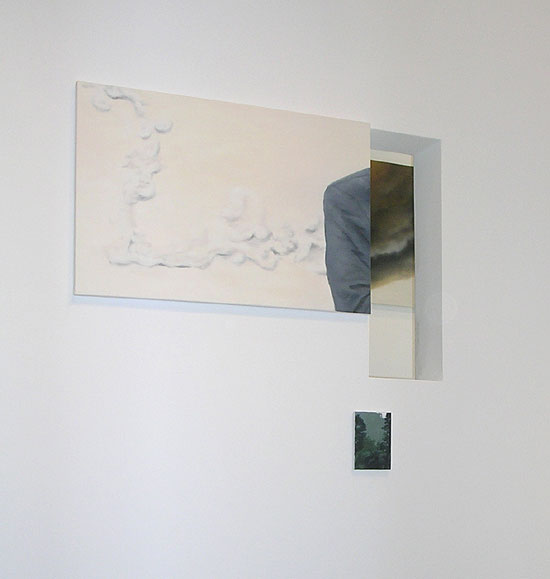 photo:

Jean Pike

, onsite view
Site Santa Fe Biennial 2008












Overlaps and Relocations
New Architecture at the Site Santa Fe Biennial
Lucky No. 7
by
NYC Artist Architect,
Jean Pike
Site Santa Fe's generic warehouse space was transformed for its 7th Biennial into a rich spatial experience by architects Todd Williams and Billie Tsien and unveiled during weekend opening events June 20-22. The architecture that was inserted into the space was an armature for movement and viewing and provides the thread that holds together a show of site-specific work by 25 artists from 16 countries.
Todd Williams and Billie Tsien, who had used ideas about "spatial curiosity" and "approaching" to generate a previous project with curator Lance Fung for the Snow Show in Torino, developed peripatetic ways of moving through the Site exhibition space that offer elevation changes (ramps, steps, balconies and raised walkways) and the possibility to perceive space, art and people from multiple angles, heights and perspectives. Spaces for moving become event spaces: locations for stopping, gathering, looking, listening, sitting, talking, art-making and other random actions.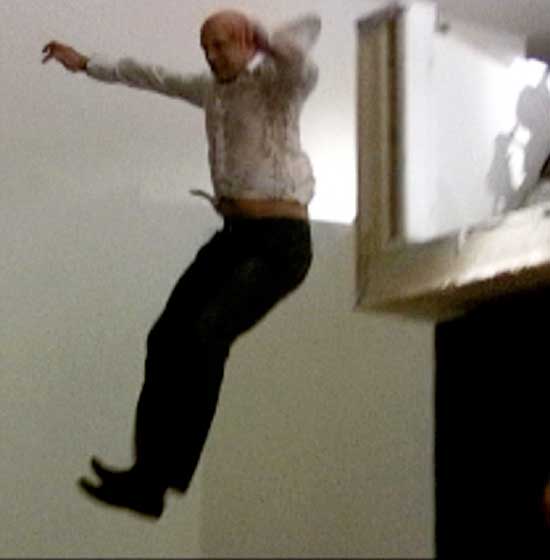 photo:

Megan Fisher McHugh

, courtesy of santafelucky7.com
The exhibition space is largely defined by the presence of the surfaces upon which and within which one moves. Vertical walls, where they exist, are sometimes punctured, sometimes partial, allowing for moments of spatial transparency, parallax and specific perspective views. Because of the complex ways of moving and looking at the art one starts to perceive an overlap, an overlapping of spaces, of art, of one artist's work upon another and of one location upon another, of digital onto analog and vice versa.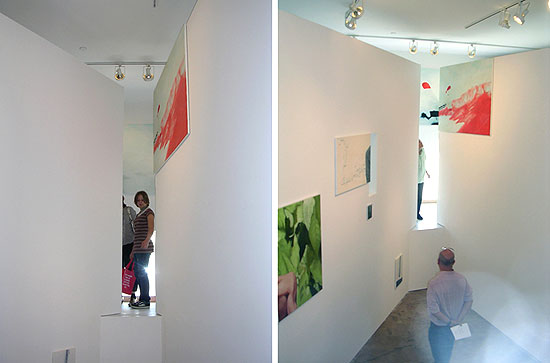 photo: Jean Pike, onsite view Site Santa Fe Biennial 2008
The idea of spatial overlap and extension mixes with the content and concepts of the art: paintings of internet images made in Korea and paintings of internet images made in Santa Fe (artist Soun Myung Hong), Mnemonic connections between disparate locations such as that which exist between Studio Azzurro's interactive video projection, Fourth Ladder, and actual ramps with actual people climbing on them within the exhibition space, work like an alternating montage between digital and analog.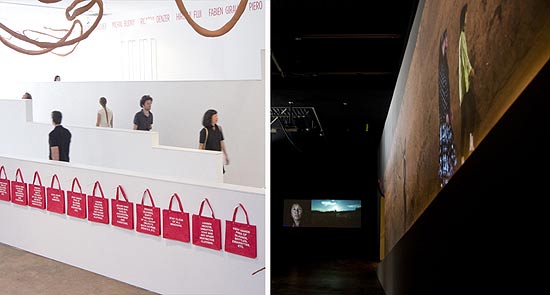 photos: BayAreaEventPhotography.com
Abduction, a work by Fabian Giraud and Raphaël Siboni also references alternate locations. Their piece, taken from a Santa Fe gallery, was transformed, installed at Site, and is intended to be relocated back to its original gallery after the Biennial closes, having been transformed yet again. Even the materials used for the architectural construction of the exhibition will be dismantled and reused elsewhere at the end of the show. Be it literal or conceptual, the offsite projects are now also overlapped onto the site, and a sort of simultanaeity begins to occur. Work created elsewhere and the sensibilities of artists from elsewhere, an interest in recyclable art-making materials and a spatial experience that, through movement and view, emphasizes montage, are all brought to bear on the site and reverberate back outward beyond its confines.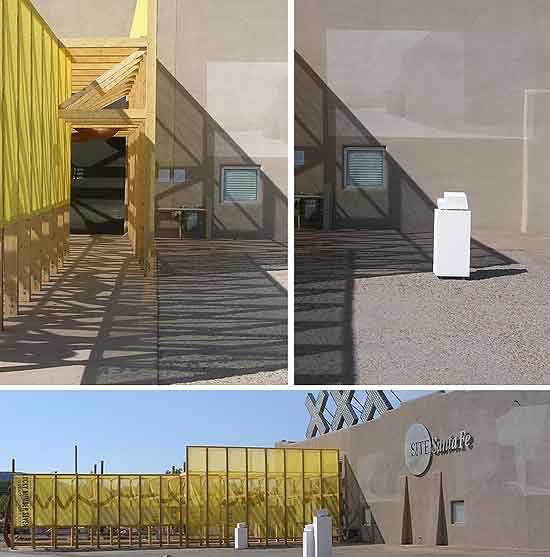 photo: Jean Pike, onsite view Site Santa Fe Biennial 2008
At the front, the new transparent entrance structure, built with manufactured materials, is a contemporary version of the traditional New Mexican ramada, a trellis-like structure made from wood branches that provides ventilation and shade in the harsh summer months. It's moving shadows mix with the simulated and static (painted) projection images of Michal Budny and Zbigniew Rogalski's Slideshow and vibrate with the complexity of here and now and then and somewhere else all at the same time. With the addition of the piece by Rose B. Simpson, Eliza Naranjo Morse and Nora Naranjo Morse snaking through, it makes a great introduction to the show, revealing all the passion and energy of the artists', architects' and curators' work.
Can we, as Christine Boyer asks in reference to postmodern cities, "find the unity of community in this fragmented experience?" At Site we see our stories overlapping into new and exciting configurations that offer the promise of an even greater community, no matter how complex.
Jean Pike is an artist|architect living and working in New York City. She holds a Master of Architecture degree from the Yale School of Architecture. Her work has been shown at Viridian Artists Gallery in NYC, The California College of Arts and Crafts, The University of New Mexico School of Architecture and Planning Gallery, Tao Gallery in Hong Kong and Gallery 61 at The New York Institute of Technology. Her work is about translating between various forms of representation (abstract drawing, video) and three or four dimensional work (sculpture, architecture and installation). Coming from a background in dance, it is often about the physical sense of the body in space and time and how that relates to psychological and emotional states.

Lance M. Fung (fungcollaboratives.org) is the 2008 curator of Site Santa Fe Biennial titled "Lucky Number 7." There are currently 25 artists from 16 countries participating including: Martí Anson, Fabio Cirifino, Paolo Rosa, Stefano Roveda, Leonardo Sangiorgi, Erick Beltrán, Luchezar Boyadjiev, Michal Budny, Ricarda Denzer, Hiroshi Fuji, Fabien Giraud, Piero Golia, Soun Myung Hong, Scott Lyall, Nick Mangan, Eliza Naranjo-Morse, Nora Naranjo-Morse, Ahmet Ögüt, Mandla Reuter, Nadine Robinson Born in 1968 in London, Zbigniew Rogalski, Wael Shawky, Raphaël Siboni, Rose B. Simpson and Shi Qing Born with a curatorial team including: Ferran Barenblit, Iara Boubnova, Gregory Burke, Colin Chinnery, Alexie Glass, Lukasz Gorczyca and Michal Kaczynski, Laura Steward Heon, Barbara Holub, Vasif Kortun, Chus Martinez, Martina Mazzotta, Tsukasa Mori and Yuu Takehisa, Joseph Sanchez, Patrizia Sandretto, Guillermo Santamarina, Hyunjin Shin, Alessandro Vincentelli, Marc-Olivier Wahler, William Wells, William Wells,

SITE Santa Fe was launched in 1995 to organize the only international biennial of contemporary art in the U.S. Conceived to bring the global contemporary art dialogue to the art-rich Southwest, and as a major event on par with such renowned exhibitions as the Whitney Biennial and the Venice Biennale, it has become an integral event for contemporary art aficionados, attracting tens of thousands of visitors from around the world. To date, SITE Santa Fe has successfully held six biennials, each of which has drawn worldwide attention and brought important contemporary art from all over the world to Santa Fe. Past biennial curators have either arrived as or have subsequently become superstars in the world of contemporary art. Following their SITE Santa Fe Biennial guest curatorships, Francesco Bonami (1997), Rosa Martínez (1999) and Robert Storr (2004) were chosen to organize the Venice Biennales in 2003, 2005 and 2007, respectively. Dave Hickey received the coveted MacArthur "Genius Award" after curating SITE's Biennial in 2001. In 2006, Klaus Ottmann, a New York-based independent curator organized SITE Santa Fe's Sixth International Biennial, Still Points of the Turning World that ran from July 9, 2006 to January 7, 2007.

Past artists have included: Marina Abramovic, Chema Alvargonzález, Francis Alÿs, Robert Ashley, Rebecca Belmore, Barbara Bloom, Imre Bukta, Carlos Capelán, Thomas Joshua Cooper, Braco Dimitrijevic, Felix Gonzáles-Torres, Ann Hamilton, Gary Hill, Jenny Holzer, Rebecca Horn, Anish Kapoor, Catherine Lord, Chie Matsui, Jakob Battner, Gerald McMaster, Bruce Nauman, Marta María Pérez Bravo, Alison Rossiter, Meridel Rubenstein, Andres Serrano, Lorna Simpson, Valeska Soares, Pierrick Sorin, Trinh T. Minh-ha, Tseng Kwong Chi, Millie Wilson, Massimo Bartolini, Vanessa Beecroft, Maurizio Cattelan, Olafur Eliasson, Giuseppe Gabellone, Kevin Hanley, Noritoshi Hirakawa, Gary Hume, Lukás Jasansky & Martin Polák, KCHO, William Kentridge, Suchan Kinoshita, Udomsak Krisanamis, Sharon Lockhart, Esko Männikkö, Tracey Moffatt, Chris Moore, Elizabeth Peyton, Huang Yong Ping, Tobias Rehberger, Miguel Rio Branco, Rudolf Stingel, SubREAL, Sam Taylor-Wood, Pascale Marthine Tayou, Jaan Toomik, Eulalia Valldosera, Helena Almeida, Ghada Amer, Janine Antoni, Monica Bonvicini, Louise Bourgeois, Tania Bruguera, Cai Guo-Qiang, Lygia Clark, Diller + Scofidio, Dr. Galentin Gatev, Greenpeace, Yolanda Gutiérrez, Mona Hatoum, Carl Michael von Hausswolff, Carsten Höller, Simone Aaberg Kærn, Zwelethu Mthethwa, Nikos Navridis, Shirin Neshat, Rivane Neuenschwander, Gabriel Orozco, Pipilotti Rist, Francisco Ruiz de Infante, Bülent Sangar, Arsen Savadov & Georgy Senchenko, Charlene Teters, Sergio Vega, Miwa Yanagi, Kenneth Anger, Jo Baer, Jeff Burton, James Lee Byars, Pia Fries, Gajin Fujita, Graft Design, Frederick Hammersley, Marine Hugonnier, Jim Isermann, Ellsworth Kelly, Josiah McElheny, Darryl Montana, Sarah Morris, Takashi Murakami, Nic Nicosia, Kermit Oliver, Jorge Pardo, Ken Price, Stephen Prina, Bridget Riley, Ed Ruscha, Alexis Smith, Rafael Soto, Jennifer Steinkamp and Jimmy Johnson, Jessica Stockholder, Jane and Louise Wilson, Ricci Albenda, Louise Bourgeois, Charles Burns, Francesco Clemente, Bruce Conner, R. Crumb, John Currin, Carroll Dunham, James Esber, Inka Essenhigh, Tom Friedman, Ellen Gallagher, Robert Gober, Douglas Gordon, Mark Greenwold, Lyle Ashton Harris, Jörg Immendorff, Jasper Johns, Kim Jones, Mike Kelley, Maria Lassnig, Sherrie Levine, Christian Marclay, Paul McCarthy, Jennifer and Kevin McCoy, Elizabeth Murray, Bruce Nauman, Hermann Nitsch, Jim Nutt, Tony Oursler, Gary Panter, Lamar Peterson, Raymond Pettibon, Lari Pittman, Sigmar Polke, Neo Rauch, Alexander Ross, Susan Rothenberg, Peter Saul, Jenny Saville, Thomas Schütte, Jim Shaw, Cindy Sherman, Laurie Simmons, Fred Tomaselli, Adriana Varejão, Davor Vrankic, Kara Walker, Jeff Wall, John Waters, John Wesley, Franz West, Lisa Yuskavage, Miroslaw Balka, Jennifer Bartlett, Patty Chang, Stephen Dean, Peter Doig, Robert Grosvenor, Cristina Iglesias, Wolfgang Laib, Jonathan Meese, Wangechi Mutu, Carsten Nicolai, Catherine Opie, Thorns Ltd.