Susannah Auferoth at wünderarts
Amherst Massachusetts


by correspondent,

Richard Lloyd
S

usannah Auferoth's exhibition of new paintings opened recently at the wünderarts Gallery in Amherst Massachusetts. wünderarts is a new gallery in Western Mass. They have planted their flag in the ground and are staking out a territory all their own in the Pioneer Valley gallery scene. These new paintings are vigorous and if you live in the area I recommend you make your way to the gallery to see them in real time and place.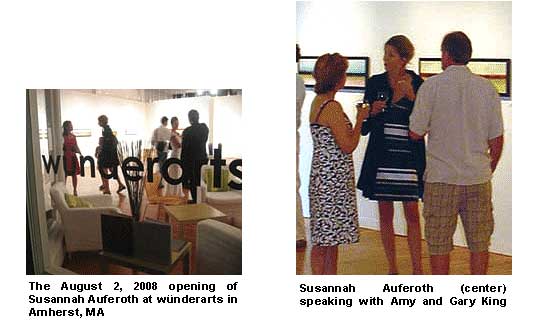 In her published statement about the work, Auferoth describes a process of layering thin washes of color one on top of the other. The results are beautiful. Auferoth is a colorist. She mentions

Richard Diebenkorn

, and

Philip Taaffe

as touchstones. Here she continues her own exploration of subtle color manipulation on an intimate and delicate plane. The paintings are deceptively simple in appearance. Three luminous bands of color run horizontally and form a foreground, background and a horizon line that bisects the painting in the center. The horizon line is a band unto itself and typically darker and more ominous.
When looking at these works my initial association is: landscape.
But whose landscape? The paintings are windows into the world we share today. What do you see? Is this the Thai beach sunrise for a twenty-something post-grad tourist? Or is it sunset on the killing fields of Darfur? Is it Hadley or Osetia? To my eye the paintings flicker between all these places.



Their size is important. They feel like scrolls that have been placed sideways on the wall. Long and horizontal yet small enough to be seen all at once. The events depicted here are ongoing, they haven't ended and the beginnings are far, far away. Think of what happens to what you see if you are moving fast enough – a smudge of colors all being pushed together in a fat line across your cones and rods; or when you stare at a blade of grass long enough and something similar happens. These paintings are peepshow slots into that world.
In some of the paintings you can see serialized images buried in the ground of the work behind the bands of horizontal color. This sets up an optical back-and-forth that animates the surface. What are these images? – and what are they doing there? Auferoth is dropping hints. It feels as though we are listening to a hushed conversation in the next-door motel room. The walls are thin but the actual words are still indistinct. You will need your intuitive channels opened up and humming.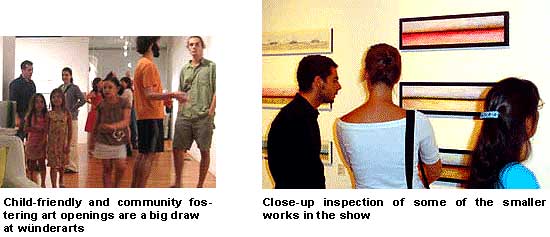 These works speak to the traveler in us all. They are simultaneously hopeful and foreboding. I kept being thrown back and forth on an emotional Tilt-a-Whirl; one moment staring at the world – post-apocalypse, empty, lifeless and still, and at the next blink standing at the edge of a new world – full of nascent life, on the verge of becoming.

current exhibition through September 7
Susannah Auferoth

, who has both a mechanical engineering and fine arts degree from UMASS Amherst, returned with her family to the Valley from New York City in 2001, and lives and works in a historic farmhouse in Hatfield that she and her husband have updated to suit their family's lifestyle. The artist works in her home studio where she creates paintings on paper and wood panel that explore color, form, and meaning. While their horizontal orientation and bands of color evoke more traditional land or waterscapes, the inclusion of repeated images or figures in Auferoth's paintings adds a layer of complexity and mystery while increasing the inherent abstraction of the works.
Richard Lloyd

lives and works in Northampton Massachusetts.
wünderarts

(wunderarts.com) is located at 383 Main Street in Amherst, Massachusetts, is currently exhibiting GIFT, featuring paintings by Susannah Auferoth and

Hillary Milens

. The show, also marking the gallery's one-year anniversary, opens with a reception on Saturday, August 2 from 6-9 p.m. and runs through September 7.
Hillary Milens, a graduate of UMASS' Fine Arts program, and the Executive Director of the Amherst Community Art Center was born and raised in Burlington, Vermont. After concentrating mainly in sculpture while at UMass, she began experimenting with drawing and painting. An exploration of surface, texture, and color, her paintings are made by building up and breaking down the surface of wood by applying layers of paint, scraping in to it and marking the surface with various tools and techniques. An interest in repetition, organic form and the meditative process are present in the paintings.
In addition, works by Italian artist

Alberto Mancini

based on his concurrent exhibition of paintings – I'll tell you how the Sun rose – inspired by the poetry of Emily Dickinson, will be on view in the rear of wünderarts for the duration of GIFT. Mancini's show, on view from August 2 – 10 at the Eli Marsh Gallery at Amherst College, is sponsored by the Emily Dickinson Museum, and includes 29 paintings inspired by Dickinson's poetry. The exhibition is part of the 20th anniversary of the Emily Dickinson International Society (EDIS), which holds its annual meeting in Amherst on the weekend of August 1. For more information on Mancini and the exhibition, please visit www.emilydickinsonmuseum.org.