LUCIO POZZI IN FLORENCE:
Painting is the Matrix

 


Lucio Pozzi in Florence, curated by Pier Luigi Tazzi. The book documents a series of events
dedicated to the artist which took place in Florence in October and November 2010.

 


Lucio Pozzi, "I Like Painting and Painting Likes Me" Paintaction
October 4-21, 2010, Accademia di Belle Arti, Florence, Italy

 

Diversity is, after all, the very source of democracy. But factors of expediency like high-pressure salesmanship, organizational oversimplification and moneymaking as an end in itself have surely impaired the individual's capacity to seek and understand the deeper potentialities of life.1


– Walter Gropius
An interview with Lucio Pozzi by Erika Knerr
The interview is a dialogue Lucio Pozzi and I began one month ago leading up to the publication of a new book about his work titled "Lucio Pozzi A Firenze." This is a portion of the correspondence. The cover of the book shows Lucio napping on an army cot during his "paintaction." Lucio is an artist full of surprises and one who defies definition. Like a seasoned meditation practitioner, Pozzi is quite adept at existing in the moment. His influences are far and wide coming from science, anthropology, psychology and poetry, dedicating his "lecturation" to Gregory Bateson, Wilhelm Reich, and Fernando Pessoa. His curriculum vitae, includes opera, video, performance, actions, non-actions, teaching, writing, curating, installation, sculpture, lectures and publishing. Most importantly though, Lucio Pozzi is a painter, and his most recent activities in Florence, Italy wrap themselves around painting. His attitude toward art keeps him successfully in the present, precisely, by his very consciously, staying clear of a particular classification, or grouping himself with any art manifesto. This has enabled him to take what he likes from history and the future, and to improvise and play with miscellaneous ingredients he calls "translation mechanisms."
Two years ago I reconnected with Lucio Pozzi in the process of regenerating New Observations magazine, an artist run non-profit art journal, which published 128 issues from 1981-2001. Lucio was the founder and then ongoing contributor when Diane Karp came to reinvigorate and publish the magazine for 14 years until it went into hibernation in 2001. I art directed the magazine for a decade from 1991-2001. Before that I met Lucio as an MFA student at the School of Visual Arts and soon after began working at 142 Greene Street in Soho on his extensive "bio" which I recently found on his website at an astounding 77 pages. The third and most recent incarnation of New Observations is another story in progress.

An "8-hour-long inaction" in four venues in New York, Nicole Klagsbrun Gallery,

Marvelli Gallery, Esso Gallery and White Box
Performed April 24, 2008

Some of us experience an unbearable malaise. Precisely when art appears to be triumphant, when everywhere crowds are queuing up to visit exhibitions, we are dominated instead by the Competent Yawn of respectable clarity.2


– Lucio Pozzi



Erika Knerr: So as not to delay the project with too much forethought on my part, let's just begin with where we are right now.  I see there is a book coming out soon titled "Lucio Pozzi in Florence."  Is the book about your current exhibition "Endless" at the Gallery Frittelli Arte Contemporanea, that shows many of the diverse "families" of work you have cycled through?  I am also quite interested in hearing about the recent "paintaction" (I Like Painting and Painting Likes Me).  Was this painting performance a part of your Exhibition?
Lucio Pozzi: The two were separate events linked by time and city and organized by the same gallery Frittelli Arte Contemporanea. The documentation about both is included in one book to be published on December 15, 2010. The presentation of this book and of a DVD of my lecture "the Next 475 Years Of My Art And Life" in English is taking place at the Museo Marino Marini. On that occasion there is an informal hanging of large "Crowd Group" works on paper in that museum for a few days.
I feel it as a kind of miracle that so many of my ways of art are being presented concurrently and especially that the stress is on painting.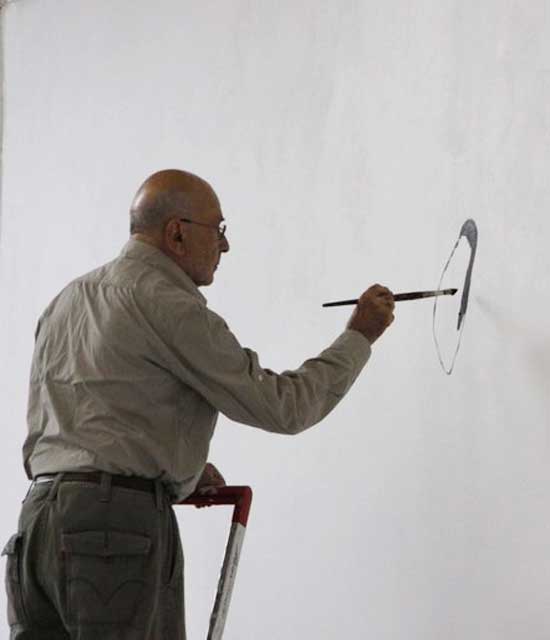 Lucio Pozzi, "I Like Painting and Painting Likes Me" Paintaction
October 4-21, 2010, Accademia di Belle Arti, Florence, Italy
EK:  Yes, it has always been striking to me that all or most of your art activities have a dialogue with painting. The miracle you are feeling about this coming together creates a unique opportunity to see the whole artist, rather than one fragment or one part of the whole. Although, I know you see each piece, as it's own "situation," it feels important that all of these scores have been brought together.  I am imagining many families coming together as a community.  Have you encountered any surprises in observing this?
LP:  In Florence many people appreciated seeing a whole group of my works from different families together. The curator, Pier Luigi Tazzi, was the person who could link the works by osmosis rather than by linear sense. He even put some Flower Paintings there, and viewers felt nonetheless that the show was one whole universe.
The conflict between parts and whole is an open question of this epoch, in which art's purpose and criteria are not agreed upon.

Exhibition "Endless," Lucio Pozzi at the gallery Frittelli Arte Contemporanea, Florence Italy
(09 October 2010 – 27 November 2010)


Exhibition Opening of "Endless," Lucio Pozzi at the gallery Frittelli Arte Contemporanea
EK:  Then calling these types of exhibitions Open Shows now, rather than Provocation Shows speaks to this still open question 30 years later.  Your bio on the Frittelli site and your announcement talk about the early Provocation Shows.  I really liked the story about the first of these shows in 1980 at John Weber in NY where the critical reaction was one of embarrassment and not knowing how to comment at seeing radically different works all shown together by the same artist.  Now you call these Open Shows, like "Tuttipozzi" and currently "Endless."
LP:  The TUTTIPOZZI  title was copied from the title of an article by Bill Zimmer in the SOHO Weekly News of 1980.  He was playing a pun on the TUTTIFRUTTI name of a common ice cream.

Exhibition Opening of "Endless," Lucio Pozzi at the gallery Frittelli Arte Contemporanea
EK:  It is interesting that you work in families.
LP:  Pier Luigi Tazzi, , the curator of my Florence events, noted the similarity between my method and the connotation of Fractal Theory.  You will read his comments in the upcoming book about me.
EK: The works in "Endless" are varied from one another, yet all painting.  Your performance and installation work though is "Intermedia."
LP:  The definition and classification of my art is a business that will be better taken care of as time passes.  For me so far some distinctions are merely instrumental for orientation's sake. My underlying aim is to "GET OUT OF THE CENTURY" and it's pedantic, suffocating exclusions that are still current in the art world.  PAINTING IS THE MATRIX. It extends farther and farther until the end of time.

Lucio Pozzi, "I Like Painting and Painting Likes Me," Paintaction
October 4-21, 2010, Accademia di Belle Arti, Florence, Italy

EK: I was provoking you by labeling your performance work as Intermedia, referencing this Fluxus concept.  It is curious how one wants to define and classify things and the difficulty to allow something or someone to exist in itself outside of time and definition.  Of course there are those that pride themselves and function quite well in a group. The collaborative aspect of performance art is something I have become involved in over the past few years.  Many  collaborative groups co-authoring works have emerged in the last decade. But this is different than an individual artist being sorted into categories for market consumption.  There are many artists today moving freely between mediums, as you do, but your vehemence toward painting is epic and incisive at once.

LP: Painting:  It's worth considering that I and others stress painting as a matrix of our work. For me it is a passion and guideline and symbol of life itself, for others it is the only activity they care do devote their life to. But there is no need for it. I approach it as a readymade. It comes to me after having terminated it's traditional functions. I even paint on canvas stretched on rectangular wooden stretcher, functionally an obsolete informational technique. This ineffectiveness enriches it.

No other technique or realm carries within it the conditions of thought and practice painting contains. Then, in order to understand and feel it even better not only from inside but also from outside, I started very early to explore painting also where it apparently is not. This exploratory manner of mine, which implies avoidance of packaged definition has led my work to be often excluded from limited-scope surveys such as 'abstract art', 'representational art', performance, site determined art. I find this delicious.


Materials and tools at the Paintaction.
EK: I had the great pleasure to see you perform your lecture "The Next 475 Years" in New York last November at SVA.  I had seen it the first time in 1988, when I was an MFA student there.  Where was the lecture done on the new DVD?
LP: In both English and Italian versions, at the Frittelli Gallery a couple of years ago.
EK: You have done this lecture for almost 30 years.  Can you talk about how this began and how it has changed?
LP: It started at Hunter College and was long, people fell asleep.  Having noted from, for instance, Andrei Voznesensky's public enunciation of his poems that in a public speech the form of delivery is as communicative as it's content, I proceeded to theatricalize my lecture.  The basic concepts and slides are still the same but I every time re-invent what I talk about updating it to whatever context has evolved in my experience.
EK: There was an issue of New Observations Magazine published in 1983 with the same name.
LP: That issue contained actually a short free-association story, which the Frittelli Gallery might re-publish soon.  It had nothing to do with the Lecturaction, but perhaps was at the origin of the title.
EK: Did this precede the "Lecturaction"?
LP: It could have.
EK: Where did this title come from?
LP: The title refers to several layers of considerations about this juncture in art history and my own attitude in it.  One of these is my feeling that what we call art implies a projection towards an impossible future.  Lacking any agreed-upon purpose, art contributes a testimony of the crucial importance of un-necessary speculations exploring the "deeper potentialities of life" (Walter Gropius).  I tried, but can't recollect how I settled on the numeral 475.  It might just have been a sign of my extreme yearning to transcend the cage of time.

Lucio Pozzi, "I Like Painting and Painting Likes Me," Paintaction
October 4-21, 2010, Accademia di Belle Arti, Florence, Italy



Rather than lamenting the end of civilization and projecting my attention towards a utopian future or a nostalgic past, my response to the fragmentation and discontinuity of my culture is to be in the present moment as much as I can.

The invention of art, in my bias, does not presuppose explanations, while, on the other hand, interpretations of it dialogue with the art as creative acts in their own right. I hope that interpretations of art are always to a degree besides the point, i.e. so intensely within themselves that they correspond with the art more than they respond to it.

I see my art as a weaving web of interconnected but independent specific universes. The web's end is unknown.3

– Lucio Pozzi



Lucio Pozzi was born in 1935 in Milan, Italy. After living a few years in Rome, where he studied architecture, he came to the United States in 1962, as a guest of the Harvard International Summer Seminar. He then settled in New York and took US citizenship.  He now shares his time between his Hudson (NY) and Valeggio  (Verona) studios.

In 1978 the Museum of Modern Art, New York, exhibited his early videotapes in one of the first single-artist exhibitions of the Projects:Video series. He occasionally writes and has taught at the Cooper Union, Yale Graduate Sculpture Program, Princeton University and the Maryland Institute of Art. He currently is an instructor at the MFA and BFA programs of the School of Visual Arts, in New York.
His teaching is another way for him to question and probe the fabric of modern art making, in a subtle, individual, case by case dialogue, a capillary manner of guerrilla infiltration instead of shouting sensational slogans.
His art is represented in the collections of The New York Public Library; The Detroit Institute of Arts, Detroit; The Museum of Modern Art, New York; The Whitney Museum of American Art, New York; The Museum of Contemporary Art, Chicago; The Art Gallery of Ontario, Toronto; The Fogg Museum, Cambridge Mass.; Centro per l'Arte Contemporanea Luigi Pecci, Prato, Italy; Giuseppe Panza Di Biumo, Lugano, Switzerland; Herbert and Dorothy Vogel, New York; PS1 Contemporary Art Center, New York; Museum of New Art, Detroit, MI.; Zimmerli Art Museum, New Brunswick, NJ.; Kalamazoo Institute of Arts, MI; Hartford Atheneum, Hartford, CT; Marzona sculpture park, Italy; Portofino Sculpture Museum, Italy; Museo de Bellas Artes, Buenos Aires, University of California Art Museum (Berkeley), Miami Art Museum, Miami, Florida; Collezione Maramotti, Reggio Emilia, Italy; Fondazione Cariverona, Verona, Italy, and in various private and corporate collections.
Pozzi was honored with a National Endowment for the Arts Fellowship in 1983. He received a Master Honoris Causa from the Accademia di Verona, Italy, in 2010.
Retrospectives of his art were held at Kunsthalle Bielefeld (1982) and Badischer Kunstverein, Karlsruhe (1983), Germany, and at the Museum of New Art (2001), Detroit, MI, Kalamazoo Institute of Art, Michigan (2002); Works on Paper, Mus. Contemp. Art, Genova Italy, 2005. His work has been presented at Documenta 6 (1977) and at the Venice Biennale (American Pavilion) in 1980.
Lucio Pozzi is the Founder of New Observations Magazine and still serves on its Board.
Pier Luigi Tazzi (Capalle, Italy / Bangkok, Thailand) is an independent art critic and curator based in both Florence and Bangkok. Formerly a lecturer at the University of Florence, he has contributed to Artforum, Kunst & Museumjournaal, and Wolkenkratzer. Tazzi was a curator at the 43rd Venice Biennale (1988) and was associate director of documenta 9 (1992). Significant exhibitions include Wounds: Between Democracy and Redemption in Contemporary Art (1998), Moderna Museet, Stockholm; Happiness: A Survival Guide for Art and Life (2003-2004), Mori Art Museum, Tokyo, (both co-curated with David Elliott); and the 1st Aichi Triennale (2010).
Gallery Frittelli Arte Contemporanea is a contemporary art gallery in Florence, Italy. Carlo and Simone Frittelli opened new spaces in via Val di Marina 15 in Florence with the help of architect, Adolfo Natalini, thus continuing the experience that began in 1990 in the Centro d'arte Spaziotempo near S. Croce, in the heart of the city, transferring the new gallery to the North, near the airport.
Erika Knerr is a painter working in Western Massachusetts and New York.

1. Gropius , Walter. Scope of Total Architecture, New York: Collier Books (1962).
2. New Observations magazine, Issue #48, May, 1987.  DAIMON, edited by Lucio Pozzi.  Lucio Pozzi, Muddening Clarity, 1985.
3. New Observations magazine, Issue #113, 1996. Ripple Effects: Painting and Language, guest edited by Susan Bee and Mira Schor. Lucio Pozzi,  "Word Works,".