Interview With James Fuentes
April 20, 2014 – New York City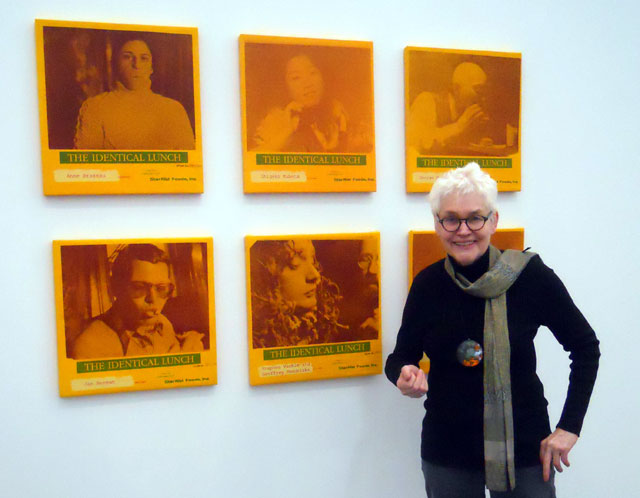 In front of her silk screen series "The Identical Lunch" at Frieze NY Art Fair 2014, Alison Knowles is a founding member of Fluxus and is represented by New York City dealer James Fuentes. The series is part of the collection of the Museum of Modern Art, where the artist was commissioned to serve ready-made meals to the public.
Interview By
Jessica Higgins
Alison Knowles Is Represented By James Fuentes Gallery At Frieze Art Fair New York 2014
Artist Organized Art has me on assignment to cover Alison Knowles at The Frieze Art Fair on Randall's Island in New York City. Alison is represented by James Fuentes Gallery. The Gallery has done an exceptional job with Alison's work. I'm in a position to give and unusual view on this, because of my long and special standing with my Mother's work as a collaborator and someone who has been in on many minute details behind each of her projects for years, and because of my long appreciation of my sister Hannah Higgins's work as a Fluxus historian who co-organized with James Fuentes for Frieze NY 2014.
Once at Frieze, I turned the corner and there was The James Fuentes Gallery. The show thoughtfully curated and installed. I watched Alison Knowles (81 going on 21) interact with each work. Passers-by noticed an unusual event when the artist had the nerve to pick an art object, tilted "The Bean Turner", off the wall and revolve it creating piercing sound from hundreds of beans resonating inside the object.
The following interview reveals something exceptional. It reveals a lack of pre-condition around the culture of this artist and I found this courage to embrace it inspiring. Four works sold within hours.
Jessica Higgins: I wanted to ask you about the origins of your gallery?
James Fuentes: My first gallery was out of Bard College in 1998, I was in SoHo at the time. I rented a store front to live in, I was going to use it as a studio to make films, and it turned out to have been a well known gallery before I moved in. So it instantly democratized my notion of what a gallery should look like, because it was a tiny 300 square feet. But, people kept knocking on the door looking for this gallery, which clearly had an international resonance. So, just to help pay the rent, I decided to put up an exhibition of friends in college. That's basically when my career began. This is October 1998. I ran the space for a few years and realized that I was incredibly naïve and didn't really know how to run a business. I then endeavored to curate independent exhibitions, worked for other galleries for several other years and really trained and learned the ropes of running a gallery before I re-entered the fold.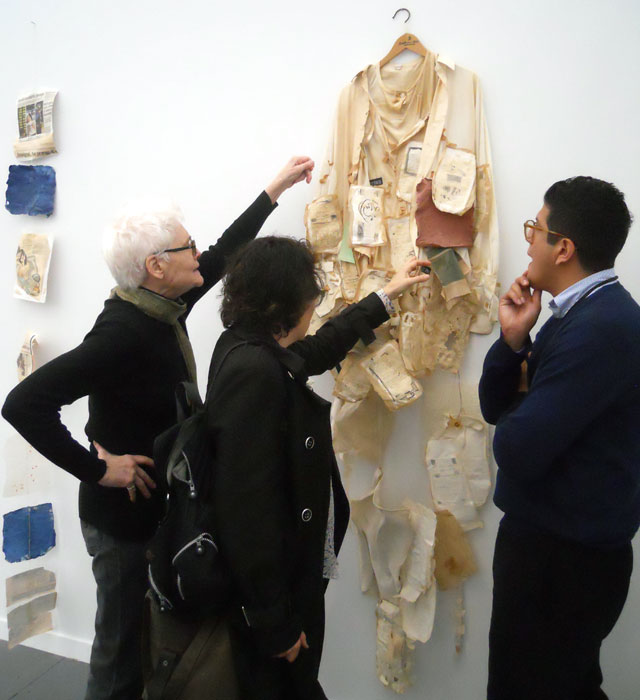 Alison Knowles
discusses her journal in the form of a shirt with
James Fuentes
at Frieze Art Fair Booth C2 2014. Many of the pages come from her journal entries also published in Footnotes,
Granary Books
, 2000.
JH: You originally were studying film. Did you develop your aesthetic during those studies at Bard College?
JF: Yes. I studied Film and Anthropology at Bard. Seven years ago I opened the current iteration of the gallery and first worked with Alison in 2008 in a group exhibition. Then, in 2011 we staged a solo exhibition on Delancy Street.
JH: So you met Alison in the very beginning.
JF: I met her through Emily Harvey in 1998.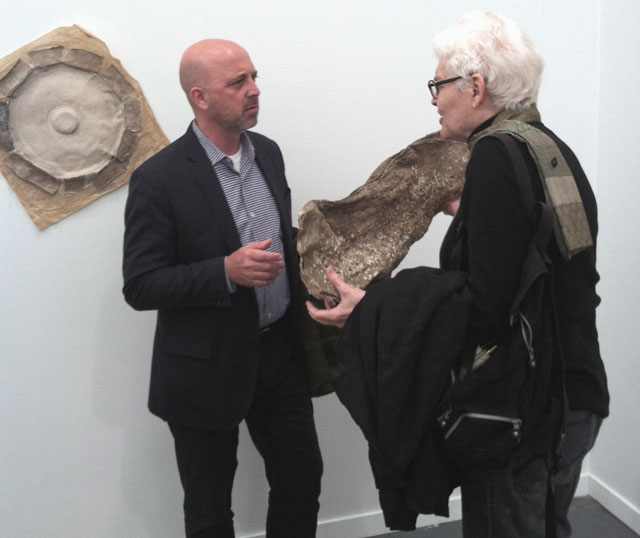 Demonstration of an Alison Knowles Bean Turner, by the artist herself. The Bean Turner is a sculptural object, which functions as a sound maker when lifted and turned. Made of organic paper pulp and hundreds of dried beans, both the paper and the beans can be seen on the outside of the work as well.
JH: How great! Emily was wonderful. She took me on as an artist. She was a great person to have met early on with a great vision around Fluxus.
JF: Emily was one of the people who "gave me the time of day," right out of school. Yes, definitely! Through Emily, through Jonas Mekas, through a painter who taught at Bard named Amy Sillman, through Bill Stone (William Stone) who's an artist that I've worked with often throughout the years, through these artists many doors started opening for me in the art world and I felt very compelled to continue in this field.
JH: You're doing a very wonderful job in terms of your vision and it's a unique vision. Can you define that?
JF: Thank you! I'm earnest and real about everything that I do and for the exhibitions I do I'm fully invested and believe in each one. I think that's what tends to come across.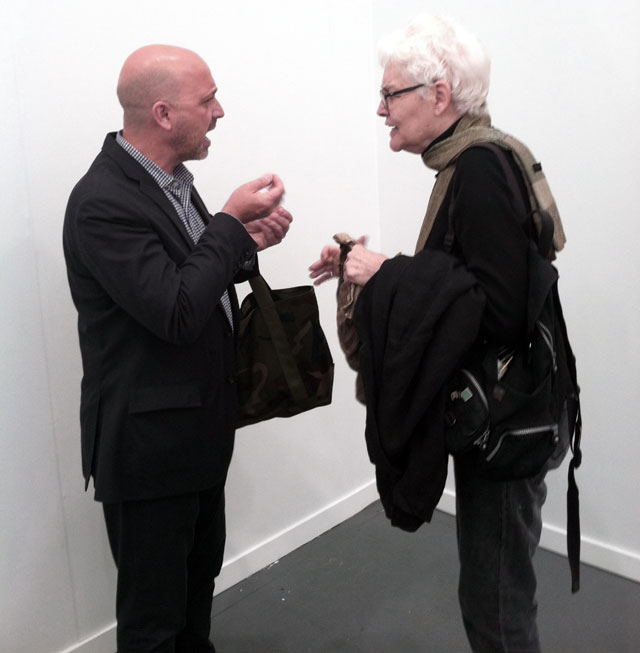 Works by Alison Knowles cause strongly relational experiences for art lovers. It is normal to see discussion, dialogue and brainstorming emerge during her openings. James Fuentes Gallery extends that to the Frieze Art Fair New York in 2014 at their Booth C2, devoted exclusively to works by the Fluxus Pioneer.
JH: It does, you have real substance behind your work. In terms of where James Fuentes Fine Art is now and why you chose Alison Knowles for Frieze NY 2014, is there anything that comes to mind?
JF: I think, on a formal level, the decision is quite compelling. Alison said lightly that her work is different from everything else that's at Frieze NY Art Fair this year. She said "there's nothing geometrical about this" and I said "Yes!" That makes it extremely distinct and strong. This is a strong point of departure from what we've seen in the context of this art fair. Also, I believe the youngest generation of artists that I am seeing come into New York, developing careers and projects, have a tremendous amount to gain and learn from Alison's history and what she's still doing today.
I think it's as good a time as any to feature this work in the biggest and best possible platforms that we can find. In 2011 it was at our gallery. This year it's at the Frieze New York Art Fair and I'm excited by the way artists, like Alison, opened doors for me when I was right out of school. I'm in a position, now, where I can open doors for Alison with private collections, with Museums that haven't caught-on to the work yet and even expanding her presence in museums that already have an engagement with the work, like The Walker and The MoMA. It's super exciting.
JH: You've done a very interesting job in how you've shown the work here at Frieze. Your use of space shows an understanding of the work. What else would you like to add?
JF: I think the work says it all. It's very much a situation where this work demands real engagement. Whether it's through seeing Alison Knowles perform, through seeing and activating a bean turner or by reading a text related to Alison Knowles or to the Something Else Press. These are the things I hope people start to do.
JH: I want to thank you for your wonderful show here!
JF: My Pleasure, yeah!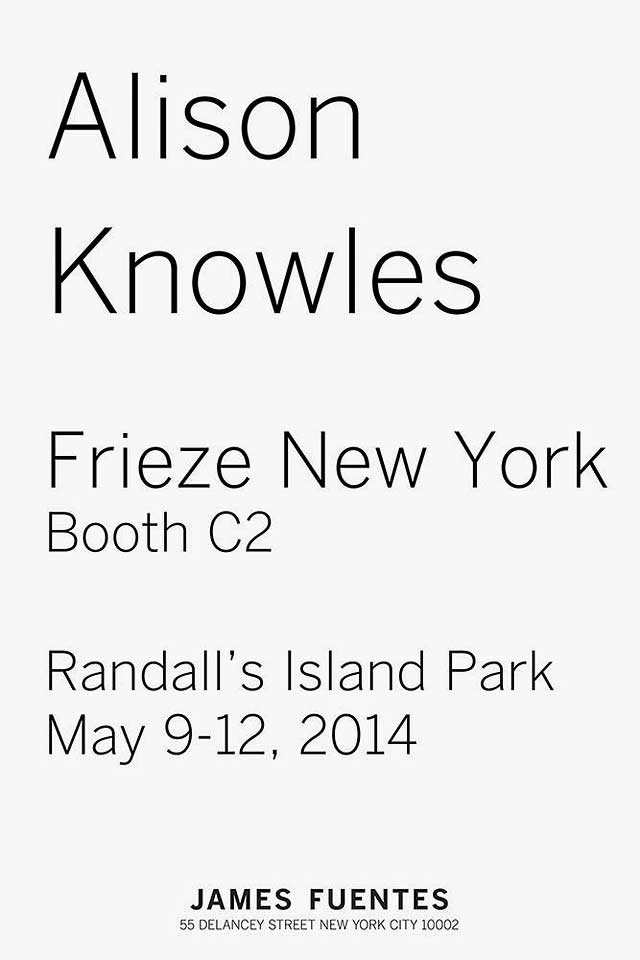 Alison Knowles (born 1933) in New York City is an American visual artist known for her soundworks, installations, performances, and publications. Knowles was very active in the Fluxus movement, and continues to create work inspired by her Fluxus experience. In the early 1960s, published by Something Else Press, Knowles composed the Notations book of experimental composition with John Cage and Coeurs Volants a print with Marcel Duchamp. She also traveled and performed throughout Europe, Asia and North America. In 1963, Knowles produced one of the earliest book objects, a can of texts and beans called the Bean Rolls. In 1967, Knowles and James Tenney produced the computerized poem The House of Dust. A sound installation for a House of Dust public sculpture was produced by Max Neuhaus. The 1983 book Loose Pages, originally produced in collaboration with Coco Gordon, consisted of pages made for each part of the body. She is represented by James Fuentes Gallery, New York and recently appeared at Frieze NY Art Fair 2014.
James Fuentes
, James Fuentes LLC, 55 Delancey Street, New York City, 10002, Phone (212) 577-1201, email:
info@jamesfuentes.com
,
http://www.jamesfuentes.com
, Description:
Joshua Abelow
,
Jonathan Allmaier
,
Lizzi Bougatsos
,
Brian Degraw
,
Jessica Dickinson
,
Berta Fischer
,
Lonnie Holley
,
Alison Knowles
,
John Mcallister
,
Jonas Mekas
,
Noam Rappaport
,
Benjamin Senior
,
Willam Stone
,
Daniel Subkoff
Jessica Higgins, American artist, lives and works in New York and Massachusetts. Formative dance studies at Juilliard and Joffrey. Daughter of Fluxus Founders Dick Higgins and Alison Knowles. She has direct experiential knowledge of Fluxus, having early formation in that culture by way of the original members and by participation in historic Fluxus events. She is a regular correspondent for Artist Organized Art and the former Creative Director of 'Switch' a local access television series of performance and intermedia out of Western Massachusetts. Her works and performances have exhibited in numerous countries, in museums, and in traditional and online media.
Emily Harvey, founder of Emily Harvey Gallery, 1985, showing Fluxus, concept art, mail art, and performance art. Olga Adorno, Eric Andersen, Ay-o, Brian Buczak, Philip Corner, Jean Dupuy, Henry Flynt, Robert Filliou, Ken Friedman, Albert Fine, Geoffrey Hendricks, Christer Hennix, Dick Higgins, Jessica Higgins, Ray Johnson, Joe Jones, Milan Knizak, Alison Knowles, George Maciunas, Jackson Mac Low, Larry Miller, Alain Arias-Misson, Charlotte Moorman, Nam June Paik, Ben Patterson, Takako Saito, Carolee Schneemann, Joshua Selman, Taketo Shimada, Joao Simoes, Daniel Spoerri, Berty Skuber, Anne Tardos, Ben Vautier, Yoshi Wada, Bob Watts, Emmett Williams, Christian Xatrec, LaMonte Young, Marian Zazeela, and many others exhibited there.