THE WHITE HOUSE POETRY WORKSHOP
Mrs. Michelle Obama for the President's
Committee On The Arts And The Humanities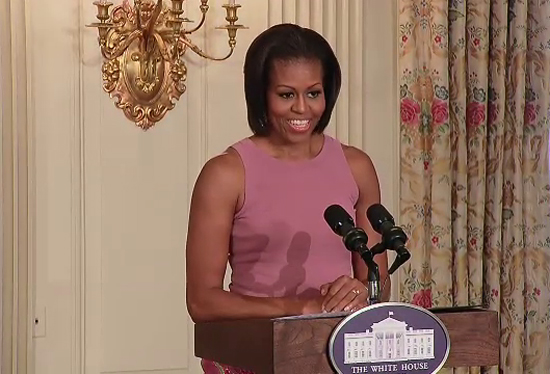 First Lady Michelle Obama speaks about the importance of poetry and self-expression
as she hosts a White House Poetry Workshop with students and poets like
Rita Dove, Billy Collins, Kenny Goldsmith, Alison Knowles, and Aimee Mann
by artist/correspodent: Jessica Higgins
Once inside the White House, I sat in a small room shaped like a kidney, many heavy guys with lots of equipment sitting at a small table. There was talk of tending their lawns. I was in there for a couple of hours, many of them brought lunch. Since I didn't know the routine I ended up at a vending machine. They turned out to be nice fellows, one guy from Fox News offered me his soup. I ended up sort of interviewing him about the Press Industry. He gave an overview of his life style, kids in high school living outside of DC coming in when he gets a call from Fox News. A nice down to earth guy with what seemed to be a conventional lifestyle. We were considered a Press Pool and when called we stepped out into the heat. All the Press guys carried heavy equipment, I tagged along with mine, having also met a woman from a non-profit organization covering education, observing our preference for palm sized cameras we exchanged cards.
I represented myself as Myself, an Artist covering a White House event for Artist Organized Art, me being a specialist in trying to do the best I could in that mysterious way I simply trust. No pretending I was one of them, a hard nosed reporter, yet I distinctly pressed many questions inside the 'Kidney Room.'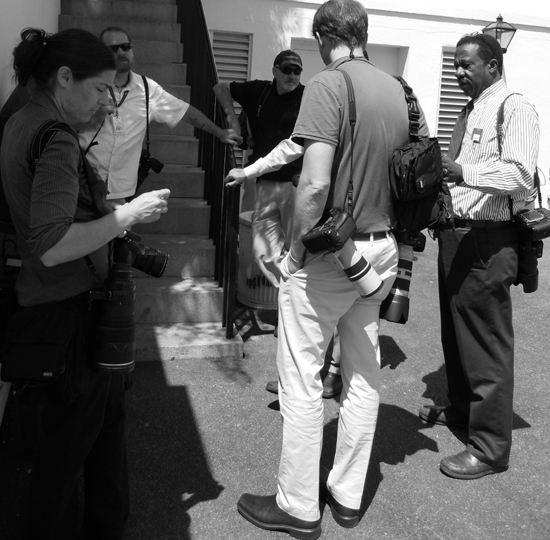 The Press Pool waits outside at the White House. Artist Organized Art sends
Jessica Higgins to cover the White House Poetry Work Shop
Originally someone else was chosen for this assignment, because Alison Knowles, was invited to participate in The Poetry Workshop and Evening Performances. Then, I got a sudden alert that Artist Organized Art would send me in as Press to cover the workshop. Great! But I had 45 minutes to pack and catch a train. Not fair! If, you're covering First Lady Michelle Obama's Poetry Workshop At the White House, in the State Room. I also needed to supply what are known as "vitals" (Social Security Number, Name, Address, Date Of Birth and so forth) to the White House for security clearance. There was a moment of pressure as the decision to participate was turning on a dime, while I "packed" without knowing if I would clear security upon arriving in Washington D.C. and presenting myself at the White House. Standing outside with The Press waiting to be admitted was beyond exhilaration, to put it mildly. After some jostling, I was waived in by the invisible hand of power and found myself inside the White House in the role of journalist.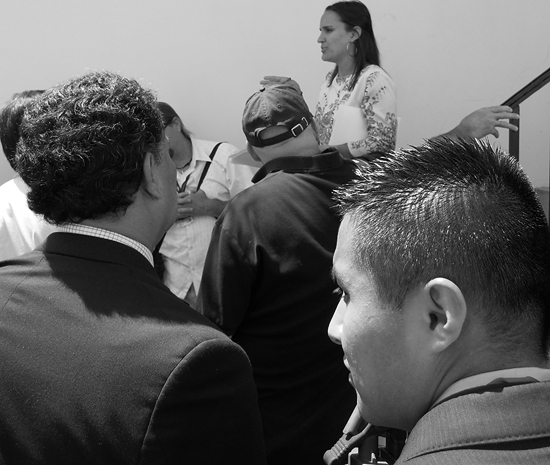 The Press Pool waits outside at the White House. Artist Organized Art sends
Jessica Higgins to cover the White House Poetry Work Shop
Though the audience was aware there were cameras behind the rope, we ourselves were as equipment, with a sense of separation from the seated, comfortable participants.
As the poetry workshop unfolded into something really special Alison Knowles looked at the audience pointing over their heads and wiping her eyes, saying . . .' and my daughter made it in.' I wondered if, for one day at the White House, the poets were calling the shots. As I was scribbling away and trying to take pictures time stood still and it felt like every audience member turned and acknowledged us in the Press Pool. I nodded quietly smiling. Yet, there was meaning in pointing out another Artist organizing in the Press Pool and the daughter of one of the Artists on the panel. Anywhere in the world, even at the White House, if an Artist is exhibiting, or performing, presenting something, it's always more meaningful if other Artists are in the audience. I realized my presence as an Artist and as someone personally connected to one of the exhibiting artists validated the event in a unique way.
Eight hours or more on Amtrak (artist in coach on value ticket) then slow waiting at the gates of the White House – the crowds were both impressive and in need of guidance from those magical workers who let you know where to go next, otherwise too chaotic. The identical ride back on the train went faster because I wrote steadily.
Organizing artists voices, giving diverse artists the chance to expose their percent of mind share while meeting other creative and alternative beings in the context of such a project, makes for an important social and public resource. It allows for artists themselves to work as organizers of a venue for cultural education. The mission of Artist Organized Art, to support artist organized media, events and cultural education, was my poetic license in the context of a very sequential choreography by the White House. I asked Joshua Selman of Artist Organized Art to say something about this for the article:
"Poetry gives us a break in the expected order of things. The inclusion of artist organizers as witnesses to cultural education at the White House makes for an especially poetic moment with the inclusion of an intermedia between journalism, art-making and organizing. It harmonizes with the results Intermedia artists enjoy entering expected art categories with unexpected results. That Mrs. Obama has arranged such a chord is astonishing and hugely encouraging to young people." (Joshua Selman)

Opening remarks were by Elizabeth Alexander, Melody Barnes, Tiesha Hines and Mrs. Obama. The invited poets included: Elizabeth Alexander, Billy Collins, Rita Dove, Kenneth Goldsmith, Alison Knowles and Amiee Mann.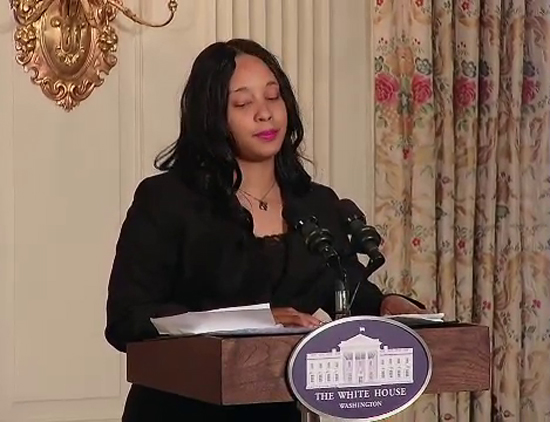 Tiesha Hines, President of the Ballou Senior High School Poetry Club, is a young Poet
and Artist Organizer known for her positive attitude and support of other Poets
Melody Barnes and Tiesha Hines stated the statistics and annecdotes showing improved grades and innovation abilities among students exposed to The Arts. Ms. Hines praised the First Lady for her extraordinary work in recognizing and supporting The Arts as critical to Education. Mrs. Obama followed, in stately presence, wearing a sequined floral skirt and looking strong and beautiful. Her message quickly matched  her appearance providing profound recognition of, and empowerment to, the next generation of young students. Mrs. Obama defined her role in the issue and stated that she wanted all the invited young students from The Ballou Senior High School, present at the workshop, and the invited Artists to make themselves at home at the White House. To get comfortable. This benefited the overall workshop as the audience settled into deep attention and inquiry. The State Room was filled with teens and established poets ready to share their experience, technique and knowledge with budding poets.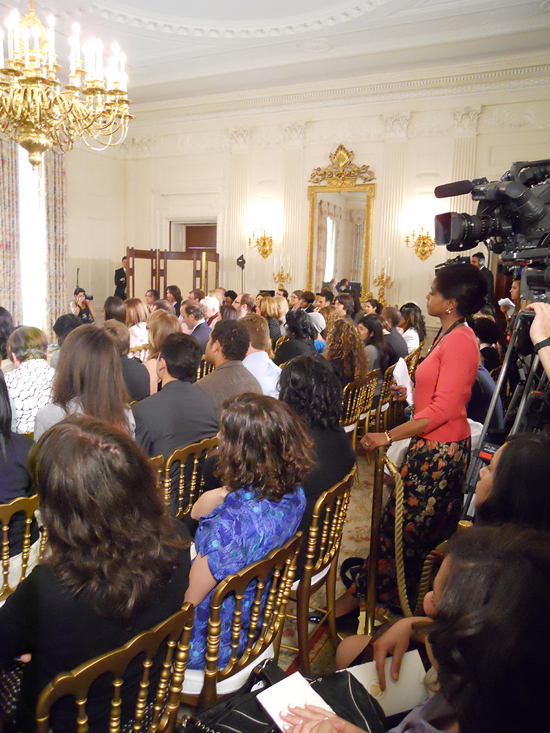 An eager crowd of invited young people follow the Poetry Workshop at the White House,
a project of the President's Committee On The Arts And The Humanities:
Reinvesting in Arts Education, Michelle Obama, Honorary Chair
"So we're going to do this big, fancy poetry reading this evening, and that's all fun, and we're going to hear some stuff. It's going to be good. But this is the real reason, this workshop today, this is why we do it, because we've flown you guys here from all over the country because we want you to be a part of this conversation, sitting here in the State Room of the White House of the United States of America, because you're just that important, right? You're just that important. And this is the best part of the day, every time we do these. It's today. So thank you for being here." (Mrs. Obama)
With a huge portrait of Abraham Lincoln hanging on the wall behind the podium, Mrs. Obama spoke of many key elements to the importance of The Arts in Education. How important it is to simply recognize the role The Arts play in education for young people. She touched on how art-making helps in finding new solutions, developing gifts and establishing communities. She mentioned how she had loved creative writing in school. Making pictures with words, how it allowed her to express things that she was going through that went beyond the words she was writing.
"And even if you don't grow up to be a professional poet, I promise that what you learn through reading and writing poetry will stay with you throughout your life. It will spark your imagination and broaden your horizons and even help your performance in the classroom… That's why it is so critically important that we integrate the arts into schools. It is a must. It's critically important that we continue to encourage after-school programs and engage community partners to help young people like all of you develop your gifts and to fulfill your potential. This is not an option. This is a must… For so many young people this will be the air they breathe, the reason they keep going to do the right thing. That's what you'll all be doing today here with these brilliant poets and artists. This is a true gift to you all to be in this room with these people…" (Mrs. Obama)
The guest poets ranged from the literary to the experimental. Each one offering access to their unique experience of how they found their approach. Read and recite as much poetry as possible or type out the words of an existing poem to warm the digits. Use information technology. Cut and paste, and a variety of psychological and process oriented techniques, approaches and visions.
"I want you to ask lots of questions and listen carefully. Do not be afraid. Don't let the cameras or the lights intimidate you. We're just here. I just happen to be the First Lady…" (Mrs. Obama)
As an Artist covering this art-making study at the White House my own involvement adds a spin since currently many artists organize the activity and support the voice of fellow artists in their broader community in order to enrich it. I was honored to be invited as an Artist-Organizer embedded in The Press for something I agree the world is crying for during a period of unparalleled corporatism and a general threat to the extraordinary uniqueness we all have. Everyone should attempt a moment of art each day, even if it is just a few words, a line of a poem, or prayer that hooks us into creative mind in and around us. That our planet may find solutions to challenges which demand thinking outside the box. The brave move is to speak our own creative, because it may also give others permission to do the same. Such was the imperative streaming from the White House itself as I counted Mrs. Obama among the poets of Situation.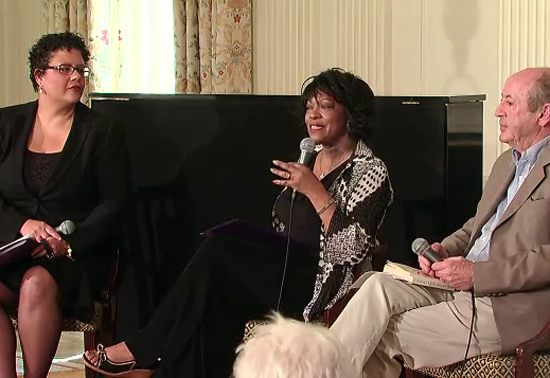 Elizabeth Alexander, Rita Dove, Billy Collins (left to right) the White House Poetry Workshop
The diverse panel gave the Poetry Workshop a beautiful edge in a format which invited two poets at a time onto the stage; Rita Dove and Billy Collins began. Rita Dove asked in what way poetry moves us, how important is it to make poetry our own and offered that she uses draft work to get the words just right. She claimed inspiration from the renowned children's book titled, Harold And The Purple Crayon, saying you have to follow your own purple path. Billie Collins, pointed out that the mission of 'finding your own voice' can be a bit daunting, overwhelming. He went on to say that sometimes deep introspection or finding a mystifying authenticity doesn't work. He approached writing by loosening this kind of pressure, proposing we read as much poetry as we can get our hands on. Suggestions such as finding the poems of which we are jealous and creating our own versions, a willingness to write some bad poetry until it grows into something we like, also works. Rita Dove described playing with poetry, having fun with language to the point where we're more interested in the poetry than in our own persona.
One of the young poets asked "at what point did you stop searching for your voice?" Billie Collins explained that the way to originality is through imitation, implying that through imitation we move into our own voice. Rita Dove described teaching through play with language in a game she offers her students in which a series of wild cards contain instructions, such as at the first sign of the moon, sit and write a haiku, questioning the need for heavy handed teaching rather than lending our process of development itself a more poetic contour.
Kenneth Goldsmith and Alison Knowles followed as the next poets to face the audience. Being familiar with the work of both artists I knew this would be the experimental portion of the panel.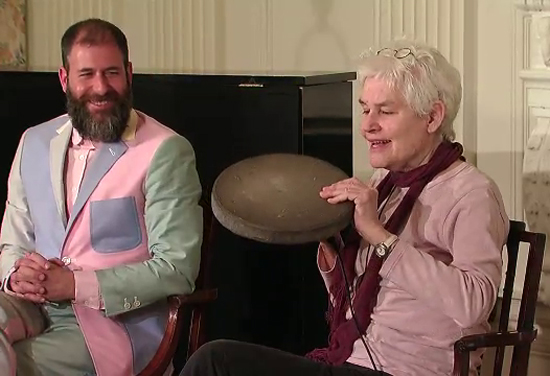 Kenneth Goldsmith, Alison Knowles (left to right) the White House Poetry Workshop
Kenneth Goldsmith encouraged us to literally re-type a chosen work verbatim to understand it more fully, to leverage word processing and the information superhighway. He suggested we take poetic license and re-work existing material into new material, claiming there is no reason for writer's block when we can go to the computer and process something new out of an ocean of pre-existing texts.
Alison Knowles offered the idea that we share whatever we write with another person, whether the work is good or bad. She described starting out as a mediocre painter because she wasn't getting the meaningful feedback she needed from her friends, feedback which later guided her to become a different kind of artist and poet and she pointed out that including people and sharing the art is important in creating community. Lifting a signature handmade flax drum filled with beans, she refers to as a "bean turner," the sound of rain echoed her words. In her world, poetry crosses into objects, sound or performance. By the end of the workshop Aimee Mann added that as a songwriter she enjoyed working with language plus music and understanding how powerful they become as they intertwine.
The Poetry Workshop at the White House left many of us pondering the diverse methods and experiences each poet brought to the description of their ways of art-making, yet the finest poetry came from Mrs. Obama who summed up the essence of how these diverse approaches benefit our communities when she asked a special question, regarding what poetry is really all about, to the young poets sharing the day at the White House.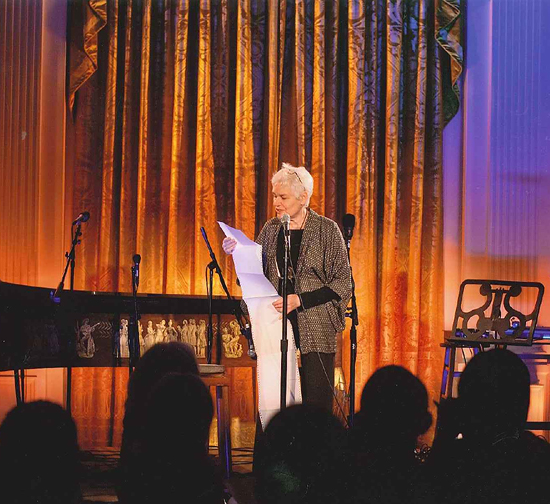 Alison Knowles reads The House Of Dust at the White House Evening Of Poetry
"You got this experience to be here, right? So you are fortunate. You are blessed. So the question after this is what are you going to do to pass it on? What are you going to do to give this gift back? Because, not everybody could fit in this room." (Mrs. Obama)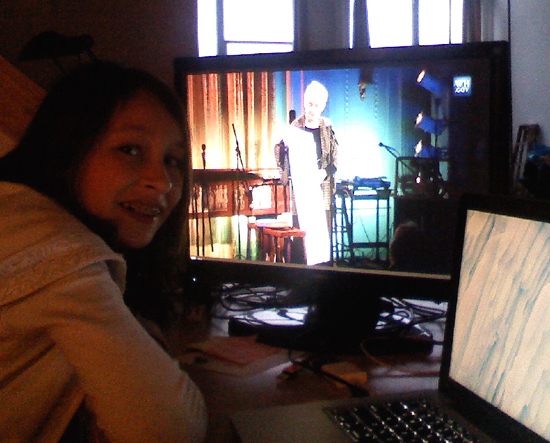 Alison Knowles reading The House Of Dust streaming live on the White House
internet channel reaches young people where they live (whitehouse.gov/live)
Reinvesting in Arts Education – Winning America's Future Through Creative Schools: The President's Committee on the Arts and the Humanities (PCAH) announces the release of its landmark report Reinvesting in Arts Education: Winning America's Future Through Creative Schools. The culmination of 18 months of research, meetings with stakeholders, and site visits all over the country, this report represents an in-depth review of the current condition of arts education, including an update of the current research base about arts education outcomes, and an analysis of the challenges and opportunities in the field that have emerged over the past decade. It also includes a set of recommendations to federal, state and local policymakers. A summary of the report is here.
Tiesha Hines: born in Washington, DC. She is a senior at Ballou Senior High School where she is the president of the poetry club and a member of a variety of extra curricular activities. Tiesha started writing poetry at age 7 for her friends, family and church members of Matthews Memorial Baptist Church. Her favorite style of writing is m.c. style. She was inspired to write by her sister and a few famous poets. Tiesha plans to go to Fortis College and Trinity University to study criminal justice and will continue to do poetry on the side.
Elizabeth Alexander: is an accomplished poet, essayist, and playwright. She began teaching English at the University of Chicago in 1991 and has risen to chair the African American Studies department at Yale University, where she currently works. Her writing has been published in The Paris Review, American Poetry Review, The Village Voice, and The Washington Post and her play, Diva Studies, was performed at the Yale School of Drama and garnered a National Endowment for the Arts creative writing fellowship. Alexander has released several volumes of poetry, most notably American Sublime in 2005 which was one of the three finalists for the Pulitzer Prize that year. Additionally, she became the fourth poet ever to speak at a Presidential Inauguration in 2009 when she recited her poem "Praise Song for the Day," written for the occasion.
Billy Collins: author of nine collection of poetry, including most recently Horoscopes for the Dead. He is also the editor of three anthologies: Poetry 180: A Turning Back Poetry, 180 More: Extraordinary Poems for Everyday, and Bright Wings: An Illustrated Anthology of Bird Poems. He is a Distnguished Professor at Lehman College, City University of New York, and a Distinguished Fellow of the Winter Park Institute at Rollings College. He served as New York State Poet (2004-2005) and United States Poet Laureat (2001-2003).
Rita Dove: Commonwealth Professor of English at the University of Virginia and former U.S. Poet Laureate and Consultant in Poetry at the Library of Congress, is the author of nine collections of poetry, including Thomas and Beulah, winner of the 1987 Pulitzer Prize, and, most recently, Sonata Mulattica. Her publications include short stories, a novel, and the drama The Darker Face of the Earth, which was produced at the Kennedy Center and London's Royal National Theatre. Ms. Dove has received numerous honors, among them the NAACP Great American Artist Award, The Heinz Award, the National Humanities Medal, the Common Wealth Award of Distinguished Service, and the Fulbright Lifetime Achievement Medal. In 1993 she was featured poet at President Clinton's first state dinner. A Chubb Fellow at Yale University and the recipient of 22 honorary doctorates, Dove is also chancellor of the Academy of American Poets and a former senator of Phi Beta Kappa.
Kenneth Goldsmith's writing has been called "some of the most exhaustive and beautiful collage work yet produced in poetry" by Publishers Weekly. Goldsmith is the author of ten books of poetry, the founding editor of the online archive UbuWeb, and the editor of I'll Be Your Mirror: The Selected Andy Warhol Interviews. A documentary on his work, Sucking on Words, premiered at the British Library in 2007. He teaches writing at The University of Pennsylvania and held the Anschutz Distinguished Fellow Professorship in American Studies at Princeton University 2010. His book of essays, Uncreative Writing, is forthcoming from Columbia University Press.
Alison Knowles: American visual artist known for her soundworks, installation, performances and publications, and as a founding member of Fluxus. In 1967, Knowles produced what is considered to be the first computerized poem The House of Dust in collaboration with composer James Tenney. In the 1960s, Knowles composed the Notations book of experimental composition with John Cage, and Coeurs Volants, a print with Marcel Duchamp. Her acclaimed exhibits and performances include two walk-in book installations "The Big Book" and "The Book of Bean." In 2008, she performed three Event Scores at the Tate Modern in London, and in 2009 she exhibited and performed in The 3rd Mind" American Artists Contemplate Asia, 1860-1989 at the Guggenheim Museum. She was appointed guest professor at Documenta X in Kassel, Germany, and in 2009 was an artist-in-residence at the Radcliffe Institute for Advanced Study at Harvard University. An edition of The House Of Dust is due to publish this Fall.

Aimee Mann: In the 1980's formed the post –new wave pop group 'Til Tuesday, and went on to establish herself as a distinguished singer-songwriter. She has received multiple Grammy nominations, one Grammy award and released seven critically acclaimed solo albums, including the soundtrack for the film Magnolia, which garnered an Academy Award nomination for Best Song in 2000. She has gone on to record soundtracks for several other films and has released widely praised solo albums including Bachelor No. 2, Lost in Space, and One More Drifter in the Snow.
Michelle Obama: née Robinson, the wife of President Barack Obama, was born on January 17, 1964 in Chicago, Illinois. She is a lawyer and was a University of Chicago Hospital vice-president. She is the First Lady of the United States and Honorary Chair, the President's Committee On The Arts And Humanities. The Student White House Poetry Workshop is a part of the initiative Reinvesting in Arts Education.
Melody Barnes is the Director of the White House Domestic Policy Council.
Joshua Selman serves as President of 501(c)3 Artist Organized Art, Inc.

Jessica Higgins: American artist, lives and works in New York and Massachusetts. Formative dance studies at Juilliard and Joffrey. Daughter of Fluxus Founders Dick Higgins and Alison Knowles. She has direct experiential knowledge of Fluxus, having early formation in that culture by way of the original members and by participation in historic Fluxus events. She is a regular correspondent for Artist Organized Art and the Creative Director of 'Switch' a local access television series of performance and intermedia out of Western Massachusetts. Her works and performances have exhibited in numerous countries.