FREESPACE IN THE CITY OF LIGHTS
Freespace Exhibition and Performances
59 Rivoli Aftersquat, Paris
,
December '09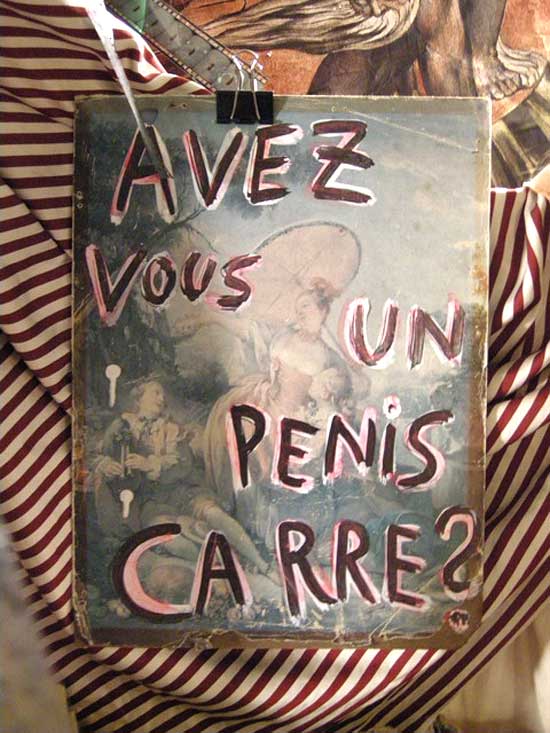 'Do you have a square penis?' By

Swiss-Morrocan
Paris correspondent, participant artist,

Angie Eng
T

he romantic vision of the artist in his solitude, poverty-stricken, hyper-intelligent delusional world, the tabloid reader may even imagine him living and working in a graffitied, Lower East Side 80's freezing cold moldy squat next to the crack queue. Those were the days, they say… before the real estate boom and diamond skulls. Don't panic, there are still freezing cold, stinky albeit renovated spaces to produce art for little or no rent (in Paris, that is.) Last December (In the aftermath I refer to as my 'temporary creative masochistic state') I plunged myself into heading two weeks of artist organized art in a former squat in Paris.
To rebel against the Christmas consumer rush on Rue de Rivoli, I recruited my most faithful to help run Freespace a series of free concerts, performances, readings and an exhibition based on the theme of public space.
Even though this is rumoured to be the 3rd most visited cultural venue in Paris, I stumbled upon it during an artist tour, 2 weeks after its re-opening as an official, legal space for artists to work and play. This 6-story building sandwiched between the Louvre and Hotel de Ville, includes a dazzling storefront gallery space, 30 open artist studios and a micromuseum. I have to admit my original intent was not to organize a series of art events, but to do a site specific window installation of a faux travel agency selling public space. My arm was twisted and it had been a while since I organized some art events. Et voilà…
Freespace Exhibition and Performances December 8-20, 2009, 59 Rivoli Aftersquat, Paris
Participating artists

:

A-li-ce

,

Cecile Babiole

,

Luc Barrovecchio

,

Christiane Blanc

,

Nina Canal

,

Steve Dalachinsky

,

Angie Eng

,

Elizabeth Gilly

,

HeHe (Helen Evans, Heiko Hansen)

,

Kentaro

,

Stuart Krusee

,

Cecile Le Combe

,

Les hautsdeplafond (Pierre Lutic & Philippe Gautier)

,

Thierry Madiot

,

Agathe Max

,

Mectoob

,

Yuko Otomo

,

Margarita Papazoglou

,

Plectrum

,

Claude Parle

,

Atau Tanaka
Grace à the city of Paris, the former Bank of Lyon known as Chez Robert on 59 Rivoli was 'regulated' and renovated after years of squatter status. Listen to the interview with

Swiss-Morrocan

one of the head chiefs of the 'Aftersquat'.
After my eye-opening experience with 59 Rivoli Aftersquat, I decided I would write this article and do a Q/A with 2 other artist run spaces where I had presented work in the last year: La Générale en Manufacture, Sèvres and Les Voutes (affiliated with Les Frigos). I found it would be impossible and almost suicidal to make my own art and even fathom running an artist run place all year round. These artist/organizers are definitely a special breed, a rare species in a time when the collective body decomposed decades ago.
All three spaces are artist collective run, currently government owned, legalized spaces for artists to work and organize events and artists' residencies. All of them pay for electricity, insurance, water. (In some cases, 'rent' and also former collective debts from either unpaid utility bills or renovations) Although they share a similar paradigm of alternative art space, each is unique in their intent and vision of being on the periphery or even outside the inside art world.
I consider Les Voutes to be one of the more beautiful places to make art in Paris, 59 Rivoli to be run by the most friendly and unpretentious artists I've ever met and La Générale en Manufacture at Sèvres too new to say NO.
On the side, France still
has
one of the largest cultural art budgets in the world (2.8 billion in 2009 or $622 per person per year). By the way, the 2009 NEA cultural arts budget in America was 265 million or 86 cents per person per year. However, politics and administration goes hand in hand with government funding. In France, wanting a piece of that pie, artists are suggested to create associations or mini-non profit organizations, sign contracts abiding by city legislation and regulations in order to plan their artistic activities around 'festivals.' Count the logos at the bottom of the invites to get an idea of the size of each slice. With these fig ures, doing independent events 100% artist run in government owned buildings, is to put it frankly, an illusion. Be that as it may, I'm grateful that these spaces exist grace à the Ville de Paris and have not been burned down or sold to luxury housing developments like the City of New York. I'm still not sure if larger cultural budgets change the quality of art, but we can all agree its better to have more than less in the diffusion of cultural practice.
"In my opinion, the art market is a dead donkey covered with flies.
It's made for a bunch of rich happy few.

We always see the same ridiculous official artists
promoted through these kind of private circles
with no hope of seeing something new…

We do not want to be a part of this private joke.

We expect nothing from others
(governement, official organizations, etc.)

We do what we have to and want to do."

-

Pierre Wayser

, Les Voutes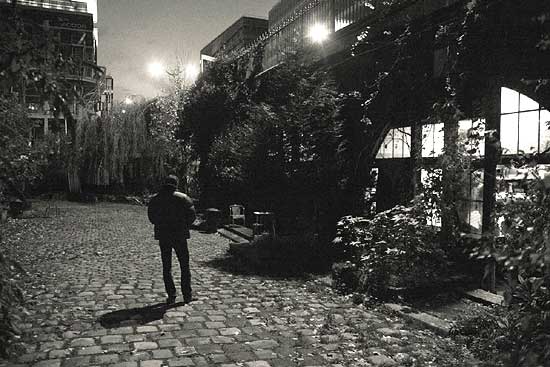 Les Voutes, photo by

Pierre Wayser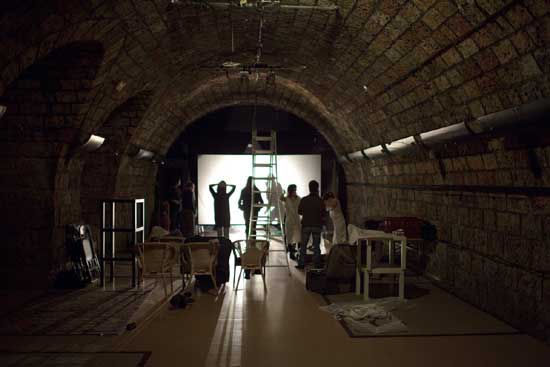 Les Voutes, photo by

Pierre Wayser
Les Voutes

Building:

19 rue des Frigos 4 underground train tunnels approximately 1000 sq feet each and a garden
Established:

1998
Owner:

former owner was SNCF then, le Réseau Ferré and then City of Paris since 2003
Regulated:

2000
Purpose:

'We decide to create a cultural association (and a garden) to rule the place.
First to show our work, then the one from friends…'
Website:
http://lesvoutes.org
http://les-frigos.com
Les Voutes Artistic directors:

Bruno Herlin and Pierre Wayser
Contract terms:
We do not receive any kind of funds or money !
We do not ask for money !
We do not want their money !
We do not have to say "thanks"!!
We just use some differents networks of international artists and share the expenses.'
Information provided by
Pierre Wayser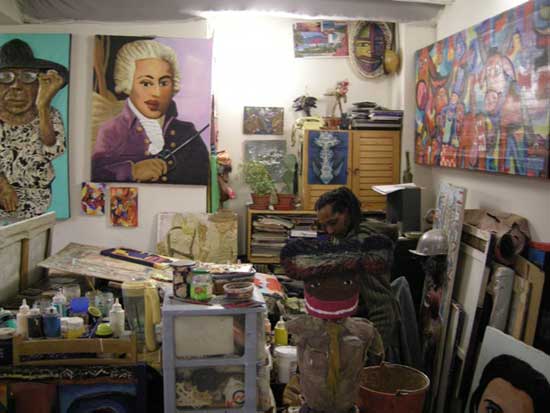 59 Rivoli Aftersquat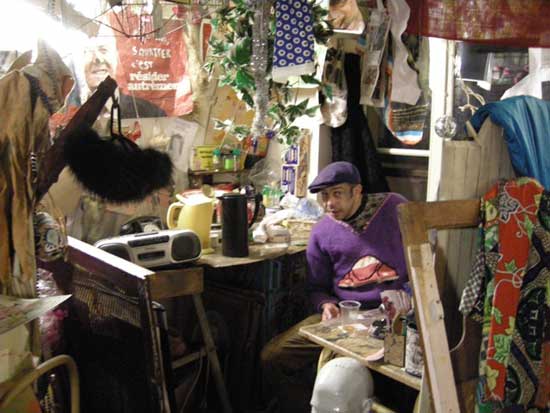 59 Rivoli Aftersquat
59 Rivioli Aftersquat
Building:

59 rivoli, 6 stories, plus storefront gallery
Squat established:

1999
Owner:

Bank of Lyon and then bought by the City of Paris
Expulsion by court of law:

2000
Regulated:

2001 (renovated and closed during 2006-2009)
Purpose:

open studios to public everyday (except Monday) exibition space, artist studios, temporary residencies
Association:

15 core members, around 30 artists working in building
Website:
http://www.59rivoli.org
Contract terms:

all artists are door greeters for 1 hour /week, each artist pays $160 for utility bills, building closes at 8pm
Information provided by:
Swiss Morrocan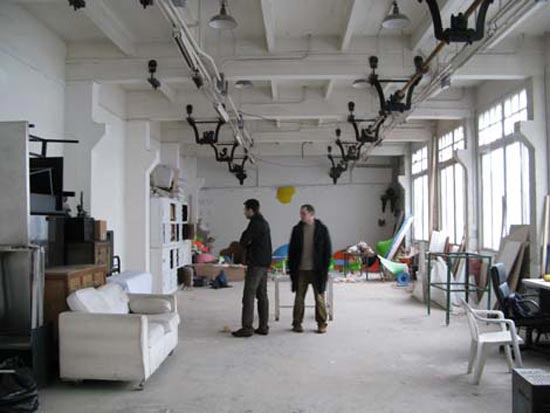 La Générale en Manufacture, Sèvres
La Générale en Manufacture, Sèvres
Building:

original building on rue du Général Lasalle Paris Belleville new location: 60,000 square foot
Squat:

established in 2005
Owner:

National Education Ministry
Expulsion by court of law:

2006
Regulated:

2007 relocation to Sèvres
Purpose:

exibition spaces, wood and metal workshops, photographic studios, temporary residencies
Association:

15 official members
Website:
http://www.la-g.org
Art Residency directors:

Sylvain Gelinotte and Jérôme Guigue
La Générale en Manufacture profile:

Painters,VJs, scupltors, conceptual artists, performers, photographers, musicians, video artists, poets, drawers, young or older (mostly in the 30s), french and foreigner nationals (mostly are french speakers), somewhat famous and also perfectly unknown.
Contract terms:

With the Regional Minister of Cultural Affairs (DRAC): 'they pay the rent and we run the space for the benefit of our work and visiting artists. Using the space to run a company or renting it forbidden'
Association Rules:

$70 per month membership fee to pay for power, internet connection and the insurance that covers everyone
Information provided by:
Jérôme Guigue


Angie Eng, Paris, January 26, 2010