James Bickford, Daphne Board,
Stan Geddes and Rachel Lawrence
Bring Your Own Restaurant (BYOR)
Holyoke, Massachusetts, a.k.a. "Paper City"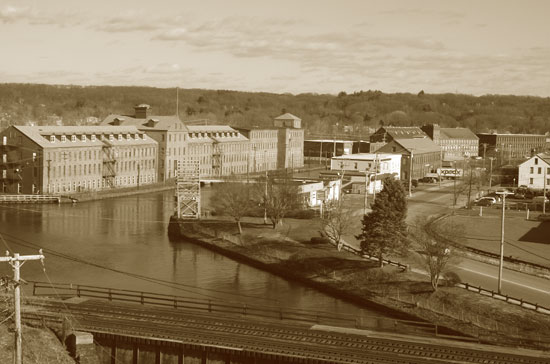 Holyoke Massachusetts, Downtown Paper City, Date and Orgin of Photo Unknown

By Denis Luzuriaga
Photos: Peter Palombella
On October 27, 2010, Bickford's, a quick-lunch restaurant chain launched for the Automat market in 1921, closed the last remaining Connecticut store and the last remaining Western Massachusetts store with no notice to the staff and management. The closings came just before the dinner hour and left 40 employees suddenly terminated.

"My favorite thing that I brought was one of those one burner turkey fryer things… in it I steamed 5 dozen ears of corn on the side of the road and served with various herb infused butters, sea salt and cracked pepper. My pesto has been called "crack noodles" (by someone who actually never had pesto before), spring rolls, sushi… and when it is close to Sun Ra's birthday I celebrate Arrival Day with a pot of moon stew at the nearest BYOR event." – James Bickford (no relation)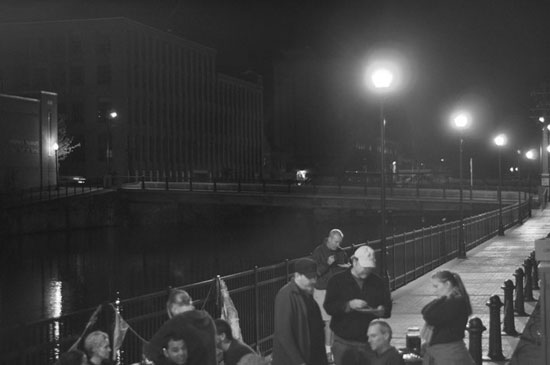 The tenth Bring Your Own Restaurant of 2010 at the Canal Walk, 1st level canal. 9/10/10

A brief history of Holyoke
Holyoke, Massachusetts had few inhabitants until the construction of its dam, the 1849 Holyoke Canal System and, at one point, over 25 water-powered paper mills. The American Pad & Paper Company was formed in Holyoke and is one of the largest suppliers of office products in the world. The street plan fosters high-rise buildings while the surrounding canals easily adapt to recreation and relaxation. Yet, through years of neglect, Holyoke has become among the poorest Massachusetts cities. Fifty percent of its school children live in poverty. According to a 2003 FBI Report its crime rate was significantly above the national average. Most of the year's 2,822 crimes were property thefts. While on February 9, 1895, William G. Morgan invented the renowned sport termed "Volleyball" at the Holyoke YMCA. That YMCA building, as well as many of Holyoke's ornate mill buildings and facades, has since disappeared due to urban decay, arson and rampant demolition.
More recently, in 2009, after visiting a few frontier art openings by the canals of post industrial Holyoke, four friends decided to take themselves out for a group meal. With establishments in the city officially extinct, James Bickford, Daphne Board, Stan Geddes and Rachel Lawrence resolved that the only way to find suitable public accommodations, in Downtown Holyoke, was to "bring their own restaurant."
When an individual, a couple, a group of friends decide to dine together, the specifics very much depend on their coordinates, on the planetary nature of the site. Sharing a meal signifies a ceremony of sorts. Even in conditions of duress, urban decay, arson and rampant demolition, the communion of nourishment is a sacred one.
Bring Your Own Restaurant (BYOR) is described by it's founding members as "A roaming plein-air potluck on the streets and canals of Holyoke."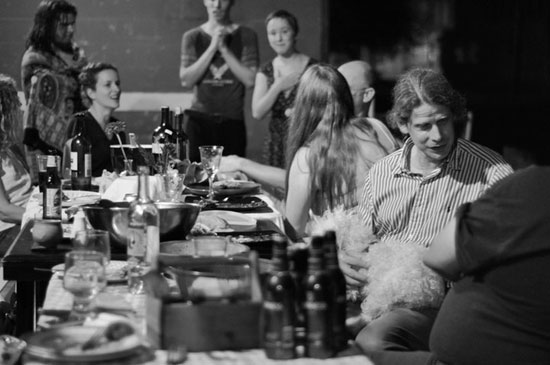 The first Bring Your Own Restaurant of 2010 during the Spring Open Studios
To quote Daphne Board, "BYOR is a bit of a ritual, and I love that as much as the element of surprise at each different place and with different people. Ritual with the element of surprise."
Bring Your Own Restaurant, one asks. The answer – in Holyoke, Massachusetts – is "YES." Why would city residents want to show up in a random, urban setting, carting all the trappings of a restaurant, tables, chairs, cloth napkins, real silverware and plates, flowers, candles, and excellent food? After all, by the plush safe agencies of 1960's Madison Avenue, about the benefit of the Horn & Hardart Automat, it was famously said: "You can't eat atmosphere." Or can you? The dearth of "traditional" restaurants may be one reason, the unending quest for community another.
Daphne Board: BYOR is definitely a protest…I like James' early description of BYOR as a protest against fear. It is a protest against the past abandonment of our downtown. Perhaps a playful or non-violent protest, art, a happening. Also a community gathering with almost no strings attached, It happens without the necessary logistics of house parties (no one is stuck doing *all* of the dishes!). In some ways it is very casual–we'll be there, outside, in public, whether or not you are there. You can drop in for the whole event or just a while.
Rachel Lawrence: I guess the first event was sort of a performance piece and social statement, but I don't know what it is anymore. Everyone who comes has a different idea on why and how they participate. It's almost unbelievable that it goes so smoothly time after time. For me I guess it is art and spectacle as well as a way to get people out of isolation and routine and share a meal together the way so many other cultures do.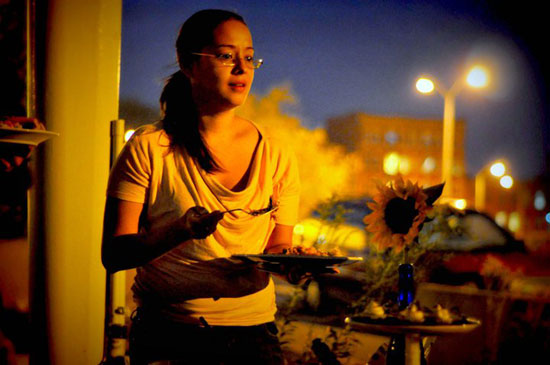 The eleventh BYOR of 2010, at the abandoned gas station near
Veterans Park, Dwight, and Chestnut. 9/24/10
James Bickford: To me it is an amalgam of epicurean experience, performance art, anarchism and community building. We have received a lot of attention lately and I have seen some criticisms, especially in regard to the NPR story. One person telling me: "wow… NPR makes a big deal out of this but all you created was the picnic" and "I love how you can do anything and people will call it art." Well, yeah… you can do that. …and essentially we did not create anything new. It is a picnic, tailgate, pot luck, etc. but what does make it different, and what does make it a performance is what lies in the intent / purpose – we are intentionally moving the restaurant around every week and have been purposefully placing it in areas that people have come to consider "sketchy" or "dangerous".
Denis Luzuriaga: Do you consider BYOR a social/food movement? Something more than Performance art/Happening? Something else entirely?
Daphne Board: BYOR is also a "bureaucracy-free zone". Having just read some information on urban-place-making, the idea of a "BFZ" struck home. This was and is our intention: a simple formula, without much planning or permit-taking-outing. That sort of thing can be so tedious, and for what end goal? We just want to have a great time with unknown or known great people and great food.
James Bickford: We've also tried to make the setting, as much as possible, to include all the fineries of a nice restaurant – fine china, linens, and candles and occasionally costumes or we dress to impress (Stan and his pink tuxedo). If you are there as a participant in BYOR you are part of the performance. Part of our purpose is a response to the bad rap that Holyoke has earned over the years due to its failures in a declining economy, the loss of historic industry, rampant crime, numerous bad decisions on the part of city government and falling at the bottom of the list of near every possible statistic that is measured town by town and city by city in the state. One thing I think that I can speak for everyone involved is that we all want Holyoke to prosper and that we all are trying to create a positive image of community and good spirit in Holyoke with BYOR. …and there are many good things happening in Holyoke. I find it somewhat humorous that of all the things to report BYOR has gotten a lot more attention than I thought it would.
Rachel Lawrence: I think it would be great to have a website that describes the concept as we see it and hopefully it will inspire other communities to take the idea and make it their own. Of course things like this have been happening…sharing a meal is an ancient tradition…I think our emphasis on taking underutilized, abandoned and even "ugly" public spaces and giving them life is what makes BYOR different.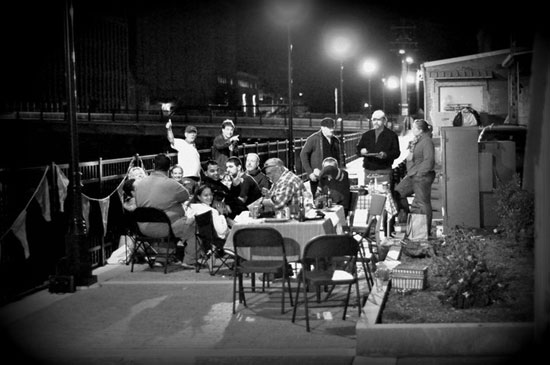 The tenth Bring Your Own Restaurant of 2010 at the Canal Walk, 1st level canal. 9/10/10
James Bickford: BYOR is also not all about Holyoke… I think that this kind of event could work in depressed economies with a similar story to Holyoke. With the attention that BYOR has received I hope to see it extend out and beyond. I mention "anarchism" in my initial response… I have always been a fan of the philosophical work of Hakim Bey, particularly his concepts of Immediatism and the Temporary Autonomous Zone (TAZ). The idea of absolute freedom in the moment and the ability for groups of people to create momentary spaces, usually gathering in public space and-or neglected / otherwise underutilized spaces while in doing so they elude the formal structures of society that normally create barriers… avoiding concepts like hierarchies, class, power, race, government. Everyone is welcome at BYOR, everyone is fed at BYOR and regardless of where we set up BYOR we still can see the streets and buildings around us but we are in our own little world for those few hours.
Daphne Board: I think as long as we explain what we are doing, the method should be easy enough to replicate wherever. It is not a difficult or particularly original concept, except in our downtown
Why eat in public when you could be in your own backyard? We've gotten that comment online mostly–people who see us and interact face-to-face have incredibly positive things to say. I can't think of one negative experience actually at BYOR. But–the online world is like that. People feel free to slam each other in ways they would never think of when confronted in the "real" world.
I hope we can be in Holyoke for a long time, but one of our goals is to attract more restaurants to downtown. So it is a conundrum…what we are doing here right now is very special, but my hope is that we will become irrelevant. That our downtown will become vibrant at more hours of the day, not just during the 9-5 workday. Maybe we will have to move our events out to the mall, when it dies….
James Bickford: I always found TAZ (Temporary Autonomous Zone) to be a form of civil disobedience that should be practiced more often. It is a lot more inviting… rather than people seeing protests or anger they are witness to something they might actually want to participate in. People will walk an extra few blocks to check out what is happening… then they might join us. Lastly… it is great food. I am a foodie and a home-cooking kind of person, rarely eating out… BYOR is the best restaurant around. I do hope that things change in Holyoke and that we see small business and nice restaurant venues, theaters and galleries drawing people to our city – but this will be the death of BYOR. Maybe they can leave us just a few vacant lots?

The ninth Bring Your Own Restaurant of 2010 on the Lyman St bridge
over the 1st level canal. 8/27/10
Rachel Lawrence: I think I need to learn how to say, "Would you like a cupcake?" in Spanish. I always bring vegan cupcakes….and my favorite thing to eat is Daphne's bread or homegrown fruits and vegetables.
Daphne Board: I love South Indian food and fresh bread. Sounds crazy, but I am hard-pressed to find a BYOR location I don't fancy. We do often briefly scope them out beforehand to see if they have enough access for people to load tables in, etc. There are definitely locations that we have not BYORed yet that I have my eye on. There are some prime canal-views that we have not taken advantage of, and someone suggested we BYOR over the Connecticut River on the Holyoke-South Hadley line, That would be amazing–and hopefully we can do that in the Spring when the river is full force over the dam. This year we went to a couple of underused parks and those were great (kids ran around, ricocheted off of the grass, etc). The modern under-usage of public parks in Holyoke is a phenomenon that I hope dies quickly–I have some old photos of the Victorian era when the parks were just filled with people of all walks of life. That said, the urban close-to-the-street locations are great because then we encounter people passing by (in cars or on foot). That's when we have some really great interactions–BYOR makes people smile and engage.
Rachel Lawrence: Gas station!
James Bickford: Pulaski Park, on the canal at Dwight and Race St (location of the many buildings now occupied by art studios), HGE's (the utility company) Energy Park, Lyman St Bridge when it was closed to traffic, on the new Canal Walk and when it has rained we've held BYOR at the loading dock at Open Square and under the canopy of an abandoned gas station. I love the canal as a feature, but the gas station comes out on top as my favorite spot. It still has some lights on so we've stayed pretty late there and I've seen some great photography from those two events.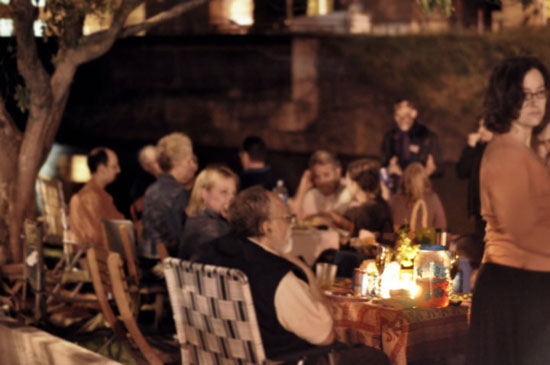 The second Bring Your Own Restaurant of 2010 at Water Power Park off North Canal Street


We are all in it together… we are trying to do something positive while apathy, racism and government cronyism has eroded the city for years.
Denis Luzuriaga: How do you envision BYOR in five to 10 years? How about the canal district of Holyoke; the art scene, and commerce in general?
Daphne Board: What do I think of commerce in general? I loathe commerce in general. A NYTimes headline declared that in order to save the world economy, we have to make the population of China "consumers." How horrifying.
Rachel Lawrence: I have no vision for BYOR except for the fact that I hope it continues.
James Bickford: I think that in ten years to come we will have weathered the storm and we will find Holyoke to be a community that has succeeded. This will mean taking some risks. It will also have to be done without gentrification and/or the displacing of some of the people that have already taken the risk – like the existing art community.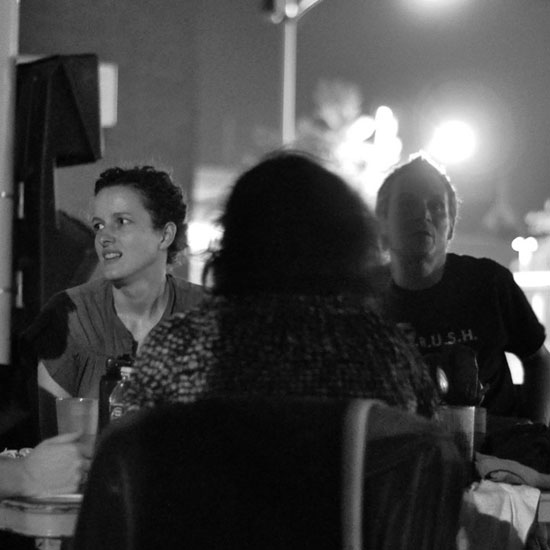 The eleventh BYOR of 2010, at the abandoned gas station near
Veterans Park, Dwight, and Chestnut. 9/24/10
James Bickford: "Rather than a long and involved story about my degrees, awards, shifting career paths, military service, time in prison, feats of strength or works in permanent museum collections, I will instead use these words to describe myself: Anarchist, Activist, Culture Jammer, Anti-Artist, Agent of Chaos, Noise Maker, Mask Maker, Explorer, Biologist, Technologist, Foodie, Analog Luddite, Father, Friend, Neighbor, Thinker, Guinea Pig Herder, Psychonaut, Strategist"
Daphne Board is a shoemaker and loves living in Holyoke
Stan Geddes is one of the Founders of Bring Your Own Restaurant in Holyoke, MA where he lives and works

Rachel Lawrence: mother, artist, student, unemployed terrorist, head crumb maker at We Are All Beasts Super Secret Renegade Underground Second Floor Vegan Bakery and Guinea Pig Sanctuary and the primary alchemist at The Vegan Owl a late night bistro, political salon and cookzine publisher
Denis Luzuriaga: visual artist working in Western Massachusetts. He combines video, painting, and sound in what can be termed "sense-scapes." His latest work "Temporis" is a two channel video and sculptural installation. Temporis is installed in a 150 year old mill building along the Connecticut River. Denis exhibits his work in galleries, exhibition spaces, and works with outsider artists performing irreverent versions of yester-year avant-garde such as Kurt Schwitters' "Ursonata" electrified.
Peter Palombella: sometimes better known by his online handle VanDog, is a photographer and blogger in Holyoke covering local events from Politics to Arts and Culture
Bring Your Own Restaurant (BYOR): Do it yourself fine dining on the streets of Holyoke. A plein air potluck held every other Friday, 7pm start, rain or shine and from Spring until late Fall. All are welcome. If you would like to join us, bring a dish of something edible to share, your own plate, chair, utensils, etc. and we will enjoy the lovely view in downtown Holyoke with good company. Bringing your own table is recommended, but if you are solo there is always space at someone else's table. We will have a couple of chairs on hand for those without access to cars. We would like this to be a trash-free event, so please do not bring disposable plates or other items that will end up in the landfill! Dress to impress or dress to de-stress. No reservations
Holyoke is a city in Hampden County, Massachusetts, United States, on the banks of the Connecticut River. It is part of the Springfield, Massachusetts Metropolitan Statistical Area. The city was named after Elizur Holyoke, who explored the area in 1660. One of the first planned industrial communities, Holyoke bears the nickname "Paper City"
Horn and Hardart initiated their first Automat restaurant in the USA in Philadelphia on June 12, 1902, borrowing the concept of automatic food service from a successful German establishment, Berlin's Quisiana Automat. The first New York Automat opened in Times Square July 2, 1912. Later that week, another opened at Broadway and East 14th Street, near Union Square
Bickford's: Samuel Longley Bickford (1885–1959) began his restaurant career in 1902, and in 1921, he established his quick-lunch Bickford's restaurant chain. In 1921, the Bickford's "lunchrooms," as they were known, offered modestly priced fare and extended hours. Bickford's architect was F. Russell Stuckert, who had been associated with Samuel Bickford since 1917. Stuckert's father, J. Franklin Stuckert, had designed buildings for Horn & Hardart in the 1890s. Jack Kerouac sometimes wrote while sitting in Bickford's, and he mentioned the restaurant in Lonesome Traveler. Other famed members of the Beat Generation could be found at night in the New York Bickford's as noted by The New York Times: The best minds of Allen Ginsberg's generation "sank all night in submarine light of Bickford's," he wrote in Howl. The Beat Generation muse, Herbert Huncke, practically inhabited the Bickford's on West 42nd Street. Walker Evans photographed Bickford's customers, and Andy Warhol rhapsodized about Bickford's waitresses. Bickford's made its way into the work of writers as diverse as Woody Allen and William Styron. Andy Warhol's assistant, Gerard Malanga, was out getting a coffee-to-go at Bickford's when Warhol was shot. The Mad cartoonist Wally Wood was 21 years old when he worked as a Bickford's busboy shortly after his 1948 arrival in Manhattan