JULY In The City Of Seoul
A Piece of Lived History and
the Korean Contemporary Art Scene
in Seoul in JULY 2012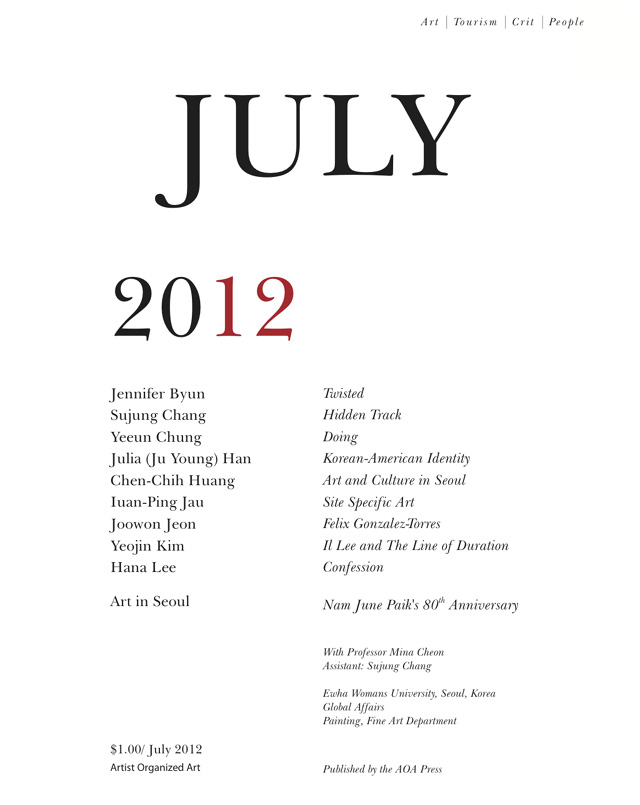 July 2012 Front Cover With Professor Mina Cheon, Assistant Sujung Chang, Ewha Womans University, Seoul, Korea, Global Affairs, Painting, Fine Art Department, including entries by Jennifer Buyn, Sujung Chang, Yeeun Chung, Julia (Ju Young) Han, Chen-Chih Huang, Iuan-Ping Jau, Joowon Jeon, Yoejin Kim and Hana Lee

by Mina Cheon

When my father Hoseon Cheon was the Cultural Attaché of the South Korean Embassy in New York in the late 70s and early 80s, he was a pioneering culturalist to promote South Korean artists who had just arrived to the landscape of the New York art scene. I remember a lot of parties and a lot of artwork hung on the walls of our Bronx apartment by these Korean artists who are now the prominent leaders of contemporary Korean art. When sharing a bit of my lived history with African-American artist Joyce Scott, she tells me that I have stripes on my shoulder that I should share proudly. This forum is one where I am rethinking back momentarily about my childhood, and embracing how I've witnessed a piece of lived history in New York that formed the Korean art scene there that may have jump-started a piece of global art history that includes Korean artists.
I say this, since returning to Korea in July 2012, as I would every summer, I notice a splurged of Korean-American exhibitions all around Seoul. The stage was set with Doho Suh's mammoth exhibition "Home Within Home" at Leeum Samsung Museum of Art (March 22 – June 3) followed by a series of exhibition by Won Sook Kim, Tchah Sup Kim, Myong Hi Kim, and Il Lee, at the spaces of Gallery Hyundai. It is hard to miss the growing population of Korean-American artists in the contemporary art scene not only in Seoul, but how they stage a global art scene in the world. Certainly the rise of Asia, Chinese contemporary art, and the history Japanese experimental artists in the Western art world sets a strong precedence of Asian artists being active in the art world, yet Korean artists offer adistinctive perspective of neither being Chinese nor Japanese yet influenced by these cultures. Korea's uniqueness is in the in-between spaces of these other countries, its own split between North and South, and the constantly challenged relation to the West. The history and geo-politics shapes the ambiguity and anguish, lush and popularity of Korean postwar contemporary life, culture and art. Certainly Kangnam Style, danced by Ellen DeGeneres and Britney Spears with K-pop singer Psy wasn't long in coming.
I left the United States in June with a stark image of what today's Korean-American identity looks like. I had just attended the sixth annual Korean-American Film Festival in New York (KAFFNY) at the Anthology Film Archives (June 5-10). Invited by Susie Lim, co-director of the film fest, as well as the daughter of Korean artist Choong-Sup Lim who is having his retrospective at the National Museum of Contemporary Art, Korea (December 2012 – February 2013), our interest in the theme of Korean-American global awareness marks a generational milestone, for our parents hung out and did the art talk decades ago, and now we watch films together and roam around the NY art scene, and talk about issues of diaspora and national identity. We can say that we both identify with the dark comedies that surround our lives as being Korean-Americans, situated within the impossibilities and entanglement of opposing Eastern and Western cultures.
Accompanied by my children Gerson and Sasha,the next generation dual-citizen, bi-racial, Korean-Americans, I got to show them intercultural complications through the various experimental and cinematic narratives of Korean-American films for the very first time.The two films "Magic and Loss" by Lim Kah Wai and Kiki Sugino, and "Faces of Seoul" by Gina Kim, Jae-Ho Change, and Tara Autovino clearly marks the queerness of our nation, somewhere between lost and found, original and reproduction, and between genders and nations. I'm beginning to believe that today's media culture is one not about the best original, rather about the better reproduction; these were great examples about that momentum, and certainly Kangnam Style done in Thailand is funnier than the original.
Then, comes JULY. I'm teaching a course called "Art in Seoul: Research and Publishing for Artists and Culturalists" at Ewha Womans University in Seoul, Korea and joined by nine students from Ewha, Maryland Institute College of Art, Rhode Island School of Design, and Tunghai University of Taiwan. The course was offered through the global affairs office's international school and through the painting major of the fine art department, where I am an alumni. As a research-based artist practicum course for national and international students of Ewha, the ten of us traversed the Seoul art scene and documented our responses on a blog. Mid-way through the course, a student who was the assistant, Sujung Chang, titles JULY as the on-line PDF magazine that would collect their writings from the blog more formalized, and JULY named as a spoof on the infamous OCTOBER art criticism journal. Obviously, the challenge of English being most students' second language and for some, the first contact to the art scene, the writings came in everyday as short thought pieces and journal entries that later accumulated into more formal short essays. This was a huge feat for those non-English speaking students and the course had its many Konglish-Chinglishmoments. But, the students tried to make sense of the art scene in Seoul during July, and they bravely produced this on-line publication JULY for Artist Organized Art.
Jennifer Byun, Sujung Chang, Yeeun Chung, Julia (Ju Young) Han, Chen-Chih Huang, Iuan-Ping Jau, Joowon Jeon, Yeojin Kim, and Hana Lee individually gravitated towards writing about one exhibition over another or focused on one artist versus another, and highlighted their own values as artists and non-artists, and included their cultural critique as a way to further their insight about the contemporary art scene of Seoul that reflects the staging of Seoul to the world.
The major works we see in this month and that the students write about range from blockbuster international shows such as the first Asian exhibition "Double" by Felix Gonzalez-Torres at Plateau (June 21 – September 28) and the Nam June Paik's 80th Anniversary exhibition "Nam June Paik Spectrum" at the Seoul Olympic Museum of Art (July 6 – September 16) to a more local and intimate Korean shows such as "Hidden Track" curated by Sung Won Kim at the Seoul Museum of Art and interactive art installation group show "Doing" at the Kumho Art Museum. As overarching themes that surrounded July's art in Seoul, there seemed to be a great interest in the possibility of interactivity in art, curators working as the new artists of our time, and democratization of thought processes in art and culture. Certainly, the larger framing was that Seoul is at its height for being contemporaneous and leading in the global art scene, and that the general public likes art. Many people are attending exhibitions in Seoul.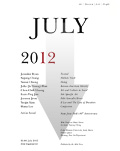 Here is JULY 2012. PDF Magazine: DOWNLOAD

Art in Seoul Blog: http://artinseoul.wordpress.com/
Created by the students of Art in Seoul, with Professor Mina Cheon and assistant Sujung Chang.
Ewha Woman's University, Seoul, Korea
Global Affairs and Painting, Fine Art
Published by the AOA Press, Artist Organized Art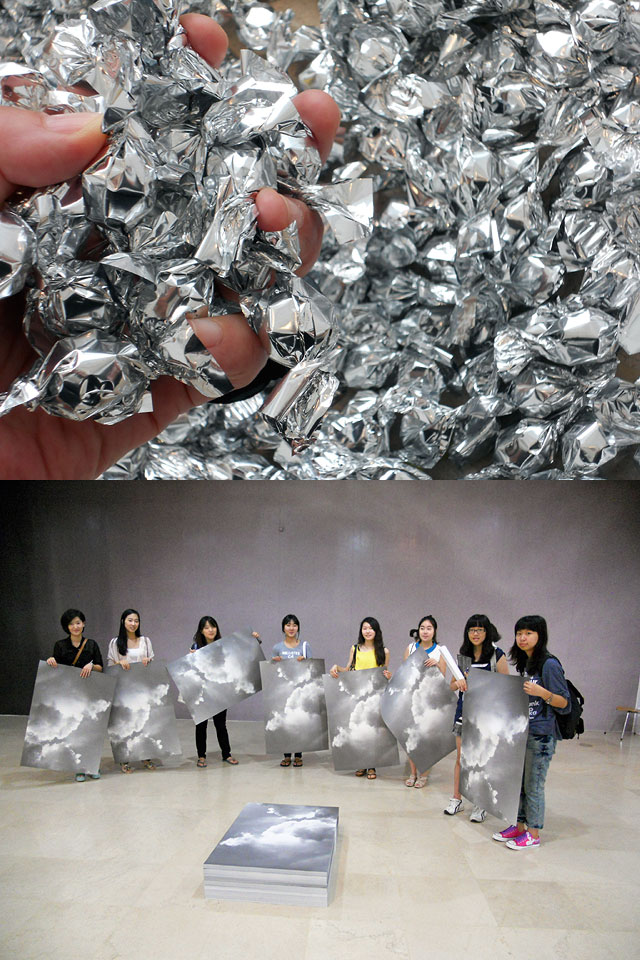 (Top) Mina Cheon grabbing a piece of global art scene in July in Seoul, Korea, grabbing a part of Felix Gonzalez-Torrez' Untitled (Placebo) in "Double" Gonzalez-Torres' first exhibition in Asia, Plateau, Seoul, Korea, July 2012. (Bottom) Same exhibition, students of Cheon's course at Ewha Womans University "Art in Seoul" who created and published JULY 2012 PDF Magazine for Artist Organized Art Press.
Art in Seoul (http://artinseoul.wordpress.com/): Research and Publishing for Artists and Culturalists is a research-based artist practicum course for national and international students of Ewha Woman's University in Seoul, Korea, offered through the departments of Fine Art and Global Affairs Office at Ewha. Led by professor Mina Cheon, students join her by traversing the Seoul art scene and documenting their sight responses through cross-genre writing on the Internet, publishing something along the lines of art journalism, criticism, and blog entry. Students from Ewha, Maryland Institute College of Art, Rhode Island School of Design, and Tunghai University of Taiwan look eagerly at art presentations in Seoul, questioning the criteria and institution of art, and instigating how local art sites relate to the world and the global art scene. We, the cyber-feminist punk group of Art in Seoul with Mina Cheon are: Jennifer Byun, Sujung Chang, Julia Han, Vera Huang, Kelly Jau, Joowon Jun, Yae Eun Jung, Yozeene Kim, and Hana Lee. The writings here are at times a hybrid between Korean, English, and Chinese. We emphasize the spirit of experimentation in thought processes and documentation in all its possible forms, prior to the rigidity of proper writing. These informal blog entries however will culminate in a more formalized PDF magazine format at the end of July 2012, near the end of the Art in Seoul course.
Ewha Womans University (Korean: 이화여자대학교, Hanja: 梨花女子大學校, history) is a private women's university in central Seoul, South Korea and is one of its largest institutions of higher learning. It is currently the world's largest female educational institute and among the best-known top universities in South Korea. The Division of International Studies (DIS) was first established in March 2001 as an undergraduate program where English is the language of instruction. Over 170,000 women have graduated.
"Gangnam Style" aka Kangnam Style (Korean: 강남스타일, IPA: [kaŋnam sɯtʰail]) is a single by the South Korean pop artist PSY. The song was released on July 15, 2012. "Gangnam Style" is a Korean neologism that refers to a lifestyle associated with the Gangnam district of Seoul. PSY is quoted saying "People who are actually from Gangnam never proclaim that they are—it's only the posers and wannabes that put on these airs and say that they are "Gangnam Style"—so this song is actually poking fun at those kinds of people who are trying so hard to be something that they're not" The song's refrain "오빤 강남 스타일 (Oppan Gangnam style)" has been translated as "Big brother is Gangnam style", "Oppa", a Korean expression used by females to refer to an older male friend or older brother. The "Gangnam Style" dance is the horse trot, which involves pretending to ride a horse, alternately holding the reins and spinning a lasso, and moving into a legs-shuffling side gallop.
Mina Cheon (PhD, MFA) (http://minacheon.com) is a Korean new media artist, scholar, and educator who divides her time between Seoul, Korea, Baltimore, and New York. Cheon received her PhD in Philosophy of Media and Communications from the European Graduate School, European University for Interdisciplinary Studies, Switzerland, under the guidance of critical theorist Avital Ronell in 2008, and published her book  Shamanism + Cyberspace (Atropos Press, NY and Dresden) in 2009. As an artist, Cheon has exhibited internationally what she calls her "Polipop" (Political Pop Art), work that includes digital paintings, installation, performance, video, and interactive media. Cheon's art addresses the relationship between media and political conflicts within Asia and Asia's relationship with the Western world. Her projects have been shown in solo exhibitions at the Lance Fung Gallery, New York (2002), Insa Art Space, Art Council, Seoul, S. Korea (2005), and C. Grimaldis Gallery, Baltimore (2008), and featured in 2012 exhibitions including solo exhibition at The Sungkok Art Museum in Seoul and solo exhibit at Maryland Art Place in Baltimore, Maryland. Her artworks are in the permanent collections and/or archives of the Sungkok Art Museum in Seoul, contemporary art center Maryland Art Place in Baltimore, Hirshhorn Museum, Washington, D.C., the SSamzie Art Museum of Korea, and EVR (eflux video rental). Cheon was awarded the 2010 Martin Luther King, Jr. Day and Unity Week Award at the Maryland Institute College of Art (MICA) for her efforts to promote cultural diversity within and beyond MICA, where she is a full-time professor, teaching in fine art studio, new media, and liberal arts. In 2011, she was chosen as "One to Watch" by Dr. Leslie King-Hammond, who was honored by the Art Table organization, recognizing women's leadership in the visual arts. Cheon also has two other terminal degrees: an MFA in painting from the Hoffberger School of Painting (1999), MICA and another MFA in Imaging Digital Arts from the University of Maryland, Baltimore County (2002). Her BFA is in painting from Ewha Woman's University (1996), Seoul, Korea where she was a visiting professor in 2011.