New Meanings In Design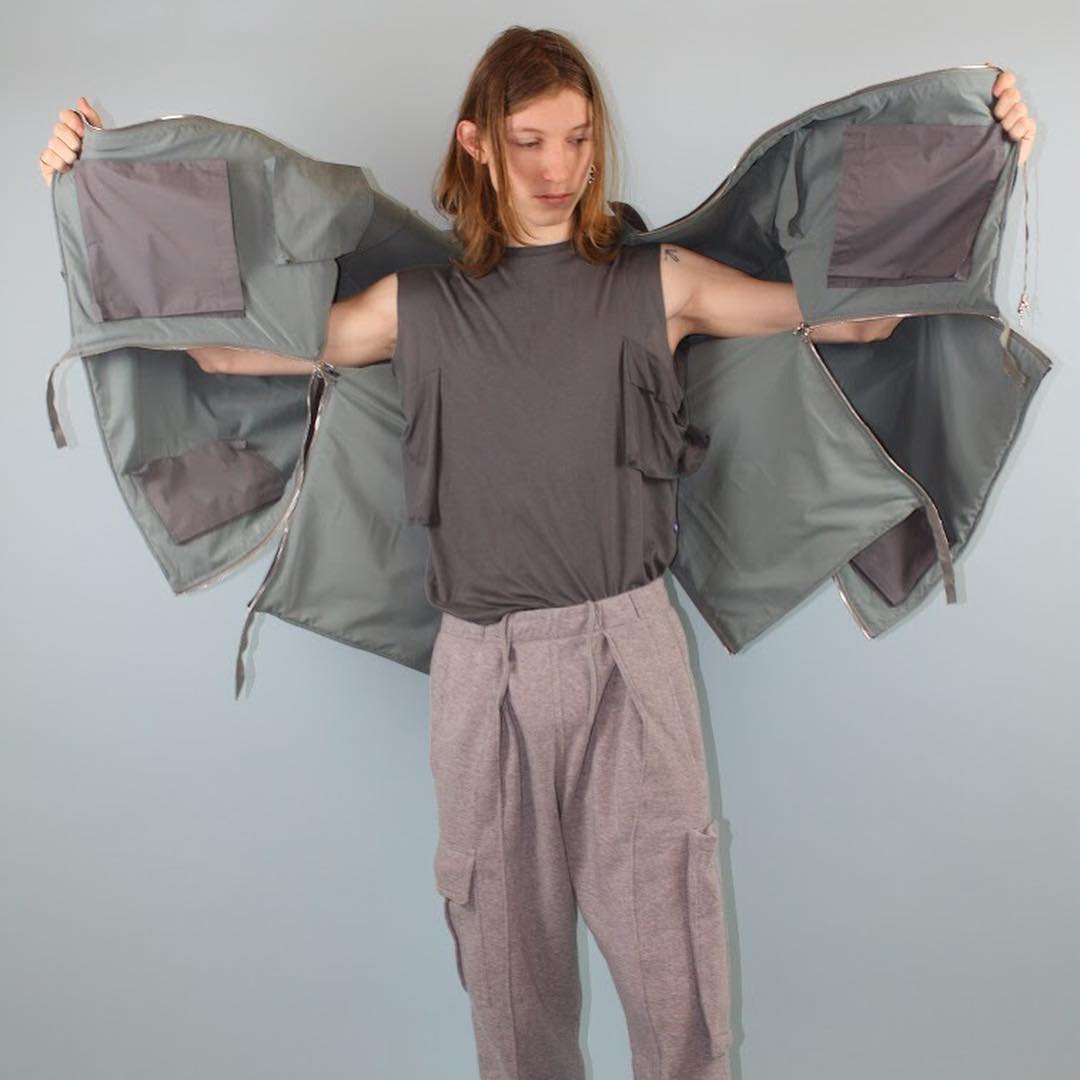 Kunai NYC by Kunai NYC
by correspondent Clara Joy
Andrew Hubert (21) has been a founder and organizer of New York City design communities since the age of 16. Beginning his introduction to design through New York City urban exploration, his relationship to space has had ground level and interventionist attitudes since he can remember. When he found his mothers old sewing machine at 15, he began creating garment-pieces that related to space and archetype. Immediately following his enrollment at FIT, his relationship to design became community driven, and culturally iconic in New York City. The creation of Kunai NYC in 2017, a design project based out of New York City, has received massive success, with a dedicated following of over 7,000 people. Kunai NYC has been engaging with the public for 5 years, creating works such as AF1 Sandals, in which he carved out the leather of the iconic Nike AF1 Sneaker, leaving the bones, now, a sandal. Intervening, adding and changing the culture surrounding the famous shoe, the AF1 Sandal became an iconic commentary on market culture, and design, receiving a virality of over 30,000 shares.
Andrew Hubert's first design project, Kunai: Iterations focuses on a young man wearing film rolls as bondage pants, with fishnet string, tape, and a thread choker on his neck in an alleyway. The piece shows a modern day re-contextualization of old cultural signifiers, replaced with untouched archetypes. In 2018, USPS Forms and Masking Tape shows a young man displaying himself with postage stickers all over his body in an alleyway. Boiler Room Preview, a 2018 piece of a young man in grip gloves, a muscle tee and velcro pants, stands in a boiler room, ready to fight, displaying Kunai on his side waist, held by a mesh belt. The archetype's displayed in these pieces are radically opposed to the conformist ideas of clothing's traditional and historical symbolisms. They challenge fashion archetypes through a non-categorized and un-naturalized approach. The collection Winter 2019 shot in a vacant warehouse basement, shows young men displaying themselves in ballsy structured clothing. Jackets that open into 5 wings, pockets filled with money in laundry rooms, money in washing machines, silver ponchos, one man ironing white PVC jackets in corners of dark spaces. In Prism-Shell Jacket, a jacket is displayed in a room, with clear pockets of medicine, gas station snacks, action figures, and an asthma inhaler. In 2019, beginning his work as an organizer, Andrew Hubert founded and organized 310 Canal Street, an artist-run space. The space included design works by New York City's design community, video artists, DJ's, rappers, and archive clothing sellers, funded by Ryan Foss for On Canal. In 2019, Andrew Hubert released the infamous Tendril Shirt, a deconstructed corporate button down, made with tendrils falling off of each side of the shirt. The shirt worked with architecture to display its disruptive symbolism. Placing the Tendril Shirt on a pool table, a forest's floor, on a floating piece of styrofoam floating in a river, in an alley beneath a fallen air conditioner, in a fabric store, on a teenage girl in a haunted storage space, on a bed of snow, on a destroyed cardboard box, thrown at a wall, in a college apartment. In 2020, Andrew Hubert began releasing studio works from a shared studio with Kevin Johnn in New York City.
During this time, Andrew Hubert documented young emerging designers and cultural icons wearing his pieces. To embody a rejection of the perfect background, he insisted on showing the behind the scenes of his studio by capturing the floor and outside borders of selected images, and breaking the rules of photography. Andrew Hubert released Chaos Leggings in 2020, a piece where he runs through the streets of the Garment District of Manhattan in knit-mesh threaded leggings, filming himself at ground level with an extruding tripod. In 2021, Andrew Hubert worked with OneGo NYC to exhibit a show-room of Kunai clothing, alongside Jean Paul Gaultier and Vivienne Westwood, as well as other canonized designers. Since April 2021, he has been based in the Silver Valley of Idaho, focusing on a site-specific series of works dealing with the vying powers of agrophillic commerce and the tourism-centric state, exploring how the local communities are affected by the growing schism of these forces. Bootleg Adidas documents the locals of the Silver Valley wearing Kunai clothing while feeding chickens, running through forests, Kunai tree choppers, a poncho in a snowy forest, Kunai hats burning in fire pits and hiding in mossy caves. Most recently, he was an invited participant and organizer by artist Alison Knowles for her feature length video reading of The House of Dust presented in Wiesbaden, Germany in 2021 at the construction site of the artist's corresponding 3D printed building.
Andrew Hubert (21) (http://www.instagram.com/kunai.nyc): began organizing New York City design events at the age of 16 and founded Kunai NYC in 2017. He enrolled in Fashion Institute of Technology in 2018 having already shifted his public design practice to a massively successful community driven model. In 2017 As Kunai NYC, he launched projects that changed culture surrounding the shoe. His iconic AF1 Sandal received over 30,000 shares due to its commentary on market culture. In 2018, he challenged fashion archetypes through un-categorized, interventionist attitudes with USPS Forms and Masking Tape and Boiler Room Preview. His collection, Winter 2019, shot in a vacant warehouse, shows young men displaying themselves in ballsy structured clothing — jackets that open into 5 wings — pockets filled with money. Or, an open hermeneutic from an installed jacket with clear pockets full of medicine, gas station snacks, action figures and an asthma inhaler. He redoubled his efforts as an organizer in 2019 when he founded 310 Canal Street, an artist-run space for a network of counter-cultural designers. That year Kunai NYC designed Tendril Shirt, a dismantled corporate button down shirt, remade with tendrils falling from each side. In 2020, he opened a shared studio with Kevin Johnn in NYC, realizing  over 100 works. He also released Chaos Leggings, documenting himself intervening the Manhattan Garment District in knit-mesh threaded leggings. By invitation from OneGo NYC, in 2021 he showed Kunai NYC clothing alongside Jean Paul Gaultier, Vivienne Westwood and other historic designers. Since April 2021, he's been traveling to the Silver Valley of Idaho for site-specific work about agrophillic commerce and the tourism-centric state, exploring their impact on local communities. Bootleg Adidas documents Silver Valley locals feeding chickens and running through forests in Kunai NYC clothing. Most recently, he participated in an historic feature length video-reading of The House of Dust by founding Fluxus artist Alison Knowles. Filmed at Emily Harvey Foundation in NYC, it was shown in Wiesbaden, Germany in parallel to the construction of her 3D printed building. More at http://www.instagram.com/kunai.nyc
Clara Joy (21) (http://www.instagram.com/clrajoy): based in NYC is a known downtown recording artist. She is first documented performing at Harvestworks in Soho at the age of 5, at age 9 performing at Radcliffe College and at age 12 performing in The Highline inaugural arts festival. Between ages 12 & 13, from an art-studio in a converted mill building, she launched a wildly successful online performance-photo project, SoftOceans, for which she also designed & fabricated hand made clothing-art — selling hundreds of pieces to an audience of over 21,000 people. At age 13, as a working photographer, she professionally documented the artist Alison Knowles for curator Hans Ulrich Obrist. By age 15, she was engaged as a correspondent to cover the Frieze Art Fair recreation of George Maciunus: Flux Labyrinth (1970/2015) and shortly after became director of the official Instagram channel for Alison Knowles. She began recording songs as Clara Joy in 2015, with 7 albums and 2 singles released to date, which have earned critical acclaim. Intervening band culture, she appears alone on stages, yet has incited multi-artist concerts in the streets. In 2019 Clara Joy was featured in Humans of New York. During 2020, Part of Something (2021), the first film about Clara Joy was made by Sophia Johnson and debuted in 2021. Most recently, Clara Joy is documented performing with artist Alison Knowles in her feature length video reading of The House of Dust presented in Wiesbaden, Germany in 2021 at the construction site of the artist's corresponding 3D printed building. Clara Joy was a 2021 invited performer for the Brooklyn Rail's event dedicated to Nam June Paik and inaugurated the sold out reopening concert of Elsewhere in East Williamsburg, Brooklyn. More at http://www.instagram.com/clrajoy