An Interview by Clara Joy
by Clara Joy
When did you start Nu Jazz and how did it come about?
Danny: I guess technically Ray and I came up with "nu jazz" when we were releasing I Don't Know How To Be Happy, and they asked us what genre to label it for digital distribution. We said "nu jazz," and everyone laughed because they thought we were joking. But Deli Girls has always been about improvisation and musical conversation, and I've always felt our presence has a strong jazz ethos. Ray and I finally decided to reach out last year in March, which was when we started jamming with John, Kevin, and Ben. We had the privilege of playing our first show with Jaimie Branch appearing on trumpet. Ryan officially joined nu jazz in the fall and it's really completed the band and brought the sound to a new level. I think all the time how fortunate I am to work with such insanely talented musicians. They're all first choice, period.
Ray: Nu Jazz began last year in the 5950 Studios as an experiment. Danny and I had long joked that our genre of music (as deli girls and other projects) should be referred to as "New Jazz" (a sobriquet that inspired many a groan and nervous glance from our friends at Sweat Equity) because of our emphasis on live improvisation and smashing together seemingly contradictory influences and sounds to create our music. Over the years the joke and mentality behind it stuck around; and after the string of disappointments, cancellations, financial and creative pitfalls that was Covid and lockdown, we started taking the idea more seriously and began thinking of who and how to make Jazz music in the 21st century.
Ben: I ran into Ray for the first time pretty serendipitously on the patio outside of my recording studio in Ridgewood called 5950.exp. They were wearing sick shades and dissed my pizza taste and I immediately respected their honesty despite feeling slightly threatened. I was familiar with Deli Girls' music at the time and we started chatting about our own music processes and specifically engineering and mixing. I had made a crazy track the day before and played it for them. It's something musicians do to gain the respect of one another. I think Ray was kind of impressed, which was sort of my intention, because you can tell on another musician's face when they fuck with something you made. Ray mentioned to me that they and Danny were thinking about starting a jazz trio with 5 musicians including John Bemis of Murderpact and Kevin Eichenberger of The Beak Trio and CGI Jesus, which I thought was hilarious but kinda brilliant. We got into a bit of a jam session afterwards and everything sort of naturally progressed from there. John and Kevin joined shortly thereafter to solidify the idea, and Ryan a bit later. We've been playing and recording at 5950 ever since. The group didn't have a name at the time but we were just having fun. Working together as a band has never felt forced in any way.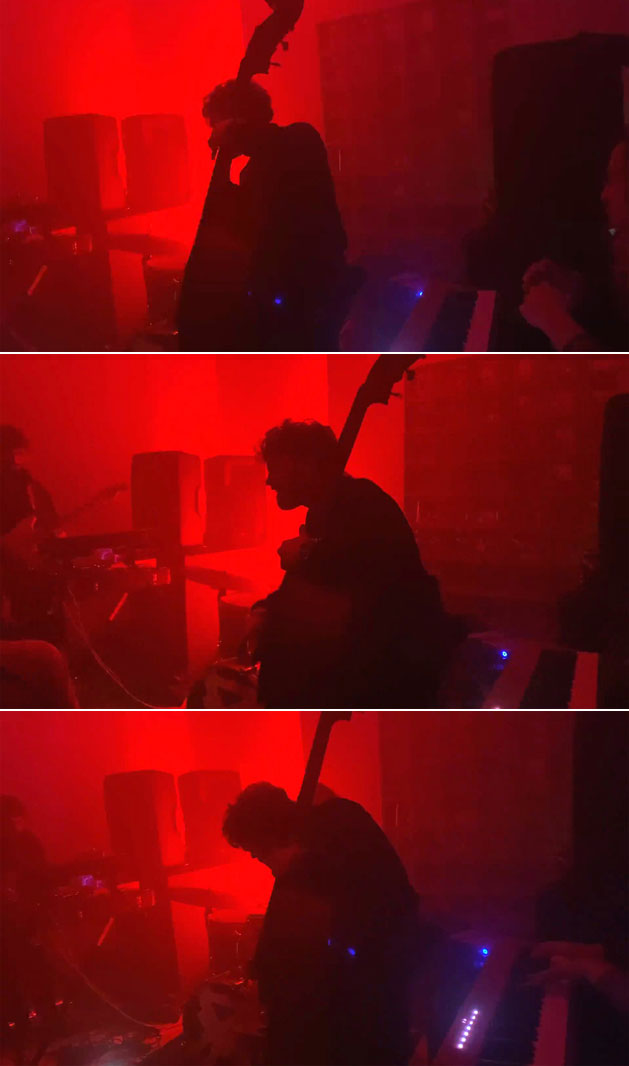 Kevin
Eichenberger, acoustic bass, performing with Nu Jazz at IRL NYC, Brooklyn, NYC, January 20, 2022
How do you relate to Nu Jazz, Danny and Ray, coming from the experience of being the singer and producer of Deli Girls? is there a strong relationship between these two projects for you both?
Danny: nu jazz and deli girls are definitely related, but nu jazz is more of a full jump into jazz, a convergence of musicians bigger then just our project. For me, nu jazz is a challenge, especially since I'm the only non-classically trained musician in the group. But that's exactly why I love it. Anything can change on a dime, unlike the limitations of electronic music. It requires a deep, listening presence, listening to 5 other people's moves at all times. I've been learning so much. I've always wanted to work more with Ray's piano playing as well, so this is where I've been able to relate to it. Ideally, I always want to be making new kinds of music. It's really cool to bring all of these individuals together and collectively elevate each other in a new lane. It's been so refreshing meeting some of the experimental jazz community, and I really love how much they're there for the music, no pageantry.
Ray: There is a strong relationship between the projects. Number one, all of our collaborators come from other (mostly non-Jazz) bands that bring a strong Jazz ethos to their music making in the same ways that I think Danny and I bring it to the deli girls project. Two, as a musician and producer I am always looking for how to carve my own angle on a situation–be it the tools or techniques I use (or don't) the level of improvisation built into a song etc. I knew coming into Nu Jazz as a player, I distinctly wanted to drive music and conduct from the piano the same way I would from a drum machine or sequencer. In deli girls I try to play a drumkit like a piano, and in nu jazz I try to play the piano like a sampler.
Danny, you recently told me that you're the only non-trained musician in the group, how do feel being the lead singer in relationship to that?
Danny: honestly, if it weren't for the fact that everyone in the band is such a real one, maybe I would be more nervous. There are definitely times I doubt myself but everyone is very encouraging. Even if I don't understand complex music theory, years of experience does get you somewhere, and I'm never afraid to ask questions. I guess the vocalist is kind of a good place in a band for no classical training, all drama. I am aware that I bring something to the band that none of the other members have, and the same is true for everyone else of course. A lot of times I am in shock that I get to work with some of the best out there at their instrument….but I have to humbly conclude that I belong too, haha.
Kevin: I personally feel that Dan has a very unique skill set when it comes to vocals… and I have a music degree! There's an idea that scream/growling vocals are always going to come across as super droney, monotonous, and usually unintelligible. This really isn't the case with Danny's vocals. I've found that there are many dynamics and tonal shifts that someone who isn't a super innate and experienced musician would ever execute, trained or not. As someone who's played with dozens upon dozens of super trained musicians, I find that they're really much easier to follow musically than almost any of them.
Who are some of the inspirations for Nu Jazz for you all?
Danny: I have a specific idea of what I want "jazzcore" to sound like, and I haven't found anything that is 100% it yet, so I want to make it. But some that have good elements are: John Zorn, 16-17, Mr. Bungle, ephal duath, painkiller, Zu, starfuckers, psychofagist… the hardcore part of my influence is definitely early 2000s hardcore.
Ray: This will come as a surprise to exactly no one who knows me, but one of my biggest influences in Nu Jazz and life is the legendary Japanese musician Ryuichi Sakamoto whose work has guided me through almost every endeavor. There are certainly other influences, but Sakamoto's is the greatest felt; due to the fearless piano/composer FIRST attitude he brings to all of his work. This is a man who has incorporated every genre imaginable, including ones he arguably invented, into his craft. Who has consistently innovated as a composer, a player, a collaborator, and an artist. Sakamoto brings a certain sophistication to everything he does, and as a pianist is one of the most innovative and influential players to this day. However, he has consistently been able to maintain a distinct Pop sensibility to his music, allowing his work to be accessible to both musical elites and "normal" people (I despise the concept that anyone should need to explain why a work of art is good.) I think it's his constant reminder of Pop's unique power to influence and bypass all of the normal barriers of experimental music that has made Sakamoto such a tremendous influence on my work and life.
Kevin: I deeply love and am inspired by the great jazz of the 20th century and today. Some of my biggest and earliest influences that have stuck with me throughout the years are Charles Mingus, Duke Elligton, Ornette Coleman, Miles Davis's various bands, Roy Haynes, Andrew Hill, Charlie Haden, Billie Holiday, Dave Holland, Trane, Monk, Bird, Hermeto Pascoal, Keith Jarrett's American Quartet and Quintet etc… Too many to name! In my mind these are the greatest artists of modern times and truly have defined most american culture that's come since, maybe even regardless of medium. They just simply made the best damn music, period. I spent a lot of my adolescence going to punk and metal shows, which was popular in central and western Virginia, the area I grew up in. My mom actually introduced me to bands like The Minutemen, Black Flag, and Fugazi when I was only about 12 or 13. The intensity, aesthetic, and rhythmic qualities of that music has very much had an impact on the way I play and has become even more evident to me as I've gotten older. I've also been pretty influenced by the simple melodicism and emotional rawness of country artists like Kris Kristofferson, Willie Nelson, Lefty Frizzell, even George Strait! Hip Hop and Trap artists like Gucci Mane, Lil Boosie, and Waka Flocka all appealed to me a whole lot in my formative years for similar reasons as punk and metal. My father is also someone that raised me on very, very deep music. I mean stuff like War, Ali Farka Toure, Sly & The Family Stone, obscure jazz like Don Pullen & George Adams, even Primus, one of my all time favorites! I find that oftentimes I care less about genre and more about the music having a strong and well executed aesthetic going on, as well musical qualities like super rich rhythm and a warm bodied sound with a certain metallic toothiness to it. Hence why I love jazz, heavy music, og fusion, and trap music so much…. they all share these qualities.
Ryan: Having recently being welcomed into the group, there are a few sources that I feel that I can pinpoint, as well as channel for my own contributions. Listening to Nu Jazz, I hear a decisive sync between the worlds of heavily-improvised black musics (such as the likes of Ornette Coleman, The Art Ensemble of Chicago, Albert Ayler), psychedelic rock/funk (Pink Floyd, The Hendrix Experience, The Sound of Animals Fighting), and somewhat of a light sprinkling of Gigi Allin (respectfully). Beyond the musical influences, the atmosphere ping-pongs between subtle intimacy and acute rage, so I'd dare say that the 21st century and its unfolding may be the strongest inspiration.
Ben: Jazz artists like The Art Ensemble of Chicago, Miles Davis, Chick Corea, Cecil Taylor and Sun Ra first come to mind. As the sort of the lead electronics technician in the group, I've had to sort of invent my own instrument to perform with the band, and I'm personally influenced by a lot of more experimental electronic and ambient music like that of Alessandro Cortini of Nine Inch Nails, Lucretia Dalt, Daniel Lopatin, Debit, Jon Hassel, Andy Stott, Tim Hecker, Nic Endo, CS + Kreme, anything with a kind of dark, emotional, and a bit cold and dreary undertone. We're also sort of seeing the resurgence of trip hop and downtempo in our sound but in a less structured and more improvisational way, specifically looking to artists like Amon Tobin, Massive Attack, Thievery Corporation, Tricky, and Hysterical Love Project.
John: For the most part it's been groups and artists with a distinct vocabulary, cross-section of influences or lineup; Bill Dixon, James Newton, Jon Hassel concert group, Nihiloxica, Miles' electric band, Codona, Modern Jazz Quartet, OOIOO, Sun City Girls, Tortoise, Maurice Louca, Jemeel Moondoc Sextet have all been back in heavy rotation for me since Nu Jazz began. Jazz, experimental and heavy music with that width of palette is huge for my understanding of the project; Art Ensemble, Mr. Bungle, Fantomas, Boredoms, Ulver, Melt Banana, etc. But mostly I'm inspired by the idea of synthesizing/adapting the sounds present in our ensemble; Ryan, Danny, Ray, Kevin and Ben are incredibly flexible, original and tasteful musicians; rising to that occasion keeps me hype, and I love when it feels like we're taking risks and honing a distinct language between strong personalities.
How do you relate to the name of your group "Nu Jazz", as a concept for the art you are all making?
Danny: the name "nu jazz" is really a bit of a joke gone too far, but it's also somewhat accurate. We love jazz, but I think we like to make fun of jazz too…(how can you not?) I feel like I can cover different lyrical ground in nu jazz; the music sets the tone for deeper, sometimes more conceptual themes.
Ray: Jazz is sort of an intimidating word isn't it? This is the history of music in America, with all its warts, encapsulated in a single word. I think this is deserved but has built some tremendous barriers that can make contemporary musicians hesitant to innovate (or bastardize) the genre or feel like they don't get to have a say. Nu Jazz is a perfect way to describe our music, which I feel echoes the history and ethos of Jazz without merely being an emulation or repetition of the giants upon whose shoulders we stand. It's also a little cheeky and not serious–and may piss some people off–which I think also fits quite well in this genre's history. Did you really expect the band "deli girls" to spend too much time agonizing over a name?
Ryan: While the name itself reflects the textbook definition of the sub-genre, the group and its creations speak more to a growing expansion of the approach towards improvised music. While the influences, however various and vast, can be heard, the incorporation of spoken word and the subject matter, the role of Besh's electronics and Danny's voice manipulation, the yet-traditional instrumentation, all create an atmosphere of newness.
Ben: I think everyone in the band is a pretty forward thinking musician, and we are all into music on the fringes, sounds that often slip through the cracks. When we are jamming together, we've never once, to my memory, decided what we should do or play. There is some sort of collective consciousness, a shared but unspoken ideology between us all that kind of guides our sound without words. Coming from different backgrounds and musical styles, we are kind of united under the idea that we want to make music that sounds new, but we don't have to try and do it, or even think or talk about it. It's really the natural product of our differing perspectives and tastes that creates our uniqueness. The name embodies this idea; jazz isn't always a specific sound although it tends to be defined as such, it's really a mindset, a process, and a way of viewing the world.
John: I have a genuine soft spot for the genre briefly known as "Nu Jazz"; Amon Tobin, Xploding Plastix, Nils Petter Molvær, Flying Lotus, a lot of that shit is sick and honestly overlooked; that idea of transposing a craft onto different styles is a serious point of inspiration. "Nu Metal" holds a similar place in my heart; growing up seeing bands like Slipknot, KoRn and SOAD piss off the supposedly-rebellious metal establishment taught me everything. And like Ray mentioned, I think there's a current through jazz, metal/hardcore, electronic music, experimental/noise shit that is intentional and thoughftul while also totally ballistic and irreverant, and I think we're adding to it.
Is a Nu Jazz performance rehearsed or improvisational? And how do you write and place vocals to this kind of music?
Danny: we rehearse regularly for nu jazz, and songs are all more then half planned or more, I would estimate. I always advocate for leaving a bit of wiggle room for play, because that's when some of the best moments happen. It does have the 'never exactly the same twice' quality, but there are also many specific riffs, cues, keys etc in each song. this is the style Ray and I usually work in. It's cool because vocals are not always the forefront of this project, and it's especially been fun learning to converse with a trumpet player and deep dive into my voice as an instrument more than usual. There is a lot more singing and tonality to the vocals in nu jazz, and working with an autotune pedal live has been like learning it's own instrument. It's much harder for me to be vulnerable in that way, and give quieter dynamics instead of the full blast of screaming the whole time.
Ray: Much like DG music, the answer is a combination. All of our music is born of improvisation, and workshopped and shaped mostly through live performance. This style of composition can be frustrating at times, but it has made our music and the music of Nu Jazz effortlessly authentic in ways that I think other, more academic bands may miss the mark on a little bit. It is also a cornerstone of the collaboration between Danny and myself.
Kevin: I would call a Nu Jazz performance very loosely composed. Like there are "songs" but they're pretty much based around Danny's lyrics and are usually either one or two chord vamps or almost completely free improvised with some solos scattered about. We try to play them as "songs", but part of what makes this band cool is that they're always a little different and the openness leaves a lot of opportunity for us to react to one another. Everyone in this band has a different musical background, though there are a lot of similarities. Because of this, one of the best and most rewarding challenges of playing this music is learning everyone else's unique musical language and adapting to it.
Ryan: There's a dichotomy between intentionally rehearsed and absolutely spontaneous. Much of what can be experienced is practiced and planned. Even the interlude leading to Danny's "Rant" was decisive, however the execution of it is entirely up to the moment. From what I can interpret (and I'm sure the seniors of the band can speak to this better), Danny's lyrics are, regardless of whatever musical theme or loop is presented, the foundation of the pieces, and movements and motions are dictated accordingly. Things mesh so well because nothing strays from the fundamentals: sound and rhythm. As long as "everything is in flow", writing to this kind of music just takes purpose.
Ben: We have solid outlines for our performances in terms of song order, but all of our music is written in a way where we don't have to count the bars, giving us space to pretty much improvise thematically around a certain set of parameters. We have freedom to play what we want because we have a loose but steady grasp on the concept of our songs, and this form allows for more improvisation and thorough communication between the band members. I'm playing modular and analog synths as well as guitar, and my job is really to fill in the gaps between the instruments, to sort of act as the glue between different timbres. I'm often modulating the delay, distortion, and frequency of samples and melodies live, using a microphone to capture the sound of everyone playing together through on stage monitors to then distort, manipulate, and feed the sound back through those same monitors. A big part of improvising for me is bringing the energy up and down in swells while staying buoyant and steady, sometimes unleashing some harsh noise and guitar shreds.
John: I try to think of our songs as having a center; a mode, sequence, groove, melody, different lyrical stanzas and broad A/B sections that we stretch,converse within and veer off of; Other times, its pure freedom starting with some central lyrics, vibe, or concept. There's a lot of deep listening and everyone's got a great internal clock, so I never feel like I have to just hammer down the time or be restricted to the rhythm section; I can play more melodically or texturally and feel the rest of the band keeping that groove afloat no problem, which is a rare freedom in my seat. And getting to play in this kind of setting with Danny is a blast, their voice has an amazing percussive quality and I feel we share a similar sense of phrasing so the interplay is always super fun and fluid.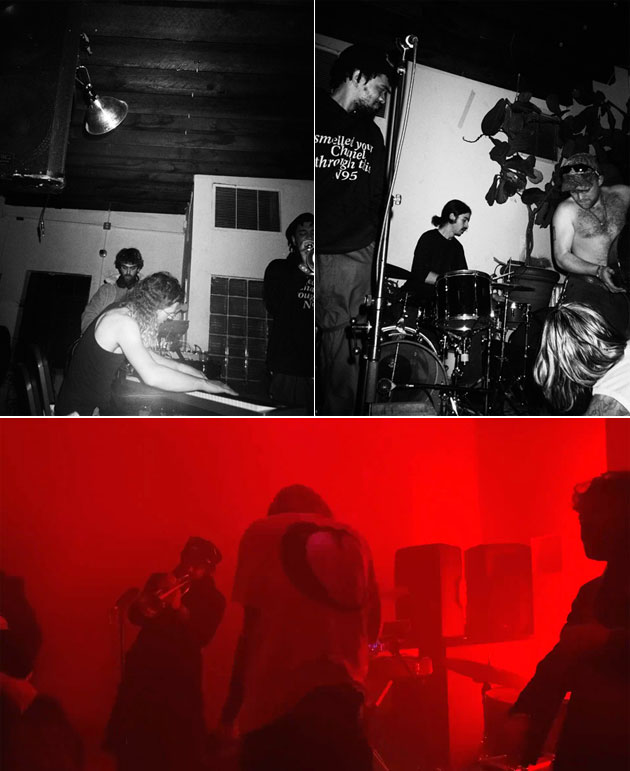 Above left: Ray Toyota on keys, Ben Shirken on guitar, above right: John H Bemis on drums with Nu Jazz at Trans Pecos, Brooklyn, NYC, March 4, 2022, below: Ryan Easter on trumpet, Danny Orlowski singing, with Nu Jazz at IRL NYC, Brooklyn, NYC, January 20, 2022
How do you all feel about the current state of music/art in the subcultural communities of New York City?
Danny: I think in my time I've seen the diy scene do a 360 degree improvement, meaning some things never change but it's always moving; however, it is empirically better then when I first started years ago. Whatever though, because quarantine changed it all too. I wish there wasn't this significant break in the culture and communication of generations of diy scenes, and that we all didn't have to be absent for so long and continually/intermittently. It makes it harder to connect, but I think we all still manage. I think there is a lot of vapid culture and art that is very in right now (bimbofication is trending, the simulacrum is more appealing then the real thing to people), we are facing a lot of new dangers specific to our time; but I often ask myself is that any different then always? It really depends where you look. There's so many younger kids doing interesting stuff and saying fuck you to tired shit, so that gives me hope. Meeting the jazz community has given me a lot of hope because people are there for the music, and it feels a bit opposite to that of the rave scene right now (which I still hold in the center of my heart). I think any scene or project that runs on irony, or anything other than genuineness, is doomed to fail; so with this in mind, I sleep pretty well.
Ray: Ah, this question. Inevitably if you make music in NYC you'll be asked to be an authority on everyone else's lol. I think everyone is great. I think everyone is trying hard. I think a lot of old boundaries from 10 years ago have disappeared. I would say personally these days I'm much more excited to meet people who I fuck with who make music that I don't like than the other way around. It's an exciting time to be a musician or a fan of live music in New York City.
Kevin: Man, that's a tough question… Obviously things have been pretty chaotic and unstable feeling coming out of this covid thing and the political state domestically and abroad, and I think that's taken a toll on a lot of us. I can personally say that oftentimes it's made me ask myself if I should even be doing this music thing… I kind of feel like a year+ of no music showed us that it's not really necessary for survival, and sometimes it almost feels self indulgent at worst and like unnecessary chatter at best. On the other hand though, I feel like a lot of us have become much more aware of our places as musicians and artists, which is great. I've always felt like I've been in a constant musical gray area… too out for the straighthead jazz scene, too lit for the modern improv scene, I play an acoustic instrument so I can't really be a raver, and I've already done the punk thing. These days that's not really such a bad thing in my mind. Obviously things can be pretty bleak right now, but due to the constant chaos we're experiencing on almost every level, now is kind of a great time to be in the gray areas because it seems like everyone is so open minded, incredibly eager to enjoy themselves, and very much seeks out music they've never heard before. It allows us to build bridges in scenes, hence why Nu Jazz even exists. These "gray areas" also allow us to explore uncharted musical territory that lives between the cracks and has never been played or heard before, which to me is what it's all about. It's a trade off, approaching music and life this way can be unsettling and confusing at times, but if you can keep your head and concept together, the music will reward you! Furthermore, in a place like New York City, there's always going to be a zillion bands and artists which can be daunting, but at the end of the day is a very good thing. It's great to see that in spite of all of the reasons we have to be unhappy, people, kids, whoever, are still starting projects and trying to get out there and put on a good show. Sometimes something might not be super well executed, which is still great if someones trying, and when something is well executed, it always lights a fire under my ass and inspires me. God help me if this ever stops being dope and amazing to me. I just try to be supportive of everyone at the end of the day, because most people will never ever experience anything like playing music with and for people and we're all incredibly blessed to be able to do so.
Ryan: I recently moved here from Virginia, but I've frequented NYC for years, especially having lived in Boston for a few years. One thing that New York City organically invokes is a strong sense of culture. Art and music are the most immediate identifiers of many cultures, and a city as dense and various as this is perfect for housing and supporting a nearly infinite amount of perspectives. Walking into the first show I did with Nu Jazz (November 2021 at IRL), there was a great warmth seeing how a such a style as ours is so well-received and sought after. While NYC carries the same burdens as the rest of the world when it comes to the arts, such as budget, outreach, internal support, structure, etc., this city is a couple of steps ahead in nearly every way.
Ben: It's a renaissance, baby!!!! I've found that a lot of artists have really put aside their differences and musical preferences during this past year in order to relate to one another better and grow stronger communities. It's most definitely a pandemic related occurrence, and it feels like individual, more closed off scenes have started to blend in with others, blurring stylistic lines. There are still hard edges in place though, and this is not to say that everything is one big melting pot. I still see defined lines and boxes, I just love to see the hardcore heads hanging out with the techno and ambient heads, running into the indie heads. We all have a lot to learn from one another. I started a record label and performance series called 29 Speedway in 2020, and our main concern is creating a community around avant garde music styles and multimedia art, specifically relating to new technologies but not limiting ourselves to a specific avant garde. It's a more accepting view of things I think, because the institutional view of art and the way it is presented is often very dry, removed, gatekeepy and predictable, whereas doing things on a d.i.y. level can lower the barrier of entry and permit for more artistic freedom because it is both affordable and accessible.
John: Every artist I know is more focused and driven to make things happen than ever before, and it feels like everyone's trying to step out of their own comfort zone and learn new shit. But It's really the audiences that have made it for me since quarantine; i sense a strong desire for variety something daring, exciting, spontaneous and different from night to night, whether its a hardware techno set, chamber group or hardcore band. Nobody wants to be in one "scene", a lot of those lines of "style" have disappeared for the better. There's a genuine willingness to be challenged and taken somewhere by a performance that's returned, and it feels really special to play in front of people who are so enthusiastic, open minded and discerning.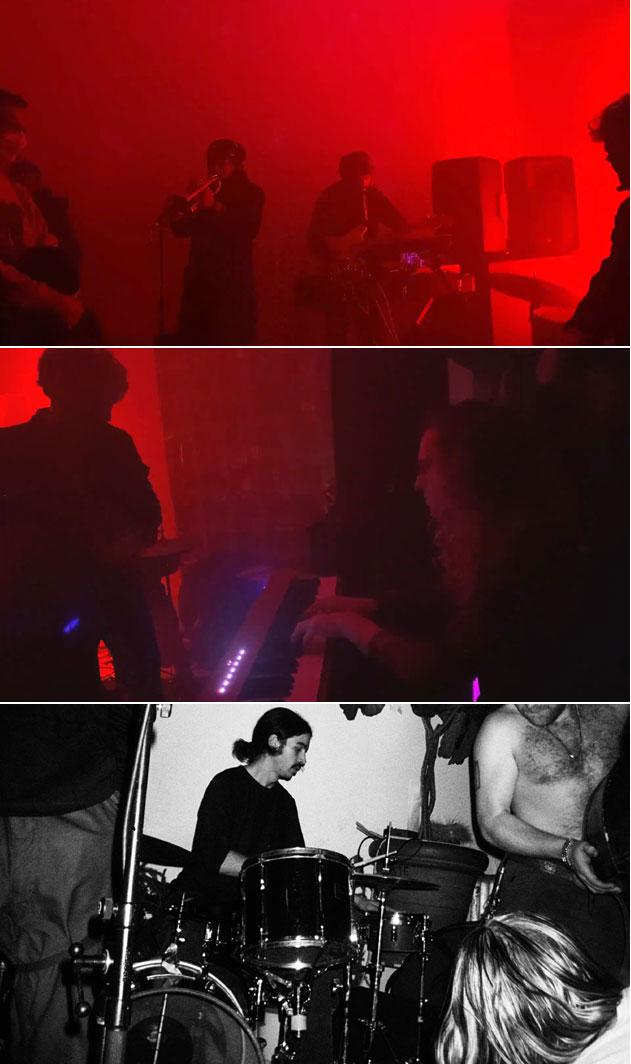 Above: Ryan Easter on trumpet and Ben Shirken, guitar, with Nu Jazz at IRL NYC, Brooklyn, NYC, January 20, 2022, center: Ray Toyota on keys with Nu Jazz at IRL NYC, Brooklyn, NYC, January 20, 2022, below: John H Bemis on drums, with Nu Jazz at Trans Pecos, Brooklyn, NYC, March 4, 2022
I ran into Kevin at rash recently and we briefly spoke about how he was into punk before jazz and found that to be really creative and interesting. Given your diverse backgrounds how do you feel yours fits in to the Nu Jazz project?
Kevin: I've been blessed enough to have played with bands ranging from bluegrass and country to hardcore and hip hop, but the vast majority of my playing has been jazz, straight up motherfuckin' jazz, and more experimental "jazz adjacent" sort of stuff. I've played about a s#%! ton of these types of gigs, so playing in these open, groove and dynamic based contexts truly feels like home sweet home to me. In regards to how this fits in the band, I'm very confident in my "fundamentals", so chops and shreds aside, I try to be an anchor, a listener, and a provocateur all at the same time, and ultimately serve the music in the best way possible. The one downside of some modern improv music (and I really don't mean to talk smack on anyone because there are countless amazing practitioners) is that sometimes there's not really too much aesthetic or style to it, which is something that's very important to me having grown up in punk and DIY scenes and all. I feel super grateful to be playing in this band because not only is everyone incredibly talented and super serious about their craft, but all my bandmates are such amazing stylists as well. Like everyone has such a knack for drawing up such deep music from their experiences as individuals and from our relationships with one another, and then the skill to translate all of that into clear musical ideas. There very much are six distinct and imposing musical personalities in the room with worlds of different experiences, but somehow it works incredibly well on both creative and technical levels. Very rarely does it go this way… one really can't take these things for granted!
Ray: This is really the interesting part of our band, because we do have such diverse backgrounds and the threads that led us to this music are woven into a bizarre fabric that I absolutely adore and feel privileged to try on every once and a while. Several of us have experience playing "real" jazz, but I don't think those influences are necessarily what makes the project click or what makes it fun for us. Think about the people who invented jazz over 100 years ago, these were truly those on the margins of society building and ideating upon their varied traditions with the goal of creating something truly new. It is in that tradition of progress that we present ourselves humbly before you today, and offer our deepest gratitude to those who came before us.
Ryan: My role in the group is being a supporting voice. Being a trumpeter, we're naturally balancing ourselves between leading and supporting roles, while also tailoring approaches depending on the environment. With an affinity for Don Cherry, Ambrose Akinmusire, and The Mars Volta, I think the aural training alone is enough to find where I can fit into the setting. Then there's the verbiage. Coming from a hip-hop background, I'm also a hype man in the group. Listening and learning Danny's lyrics while performing or rehearsing is integral to my approach; I can't shout back the wrong lyrics, so to speak. Spending time arranging orchestrally, I enjoy using that perspective to figure out new ways to approach placing myself into each song.
John: For as wild and multi-dimensional as the music gets, Nu Jazz feels very at-home for me, and has me returning to my earliest sources of inspiration. Growing up I was super into the Dead and Phish and started drumming the minute my dad turned me onto cats like Mahavishnu, Yes, Weather Report, Zappa and King Crimson; when I was 13 I heard DJ Rashad and Autechre for the first time, fell in love with jazz, and my cousin Annie burned me 100-something CD's of her favorite extreme metal albums; music from these worlds informed my development since heavily. Over the past few years, simultaneously studying the drum set through jazz and playing in Murderpact (shoutout Hampton Albert, my brother and guiding light), I'm trying to hone a wide dynamic range, from brushes to blast beats. I've always loved improvisation, methodical weirdness and maximalism, control and chaos, and Nu Jazz is a great opportunity to embrace these things all at once, especially in the rhythm section, where i'm forced to really step up my jazz chops while bringing everything else into the fold; it's a rare chance to swim between totally disparate schools of drumming, from Tony Williams to Dale Crover to to Ziggy Modeliste, often in the course of a single song! I'm humbled and grateful to be a part of something where it feels like these disparate impulses and influences are not just welcome, but part of what animates our music.
Kevin Eichenberger is a musician that's at his best when in between the cracks and blurring lines. Since age 15, growing up in the Blue Ridge Mountains, he's found himself playing in dozens upon dozens of bands ranging from hardcore punk to experimental rock to bluegrass to soul to classical, and most importantly, jazz. Somehow after a decade of constant performance these pieces have added up to the somewhat odd musician he is today… not really any of these in particular, yet somehow all of them at once. In years past he could be caught performing nonstop with jazz greats such as John D'earth, Charles Owens, DJ Harrison, Corey Fonville etc, though now his primary focus is writing and performing original music with bands like Nu Jazz, CGI Jesus, Beak Trio, Seven, and Yay Spray. Kevin's musical journey has been one of constant learning and growth. Never really one to take the spotlight (it's hard for bass players), or at least not intentionally or until recently, the core of his artistry lies in the experiences he's gained through the bonds he's formed with musicians and people across all genres possible and all walks of life. His deep love and appreciation of this is his main source of inspiration and why he's known for such fiery performances. Though his medium and skillset is somewhat outdated and borderline irrelevant (acoustic bass/improvised music), he makes up with a deep understanding of his craft, a sharp focus on beautiful, purposeful, and organic music, and the humility to always strive to place the music and listener above his own ego. Though not well known, he's very blessed to get to do what he's able to.
Ben Shirken's work as Beshken began to draw attention when he was just 16, quickly becoming their full-time career. Now 25, Ben finds himself trying to reclaim the project from his younger self. Ben partnered with Venezuelan visual artist Pedro Bello in developing an animated alter ego for the project named Mimo, or 'mime' in Spanish. A catlike jester who exists within a world of critical stares, his actions closely surveilled. The album artwork for Pantomime shows Mimo watched by his surroundings, a vortex of unblinking eyes. Much of the album came together out of improvisational jams with his past schoolmate from NYU Clive Davis Institute of Recorded Music and modular synth enthusiast Jason Park, Eastman-trained drummer Matt Bent, (whom he bonded with over a shared love for jungle and late 90s IDM), and classical pianist Jose Escobar. The group worked mainly out of their shared Ridgewood, Queens studio named 5950 where Shirken resampled, reconstructed, and remixed what they played. Always looking to explore new creative terrain, Ben can be seen playing modular synths in a handful of New York based bands including Nu Jazz (an avant garde jazz-punk ensemble that includes all members of Deli Girls). Growing close with the Brooklyn animation scene, Ben continues to score animated short films. One of which, Dice, a short work by Spencer Sherk, was recently screened at BAM in Brooklyn. Collaborating with artists across various disciplines is a large part of Ben's new creative process, his work becoming increasingly more multimedia and interactive.
Ryan Easter (trumpet), born in Richmond, Virginia, has been an instrumentalist, composer, and educator in many realms. Graduating from the Berklee College of Music in 2014, he's pioneered groups such as The Trap Music Orchestra and Tiger Speak, while having shared the stage with the likes of Talib Kweli, E.P.M.D., Donald Harrison, John Daversa, and more. In his spare time, he twiddles his thumbs wishing for more spare time.
John H Bemis is a musician based in Brooklyn, NY. Best known for his role as founding member, drummer and composer in NYC experimental due Murderpact, Bemis is a student of jazz and extreme music seeking to fuse his world of influences into a singular, mixing approach.
Clara Joy (21) (http://www.instagram.com/clrajoy): based in NYC is a known downtown recording artist. Between ages 12 & 13, from an art-studio in a converted mill building, she launched a wildly successful online performance-photo project, SoftOceans, for which she also designed & fabricated hand made clothing-art — selling hundreds of pieces to an audience of over 21,000 people. At age 13, as a working photographer, she professionally documented the artist Alison Knowles for curator Hans Ulrich Obrist. By age 15, she was engaged as a correspondent to cover the Frieze Art Fair recreation of George Maciunus: Flux Labyrinth (1970/2015). She began recording songs as Clara Joy in 2015, with 7 albums and 2 singles released to date, which have earned critical acclaim. Intervening band culture, she appears alone on stages, yet has incited multi-artist concerts in the streets. In 2019 Clara Joy was featured in Humans of New York. During 2020, Part of Something (2021), the first film about Clara Joy was made by Sophia Johnson and debuted in 2021. Most recently, Clara Joy is documented performing with artist Alison Knowles in her feature length video reading of The House of Dust presented in Wiesbaden, Germany in 2021 at the construction site of the artist's corresponding 3D printed building. Clara Joy was a 2021 invited performer for the Brooklyn Rail's event dedicated to Nam June Paik and inaugurated the sold out reopening concert of Elsewhere in East Williamsburg, Brooklyn. More at http://www.instagram.com/clrajoy