Andy Laties on Kurt Schwitters & Dada

Interpreting Ursonate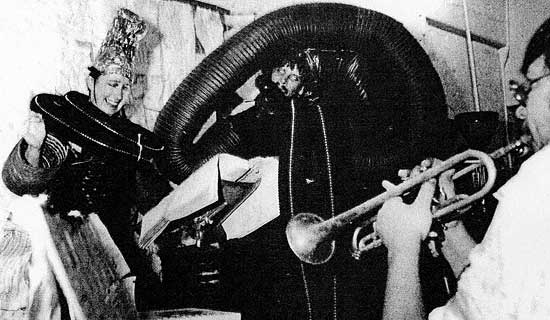 Lynn Book

,

Andy Laties

and

Jeff Beer

interpreting Ursonate by

Kurt Schwitters
at Cabaret Voltaire, Chicago 1988
"In 2002 I was once again in crisis. I started writing a memoir to try figure out what had gotten me into such trouble, and I guess I was looking for an escape hatch too. This essay is an excerpt from the manuscript that was finally whittled down to my book, "Rebel Bookseller: How To Improvise Your Own Indie Store And Beat Back The Chains." The essay was written rapidly, and I didn't do proper fact-checking–I certainly wouldn't trust it on art-historical issues. At the time I didn't know about

Nam June Paik's

performances of "Ursonate" in the early 60s, or the influence of 19th century Romanian-Jewish culture on

Tristan Tzara's

invention of dada. But, for what it's worth, here's a slice."



–

Andy Laties

, 2009, for Artist Organized Art
The following is excerpted from the Essay "Interpreting Ursonate" by Andy Laties:
…Theatrical performance demands a willingness and capacity to abandon personal identity: to place oneself at the service of the script. But every performer, in practice, produces a unique performance. Authors sometimes revolt against these arbitrary outcomes. Most authors do not attempt to rein in the performers and directors who decide to produce their scripts: it's impractical, at best, and counterproductive as well, leading generally to simple non-presentation of the work. Some, though, like Samuel Beckett, are fanatically precise and performances are strictly regulated and prescriptive…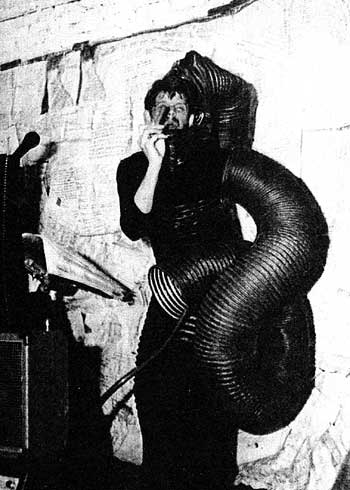 Andy Laties

interpreting Ursonate by

Kurt Schwitters
Chicago, 1988
…Schwitters was an oddball even for a Dada. He wasn't actually admitted to the Club Dada. As I found out later, he showed up in Berlin in 1918 to demand admittance to the Club, and

George Grosz

opened his door to find Schwitters standing there. Schwitters said, "I am

Kurt Schwitters

and I've come to join the Club Dada." Grosz said "This is not the Club Dada," and slammed the door. Schwitters knocked on the door again. Grosz opened. Schwitters said, "I am not Schwitters," turned around and left.
Schwitters then formed his own art movement, which he called Merz. He was the only member…
…I learned afterward that Schwitters had developed Ursonate over a period of 10 years, between 1922 and 1932, and then spent the rest of his life performing it throughout Europe. The

Peter Froelich

show exactly followed a program Schwitters had presented in London in 1945. Schwitters had published extremely exacting specifications for how the Ursonate was to be performed. The rights to all performance were strictly controlled by his son, who generally refused permission to anyone requesting to perform the piece, on the basis of these strict performance specifications. That is: the piece had really been written for sole, solo performance by its author. A performance like the Peter Froelich one, which essentially channeled Kurt Schwitters, was acceptable, but only this approach would be permitted by the family.
A year after the Froelich performance, when I was living in Chicago, I received a letter from my high school newspaper editor friend,

Laura Kelsey

. She was spending the year in Munich. I wrote back, asking her if she could check in the library there for any copies of Kurt Schwitters' poetry. I didn't know if Ursonate was in print, but I did know it wasn't available in the United States; nothing by him was.
She sent me a complete xeroxed text of Ursonate" she'd found Schwitters' collected works in three volumes in a public library.
It wasn't until four years later, in 1984, that I actually did anything with Ursonate. Working as a children's theatre actor and improvisor–and as a jazz musician with several bands and under a number of teachers–had helped me learn how to inject my own ideas into any text, even ones like Ursonate with no coherent linguistic meaning. That is, I was interested in using Ursonate for my own purposes: as a framework for expressing my own ideas; as a templ ate for the integration of jazz improvisation and theatre improvisation.
My friend and musical partner

Rob Metrick

was running a Time Arts performance series at Chicago Filmmakers. I asked him if he could put me on his schedule to do a performance of Ursonate, and he finagled this.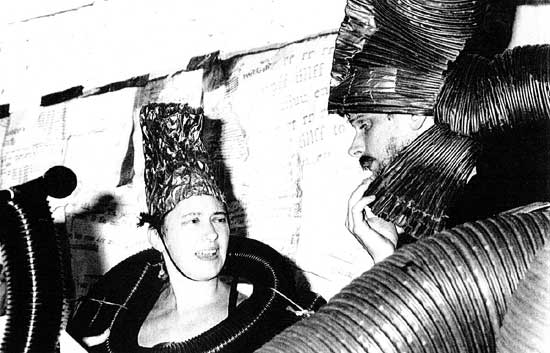 Lynn Book

and

Andy Laties

interpreting Ursonate by

Kurt Schwitters
Chicago, 1988
Ursonate was written as a solo performance piece. But I developed an arrangement for five performers: three voices and two musicians. Art Institute of Chicago instructor

Lynn Book

, Chicago Chamber Orchestra cellist (and classically trained vocalist)

Philip Hart Helzer

, and I handled vocals. Professional jazz musicians

Johnsee Holt

and

Jeff Beer

played guitar, percussion and trumpet. We arranged for Rob to rent three Dada Films: Anemic Cinema by

Marcel Duchamp

, Ghosts Before Breakfast by

Hans Richter

, and Emak Bakia by

Man Ray

. We planned to extend the Ursonate evening by interspersing free-jazz improvisations accompanying these films.
Brenda Webb

, the founder of Chicago Filmmakers, decided to call the program "Evening of the Bearded Heart," after a famous program at the original Cabaret Voltaire in Zurich in 1916…
…The show was a huge success. We had a standing room only crowd, and we repeated the program a month later with similar overflowing attendance. The most exciting thing was that after the first show, a distinguished gentleman emerged from the audience and introduced himself as

Dr. Hans-Jurgen Kienast

– a friend of

Richard Huelsenbeck

, who was one of the founders of the Dada movement.
Dr. Kienast asked me a provocative question: Why had Dada become popular, now, in America? I wrote him this letter a week later (looking back of I understand there was a lot I didn't know about Dada's history in America; still I present this letter unedited to show my thinking in 1984, at age 25):
Dear Dr. Kienast…