Sudden Fluxus Summer ( Soudain l'été Fluxus)
Passage de Retz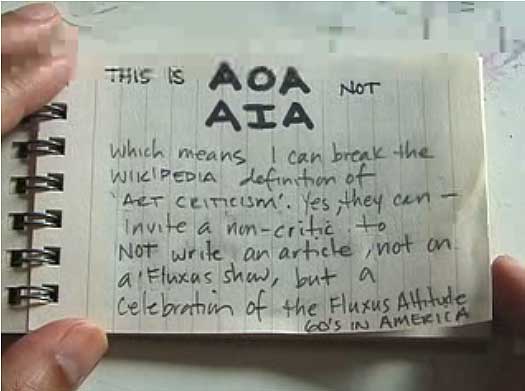 Curated by

Valerie Maffioletti

,

Vincent Normand

and

Jacqueline Frydman
July 13-September 20, 2009
Passage de Retz
9 rue Charlot du Calvaire, Paris
www.passagederetz.com

It's been a while since I contributed to AOA. I waited until I found the right event that would correspond with a video letter. What better project than a Fluxus exhibition. Moreover, the first historical Fluxus show in France, ever. The organizers embarrassed to admit such a fact, explained in the press release, the reason lie in the fact that the two main French Fluxus artists,

Ben Vautier

and

Robert Filliou

were little exhibited and therefore, why showcase a movement which excluded the French? Hmmm, I'm waiting for my Carte de Sejour (or 'green card') so I will not publicly comment on their reasoning.
'Soudain l'été Fluxus' (A Sudden Fluxus Summer) on display at Passage de Retz in Paris until September 20, highlights a great movement in art making and another boat I missed.
In the spirit, I respond.
Angie Eng
The many exhibiting Artists include
Eric Andersen
,

Ay-O

,

George Brecht

,

Philip Corner

,

Jean Dupuy

,

Robert Filliou

,

Henry Flynt

,

Ken Friedman

,

Al Hansen

,

Geoffrey Hendricks

,

Dick Higgins

,

Ray Johnson

,

Joe Jones

,

Bengt af Klintberg

,

Milan Knizak

,

Alison Knowles

,

Takehisa Kosugi

,

Shigeko Kubota

,

Jackson Mac Low

,

George Maciunas

,

Richard Maxfield

,

Charlotte Moorman

,

Yoko Ono

,

Robin Page

,

Nam June Paik

,

Dieter Roth

,

Takako Saito

,

Carolee Schneemann

,

Daniel Spoerri

,

James Tenney

,

Yasunao Tone

,

Ben Vautier

,

Wolf Vostell

,

Yoshi Wada

,

Robert Watts

,

Emmett Williams

,

La Monte Young

and many others such as

John Cage

,

Allen Kaprow

,

Joseph Beuys

and

Henning Christiansen