Berlusconi Meets Marinetti:
Notes From the 53rd Venice Biennale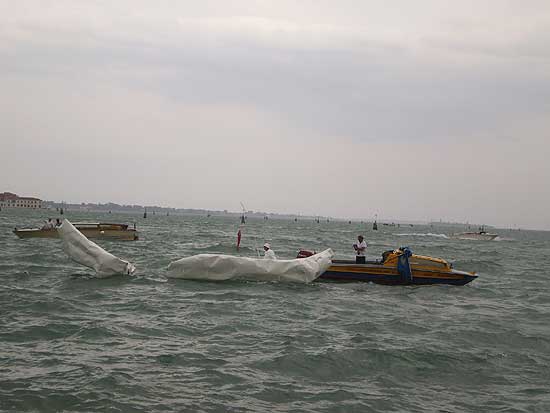 "

Swoon

took her boat show to the LIII Venice Biennale Opening,
where it became invisible: so little visual impact looking out
on the open Adriatic Sea from the Giardini"
by correspondent Sante Scardillo
assisted by Leslie Hirst


K i11 The Bienna1e : Some years ago,
Quentin Tarantino successfully challenged the notion that a movie has to last 90 minutes…not for the first time; the industry simply went back to the roots of film as an art form, and only because it seemed profitable. From a narrative point of view, I think it is better to have a story broken down in installments rather than successive installments posthumously added on to try to cash in on a franchise because people want more of the same, which isn't always true… But I am getting carried away here: after all this is supposed to be about the LIII Venice Biennale and this is to say: the story is being parceled in different installments.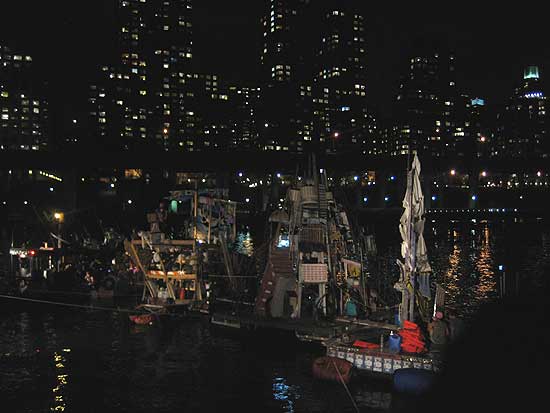 Swoon

's Descent Down the Hudson
I already wrote 2 years ago about the mirthless anachronism biennials incarnate: after all, Venice invented the franchise, in the year 1895. Now, in the dim light of the financial crisis, megasurveys seem even less pro-active (or pro-creative, to make an etimologically accurate joke, no double-entendre meant) while their bent toward pro-fit seems even less probable for two reasons: the high cost of the productions, both of the event itself and the pieces produced seems an insult to thrift the times call for, while the possibility of return for the investors who foot the bills are less secure.


Unknowingly, I started writing this piece last fall. I was struck by how not one, but two shows were entitled simply: Shit. They were reportedly (and coincidentally) completely different shows and concepts. Soon afterwards, Swoon's Descent down the Hudson on a flotilla of Coast Guard-wise unworthy ramshackle vessels and trailing multi-artist, multimedia collective in tow docked at the Trump City Piers and by contrast offered a fresh, ingenuous approach to art and art making: quite the opposite, I posited, in a piece that I never finished.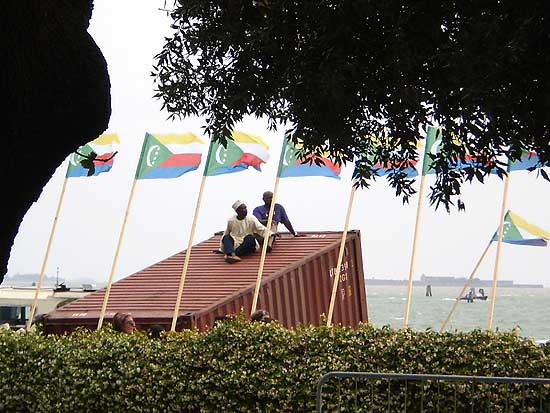 Comorans on Display Outside the Giardini Entrance
Swoon supposedly took her boat show to the LIII Venice Biennale Opening, where it became invisible: so many boats, boat shows and showboats, so little visual impact on punters looking out on the open Adriatic Sea from the Giardini.

Swoon's was just another MIA exhibition, whereas the boats taken from the Comores Islands, in spite of being mostly a feat of cultural entrepreneurship by a former unknown vying for attention, rather than expressing true creative energy or questions of re-contextualization, had at least a visual impact. These were traditional cargo boats outlawed by the Comoran government in a radical effort at modernization, disassembled, shipped to Venice in containers that were then placed inside the re-assembled boats. And the unknown Japanese gate-crashing the wet center stage in front of the Giardini Entrance, tentatively governing his paper-made (apparently) boat complete of paper made giant red goldfish, made a comedic counterpoint, with real rescue boats falling for his antics and stopping to offer help, before realizing none was needed. It must be remarked, though, that the visual impact of a succession of battleship-size yachts walling off of the waterfront immediately following the entrance to the Giardini (and its implied display of vast economic power) takes another lion's share: anybody walking to or from the Biennale can't avoid it, just like in New York one has to walk through the Midtown skyscrapers to get to MoMA.

In art, like in war, today commercial battles are fought donning the cloak of defenders of ideas and civilization, and often it is a war of preemption. For weeks prior, Italian magazines and dailies had been awash in ink baptizing the new bi-yearly art caravanserai that just opened in Venice, trumpeting more shows, more celebrities, more, more… just more. The extensiveness of the media campaign is unusual, but consistent with the ethics and practice of the government in power now. Of course the media-saturation strategy is preemptive: flooding the media creates a buzz of expense account paid journalism, which creates the impression of critical acclaim before
critics have even seen the show. Acceptance seems established, so the impact of negative criticism will be minimized, since it will be in dissonance with the predominant discourse. If you are well versed in Italian politics and culture, the motive is easy to find: the Venice Biennale is deemed a propaganda project of great importance and as such is being made resonate with the echo given to important government projects. Italy's current Prime Minister Silvio Berlusconi knows how to do one thing and that is to stay in the eye of the media. Berlusconi, who is also a media publisher, was an Italian Socialist Party member in more recent, much less militant times, though he never was in jail, yet. Mussolini must have been consumed with envy when Marinetti
, up to then a war correspondent for aesthetic reasons, scored the ultimate media coup: through his working knowledge of journalistic procedures, he landed his Manifesto Futurista on the front page of Le Figaro, The Parisian Daily, and The New York Post of its day, who published it because of the shock value of its proclamations. And that is how Futurism began. This year the centenary of this event is being celebrated, and the crypto-fascists in power now in Italy have decided to go for a second milking of Italy's main artistic contribution to the XX century.

So, dear reader, suspend your disbelief and journalistic expectations: what follows will be more an Alice in Wonderland meets Total Recall than Jerry Saltz reports from the Venice trenches (or moats, as the case would be). Unless Jerry decides to cut and paste from my report like he did two years ago…
copyright Scardillo 2009, all rights reserved