Tuesday, April 1st, 2008
Rough and Ready at Pier 94
The Armory Show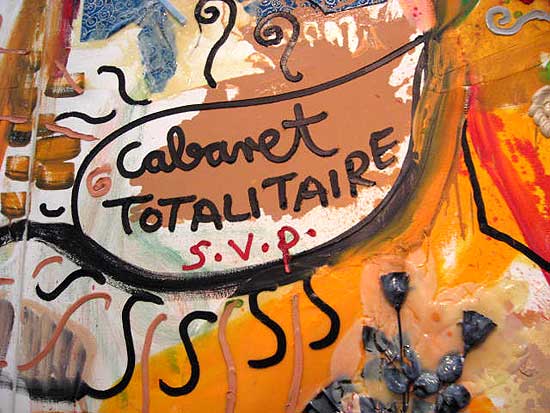 Jonathan Meese

detail at Contemporary Fine Arts, Berlin
by artist
Alison Knowles



Convinced by a friend that I should see more art that is almost next
door I ventured out with

Bonnie Marranca

of Performance Art Journal to
the Armory show at 12th Avenue and 55th Street. Commenting that this
is hardly next door on a cold March day she smilingly retorted. "There
will be coffee. "Once inside there in my immediate sites was

Leah Fried

of the Lombard
Fried gallery. She had the best show at the fair for my vote. His name
is

Michael Rakovitch

, a third generation
Iraqui American who started
out by putting his sculptures in his fathers Import Export store on
Atlantic Avenue. The work was so compelling one had to pick it up and
look closely. About twenty small sculpture filled the table: dogs,
shoes, lamps, perhaps all rejects from his father's store I imagined.
Each
piece wrapped in a daily newspaper, impeccably glued and adhered
smoothly so the Arabic or Turkish or English could be read. One had to
guess the object that supported the newspaper accounts.
Leah was one of many friends that had shown up for this fair and she
pointed the way to another series of works by

Emily Jacir

. These were
clearly Fluxus like event accounts, suggesting to walk a certain
street in Gaza and find one corner to observe. I decline to take the
Gaza walk at this time, but the pieces were evocative of what this young Palestinian was going about to make art from her torn homeland.
Then turning around there in my sites was artist/student from Cal
Arts,

Aviva Rahmani
now in Maine. She is an artist doing a PHD as
part of her "art practice". Her field is ecology and she has repaired
a huge pond water-site in Maine. Today she said "we have to think of
knowledge particularly science as the material of art". It is up to
artists to start thinking and make their own archives available she
said,
as loose theoretical writing and reportage have made it
necessary for artists themselves to communicate what they are about. I
mentioned AOA to her: "It was great getting in with AOA. They said 'we don't care if you're an artist, you have to be a writer to get in here.' Fortunately, my Shoreline had my name attached as writer."


Around another corner I found a work by

Idris Khan

titled "Hearing
Voices". A large spread of grayish notes based on a Schumann concerto
had been transferred as a digital c-print onto aluminum, a glowing
beautiful work. Finally with coffee in hand I could sit for a moment
with

Dominique de Menil

, a strong and generous contributor to the
work of John Cage for decades. She is the remarkable person who bought
and island in the Caribbean and built a college there.
Julie Harrison

informed me that

Steve Clay

at Granary of Granary
books was not present but caring for the kids. She was sipping tea on
a huge cushion.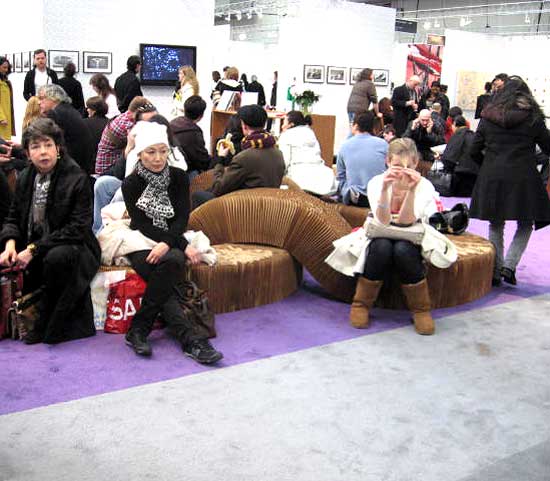 "At

The Armory Show

an air of orderly professionalism pervades…"
On the news just now I see that artis ts in Brooklyn have rented a

dumpster

and are showing digital tapes inside for free entry. Because

I am a member of Artists Organized Art I was able to bypass the line

and get free entry by showing a work Shoreline on the Internet.

It

worked. They gave me a badge and let me through. The line was more

than a half hour long and the fee $30. I disagree with this situation

of large fees for museums and fairs. Clearly I better stick with those

enterprising artists renting a dumpster in Brooklyn.
photography:

Erika Knerr
#permalink
posted by Alison Knowles: 4/01/08 09:03:00 AM