Tuesday, June 16th, 2009
The 53rd Venice Biennale, 2009
Making Worlds, Directed by Daniel Birnbaum
with Bruce Nauman, Wolfgang Tillmans and more…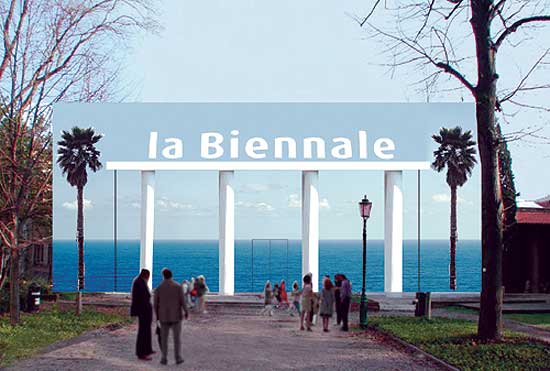 John Baldassarri
Project
Photo: Press CD, La Biennale di Venezia 53 Esposizione d'Arte
by artist and critic:
Emilio Fantin
What should an Italian be considering during a trip from the city of Bologna to the city of Venice bound for a biennial circus of art? An Italian who is at that moment reading an article about the Italian Prime Minister's latest "conjuring tricks." An Italian who lives in a nation who's gags, jokes and public clowns have migrated into the institutional sphere using positions of power to harvest techniques of parody from progressive discourse?

No more "spaghetti" but anecdotes. This seems the sudden pleasure of politicians and pedestrians: kidding someone or kidding around at something to fulfill their heartfelt interest. They mock their own institutions, anyone's work, collective or individual suffering, murders, garbage, sickness, the dead and life itself. Dry drunks clowning for themselves and seeing the world flat as a cartoon, but dominated by "cunning," the hidden character trait of the two dimensional hero. Each little pun, caricature or gag hides the gratification of cunning, the pleasure of faking everybody out and making fast money. Everything else is useless and without application, parliaments, laws, human rights, human beings, old people, kids and, of course, useless democracies. But this Italian parody is the spectacular backdrop in front of which our clowning divas debut for this year's society soap opera, the Mediterranean Character, dangerous yet vulnerable and sometimes capable of salvation. Meanwhile in the European situation, something very different is emerging: the last elections showed that in most of the European states neo-Nazis gained a large percentage of votes from which they are at this moment extracting sizeable power and dangerous capability, but what fears could possibly lurk in the hearts and minds of Italians.
With this fleeting insight in mind I stared back at the day, scratched an itch over my eyebrow and committed myself to the carefree abandon of the great circus of tourism, 2009's 53rd Venice Biennale.
First stop: Sant Erasmo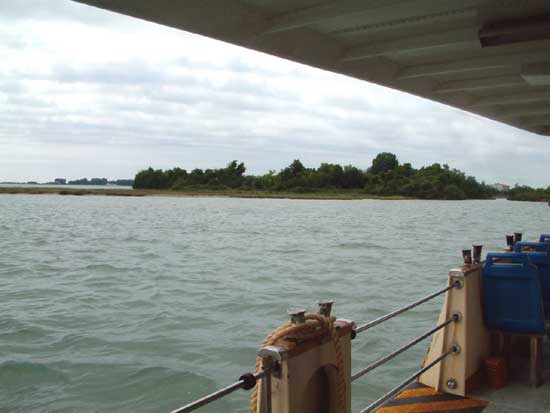 "Sant Erasmo from the boat"
Photo:

Emilio Fantin
Sant Erasmo is a beautiful island where I myself have installed a work in an ancient fortress, "Fortezza Massimiliana," for the show IsolaMondi, which is one of the collateral events of the Biennale. Collateral events, parties, meetings, openings constitute the true earth of art scenes today in Venice, where the biennial itself is just one of the shows and it might not be the most interesting one.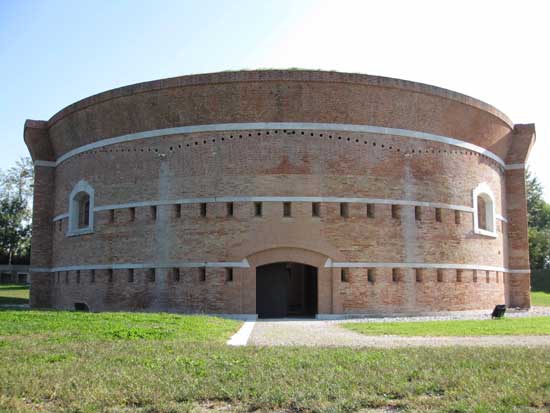 "Fortezza Massimiliana"
Photo:

Emilio Fantin
Sant Erasmo is an example of the variety of places that constitute the residential area of Venice. It is a big island, where only six hundred people live. It is where the most vegetables and fruits sold at Venetian market are produced. It is covered with Gardens and vast green areas.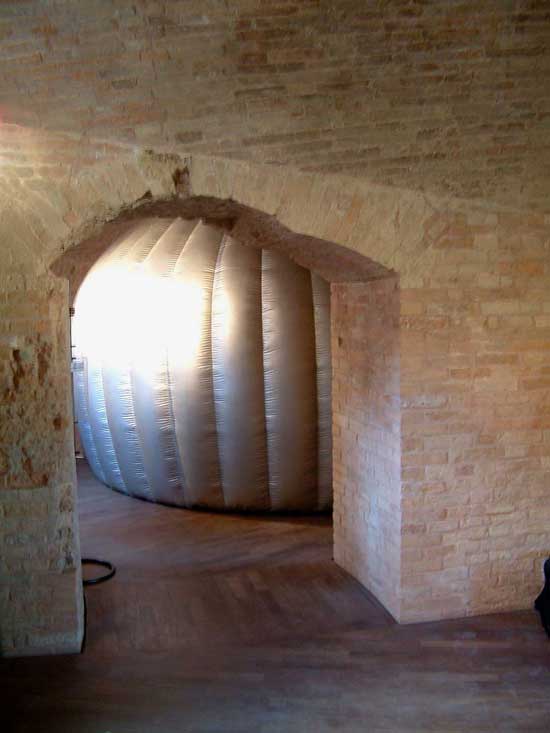 Emilio Fantin
, "Inner Encounter," inflatable structure, 2003
Photo:
Emilio Fantin
Second stop: Giardini e Arsenale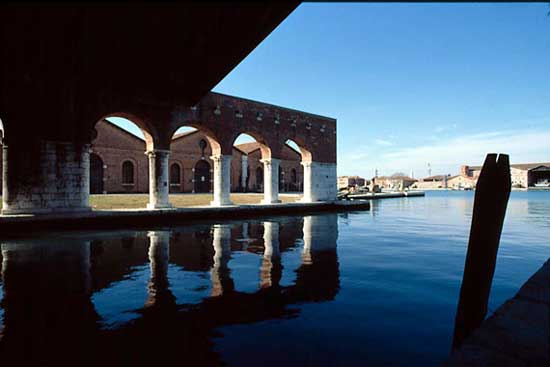 "Arsenale, Gaggiandre, Before the Exhibition"
Press CD, La Biennale di Venezia 53 Esposizione d'Arte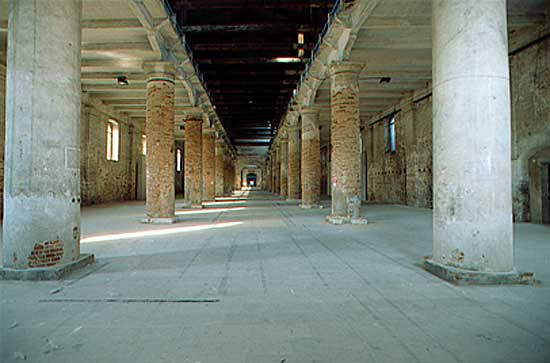 Arsenale, Corderie, Before the Exhibition
Press CD, La Biennale di Venezia 53 Esposizione d'Arte
"Venice." Here we are, and the entire city is involved in the Italian art scene's biggest carnival. I asked some folks for their impressions.

Cesare Pietroiusti

and

Mario Pieroni

said to me:

"I like this vortex: happenings, openings, performances , different places and people not just the Biennale itself. What we like is the general "status," the atmosphere."

A few days later, in her intervention at the meeting "il Falso Oreste" in Bologna,

Francesca

, a young girl, said:

"…it is only this vortex that justifies operating the Biennale. Language, messages and expressions of the artists are not important: here art work functions like a merry go round in a huge amusement park."
I jump from Giardini to Arsenale from Palazzo Fortuny to Punta della Dogana, a new space restored by Pinault Fondation. At the Arsenale there are few works worth seeing; better to spend time at Giardini's international pavilions.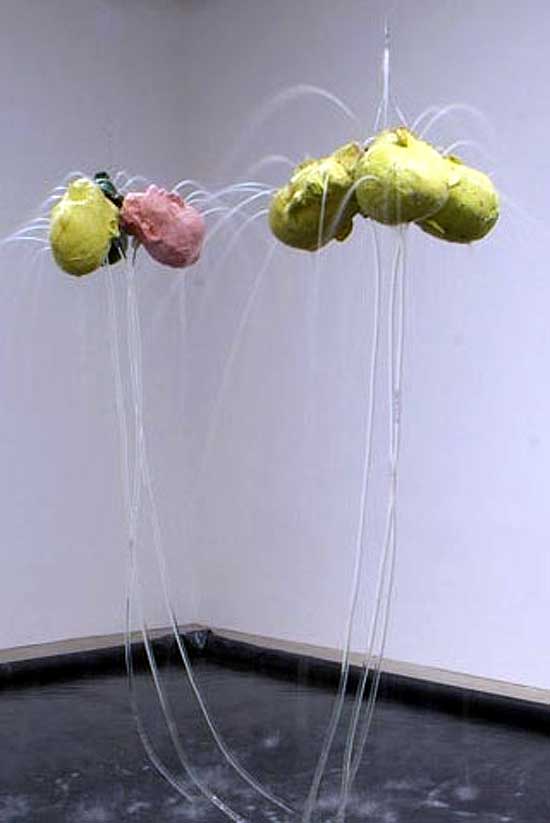 Bruce Nauman

, Three Heads Fountain (Juliet, Andrew, Rinde), 2005 (detail)
Someone told me the choice of
Bruce Nauman
for the American pavilion was a political choice and a very expensive one. Here again, instead of inviting a young talent, we are put in front of another "political choice." I am known for having criticized this kind of thing and I still do, but in this case the power of the artwork outstrips that of the critic. Among all the art works that I have seen in this 53rd Biennale, those of Nauman and Tillmans really touched me. I'm very happy to have seen Bruce Nauman's work, which is clear and simple because his manner of drama and capacity for depth leaves absolutely no ambiguity. The work speaks to my heart and mind directly, through lightness, successfully liberating itself from the Biennale's amusement park culture and taking me along.
Wolfgang Tillmans
too, shows the beauty of simple images and colors. A good artist is able to create imagery with few things. All he needs is the courage to relate himself directly to the world, without bluffing, simply drawing on personal wisdom and humility.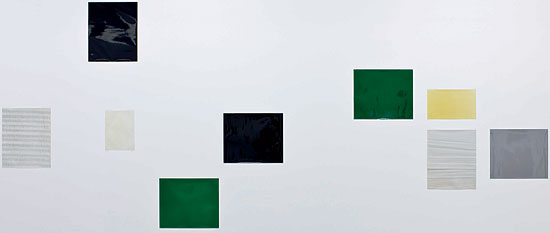 Wolfgang Tillmans

, Installation, 2009 (detail)
Press CD, La Biennale di Venezia 53 Esposizione d'Arte
Third stop: Palazzo Fortuny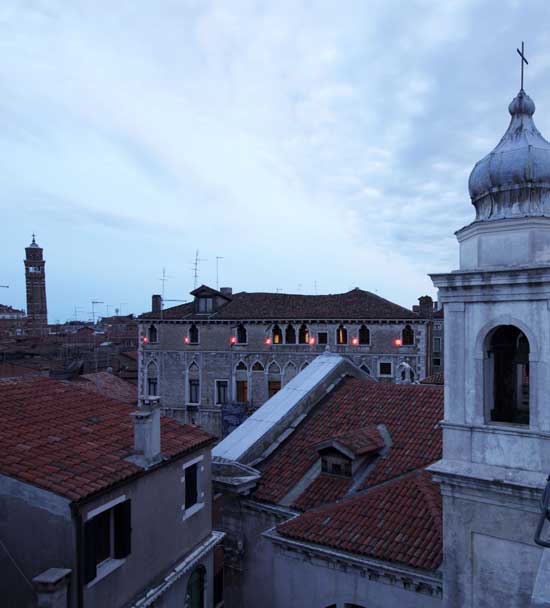 Palazzo Fortuny Façade,
Mario Merz
(1925–2003) "Fibonacci Sequence," 2002
Photo: Press CD In-Finitum Palazzo Fortuny, Venezia 2009
At Palazzo Fortuny the show "In-Finitum" is a wunder-kamera immersed in smooth darkness. Art works of various ages dialog inside a beautiful context furnished with different objects, a sort of historical dialog between images and objects. The setting up of the exhibition is extravagant, curious, but it is very difficult to remember a single artwork.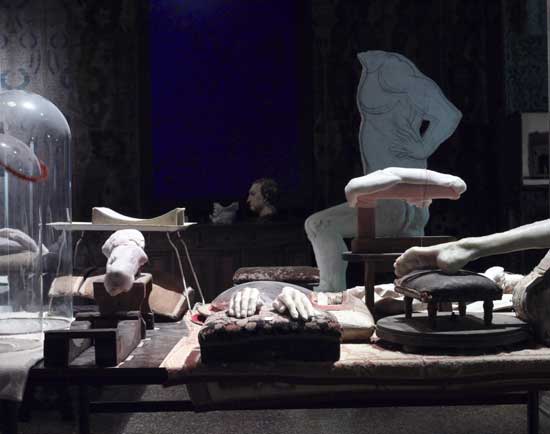 First Floor, Sala Grande, Palazzo Fortuny
Berlinde De Bruyckere
(1964) Infinitum 2009
Thomas Houseago
(1972) Figure (Oedipus) 2008
Anonymous, Small basin with double zoomorphic resemblance
Anonymous, Portrait of Colleoni from the collection of Mario Fortuny
Photo: Press CD In-Finitum Palazzo Fortuny, Venezia 2009
The show at "Punta della Dogana" is an ostentatious display. The restoration of the old building made by Tadao Ando is, of course, beautiful, but the exhibition "Mapping the Studio: Artists from the François Pinault Collection" is anything but. The atmosphere resembles one you might "enjoy" from the interior of a glamour yacht berthed nearby. A crude demonstration made in bad taste.
Fourth stop: Ponte dei Sospiri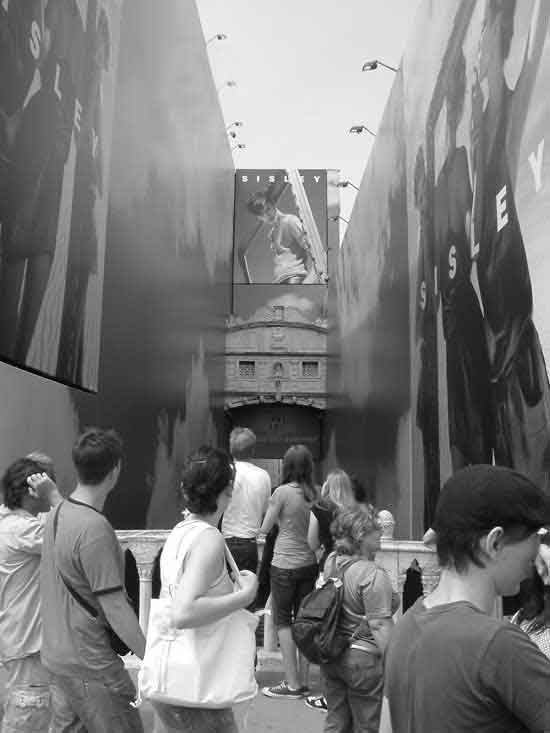 "Advertisement" Ponte dei Sospiri, Venezia 2009
Photo:

Emilio Fantin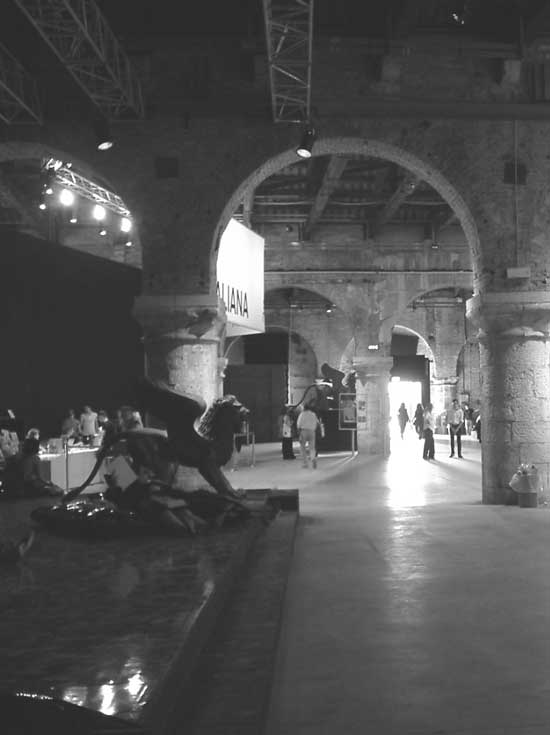 "Press Office" 53rd Venice Biennale
Photo:
Emilio Fantin
Around the city: Inside this huge forest of varied artistic proposals and events we wonder whether a tree, a bridge or a colored wall are works fabricated by artists or if they merely look so. In the biggest museum of souvenirs, the city of Venice, it is difficult to separate daily life from the tourist attraction, especially when every little thing trumpets an industrial parade of art. The famous "Ponte dei Sospiri" (the Whispering Bridge) has been appropriated by a huge advertisement, and is headquarters to the Biennale Press Office. I actually find it one of the best installations of the Arsenale.

In this article I will avoid reviewing individual art works of the Biennale, you can find that and reproductions anywhere, rather I prefer to relate a feeling, a "status" which can be experienced in Venice as well as in many other artistic events or festival nowadays: commoditization and slavish obedience to the rules of the culture industry and a palpable sense of the consequent loss of true research and meaning in art making itself.
This enables demagogy, a strategy for gaining political power by appealing to the prejudices, emotions and expectations of the public: the Italian pavilion expresses a cliché of political thinking which affirms that art has to be subdued to the role of entertainment, castrating its capacity to generate ideas, transformations, to get to the heart of things and the heart of the people.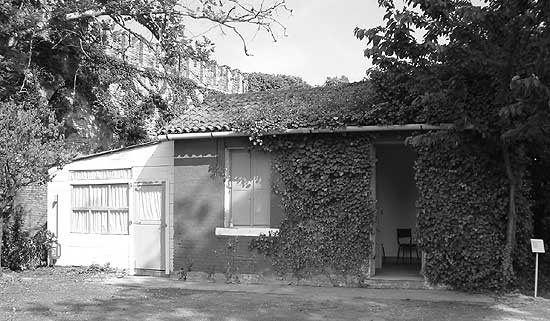 "Poetic Loss" casual installation at Giardini, Venice
Photo:

Emilio Fantin
Why this happens is understandable. Today artistic choices and exhibitions are managed by boorish collectors and ignorant politicians. Not just in Italy, but here it is frankly due to a particularly low consciousness about contemporary art.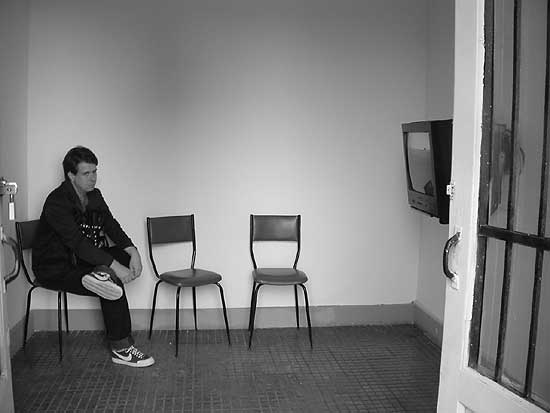 "Poetic Loss" casual installation at Giardini, Venice
Photo:

Emilio Fantin
What we might discuss, after having seen such a "biennale," is something about the industry of culture itself, which, of course, includes the art-system. As Paolo Virno suggests, "fabricating politics" out shines the reality of work itself. The equity in verbs like creating, producing and making is cashed out. According to Guy Debord, the show is a productized form of human communication, yet it is also a staple of the culture industry. Artworks function as special devices of communication, as such they are interchangeable and adaptable to varied trends. Regardless of what they transmit, express or evoke they stand subsidiary to the culture industry. As it expands and monetizes communications in traditional sectors of the daily economy, eventually it requires the very role of the artist to be conformed to its strategy. It requires art making to sacrifice its sovereignty. The artist is scripted to the character type of independent thinker, original inventor or simply autonomous worker. Omnivorous and ravenous, involved only in its own flourishing, the show alone, must go on however.
Emilo Fantin

#permalink
posted by Artist Organized Art: 6/16/09 10:36:00 AM