Monday, October 4th, 2010
Nuit Blanche, Toronto, 2010
Reunion 2010 @ Reyerson Theatre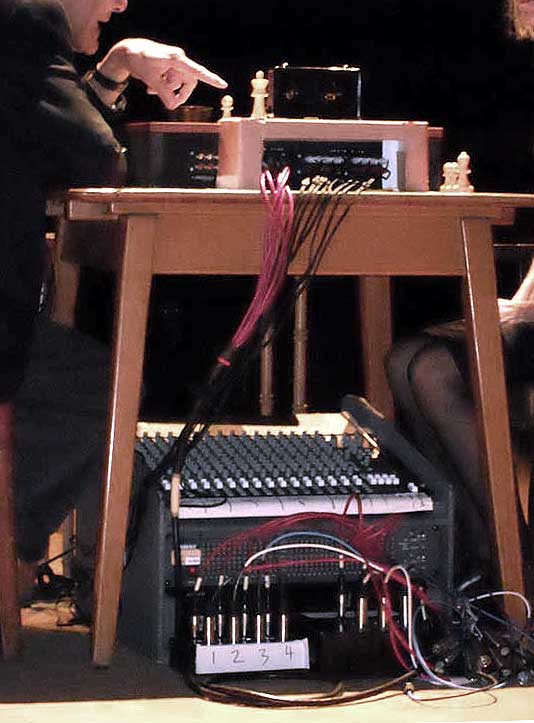 A prepared  chessboard positioned under a film and rigged with
electronic sensors to project  play-by-play live interaction on the screen itself.
photo: Jessica Higgins

Jessica Higgins
Alison Knowles
"Nuit Blanche was originally conceived in Paris, France in 2002, in an attempt to bring contemporary art to the masses in public spaces. Now universally translated as 'Sleepless Night', Nuit Blanche brings more than a million people to the streets of Paris every year. In 2005, Paris organizers contacted the City of Toronto's Special Events office with an invitation to join the ranks of approximately six other European cities producing similar all-night events. The international success of Nuit Blanche continues to build each year and has expanded its reach beyond Paris to Brussels, Rome, Bucharest, Riga, Madrid, La Valette, Portugal, Tokyo, Montreal and Leeds – each offering its own version of the all-night art extravaganza."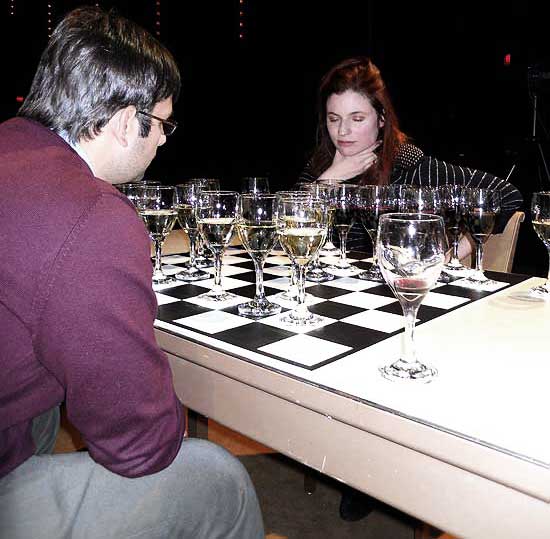 Takako Saito's chess game.
32 glasses of different wines each representing a chess piece.
photo: Jessica Higgins
The organizers of our all-nighter in Zone B at the Ryerson Theatre were very good to us, arranging limousines, planes, hotels, tours and gala evenings. Our all night event, Reunion 2010, joined in the 5th Annual, which, this year, took place in Toronto on October 2nd, from 6:57 PM until sunrise. Reunion was one of many events that took place in different zones of Toronto, but this one had its unique twist. "Reunion with Marcel Duchamp, John Cage and Teeny Duchamp had previously been done at Toronto's Ryerson Theatre, Gerrard St. East, in 1968. This year was to be a site-specific comment on the original for the Nuit Blanche 2010 nocturnal marathon.

David Behrman and Gordon Mumma, wove flute, violin and electronic sounds
to accompany every move of a chess game.
photo: Jessica Higgins
Toronto was the first North American city to fully replicate the Paris model, and has inspired similar celebrations throughout North America, including San Francisco, New York, Miami and Chicago.
However, using adaptation rather than replication, Reunion 2010, the all night event at the Ryerson Theatre, re-framed the classic film of Duchamp and Cage playing chess, with real time encounters viewed on a huge screen by the Ryerson Theatre audience. Prepared  chessboards were positioned under the film and rigged with electronic sensors to project  play-by-play live interaction on the screen itself. The art historical genre was bent into participation cinema, blending  the paradigms  high-art meets turn-based-strategy with paradigms normally associated with pop, such as from The Rocky Horror Picture Show, to the utilitarian, like extreme fat burning videos, audience participations included actions, invectives and frequent prize fight chants such as "take it with the queen!"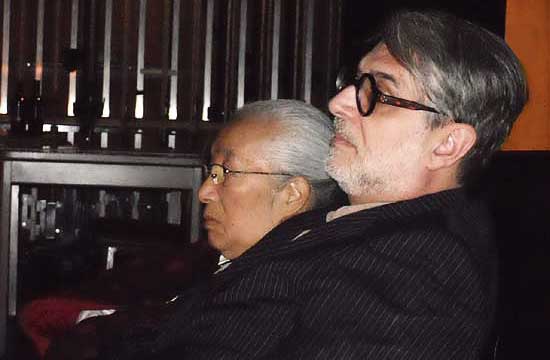 Takako Saito and Larry List sit on an on stage couch watching
the participation cinema of interactive electronic chess.
photo: Jessica Higgins
It was unusual to structure a return to experimental art in the context of a 12-hour city-wide event with a mandate to make contemporary art accessible to large audiences. While the festival inspires dialogue and engages the public to examine its significance and impact on public space, Reunion 2010 required an installed base of connoisseurs, and, with little surprise, Toronto did not let us down. Along a certain curatorial tradition, Nuit Blanche is both a "high art" event and a free populous event that encourages celebration and community engagement. Though usually in forms more easily assimilated by today's metro-tourist.
By contrast to the "free concert of contemporary music" two long-standing composers who had worked with John Cage, namely David Behrman and Gordon Mumma, wove flute, violin and electronic sounds to accompany every move of a chess game. Without the game dynamics there were few contours to shape the event.  However, even this became predictable, therefore chess masters, one from the U.S. and the other from Canada, paused in their game for the passionate intervention of Malcolm Goldstein sounding his iconoclastic violin (nearly in half) for more than an hour.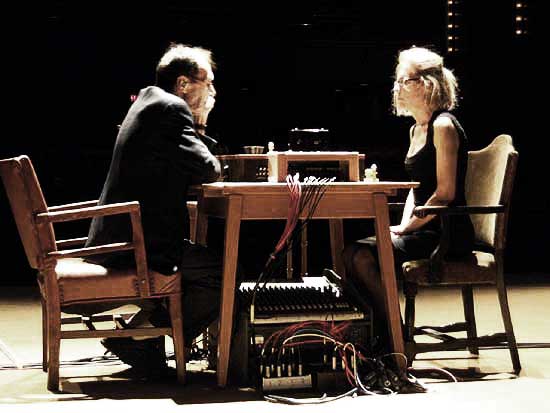 William Anastasia and Dove Bradshaw, Reunion 2010 at the Ryerson Theatre re-framed the
classic film of Marcel Duchamp and John Cage playing chess,
with real time encounters viewed on a huge screen.
photo: Jessica Higgins
Other intervening performances included ours, of "Loose Pages".  This performance features different types of handmade paper positioned on the body for sounding by each motion. The garment by Alison Knowles, made entirely out of paper, is in seven parts corresponding to leaves "torn from the pages of…" going from hat to slippers to leg covers and wings as arms.  Artist, Jessica Higgins, is dressed by Fluxus Founder Alison Knowles in the paper garment and becomes a living sculpture, dancing slowly on a low platform under a floodlight. She is sounded and guided by Alison Knowles. Because of the real relationship between Mother and Daughter which exists when we two artists meet to perform the work, our presence touches on very primary aspects of cultural adaptation, such as dressing rituals between mothers and daughters in ancient and contemporary societies.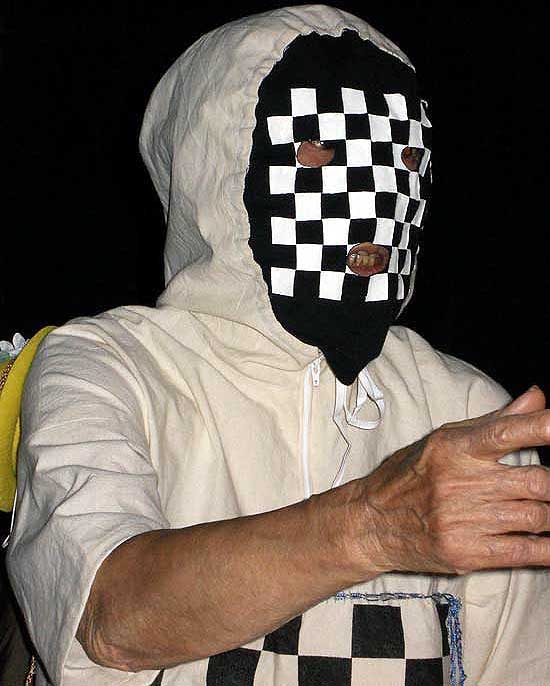 Takako Saito brings art into everday life using a wearable chess set.
photo: Jessica Higgins
Toronto's Scotiabank Nuit Blanche has wholeheartedly embraced principals of art into everyday life, though the reverse was still at its best in Takako Saito's process work as chess game. Her approach was to cross euro-centric categories of sophistication by activating 32 glasses of different wines each representing a chess piece. This work was performed by high end pro-chess masters, who found temptation a new opponent as the game wore on. Alternatively, William Anastasi and Dove Bradshaw's game design used hors d'ouevres as chess pieces. The edible artifacts were consumed as the game proceeded.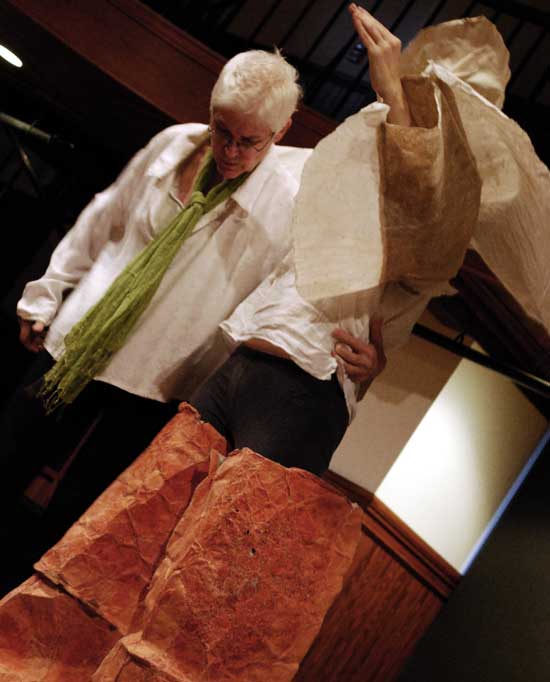 Jessica Higgins performing Loose Pages with Alison Knowles
photo: Jessica Higgins
The ambitious, if somewhat iconoclastic, red-eye art-shift was successfully curated by Sarah Robayo Sheridan who arranged the grand proscenium stage into a gracious interplay of events over a long night.  As energy flowed from infinite supply, David Behrman wrapped things up with a long Cage performance that began at 5:30 am, leaving all of us sleepless.
#permalink
posted by Artist Organized Art: 10/04/10 10:18:51 PM