New York City
May 15/16 2015, Randall's Island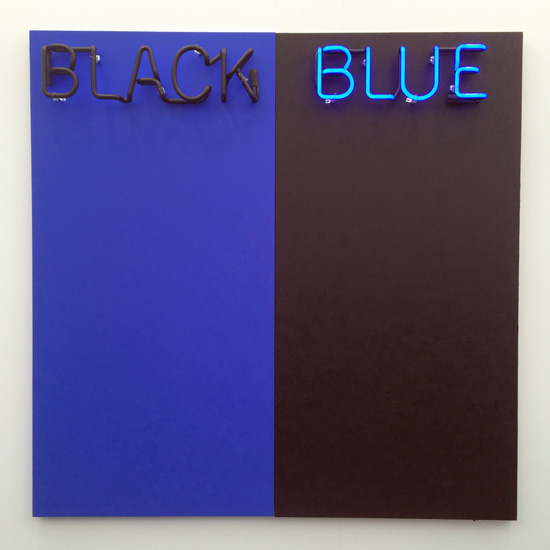 Deborah Kass Black and Blue, 2015 Oil, acrylic and neon on canvas 60 × 60 in 152.4 × 152.4 cm.
"I like that blue is in the black and black is in the blue. Neon lights are a big trend online recently, a lot on Tumblr and also on Instagram. I was planning my own shot of a motorcycle store's neon sign last week. I wanted it for my Tumblr account. By the time it was dark enough the store had closed. The neon sign was off. I'll have to wait. This work reminds me of it and gave me a chance to work with a neon sign. I wonder if the artist knows about the online trend. Don't worry, I didn't post this to Tumblr. My phone died while I was still at Frieze."
Hanging Out In Art
by correspondent,
Clara Joy
My Weekend With Alison Knowles
Whenever I hang around with Alison Knowles, my "Oma," I feel like I'm in some kind of Flux-Labyrinth. It's a very familiar mood at this point, since she lives surrounded by her work and surrounded by lots of books and media by and about vintage Fluxus artists. We start by talking about everyday life and we usually end up at her work in art and Fluxus. My main interest this weekend was to be with Alison to see her get an award, but I knew there would be lots of surprises. She gets awards, interviewed, commissioned and celebrated every other week. There are always at least three things going on at the same time when we're together.
I've decided to write this photo essay in the spirit of Alison's world by running three threads together in my article for Artist Organized Art. I am contributing a photo essay, where most of my thoughts are in the photos and captions, which run through an interview with Alison. I invited Alison to include an interview she was working on with
Joshua Selman
. The theme of the interview is her work with art environments. I like the idea of my photo essay moving through it like a person through a space. I also enter into the interview at the end to answer a couple of questions.
Last, but not least, is a video at the bottom of this article where I go through the Flux-Labyrinth with Alison
. In that video I've also included some still pictures shared by
Mark Bloch
, but I've processed them into my little video labyrinth. The piece is silent until the last few minutes and then there's plenty of sound.
At the end of April, Alison received the Francis Greenburger Award. I heard it was a great event at the New Museum, but I couldn't go. I'm in 9th grade.. too much school work. Two weeks later Pratt Institute awarded an Honorary Doctorate in Fine Art to Alison. Since I'm also interested in Brooklyn and Pratt Institute, I went along to the ceremony at Madison Square Garden with the idea of celebrating Alison's award and meeting a few people who run that great institution. Shepard Fairey, Alison Knowles, James Turrell, Karen Brooks Hopkins and Holland Cotter received Honorary Doctorates and it was great to hear them speak. I'm probably working on this article because of something each one of them had to say.
It was a very exciting day with Pratt Institute, but by midnight we were very tired and had to turn in. The next day I went with Alison to the Frieze Art Fair to see her dealer, James Fuentes, at his space and to enjoy the art fair. Frieze was good enough to grant an official press pass, since I agreed to come up with something for Artist Organized Art. We also wanted to see a re-creation of the George Maciunas Flux-Labyrinth. Cecilia Alemani is the curator behind the re-creation. I first met her when I was part of the Make A Salad performance at The High Line, which I really liked. I thought I might see her at Frieze, but instead I met many other old and new friends.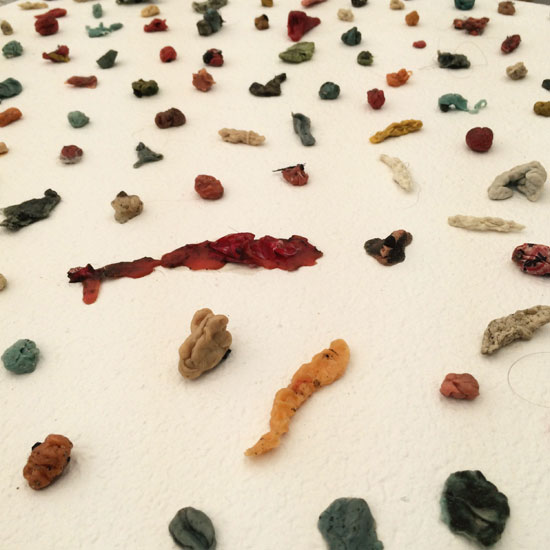 Chewing gum and detritus collected from New York's streets by Japanese Artist: Yuji Agematsu.
"I found this very interesting. It's an idea where we think about someone collecting gum and wonder how the artist got all of it to end up on a platform at Frieze. Did the artist just have a bag of collected gum and bring it to Frieze to install it on the table. I've always wondered about New York City and gum. When I was around 3 years old I learned about all those black spots on the sidewalks. The black spots on the street are apparently all made from discarded chewing gum. I've never really gotten over that."
For this article I've invited an interview with Alison, led by Joshua Selman, about environments and art fairs (my photo essay continues in captions):
Joshua Selman: Do you see a relationship between The Boat Book as an environment and the Flux Labyrinth as an environment, in the context of an art fair devoted to visual art?
Alison Knowles: I began to be disinterested in painting after a few shows and became much more engaged with what were called actions. Dick's Press would publish small books about performance art and I liked that we engaged by performing with and playing for people, asking them to do unusual things to think of as art such as being in art not simply standing in front of a picture and looking at it, but getting down on all fours and going through a tunnel and up a ladder.
So putting the whole person in was the idea. The Big Book was the first walk through environment that I made. We could turn the pages and close ourselves off in a little room, or again it had tunnels and ladders. It's the same direction for the viewer to be in the work. So there was the Big Book, The Book of Bean and recently at Art Basel, Miami, the Boat Book, here at Frieze we see the Flux-Labyrinth standing out from much of the fair.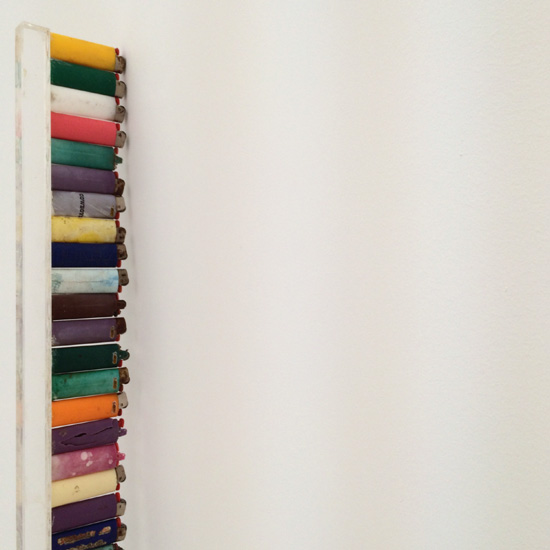 Cigarette lighters: detritus collected from New York's streets by Japanese Artist: Yuji Agematsu.
"Lighters in a line against the wall. Many, many lighters in a line.. many more than shown in this detail view. These are all cigarette lighters found on the ground. You can tell, because they look beat up. Lately I've seen a lot of images with cigarette lighters found on the sides of roads with weird images on them. They're online, mainly on Instagram and a some on Tumblr.. actually a lot on Tumblr. The lighter shots are a definite trend. I wonder if the artist knows. They're hot, because found cigarette lighters look very vintage."
JS: What do you think of the Flux-Labyrinth as an environmental form containing a group show? By contrast to today's thematic group exhibits, it's refreshing to see artists engage through parallel play.
AK: To me it all signals a move away from Museum paintings. The work we did in Fluxus as performers helped to do that. I think it's a good thing, because, in my view being an artist, or being in art, is a very positive experience in this world and in life. It doesn't require any special training in my book, but it does involve commitment and an ability to engage the work with people.
JS: I usually find environmental works associated with a single artist, it's rare that a group of artists each work on a component of an architecturally unified outcome.
AK: It shows a direction away from painting and into action and engagement. We had George Maciunas directing what locations we were each working with. He knew in advance what we were going to do and I think we accepted his leadership. For Frieze, I had nothing to do with designing the labyrinth itself or with the bean garden in it. I would have done some things differently, but I know what these people are faced with economically and especially in terms of time. I go with, I go with, I go with and it's very different from the concept of being a printer, or painting, where you're in charge of the whole deal. I enjoy going with interaction.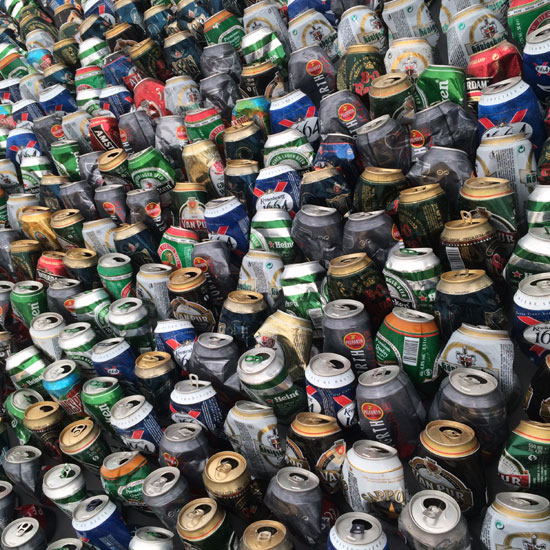 Kader Attia's "Halam Tawaaf", 2008, consisting of 2,978 tall beer cans.
"It's interesting to think about how many cans there are. I mean to guess how many. Again, to think about how the artist might have collected them. I see a relationship to works where artists bring together a ton of the same stuff. This is not really trending online, but I think it's cool. Once, I went to MASS MoCA and saw a work with piles of fresh cigarettes in rows arranged everywhere. It made an impression on me, because, you know, cigarettes are taboo. I think using quantities of the same stuff is a thing that artists do if they find the source interesting. I guess it is interesting, but it does depend on what we source and where it all ends up. This was also just a nice photo to take, but it ends up here."
JS: In terms of scale, the Boat Book debuted at Art Basel in Miami last December at a scale equivalent to the Big Book and the Book of Bean. The Bean Garden for the Flux Labyrinth is a bit smaller, but fits into an extensive structure. How do you compare the projects?
AK: I enjoy putting people into an artwork. So, I very much go with the director who's got to do all that negotiation and spatial organization and I accept.
JS: When you go to an environment like the Venice Biennale, that is already an environment for people to go through, how do you feel about inserting your own environment? Especially at the Biennale, imagine taking your passion for putting people through an artwork and they are already in one, how do you resolve that?
AK: We'll see! We'll see how it goes..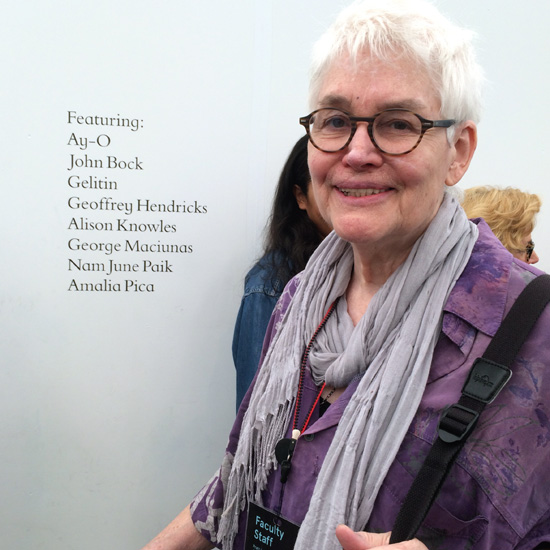 Alison Knowles stands outside the re-created Flux-Labyrinth in which there is a version of her original Bean Garden installation.
"This is my portrait of Alison Knowles at Frieze 2015. We went to Frieze together so I could meet her gallerist, James Fuentes, meet her friends, see the Flux-Labyrinth in which she has work and so I could work up a media project about going to Frieze. It's a shot of her in front of the Flux-Labyrinth with her name in the list of participating artists on its wall. I wanted a photo of her next to the signage. People come up to Alison and say hi all the time. It's exciting that she's really famous wherever we go. It even rubs off on me when I'm around her. I love that and she's a lot of fun."
.
JS: Ah, so if you get a chance to do an environment in Venice, we will have to attend the Biennale to find out the answer to my question. Very nice, I'm buying my ticket.
AK: I arrive, put my foot in and do the best I can with it. It usually works out well enough, even for me.
JS: Would you need to go to Venice ahead of time to actually decide how you want to grapple with the issue of inserting an environment?
AK: The decisions, a lot of them, have already been made when I arrive at a biennale, by very good people, curators who have given me a space. My disposition is to work with the people who have done the hard work of getting me there, paying my ticket, housing me and giving me the prize money. I do enjoy being in the work, physically sitting in it, then people have a chance to talk with me a little as they come through a tunnel, over a ladder, look through a porthole and move through the rooms.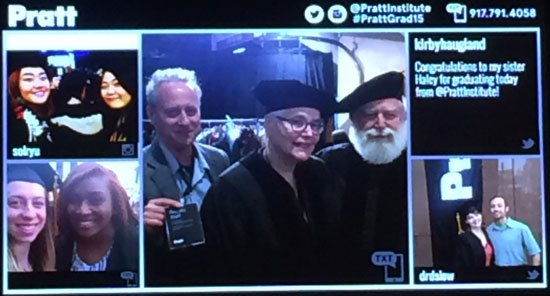 Alison Knowles & James Turrell receiving Honorary Doctorates in Fine Art from Pratt Institute the day before we went to Frieze.
"Back in her 20's Alison graduated from Pratt Institute with a Fine Arts degree. Years later, the day before we went to Frieze, Pratt Institute would award her an Honorary Doctorate. I loved going to the graduation. Also, one of my photos of Alison was used for the commencement catalogue and Pratt Institute was kind enough to credit me in print.
At the ceremony, which was in an auditorium at Madison Square Garden, they showed big projections on an interactive screen. It was great, because you could take a photo of anyone there, especially a graduate, or whatever picture you had in your phone, or write a text message.. anything you could make on your device.. and send it to the huge screen by texting it to the number in the upper right corner. This is a photo that I texted of Alison Knowles and the artist James Turrell, which i had just taken a few minutes before at the luncheon. We got it up on the big screen. It was really exciting. I texted it there myself and then took this picture of it on the screen. Obviously each graduate isn't going to get specific recognition unless we can project their image somewhere.
This was a good way of letting the audience in on the big screen. I'd like to use this kind of thing myself in something I do in art. I think that major pop artists like Mac DeMarco should include this in their concerts. Hashtag #macdemarco and kids at the concert or anyone streaming it over the net could be included on the big screen while he's performing. It's really very cool."
JS: How do you see the Boat Book and the Big Book in relation to the House of Dust beyond the computerized poem, but as the environment described by the poem, fully realized for people to move through?
AK: Well the House of Dust was realized in honor of James Tenney who programmed and ran the miles long output of the House of Dust poem onto continuous dot matrix printer paper using a FORTRAN routine. The House of Dust is possibly the first computer generated poem and it goes on and on describing where people live, what each house is made of, the type of light it's in and who the inhabitants are. At Cal Arts we built one iteration. I was there teaching for a few years and took people through it, stayed overnight sometimes. In California it had a beehive shape. I think these kind of installations test the premise that visual art hangs on a wall simply to be viewed. We do honor the great American painters, but most of my students are into activities and actions rather than still work.
JS: That's very interesting. I want to ask a last question about triangulating food, shelter and clothing in art-making.
AK: Of the food pieces, I've done Make a Salad, or Make a Soup, for large audiences. The clothing would be Shoes of Your Choice, that's a big favorite. We made a lot of t-shirt artworks, t-shirts with art on them.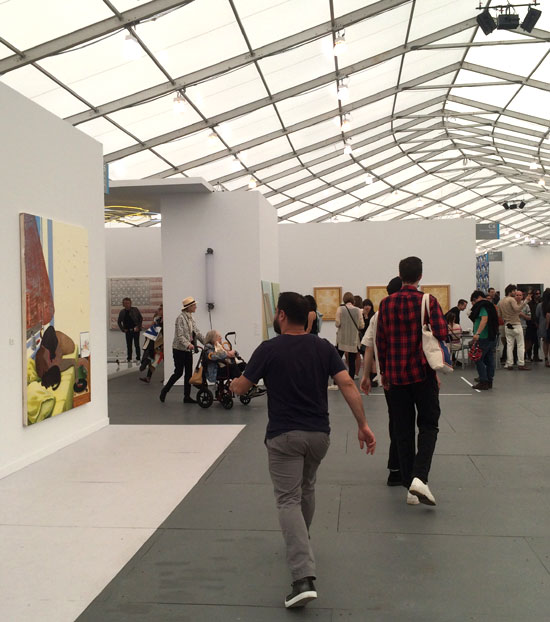 The tent at Frieze is one of the nicest features, because it lets in a lot of natural light.
"Everything looks great in natural light, especially the art works. This is a photo of Frieze itself. It wasn't planned, I just wanted to take a random shot. I think that it came out nicely, because it frames the sunlight through the roof. That's a very cool part of Frieze. The tent lights up everything. Frieze is one of my favorite exhibition venues, because they use the light in an excellent way. It's not fluorescent lighting or anything gross. Screened sunlight is great for a nice fresh full spectrum result.
It's not too hard to get to Frieze or too come back from there. You just take a ferry to Randall's Island and the same to leave. It's more difficult to get around at Frieze itself because it's so big. But, it's worth it because there's such good art. Going to Frieze is expensive if you're going as a spectator, but we didn't experience that, because we got in as guests of James Fuentes, Alison's dealer, and Frieze issued me a press pass."
JS: You also made works on bedding and drapes, etc.
AK: Right! The whole housing thing..
JS: The clothing is where fiber takes off in your work isn't it?
AK: Because I could print on it. I was trained as a printmaker and could make a silk screen of any size and print B-E-D on the bedding, or I could print it with a spoken text.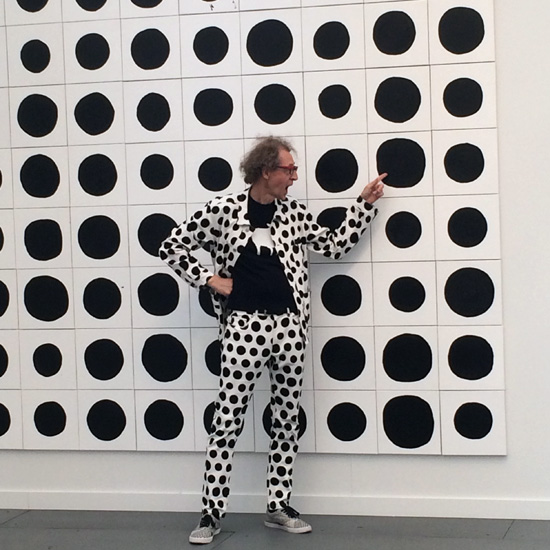 Jonathan Horowitz's 700 Dots project at Gavin Brown's Enterprise for Frieze New York 2015. I bumped into my friend Lilly, who's friend Theodora introduced her Dad. He was spot on by dressing for the occasion.
"One of my Instagram followers met me in Chicago at The Bean a couple of years ago. Her name is Lilly and she's great. I talk to her online a lot and messaged her about running around NYC the same weekend. We made loose plans to meet up. Then, it turned out we were both going to Frieze on the same day so we kept an eye open. By chance we bumped up in that huge crowd. She was with her friend Theodora, who I hadn't met before.
This is a picture of Theodora's Dad who was wearing a suit matching the installation. I had no idea her Dad was featured in the show. He's pointing to the dot he made for the collection. It's interesting that when we took the ferry to Frieze, he was on our boat. He knew Alison Knowles and they were chatting the whole way. No one could miss this remarkable suit. It was a big surprise when he reappeared connected to my own teenage friends and to this great social installation work. Connecting the dots makes for a small world online and again at Frieze."
JS: By wearing, do each of us become part of a performance?
AK: It's true! Off the wall, off the canvas.
JS: So you place people in an environment, move them through the environment, they wear the environment and you're feeding them, as a major work. I wouldn't mind being part of something like that in Venice. Please keep me on the short list, if and when.
AK: I remember at the Tate Modern, Make a Salad was very dramatic. We threw the greens over a balcony and four or five people tossed it with dressing in a tarp positioned beneath. Some artists have criticized this as art made from women's work, but woman's work was never considered performance worthy. When I make a salad for hundreds of people I also have men up there chopping. Because, I know many who do a lot of work in the kitchen. A lot of women go to the office. All the rolls are upside down today.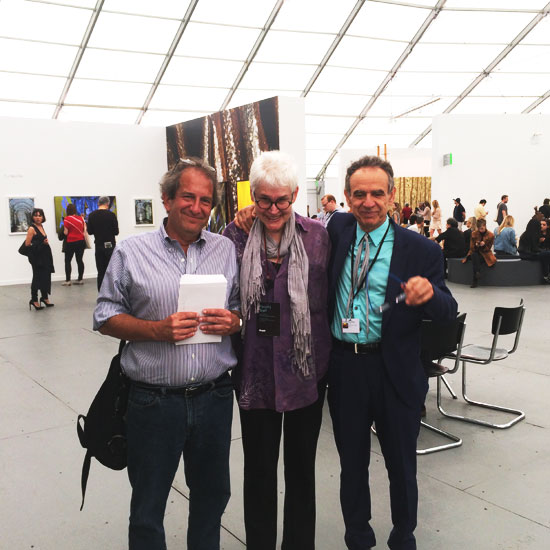 Pictured left to right: Leo Rubinfien, Alison Knowles and Juan Puentes.
"It seems so easy to meet old friends and make new friends at Frieze. I really like the atmosphere and was okay with taking a picture of these friends of the family. This is Alison with Leo Rubinfien, the award winning photographer/filmmaker, and Juan Puentes the Director of White Box, one of NYC's most adventurous artist space galleries. Juan Puentes asked me to take the shot and send it to his cell phone right away. That can be fun, the smartphone is today's Polaroid camera. It's nice when patrons get the pic right away, if they pay a small fee. Just sayin'."
JS: Food, shelter and clothing are basic to community.
AK: That's right.
JS: "Women's work" does that imply women are the basis of a community?
AK: Not so, not so. The House of Dust was an existing shelter in California. Earthway finally took it away, split it in half and the half that was left was put in a children's park. It was about the size of that closet. You could go into it and crawl around. So an impermanent outdoor sculpture is transformed for play. It was great for little kids.
The Frieze Projects 2015 Tribute to the Flux-Labyrinth (1976/2015) organized by Cecilia Alemani. The original Flux-Labyrinth, organized by George Maciunas, was realized in 1976 at the Akademie der Kunste in Berlin.

"My favorite part of Frieze was going through the Flux-Labyrinth with Alison Knowles. This video is a combine of slides, with stills lent to me by Mark Bloch, and low resolution video that we took as we went through the Labyrinth. I wanted to include a video in this article, to cover the Flux-Labyrinth which, in my honest opinion, was the best part of Frieze. Alison Knowles was featured as a participating artist in the original Flux-Labyrinth and in this 2015 re-creation.

We went through a maze of crazy stuff. Just to get in we had to hack a trick door and stoop to cross a mirrored forest of low hanging material. There were a lot of obstacles made of tape and other strings. We were frequently contorted. Then we took our shoes off and walked over Alison's garden of dried beans, which gave a welcome massage to our tired feet. That led to a hall of balloons.. more contortions in giant rubber bands. Next, we squashed by video monitors and hospital equipment in a dark room. Finally, a hallway of large, fat, half naked long haired men, screaming at us formed an exit. We actually had to squirm between their fat bellies to get out. It was kind of scary, but also really fun.

When we exited the labyrinth "Oma" had some fans waiting who were saying how much they loved her work. She mentioned her part was the bean garden where you take off your shoes and feel the dried beans as you step over them. In the video I have brown hair, a blue cap and sound like an excited 10 year old, but it was really fun."
JS: Why are you doing so many environmental works recently?
AK: Well, I do what I'm invited to do. I'm not invited to make paintings. I'm invited to do Fluxus actions, or performances of my own, or more recently to build environmentally scaled works. Art changes around artists as they carry it along.
JS: Alison, thank you for your time and thoughts. Clara Joy, thank you for agreeing to photo journalize at Frieze for Artist Organized Art. As an Instagrammer with many thousands of followers you display your art works in public, globally, 24 hours a day, 7 days a week, and you've built your audience yourself from the ground up. How do you feel about the limited exposure an art fair such as Frieze provides to galleries and artists. One gallerist told me he paid $22,000.00 for a 100 square foot enclosure that lasts for 4 days. I'm not sure what if anything was sold, though I did like the display.
Clara Joy: It's different because I post photography on Instagram and it has to do with the culture of Instagram. Frieze artists don't really have to do directly with Instagram culture. They are trying to sell and promote their work in a different way. Work they're showing at Frieze, and I think Frieze is great, but.. it is a lot of money for something that's only for a very short time.
JS: You are photographing the work of other artists at the Frieze NY Art Fair. As a Teenage Instagram Photographer, do you see what you are producing as objective, or do you prefer to make new work out of the works you're photographing? How does that work with you audiences?
CJ: It's generally their art work, but it does have a sense of someone's work or someone's art when it's posted.. like a photo of a photo at a museum. The way we take it can be our own work. If we take a photo of a painting at Frieze it is our art work, because we're taking it in a way that's different than the painting on the wall, but the work inside the photo is the original artist's art work.
Alison Knowles (born 1933) in New York City is an American visual artist known for her soundworks, installations, performances, and publications. Knowles was very active in the Fluxus movement, and continues to create work inspired by her Fluxus experience. In the early 1960s, published by Something Else Press, Knowles composed the Notations book of experimental composition with John Cage and Coeurs Volants a print with Marcel Duchamp. She also traveled and performed throughout Europe, Asia and North America. In 1963, Knowles produced one of the earliest book objects, a can of texts and beans called the Bean Rolls. In 1967, Knowles and James Tenney produced the computer generated poem The House of Dust. A sound installation for a House of Dust public sculpture was produced by Max Neuhaus. The 1983 book Loose Pages, originally produced in collaboration with Coco Gordon, consisted of pages made for each part of the body. She is represented by James Fuentes Gallery, New York and recently appeared at Frieze NY Art Fair 2014/15. Since 1964, Knowles has made large and small experimental books: The Bean Rolls (1964) was a hand held, canned book of small scrolls of bean lore and information which has appeared in important artists' books surveys alongside titles such as By Alison Knowles and More by Alison Knowles (1965/1979), Spoken Text (1993), Bread and Water and Indigo Island (both 1995). Passenger Books recently published a new collection of essays, transcribed interviews and articles and reviews related to The Big Book (1967), a walk-in book construction with 8-ft. tall pages, moving around a center spine. Knowles has continued her examination of books at various scales, from The Book of Bean (1983) to The Finger Book of Ancient Language, a table top book in Braille and other tactile languages (1987). The Boat Book (2014), commissioned by James Fuentes Gallery, appeared at Art Basel, Miami Beach, December 2014, in 2015 she received the Francis Greenburger Award. In May of 2015, Pratt Institute awarded Alison Knowles an Honorary Doctor of Fine Arts. Her original Bean Garden is included at the Frieze Art Fair, 2015, Tribute to the Flux-Labyrinth.
Frieze Art Fair is an international contemporary art fair that takes place every October in London's Regent's Park. The fair is staged by Amanda Sharp and Matthew Slotover, the publishers of frieze magazine. Frieze Art Fair features more than 170 contemporary art galleries, and the fair also includes specially commissioned artists' projects, a talks programme and an artist-led education schedule. Since 2014, the magazine has also been running a New York edition, on Randall's Island.
James Fuentes
, James Fuentes LLC, 55 Delancey Street, New York City, 10002, Phone (212) 577-1201, email:
info@jamesfuentes.com
,
http://www.jamesfuentes.com
, Description:
Joshua Abelow
,
Jonathan Allmaier
,
Lizzi Bougatsos
,
Brian Degraw
,
Jessica Dickinson
,
Berta Fischer
,
Lonnie Holley
,
Alison Knowles
,
John Mcallister
,
Jonas Mekas
,
Noam Rappaport
,
Benjamin Senior
,
Willam Stone
,
Daniel Subkoff
Clara Joy is a member of Teenage Instagram Photographers with a following that has exeeded 21,000 daily spectators. She works under several aliases. Her most well known is "softoceans". Clara Joy considers her work online to be a form of public art. She has also worked as an assistant to Alison Knowles and prepared photo shoots and video shoots of artists's works for major curatorial venues. She is credited as the photographer for the Alison Knowles page in the Pratt Institute Commencement Catalogue 2015. Clara Joy is one of three granddaughters of Fluxus Founders Dick Higgins and Alison Knowles.
George Maciunas (November 8, 1931 – May 9, 1978) was a Lithuanian-born American artist. He was a founding member and the central coordinator of Fluxus, an international community of artists, architects, composers, and designers. Other leading members brought together by this movement included Ay-O, Joseph Beuys, George Brecht, Dick Higgins, Yoko Ono, Nam June Paik, and Wolf Vostell. He is most famous for organizing and performing early happenings and for assembling a series of highly influential artists' multiples.
Pratt Institute is a private, nonsectarian, non-profit institution of higher learning located in the Clinton Hill neighborhood of Brooklyn, New York, United States, with a satellite campus located at 14th Street in Manhattan. It originated in 1887 with programs primarily in engineering, architecture, and fine arts. Comprising five schools, the Institute is primarily known for its highly ranked programs in architecture, interior design, and industrial design, and offers both undergraduate and Master's degree programs in a variety of fields with a strong focus on research. U.S. News & World Report lists Pratt as one of the top 20 colleges in the Regional Universities North category. Princeton Review recognizes Pratt as being one of the best colleges in the northeast, making it among the top 25% of all four-year colleges and universities in the United States.