May 23rd 2009
Re: Ryszard Wasko: June 18, 7PM, Haus am Lützowplatz, Berlin, Opening Exhibition
From: Artist Organized Art
To: The Subscriber Email Address
Subscribe | Unsubscribe | Join us on Facebook or Google+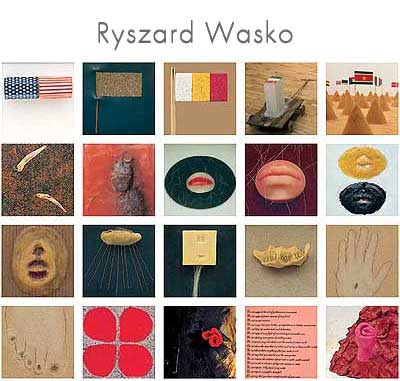 CONTEMPORARY PORTRAIT
and
HYPOTHETICAL CHECKPOINT CHARLIE
Please join us for an exhibition opening by the great Artist, Filmmaker and Founder of Construction In Process
Ryszard Wasko
at gallery Haus am Lützowplatz, Berlin, on June 18, 2009, 7:00 PM
Lützowplatz 9 · 10785 Berlin · +49 30 261 38 05
www.hausamluetzowplatz-berlin.de
Having organized the historic 1981 international exhibition Construction in Process infringing communist Poland's restricted borders, this voice for the power of art inside the Solidarity movement, the artist Ryszard Wasko, was forced from Poland by government backlash. He found asylum in Berlin on a DAAD grant in 1985 during the clash of a prolific period in turmoil before returning home to a radically altered Poland.
June 18, 2009 is the first one man Berlin Exhibition of Ryszard Wasko's works in twenty years.
The exhibition features photography from his Berlin period and from the last six years, selected works:
In 1971 Ryszard Wasko joined the Workshop of the Film Form, a collective formed in The Łódź Film School (members included Józef Robakowski, Paweł Kwiek as well as the renowned Zbigniew Rybczyński.) Some of his revolutionary photographic works are: 'Four-dimensional Photography', 'Cut-up Portrait' and films: 'Straight-Awry' and '30 Sound Situations'. Workshop also experimented with video and installations in the early 1970′s such as Ryszard Wasko's 'Corner'. In 1974 the members of Workshop organized trips to western countries to meet with artists. Ryszard Wasko became one of a few Polish artists represented by a western gallery (the 'm' gallery in Bochum, also showing Richard Serra and Arnulf Reiner). In 1980 he was the only Polish artist showing in the 'Pier + Ocean' exhibition at the Hayward Gallery in London. This inspired him to counter organize an international exhibition in Poland in 1981 called Construction in Process. He invited Sol Le Witt, Richard Long, Richard Serra, Ian Dibbets, Carl Andre, Dan Graham and many other recognized western artists. Most accepted his invitation turning the exhibit into an historic event – an artist organized a successful international exhibition inviting western artists behind the restricted borders of communist Poland without any government subsidies (at the time The State controlled all public events.)
In the early 1980′s Ryszard Wasko shifted media from film and photography to painting, creating objects he called time sculptures. His work changed radically when he emigrated from Poland. His close ties with Berlin artists especially Fluxus pioneer Emmett Williams and gallerist René Block had a strong influence, opening a new period in his work. During this time his work as an organizer grew in importance and from 1990 to 1992 he became the Artistic Director of P.S.1 Museum and Clocktower Gallery in New York City. In 1990 he founded The International Artists' Museum as an institution for independent exhibitions, meetings and exchange of ideas, run by artists for artists. In the 1990′s the Museum established offices in New York, Berlin, Tel Aviv, Moscow, Melbourne and other cities, spawning over 100 international exhibitions involving hundreds of artists from around the world. He established The Lodz Biennale in 2004 and The Lodz Art Center in 2005.
Ryszard Wasko's works of the 1990′s are mainly influenced by the experience of emigration, works such as his performance 'Meal For The Rich & Poor' or installation 'Small Rose Garden' in Warsaw 'Zacheta Gallery' and he has derived works from his roots, film and photography, though the images are not finished works, rather a means in a process serving as objects holding information ('Intimate paintings', 'Tv Stories'.) Perhaps ironically, he has also returned to the oil painting.
Resettled again, in 2008 Ryszard Wasko returned to Berlin. June 18, 2009 will be his first solo exhibition in the city in 20 years. He will be showing photography ('Session with the supermodel Gisele B.'), as well as encaustic ('Nasty Bedtime Stories') and oil paintings ('This image has been removed for security reasons'.)
The exhibition will be up at Haus am Lützowplatz (Lützowplatz 9 · 10785 Berlin · +49 30 261 38 05 ·www.hausamluetzowplatz-berlin.de) through the 26th of July and very worth visiting.
Haus am Lützowplatz is located at Lützowplatz 9 · 10785 Berlin
www.hausamluetzowplatz-berlin.de
Telephone: +49 30 261 38 05
For immediate release
www.ryszardwasko.info