February 10th 2014
SUBJECT: Mina Cheon At Ethan Cohen Fine Arts NYC Thru Feb 28
From: Artist Organized Art
Subscribe | Unsubscribe | Join us on Facebook or Google+
POST MINJOONG MISOOL AND

MINA CHEON STUDIO

Critical POLIPOP (Political Pop Art) Of
Our Mass Consumption Societies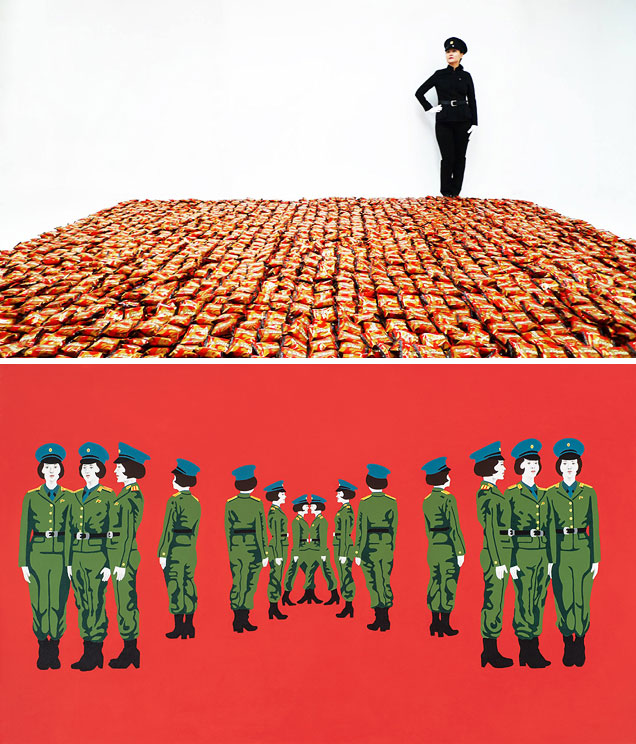 South Korean Artist
Mina Cheon
, As North Korean Painter
Kim Il Soon
, is pictured with thousands of CHOCO·PIE packs for the installation event
"Eat Choco·Pie Together"
in CHOCO·PIE PROPAGANDA at Ethan Cohen Fine Arts NYC Thru Feb 28. Below is the painting
"Line Up Kim Il Soon"
, acrylic on canvas, 60″ x 36″x 1.5″

IT IS A SWEET CHOCO·PIE REVOLUTION
Choco·Pie Propaganda: From North Korea with Love
At Ethan Cohen Fine Arts NYC Thru Feb 28
With the advent of recent
UN documents exposures
of North Korea's human rights treatment, our attention to North Korea is more important now than ever. A controversial exhibition that has aroused a diverse range of patriotic sentiments from many Koreans & More, "Choco·Pie Propaganda: From North Korea with Love" is showing at Ethan Cohen Fine Arts, New York (251 W 19 St, NY 10011), up through February 28, 2014.
Come and participate in the North Korean political pop art campaign,"EAT CHOCO·PIE TOGETHER," promoting Korean reunification and global peace.
Art in America
: "If you liked Sots Art from Russia (with irony) and Political Pop from China, you'll feel right at home with these paintings and watercolors, nearly all bright self-portrait parodies of the most propagandistic strain of Socialist Realism. The twist here is that Cheon, a Korean-American artist, has adopted the North Korean persona of Kim Il Soon-farmer, mother, scholar, soldier, artist and distant relative of the nation's Beloved Leader. Downstairs is a spreading pile of Choco Pie treats, a highly prized form of contraband in the People's Democratic Republic and a symbol, due to their South Korean origin, of potential reunification." (
Art in America, Lookout
)
Post Minjoong Misool And Artist Mina Cheon

A new form of Post Minjoong feminist art has emerged by artist
Mina Cheon
, who's practice, Polipop (political pop art) which is also art as activism, aligns with the strong lineage of Minjoong Misool, the politically charged art which emerged in the 1980′s democratic movement of South Korea. Paying homage to famous South Korean Minjoong artists such as
Lim Oksang
and the plethora of primary feminist artists of this era, such as
DjinSuk Kim
,
YunSuknam
,
Kim In Soon
, and
Park Youngsook
,
Mina Cheon (천민정)
aka
Kim Il Soon
exposes her newest Polipop work, "Choco·Pie Propaganda" at
Ethan Cohen New York
(through February 28). Ms. Cheon's Chelsea NYC gallery represents an international hot list of Asian contemporary political-pop artists. She is also exhibiting at South Korea's
Trunk Gallery
in Seoul (June 26 – July 29), the leading photography and new media gallery directed by Park Youngsook.
In
Cheon's artist statement
released on January 23rd, she writes, "As a Korean, the idea of having two artistic identities, South Korean
Mina Cheon
and North Korean
Kim Il Soon
, is an obvious reflection on the country's state of being divided. It makes all the sense in the world that if a country is split so should be the artist in practice… …While the Korean peninsula may be demarcated by a 38th Parallel, the Demilitarized Zone (DMZ), the history and culture is nevertheless shared, the country is united by one country's people and language. Moreover, Korea is ubiquitously tied by the never-ending heated debate on reunification and national identity, whether we are at war, armistice, trade, or peace. This is our business."
The exhibition "Choco·Pie Propaganda" is comprised of Kim Il Soon's North Korean social realist paintings and an installation that covers the entire lower level gallery with "Choco·Pie," a South Korean moonpie-like confectionary manufactured by the company Orion. Choco·Pie is an overnight sensation in North Korea. It is smuggled in as a favorite snack. The Orion Corp. has kindly donated 10,000 individually wrapped Choco·Pie cakes in support of Cheon's Choco·Pie installation, "Eat Choco·Pie Together," and her call for Korean reunification. The January 23rd opening at Ethan Cohen New York included the artist's recital of 55 special ways of saying
Dear Leader in North Korea
. In only three days a Choco·Pie sensation has gone viral, as reported in the Choco·Pie coverage of
CNN
.
Visit  "Choco·Pie Propaganda: From North Korea with Love" at Ethan Cohen Fine Arts in Chelsea (251 W 19thSt, Between 7-8th Ave, New York, NY 10011), on view through Feb. 28 '14. Gallery hours Tuesday through Saturday 11am-6pm, Mondays by appointment. Gallery contact:
ethan(at)ecfa.com
, 212-625-1250
Ethan Cohen Fine Arts – Press:
Exhibition Press Release
Mina Cheon Studio would like to acknowledge the Orion Co. of South Korea with a special thank you for the kind donation of 10,000 Choco·Pies for the artist's installation "Eat Choco·Pie Together" currently showing at the Ethan Cohen Gallery in New York.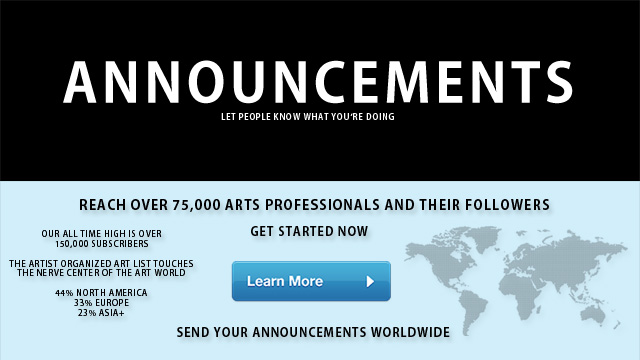 ARTIST ORGANIZED ART
Each Announcement Now Comes With An Inclusion In Our Newsletter Or Social Networks At No Additional Cost
Let people know what you're doing. Our low cost announcements reach over 75,000 arts professionals and their followers. Get started sending announcements about exhibitions, book launches, crowdfunding campaigns, concerts, broadcasts and more. Our all time high is over 150,000 subscribers. Our qualified list touches the nerve center of the international art world. 44% North America, 33% Europe, 23% Asia+ and beyond. We can help turn your next release into a global fact at a fraction of the cost. We are a 501(c)(3) non-profit supporting artist organized media, events and cultural education. When you sponsor an announcement with us you support artists working in communities everywhere in the world. Learn More.
Artist Organized Art
243 5th Avenue, Suite 248, New York, NY 10016, USA
www.artistorganizedart.org
Contact us
Subscribe
Unsubscribe