April 30th 2012
Re: George Maciunas By Jeffrey Perkins || Mina Cheon Polipop 5/3 6PM At MAP
From: Artist Organized Art
To: The Subscriber Email Address
George by Jeffrey Perkins – Kickstarter
Dear Friends,
As some of you may or may not know, I am currently in the middle of making a feature length documentary portrait film about George Maciunas, the founder and impresario of Fluxus. The life and work of Maciunas exemplifies the collaborative spirit that has defined my own practice and has had great influence on generations of artists to follow.
George Maciunas (1931-1978) was a Lithuanian born artist, art-historian, graphic designer, architect, urban planner, composer and contractor. Through his tireless efforts, Maciunas has influenced and shaped the course of contemporary art. He is also known for creating the first 15 artist run co-op buildings in SoHo. This documentary film portrait will provide insight into the life of a visionary revolutionary artist.
For the last two years I have been traveling around Europe, America and Japan, to film around 40 interviews with friends, family, scholars and professional associates of George Maciunas and Fluxus, including Jonas Mekas, Yoko Ono, Richard Foreman, Ay-O, and Jon Hendricks. I, along with the generous help of dedicated volunteers, have compiled a wide selection of photographs, articles, archival film and Fluxus work from the most important Fluxus collections in the world, including the Jean Brown Archive at The Getty Research Institute, The Sohm Archive at the Staatsgalerie Stuttgart, The Netherlands Fotomuseum, MoMA, and private sources.
We are now at the stage where in order to complete the film we are in much need of financial support. It is our mission to honor the legacy of George Maciunas which future generations can enjoy, learn and become inspired by. Our goal is to raise $20,000, all of which will go towards production costs: pre-editing, editing, acquisition of additional media, including still photographs and archival footage and the list goes on. As a platform to raise these costs we will go through a site called 'Kickstarter' in which we have especially created a teaser for you all to see.
Kickstarter is an all or nothing fundraiser, accessible for everyone to view and donate money if they see fit; if we reach our goal your card will be charged and you will receive your reward based upon your level of contribution. You can visit our page by clicking this link:
http://www.kickstarter.com/projects/688458836/george
Please feel free to share this email, contribute as much or little as you are able, and help us make this film!
Thank you for your support.
Jeffrey Perkins & Perkins Productions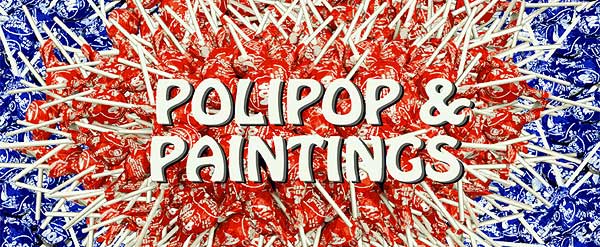 MINA CHEON | Polipop & Paintings
May 3 – June 30, 2012
OPENING THURSDAY, MAY 3
6PM: ARTIST TALK - Part of the Maryland Art Place Speakers Series
7-9PM: RECEPTION
A solo exhibition of political pop art by Korean-American new media artist Mina Cheon.
Polipop is an art world that intersects politics and pop art. It takes serious discussions surrounding geopolitics of global, media culture and livens them up as accessible, eye-catching, fun pop art. With the use of strong primary colors and bold outlines, Cheon's large scaled digital paintings mimic the language of advertisements, political posters, and propaganda banners. Each unique digital painting is collaged with images from the Internet, rescaled on the computer, and printed on canvas.
Polipop and Paintings includes a series of digital paintings (8×5 feet each) coming from Cheon's mid-career solo exhibit Polipop at the Sungkok Art Museum in Seoul, Korea. The exhibition will also include Cheon's last hand-painted masterpiece, 15 Billion Years, a mammoth 72×8 foot hand painting.
Maryland Art Place
Gallery Hours: Tuesday – Saturday 11am – 5pm
410.962.8565
Irina Aristarkhova | Technology, Politics and Desire: A Mental Dialogue with Mina Cheon
press release
Maryland Art Place | Maryland State Arts Council | Speakers Series Sponsored by the Robert Lehman Foundation