November 9th 2012
Re: Update: ARTLANTIC: WONDER – November Preview – Atlantic City
From: Artist Organized Art
To: The Subscriber Email Address
Subscribe | Unsubscribe | Join us on Facebook or Google+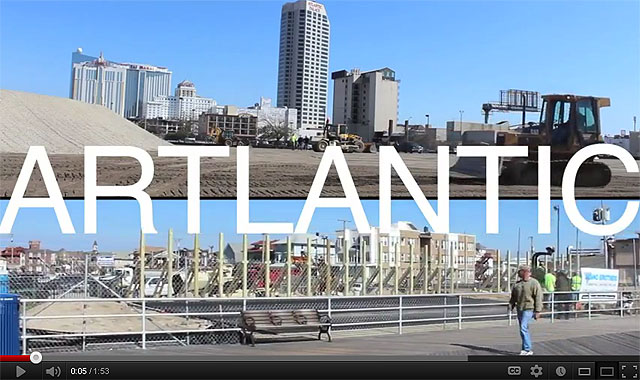 Liza Cartmell, President of Atlantic City Alliance, Discusses ARTLANTIC: WONDER (01:52)
ATLANTIC CITY
Art Wins At ARTLANTIC: WONDER
The Art Of Survival Through The Survival Of Art
I read the news today.. and despite all odds, and an 800 mile wide superstorm, this special week teaches much about artists, communities and the art of survival through the survival of art.
On November 9th, in Atlantic City, an amazing connection between people from distant points is re-affirmed, in the aftermath of Hurricane Sandy, when five internationally recognized artists make their way to one of Sandy's hardest hit sites on the east coast, the Atlantic City Boardwalk, in a show of solidarity with the local community. Together, Robert Barry, Ilya & Emilia Kabakov, John Roloff and Kiki Smith meet with the Atlantic City Alliance, local artists, architects, designers, labor unions, landscapers, local businesses and business associations, city agencies, universities, public schools, their teachers and others out of collective celebrations and concern for Atlantic City's shared cultural asset and public art project, ARTLANTIC.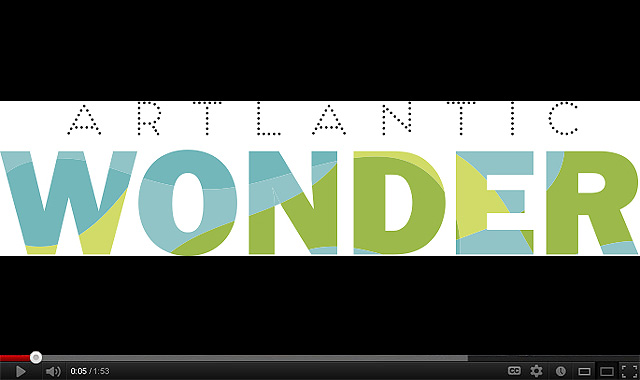 Slideshow: Breathtaking drawings and site photos, from the ARTLANTIC Archive (10:38)
Despite the facts and the hardships wrought by Hurricane Sandy, the outpouring of unity over the the public art project to transform large, underused parcels of land into public art spaces that will be available for the local community and visitors to enjoy year-round, showed astounding resilience. Hundreds of inquiries about the fate of the works and workers have come roaring in from Artlantic's local communities, many themselves experiencing hardship, or temporarily displaced. Nor did the storm spare the international artists. Kiki Smith's studio was flooded. Robert Barry lost power and had to relocate to his son's house. Ilya and Emilia Kabakov live in Long Island and were without power and unable to get any gas for their car. John Roloff, who is flying in from California, had to watch from the West Coast as the superstorm tried unsuccessfully to degrade his entire work.
More.. (Read the commentary by Curator, Lance Fung: About ARTLANTIC: WONDER)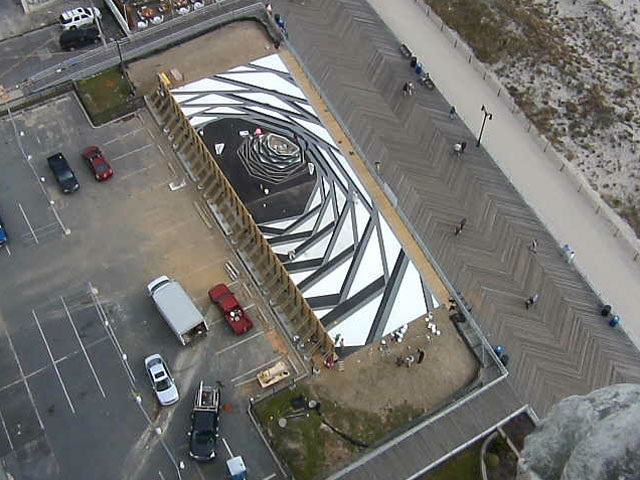 Aerial view of John Roloff's illusionistic space, Étude Atlantis, on an 8,500 square-foot site
Simply put, the survival of the works in Atlantic City, which is so eloquently detailed in this week's New York Times Art & Design section (http://www.nytimes.com/2012/11/05/arts/design/artlantic-weathers-hurricane-in-atlantic-city.html), is emblematic of the strength of community in the face of the super threat, the superstorm, the super pac and all kinds of distortions and outside pressures which, without value placed on our societies, leads to careless projects of human warehousing in place of the amazingly positive effects art seems to have on communal well being.
More.. (Full Text: About ARTLANTIC: WONDER).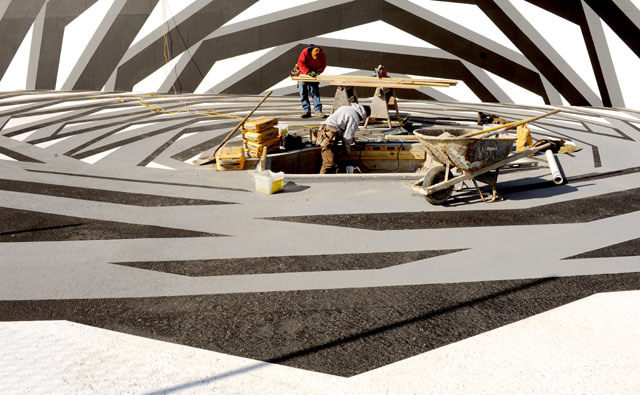 John Roloff's elaborate, Étude Atlantis, under construction in Atlantic City -photo: Peter Tobia
Though the 5 year public art project was announced only last June, in this special congress, the preview on November 9th (affectionately referred to as the "Sneak Peak") the central medium is the artists meeting. Yet, the odds on having a preview of this ambitious project, by November 9th, were nearly impossible, even without the superstorm.
In five month's time the collectivity has achieved something massive. The Barry, Kabakov and Smith installation is on a seven-acre site that will have two open spaces with two sculptures walled by 14-foot-high undulating terraces covered in indigenous grasses and wildflowers. Today, the Kabakovs are recognized among the most important Russian artists to have emerged in the late 20th century. The Kabokov sculpture is a large, plywood pirate ship. The half-submerged ship is at the center of ARTLANTIC: WONDER. Opposite the ship is a life-sized version of "Her," a self-portrait in bronze by Kiki Smith surrounded by a red-themed garden. "Her" depicts a woman tenderly embracing a doe and alludes to an embrace between humanity and the natural world. Embedded in the landscape surrounding both open spaces is Robert Barry's illuminated text piece in a landscape design by New York-based Balmori Associates. Robert Barry is a conceptual artist whose work is concerned with the immaterial nature of ideas. He is best known for "Carrier Wave," in which he used the carrier waves of a radio station as an object. His illuminated text piece will be embedded in a grass mound that mirrors the roller coaster on the Steel Pier. Mr. Barry has connections to Teaneck, New Jersey.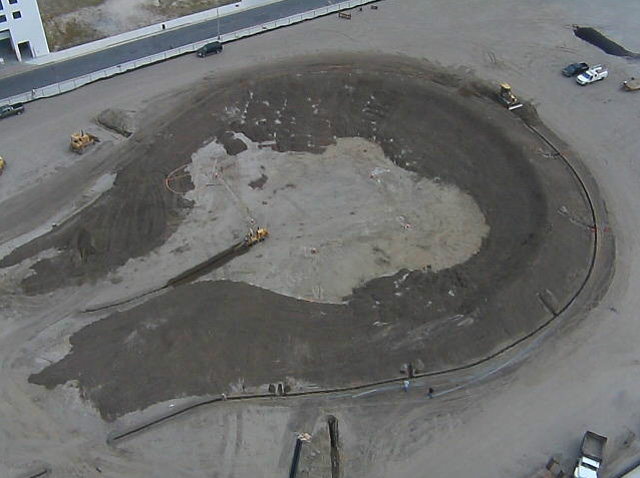 In five month's time the collectivity has achieved something massive on a 7 acre site
John Roloff is known primarily for his outdoor kiln/furnace projects done from the late 1970's to the early 1990's as well as other large-scale environmental and gallery installations investigating geologic and natural phenomena. His work, Étude Atlantis, on an 8,500 square-foot site, is an elaborate illusionistic space. Bold linear stripes converge into a spiral pattern that leads to the center of the space, where an embedded cistern appears to be alive and weeping suggesting a pathway into the Indian Ocean. He hopes to create a reciprocal piece in Australia completing the link between the two works and the two hemispheres. The landscape design is by Philadelphia-based Cairone & Kaupp, Inc. More..
If not for the human connection behind these works, the project would have been seen as wild eyed. However, the numerous inputs by, from and for the local community have created a welcoming context for the ambitious project.
ARTLANTIC: WONDER is the first curated public art installation that will open on the Atlantic City boardwalk at two different sites as part of the five-year, multi-phase public art installation that is being undertaken as part of a partnership between the Atlantic City Alliance (ACA), the Casino Reinvestment Development Authority (CRDA) and Lance Fung of Fung Collaboratives. It will promote positive social interaction by creating unique public spaces where families, tourists, and members of the local community can come together in playful and imaginative ways while adding quiet, green spaces in a city where there are very few. More..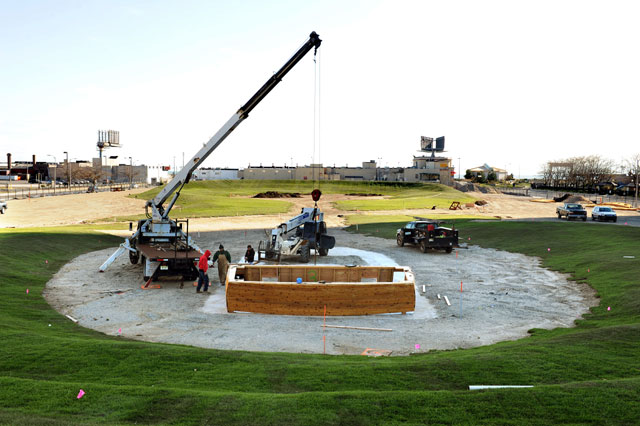 The Kabakovs' half-submerged ship in process at ARTLANTIC: WONDER -photo: Peter Tobia
Miss Audrey, President of The Atlantic City Business and Community Association (ACBCA) offers the following statement with regard to a presentation in Atlantic City by Fung Collaboratives: "I always visualize the world belonging to everybody, not just people who are sitting at the top. We all dream and we look out here and we see empty space and what we could do with these empty spaces and here he (Lance Fung) comes along with his vision which he's already been all over the world doing. So I think it's a wonderful thing. It gives hope to the residents to be part of something. Artists come into an urban city and what they see is different from what is normally seen. That's the artist's eye, now you can transform that." (More Statements From Atlantic City Community)
Visit ARTLANTIC's website at http://artlanticblog.com to enjoy unbelievable slide shows, videos, make contact, meet the community, watch live web-cam feeds and learn more about this fantastic project. The conversation also continues on Facebook at http://facebook.com/fungcollaboratives get updates without leaving Facebook by clicking the LIKE button. To find out more about the Curator, Lance Fung, and about past projects with Fung Collaboratives go to http://fungcollaboratives.org
About Lance Fung
Curator Lance Fung has a reputation for ambitious, innovative approaches to public art. He is perhaps best known for The Snow Show, a series of exhibitions that teamed world-renowned artists with cutting-edge architects to design ephemeral, large-scale installations from ice and snow in Lapland, Finland in 2004 and then at the 2006 Winter Olympics in Turin, Italy. Following the The Snow Show, Fung curated Lucky Number Seven for the seventh SITE Santa Fe International Biennial in 2008 and Wonderland, a public art exhibition in San Francisco in 2009. He has created important exhibitions such as Crossing Parallels at the SSamzi Space in Seoul, Korea; Going Home at the Edward Hopper Historical Museum in Nyack, New York; Revisiting Gordon Matta-Clark at Next: The Venice Architectural Biennale in Venice, Italy; The Ship of Tolerance by Ilya and Emilia Kabakov, in Siwa, Egypt; and The Snow Show: Venice at the 50th International Art Exhibition/La Biennale di Venezia; and Dreams and Conflicts–The Viewer's Dictatorship, in Venice, Italy. Fung is also developing a cultural village in Bali as well as "Sink," an exhibition about marine conservation.

About The Atlantic City Alliance (ACA)
The ACA is a recently established New Jersey not-for-profit corporation whose primary mission is to develop and implement a full-scale, broad-based, multi-year marketing program for Atlantic City. The ACA will work with the Casino Reinvestment Development Authority (CRDA) to market and promote the Atlantic City Tourism District via a public/private partnership. The ACA also works with local and state government, the private sector and other organizations to further enhance the marketing program. Visit www.doatlanticcity.com About The Casino Reinvestment Development Authority (CRDA) Established in 1984 by the State of New Jersey, the Casino Reinvestment Development Authority provides capital investment funds for economic development and community projects that respond to the changing economic and social needs of Atlantic City and the State of New Jersey. It encourages business development and permanent job creation, promotes opportunities for business expansion, and commits to facilitating a vibrant economic investment and employment environment for New Jersey. Visit http://www.njcrda.com
Press Contacts
Dan Schwartz/Michelle DiLello
Susan Grant Lewin Associates 212/947-4557
dan at susangrantlewin.com
michelle at susangrantlewin.com
——————————-
——————————-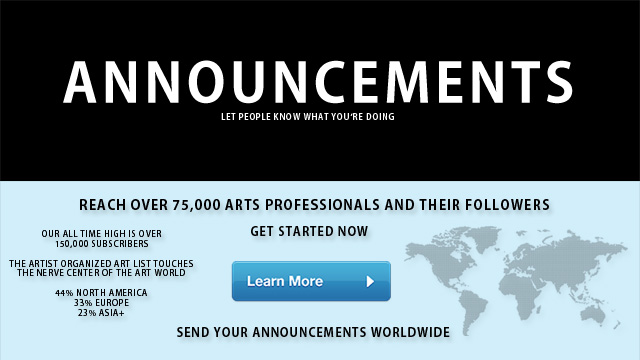 ARTIST ORGANIZED ART
Each Announcement Now Comes With An Inclusion In Our Newsletter At No Additional Cost
Let people know what you're doing. Our low cost announcements reach over 75,000 arts professionals and their followers. Get started sending announcements about exhibitions, book launches, crowdfunding campaigns, concerts, broadcasts and more. Our all time high is over 150,000 subscribers. Our qualified list touches the nerve center of the international art world. 44% North America, 33% Europe, 23% Asia+ and beyond. We can help turn your next release into a global fact at a fraction of the cost. We are a 501(c)(3) non-profit supporting artist organized media, events and cultural education. When you sponsor an announcement with us you support artists working in communities everywhere in the world. Learn More.