August 21, 2014
JUJU Artists Seek SXSW Exposure
From: Artist Organized Art
Subscribe | Unsubscribe | Join us on Facebook or Google+
JUJU Artists Seek SXSW Exposure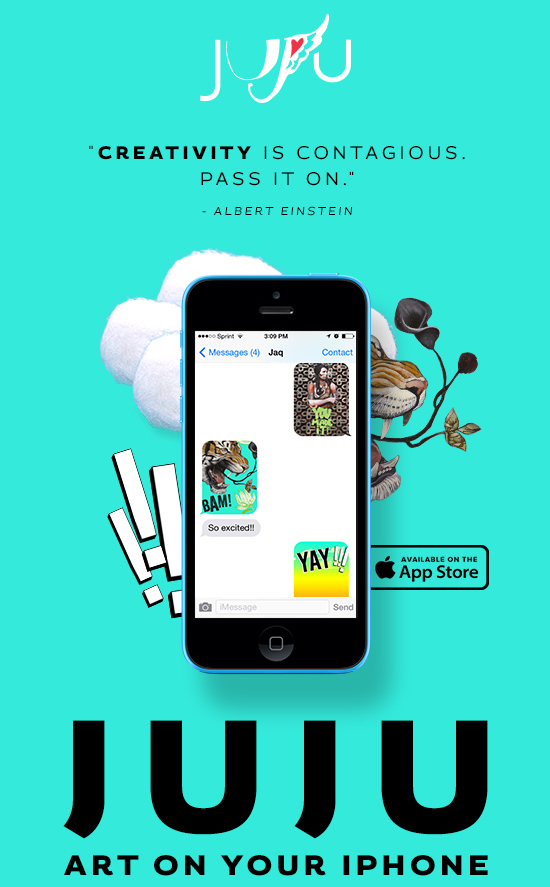 Released in late June 2014,
JUJU
quickly climbed to the 163rd highest grossing app in the US market, out of tens of thousands in the App Store.

Contagious Creativity

JUJU is an iPhone application that allows users to view and create their own visual expressions by combining the work of a multitude of artists, using a licensed library of art. Released in late June 2014, JUJU quickly climbed to the 163rd highest grossing app in the US market, out of tens of thousands in the App Store. Following closely on the heels of this success, JUJU has submitted a proposal to speak at SXSW (South By Southwest), and has progressed to the public voting stage of panel selection. JUJU hopes that speaking at SXSW will provide an opportunity to bring a much needed conversation about the importance of creativity and the arts to a global stage.
JUJU – Art On Your iPhone
JUJU wants to put the art economy back in the hands of artists, and to ignite the flame of creativity that lies inside each one of us. We're on a mission to use technology to its full potential – putting the ability to view and create art at everyone's fingertips, and opening up new channels for artists to receive income and support.
We've started by building a mobile platform where users can view, play with and create their own expressions using a licensed library of artwork. (JUJU is currently available for iOS 7 in the App Store, a version for Android is coming soon!)
With this first bridge built, our next step is to bring a much needed conversation about creativity to the big stage.
We're submitting a speaking proposal for SXSW ("South by Southwest"), where the sharpest minds in interactive technology will be gathering by the thousands in March 2015.
Help Artists Succeed
In just two minutes of your time, you can help our proposal to succeed.
Please visit the SXSW Panel Picker website and give us the thumbs up, and leave a comment to let us know what this conversation means to you. Lastly, please share the proposal with your networks.
South by Southwest (SXSW) is a set of film, interactive, and music festivals and conferences that take place early each year in mid-March in Austin, Texas, United States. SXSW Interactive is focused on emerging technology, a focus which has earned the festival a reputation as a breeding ground for new ideas and creative technologies.The festival includes a trade show, speakers, parties, and a startup accelerator.
* * * * *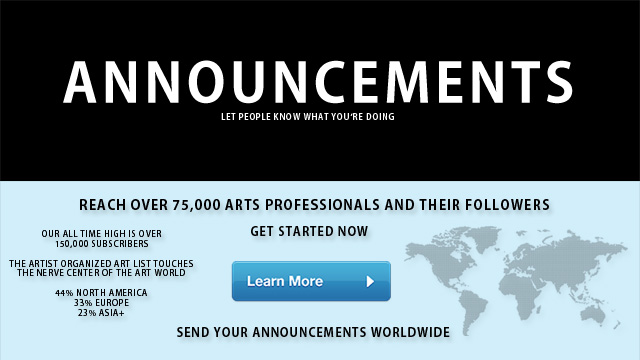 ARTIST ORGANIZED ART
Each Announcement Now Comes With An Inclusion In Our Newsletter Or Social Networks At No Additional Cost
Let people know what you're doing. Our low cost announcements reach over 75,000 arts professionals and their followers. Get started sending announcements about exhibitions, book launches, crowdfunding campaigns, concerts, broadcasts and more. Our all time high is over 150,000 subscribers. Our qualified list touches the nerve center of the international art world. 44% North America, 33% Europe, 23% Asia+ and beyond. We can help turn your next release into a global fact at a fraction of the cost. We are a 501(c)(3) non-profit supporting artist organized media, events and cultural education. When you sponsor an announcement with us you support artists working in communities everywhere in the world. Learn More.

Artist Organized Art
243 5th Avenue, Suite 248, New York, NY 10016, USA
www.artistorganizedart.org
Contact us
Subscribe
Unsubscribe