Hey people - I'm having a dialog with Tim Berners Lee in London coming up to support his foundation in London at South Bank Center. We are making this a "live" web event and it will focus on many topics that resonate with my new book The Imaginary App. It's at South Bank Center, Saturday, May 30th.


WHAT:
Dialog between Sir Tim Berners Lee + DJ Spooky in dialog on the future of the Web.

WHERE
: SouthBank Center, London

Venue:
Purcell Room at Queen Elizabeth Hall

Time:
10:30am – 11:30am

Date:
Saturday, 30 May 2015

Type of event:
Talks and debates

Running Time:
60 mins

Hey people -

I'm having a dialog with
Tim Berners Lee
in London coming up to support his foundation in London at
South Bank Center
. We are making this a "live" web event and it will focus on many topics that resonate with my new book
The Imaginary App
.
It's at South Bank Center, Saturday, May 30th.
Sir Tim Bernard Lee's Web We Want Campaign


// MORE INFO
// Southbank Centre
// https://webwewant.org

Paul
DJ Spooky: "Right now everything is invisible."
"
Interdisciplinary artist DJ Spooky's dense inner world is apparent in his electronic music, philosophical writing, and visual art
.
Flavorpill
caught up with Spooky before his thumping set at The Get Down last week to discuss his projects including his fourth book, The Imaginary App, and the futuristic new direction of music."
// READ THE INTERVIEW at FLAVORPILL
BORN TO FLY:
Elizabeth Streb vs. Gravity

DJ Spooky is featured in the new documentary film by Catherine Gund,
Born to Fly, about renowned choreographer Elizabeth Streb!

"Propelled by Elizabeth Streb's edict that 'anything too safe is not action,' the STREB Extreme Action company challenges the assumptions of art, aging, injury, gender, and human possibillity."

Watch the Trailer:
http://www.borntoflymovie.com



DJ Spooky in REAL Magazine
// REAL Magazine
PHOTOS: DJ Spooky concert Peace Symphony
May 2nd, 2015 with Peace Boat
Featuring Nouveau Classical Project and Jody Sperling Choreography.
The Peace Symphony was presented at New York Society for Ethical Culture
DJ Spooky on Wilderness and the Creative Process (We Are The Wild)
THE IMAGINARY APP

Edited by Paul D. Miller and Svitlana Matviyenko
// OUT NOW!
Contributors
- Christian Ulrik Andersen, Thierry Bardini, Nandita Biswas Mellamphy, Benjamin H. Bratton, Drew S. Burk, Patricia Ticineto Clough, Robbie Cormier, Dock Currie, Dal Yong Jin, Nick Dyer-Witheford, Ryan and Hays Holladay, Atle Mikkola Kjøsen, Eric Kluitenberg, Lev Manovich, Vincent Manzerolle, Svitlana Matviyenko, Dan Mellamphy, Paul D. Miller aka DJ Spooky That Subliminal Kid, Steven Millward, Anna Munster, Søren Bro Pold, Chris Richards, Scott Snibbe, Nick Srnicek, Stephen Wolfram
NATIONAL GEOGRAPHIC
presents
TRAVEL LENS:
DJ Spooky's World
"Genre-pushing work and surprising collaborations—with everyone from punk pioneer Patti Smith to eccentric rapper Kool Keith—have taken the multimedia artist, writer, and composer to all seven continents, sealed the deal to make him an artist-in-residence at the Metropolitan Museum of Art, and landed him on the 2014 list of National Geographic Emerging Explorers."
// READ THE INTERVIEW

Peter Gabriel is the cover star of the next issue of Origin Magazine. Check us out!


ORIGIN is #2 nationally in Whole Foods, Sprouts, Earthfare, Natural Grocers, #14 in Barnes and Noble and 40+ other national retailers.
We have 420,000 print readers and 550,000 online, not counting our 700,000 Social Media followers.
// originmagazine.com
FULL LISTING AT WWW.DJSPOOKY.COM/EVENTS.PHP

May 28 DJ Spooky introduces 'Rebirth of A Nation' film screening Manchester, United Kingdom
May 28 DJ Spooky lecture 'Rebirth of a Nation' Kilmarie, United Kingdom
May 30 DJ Spooky joins Sir Tim Berners-Lee and Jude Kelly as they kick off the Web We Want Festival. London, United Kingdom
Jun 03 DJ Spooky talk & party: Entrepreneur's Organization (Invite Only) New York, NY
Jun 06 DJ Spooky: Soundtrack Series Astoria, NY
Jun 09 DJ Spooky: Outdoor DJ Set at Museum Mile Festival New York, NY Free
Jun 21 Korean Cultural Center presents DJ Spooky: 'Electric Imaginary' Washington, DC
Jul 23 DJ Spooky speaks at the Milken Scholars Summit Los Angeles, CA



www.djspooky.com
www.rebirthofanation.com
www.soundunbound.com
www.rhythmscience.com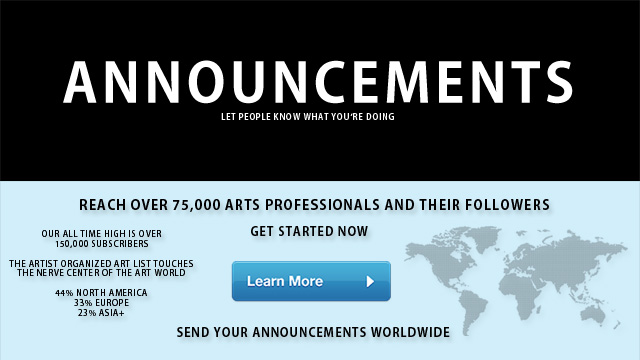 ARTIST ORGANIZED ART
Each Announcement Now Comes With An Inclusion In Our Newsletter Or Social Networks At No Additional Cost
Let people know what you're doing. Our low cost announcements reach over 75,000 arts professionals and their followers. Get started sending announcements about exhibitions, book launches, crowdfunding campaigns, concerts, broadcasts and more. Our all time high is over 150,000 subscribers. Our qualified list touches the nerve center of the international art world. 44% North America, 33% Europe, 23% Asia+ and beyond. We can help turn your next release into a global fact at a fraction of the cost. We are a 501(c)(3) non-profit supporting artist organized media, events and cultural education. When you sponsor an announcement with us you support artists working in communities everywhere in the world. Learn More.

Artist Organized Art
243 5th Avenue, Suite 248, New York, NY 10016, USA
www.artistorganizedart.org
Contact us
Subscribe
Unsubscribe