ALISON KNOWLES "Red Beans All Day"
at The Cathedral Church of Saint John the Divine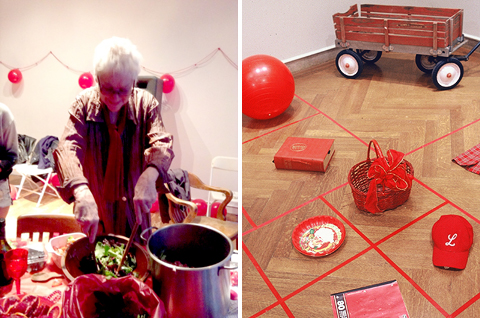 "Celebration Red" by Alison Knowles celebrates "Red Beans All Day" (left) and "Homage to Each Red Thing" (right) at The Cathedral Church of Saint John the Divine
THE VALUE OF FOOD hosts "Red Beans All Day" as part of Celebration Red by Alison Knowles
For Immediate Release | contact: www.artistorganizedart.org
New York, NY – On Thursday, November 19th from 6-9PM, THE VALUE OF FOOD, curated by Robin Kahn and Kirby Gookin at The Cathedral Church of Saint John the Divine, is pleased to host "Red Beans All Day" as part of the Celebration Red series by Fluxus/Intermedia artist Alison Knowles.
The public is invited to come have a bowl of red beans prepared as art in The Cathedral at 1047 Amsterdam Avenue at 112th Street in Manhattan. Serving food in the context of art is a specialty of Alison Knowles, who has performed other food events like "Make a Salad" at venues such as The Tate Modern, The High Line and The Walker Art Center. "Make a Salad" debuted at the ICA in London in the early 1960's and has taken everyday life into art and art into everyday life ever since. "The Identical Lunch", another Alison Knowles food event, derives from a recipe for a tuna fish sandwich and has iconified early participants in the work by way of screen printed portraits also titled "The Identical Lunch". Today the prints and the performance itself are part of the Museum of Modern Art's permanent collection.
Last month in Paris, Alison Knowles was a guest at "Take Me (I'm yours)" curated by Christian Boltanski, Hans Ulrich Obrist and Chiara Parisi at the Monnaie de Paris which featured her "Homage to Each Red Thing", an installation of red objects brought by the people of the city. Like "Red Beans All Day", "Homage to Each Red Thing" is part of her ongoing series Celebration Red. About this she says "Curators Robin Kahn and Kirby Gookin have given me generous inclusion in their marathon exhibition about the value of food. I'll perform "Red Beans All Day" from my own caldron and recipe. Also, we'll have a grid where guests can place a single red object to display. Some of these objects will appear in my new prints."
Alison Knowles, 1933, New York City. BFA from Middlebury College, Vermont; MFA Pratt Institute, Honorary Doctorate, MICA & Pratt Institute. Guggenheim Fellowship 1967; Documenta Professor in Kassel, Germany and NYSCA Grant recipient in the 1990's. Professor at California Institute of the Arts, 1970-72. Appearances and exhibitions throughout the Americas, Europe and Asia. Collaboration with John Cage, Marcel Duchamp, Dick Higgins, George Maciunas, and a Founding Member of Fluxus. Participant Fluxus Wiesbaden, Wiesbaden, Germany, 1962 and 2012. Fluxus performance activity provided access to major artists in the sixties and seventies, in many countries, whose ideas and connections were sources for further thinking in works including action, installation and book arts up to the present.In May 2011, Knowles was invited to appear at The White House in An Evening of Poetry. She is represented by James Fuentes at 55 Delancey Street.
The Value of Food
(
www.valueoffood.org
): Sustaining a Green Planet is an art exhibition hosted by The Cathedral Church of Saint John the Divine, in keeping with its long history of engagement with issues of social justice, the environment, support for the arts, and community involvement. Guest curated by Kirby Gookin and Robin Kahn, the exhibition focuses on food security, accessibility, and sustainability by bringing together artists who not only grapple with these issues, but also actively engage the audience. Installed in the bays and chapels inside the Cathedral, as well as throughout the gardens, the exhibition is divided into seven thematic sections: Water, Soil, Seed, Farm, Market, Meal, and Waste, a reflection of the cycle of food production. Additionally, the Cathedral will host a number of presentations and workshops by speakers who make community outreach and participation a central part of their practice. These programs will include, but are not limited to, panels on urban farming, labor rights, the history of the dishes that many of us know and love, and the relationships between food and faith.
The Value of Food
runs from October 6, 2015 to April 3, 2016. The exhibition is on view during the Cathedral's regular hours, 7:30 am to 6 pm, seven days a week. (Please note that there is limited access to parts of the Cathedral on Sundays, full access on Sundays is typically between 1 and 3 pm.)

ARTIST ORGANIZED ART | ANNOUNCEMENTS
Each Announcement Now Comes With An Inclusion In Our Newsletter Or Social Networks At No Additional Cost
Let people know what you're doing. Our low cost announcements reach over 75,000 arts professionals and their followers. Get started sending announcements about exhibitions, book launches, crowdfunding campaigns, concerts, broadcasts and more. Our all time high is over 150,000 subscribers. Our qualified list touches the nerve center of the international art world. 44% North America, 33% Europe, 23% Asia+ and beyond. We can help turn your next release into a global fact at a fraction of the cost. We are a 501(c)(3) non-profit supporting artist organized media, events and cultural education. When you sponsor an announcement with us you support artists working in communities everywhere in the world.
Learn More
.