March 24th 2013
Re: Frank Rothkamm, Harvestworks NYC, 3/27 7PM
From: Artist Organized Art
To: The Subscriber Email Address
Subscribe | Unsubscribe | Join us on Facebook or Google+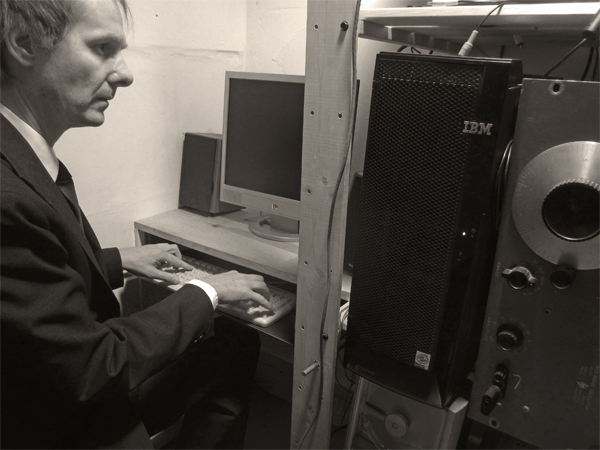 FRANK ROTHKAMM AT HARVESTWORKS NYC (3/27, 7PM)
"I remember Frank describing a building with live roosters and a goat, gun fights and 30 second car thefts always available from his windows. I visited and witnessed it as an understatement." GLOVE
Masonic Theater And The History Of Computing, Visualization & Discrete Mathematics, Numerology & Platonic Philosophy, Synthesis & Fourier Analysis – Meet Performance & Conceptual Art
K5 As The Fifth State of Matter (1. Synesthesia 2. Proprietary Software 3. Hammer)
Starting from Cologne Germany, the "Schloss Theater" then to the "Stockhausen" of South 3rd Street, Williamsburg, and after years of Masonic Theater scaled to life in Hollywood, Frank Rothkamm now returns to Harvestworks (NYC) to present K5 As The Fifth State Of Matter on Wednesday March 27th, 7PM
About K5 as the Fifth State of Matter:
Structured as a 26:26 minute Lecture followed by a 33:33 minute Performance, "K5 as the Fifth State of Matter" explores notions of synesthesia using the Kawai K5 multi-dimension synthesizer, proprietary software and a hammer to engage the sight, sound & mind.
Interview:
http://rothkamm.com/project.cfm?ProjectID=67
Harvestworks More Info:
http://www.harvestworks.org/mar-27-frank-rothkamm-k5-as-the-fifth-state-of-matter/
596 Broadway, #602
New York, New York 10012
Phone (212) 431-1130
Website http://www.harvestworks.org
Public TransitSubway: F/M/D/B Broadway/Lafayette, R Prince, 6 Bleeker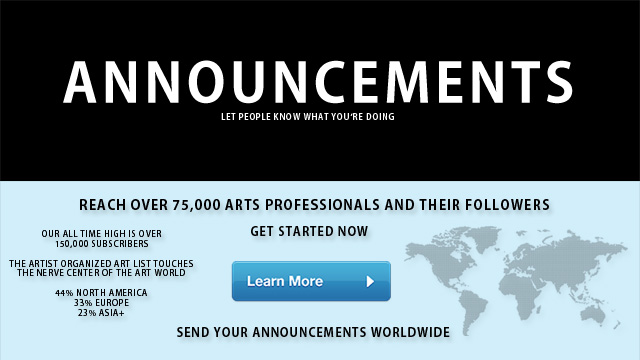 ARTIST ORGANIZED ART
Each Announcement Now Comes With An Inclusion In Our Newsletter At No Additional Cost
Let people know what you're doing. Our low cost announcements reach over 75,000 arts professionals and their followers. Get started sending announcements about exhibitions, book launches, crowdfunding campaigns, concerts, broadcasts and more. Our all time high is over 150,000 subscribers. Our qualified list touches the nerve center of the international art world. 44% North America, 33% Europe, 23% Asia+ and beyond. We can help turn your next release into a global fact at a fraction of the cost. We are a 501(c)(3) non-profit supporting artist organized media, events and cultural education. When you sponsor an announcement with us you support artists working in communities everywhere in the world. Learn More.
Artist Organized Art
243 5th Avenue, Suite 248, New York, NY 10016, USA
http://artistorganizedart.org/commons
Contact us
Subscribe
Unsubscribe