Station Independent Projects
164 Suffolk Street, NYC 10002
info@stationindependent.com
www.stationindependent.com
Our Barricades by Greg Sholette is on view for one more week through November 1st.
Our Barricades in Hyperallergic:
Hyperallergic
ArtRx NYC
By Hrag Vartanian, October 7, 2014
This week, solo shows by artists Robert Gober, Egon Schiele, and Gregory Sholette should be on your radar, while curator Michelle Grabner is doing a breakfast chat, the NY Public Library is hosting a talk on museum ethics, and Edgar Allan Poe's dark side is in the spotlight. (http://hyperallergic.com/153673/artrx-nyc-15/)
Rob Carter
Carter has a video showing in the Morgan Lehman project space, New York, NY.
Megan Cump
Cump's work will be featured in the upcoming zingmagazine in a section called Wrap Around curated by Renée Riccardo.
http://www.zingmagazine.com/drupal/

Katherine Daniels
Work by Daniels is in My Girl at It's All About Things in Port Chester, NY and in
For Colored Girls Who Have Considered Suicide/When the Rainbow Is Enuf
at La Maison d'Art, New York, NY.
http://www.itsallaboutthings.com/home.html
http://www.lamaisondartny.com/
Beth Krebs
Krebs will be attending an artist residency at Virginia Center for the Creative Arts.
Matthew Oates
Oates is part of the Coming Soon zine at the New Art Center in Newton MA. The Coming Soon zine was recently acquired by the artists' book collection at CNEAI in Chatoux, France.
Oates's band Phantom Glue is putting out a demo with Negative Fun Records.
http://phantomglue.bandcamp.com/
Gregory Sholette
Sholette is part of Work It Out at Momenta Art in Brooklyn and is in Traces in the Dark, Curated by Liz Park, Whitney-Lauder Curatorial Fellow at The Institute of Contemporary Art at the University of Pennsylvania, Philadelphia, PA.
Pierre St-Jacques
St- Jacques video work is included in Total Design – Architecture and Interiors of Iconic Modern Houses by professor George H. Marcus (PENN University) published by Rizzolli.
Included in Total Design are Jan-Erik Andersson, Frank Lloyd Wright, Rennie Macintosh, Gerrit Rietvelt, Mies van der Rohe, Alvar Aalto, Daniel Liebeskind, Jörn
Utzon, Eliel Saarinen.
http://www.rizzoliusa.com/book.php?isbn=9780847843657
The Exploration of Dead Ends by St- Jacques will open from 6-9 pm on November 6
and be on view through December 14.
This wiill be the last show at 164 Suffolk Street in L.E.S, NYC and Station Independent Projects will open a new space on Eldridge in mid January 2015. More specifics to
come soon.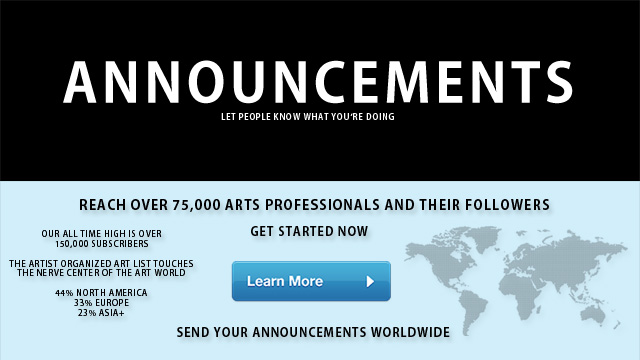 ARTIST ORGANIZED ART
Each Announcement Now Comes With An Inclusion In Our Newsletter Or Social Networks At No Additional Cost
Let people know what you're doing. Our low cost announcements reach over 75,000 arts professionals and their followers. Get started sending announcements about exhibitions, book launches, crowdfunding campaigns, concerts, broadcasts and more. Our all time high is over 150,000 subscribers. Our qualified list touches the nerve center of the international art world. 44% North America, 33% Europe, 23% Asia+ and beyond. We can help turn your next release into a global fact at a fraction of the cost. We are a 501(c)(3) non-profit supporting artist organized media, events and cultural education. When you sponsor an announcement with us you support artists working in communities everywhere in the world. Learn More.

Artist Organized Art
243 5th Avenue, Suite 248, New York, NY 10016, USA
www.artistorganizedart.org
Contact us
Subscribe
Unsubscribe