January 8th 2013
Re: Art For The Printed Page
From: Artist Organized Art
To: The Subscriber Email Address
Subscribe | Unsubscribe | Join us on Facebook or Google+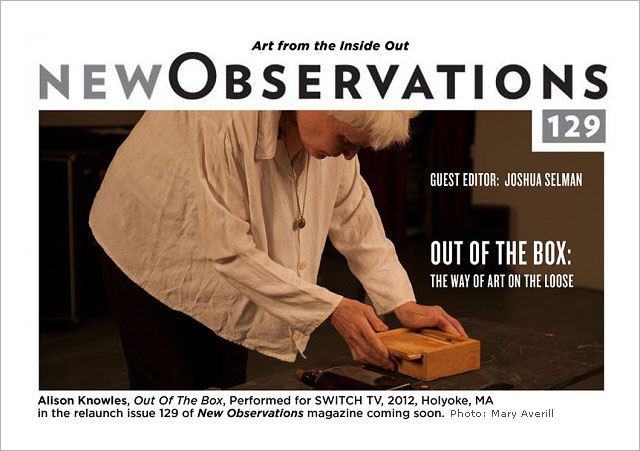 Good Afternoon!
We know how busy you are, but this is very important. We need your help to bring art to the printed page for artists and readers everywhere.
Since 1981 New Observations has given artists direct editorial control of magazine publishing for the arts. That's art from the inside out.
Will you take a moment to learn more and help us with the publication?
http://www.gofundme.com/newobservations
Together, artists have guest edited 128 back issues and today, after a 12 year stop, New Observations Magazine is publishing a 129th issue.
Bringing back New Observations Magazine for our community as a full color printed edition is a way of making sure that artists will continue to enrich the printed page in addition to all the electronic screens in our lives.
We all want to be part of this history making publication. Start now by donating towards the printing costs and please ask your friends on the social networks and in our everyday lives to help out too. Share this link.
http://www.gofundme.com/newobservations
After all, finding art on the printed page is as important as finding art everywhere in our lives.
New Observations Magazine
——————————-
——————————-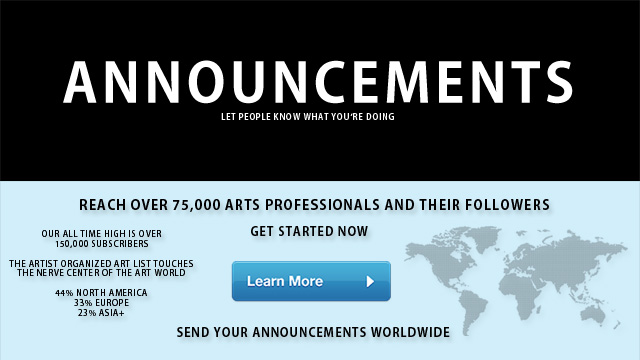 ARTIST ORGANIZED ART
Each Announcement Now Comes With An Inclusion In Our Newsletter At No Additional Cost
Let people know what you're doing. Our low cost announcements reach over 75,000 arts professionals and their followers. Get started sending announcements about exhibitions, book launches, crowdfunding campaigns, concerts, broadcasts and more. Our all time high is over 150,000 subscribers. Our qualified list touches the nerve center of the international art world. 44% North America, 33% Europe, 23% Asia+ and beyond. We can help turn your next release into a global fact at a fraction of the cost. We are a 501(c)(3) non-profit supporting artist organized media, events and cultural education. When you sponsor an announcement with us you support artists working in communities everywhere in the world. Learn More.
Artist Organized Art
243 5th Avenue, Suite 248, New York, NY 10016, USA
http://artistorganizedart.org/commons
Contact us
Subscribe
Unsubscribe