October 21, 2013
Re: SVA MFA Art Criticism & Writing Nov 9 Open House
From: Artist Organized Art

Subscribe | Unsubscribe | Join us on Facebook or Google+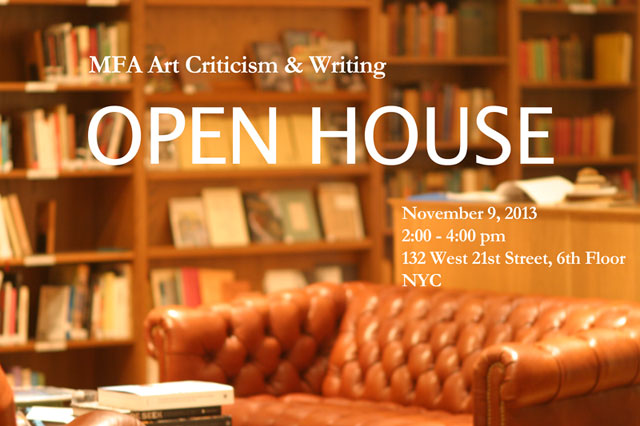 The MFA program in Art Criticism and Writing
at the School of Visual Arts invites you to an
Open House and Information Session
Saturday, November 9, 2013, from 2 – 4 pm
132 West 21st Street, 6th Floor
(between 6th and 7th Avenues) in New York City
To RSVP for the Open House & Information
Session, go to: https://artcritopenhouse.eventbrite.com/
The Chair of the program, David Levi Strauss, will speak briefly, and other faculty members and current and past students will be available to answer questions. This will be an informal opportunity for prospective students to learn more about the program.

Quijote Talks

School of Visual Arts
132 West 21st Street
Between 6th and 7th Avenues
6th floor
Free and Open to the Public
Space is limited, so please make reservations at artcrit@sva.edu.

Sponsored by the MFA program in Art Criticism & Writing at the School of Visual Arts in New York City, and organized by David Levi Strauss, Chair, these events will be held in our little library on 21st Street, usually on Thursdays, at 6 pm.

Named after our favorite after-lecture hangout, El Quijote bar and restaurant around the corner on 23rd Street, and inspired by the errant knight himself, this new series will consist of pointed talks and discussions about relevant pasts and possible futures.



Thursday, October 24, 2013, 6 pm:
Francis Cape
"What Can We Do About It?"

"Art's ability to critique society may do no more than make us feel sanctimonious. If it is to successfully espouse values obscured by the hegemony of capitalism and its monoculture, it must embody, not merely address, those values. I mean to talk about these thoughts with reference to a recent project on communalism in America."
Francis Cape apprenticed with master carver Dick Reid before receiving his MA from Goldsmiths College, London. In 1993 he moved to New York City. Following a decade or so of architectural interventions that addressed the inseparability of art from its context, he turned to work that confronts issues outside the studio/gallery circuit. One body of work explored the connection between what we saw of our society after Katrina hit New Orleans and what he sees in his own community in upstate New York. More recently, "Utopian Benches" dwelt on the tradition of American communalism, and on values other than those promoted in the mainstream.
Thursday, November 14, 2013, 6 pm:
Michael Brenson
"Writing an Artist's Life"

What are we talking about when we talk about biography? What does it mean to write about an artist's life? Is it possible to find words, or in any way grasp, or communicate, the transmutation from life into art? What is the place of biography in the writing and teaching of art?

Michael Brenson is an art critic, art historian, and teacher. He received an MA in Creative Writing and a Ph.D in art history from Johns Hopkins University and wrote about art for The New York Times from 1982 to 1991. He is a Getty Scholar and a Guggenheim Fellow. He has been a curator and editor and a consultant for Harry N. Abrams Publishers and the Rockefeller Foundation. He teaches in MFA programs at Bard College, the University of Pennsylvania, and the School of Visual Arts. His biography of David Smith will be published by Farrar Straus and Giroux.
Thursday, December 5, 2013, 6 pm:
Mira Schor
"Negotiating the Antithetical"

Shifting themes and riptides in my writing and studio practice—or, negotiating between what you do in the face of what other people think should be done and what you do no matter what anyone says.

Mira Schor is a painter and writer living in New York City. She has had recent solo exhibitions at Marvelli Gallery in New York and CB1 Gallery in Los Angeles. She is the author of A Decade of Negative Thinking: Essays on Art, Politics, and Daily Life and Wet: On Painting, Feminism, and Art, and of the blog "A Year of Positive Thinking." She edited The Extreme of the Middle: Writings of Jack Tworkov, and is co-editor with Susan Bee of M/E/A/N/I/N/G: A Journal of Contemporary Art Issues, and, currently, M/E/A/N/I/N/G Online. Recent writings have appeared in Artforum and The Brooklyn Rail. She is an associate teaching professor in Fine Arts at Parsons The New School for Design.



"His blazon is pity, his banner is beauty. He stands for everything that is gentle, forlorn, pure, unselfish, and gallant."
—    Vladimir Nabokov, Lectures on Don Quixote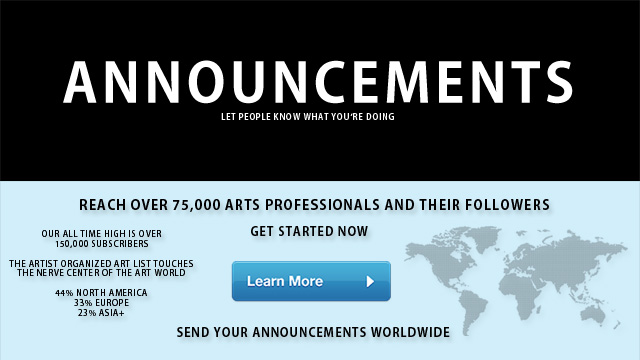 ARTIST ORGANIZED ART
Each Announcement Now Comes With An Inclusion In Our Newsletter Or Social Networks At No Additional Cost
Let people know what you're doing. Our low cost announcements reach over 75,000 arts professionals and their followers. Get started sending announcements about exhibitions, book launches, crowdfunding campaigns, concerts, broadcasts and more. Our all time high is over 150,000 subscribers. Our qualified list touches the nerve center of the international art world. 44% North America, 33% Europe, 23% Asia+ and beyond. We can help turn your next release into a global fact at a fraction of the cost. We are a 501(c)(3) non-profit supporting artist organized media, events and cultural education. When you sponsor an announcement with us you support artists working in communities everywhere in the world. Learn More.
Artist Organized Art
243 5th Avenue, Suite 248, New York, NY 10016, USA
http://artistorganizedart.org/commons
Contact us
Subscribe
Unsubscribe