August 3rd 2009
Webcast: Bob Holman Joins Ursonate 7pm Est Thurs 8/6 Bowery Poetry Club
From: Artist Organized Art
To: The Subscriber Email Address

Subscribe
|
Unsubscribe
|
Join us on Facebook
or
Google+
Live Webcast from Bowery Poetry Club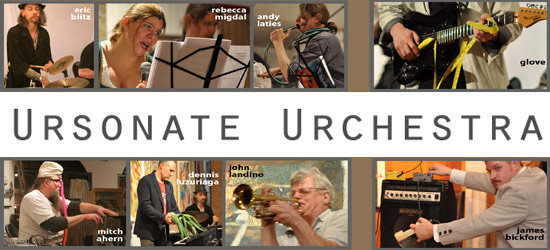 Ursonate
Dada artist Kurt Schwitters' classic
"Sonata In Primeval Sounds"
Webcast: Bob Holman Joins Ursonate 7pm Est Thurs 8/6 Bowery Poetry Club
Webcast Link:
http://www.rfg3travel.com/bowerylive103008.html
Dada artist Kurt Schwitters' classic "Sonata In Primeval Sounds," also called "Ursonate," is performed by Ursonate Urchestra with special guest vocalist Bob Holman.
Ursonate Urchestra: Andy Laties, Rebecca Migdal and percussionist Eric Blitz with artists GLOVE, John Landino and Denis Luzuriaga plus special guests including, invented-instrument artists Mitch Ahern and Pronoblem.
"Ursonate" begins at 8pm, and is preceded by a 7pm benefit with sounds by Eric Blitz and GLOVE also with Andy Laties, Denis Luzuriaga, Pronoblem, and others to provide cost of care relief for fallen urtist Valerie Caris Blitz.
Published in 1932, Kurt Schwitters' Sonata In Primeval Sounds is the granddaddy of sound-art poems: an hourlong nonsense opus that develops 26 abstract themes in classical sonata format. Andy Laties' rousing participatory interpretations were honored in the Chicago Museum of Contemporary Art major retrospective "Art In Chicago 1945-1995″
Also, just declassified after 7 years:
Read, Andy Laties on "Ursonate"
http://artistorganizedart.org/commons/
Webcast Technicals
Webcast Link
http://www.rfg3travel.com/bowerylive103008.html
For Safari and Quicktime Users: You may wish to play the stream on Windows Media Player. Mac users may need to download the free plug-in "flip4mac" to view in Safari or Quicktime. After downloading, close and re-open your browser.
Download the Player for mac:
http://www.microsoft.com/windows/windowsmedia/player/wmcomponents.mspx
The Bowery Poetry Club
308 Bowery @ Bleecker, right across from CBGB's
F train to Second Ave | 6 train to Bleecker | 212-614-0505
Information at BoweryPoetry.com and GonzoQuest.com