December 2nd, 2013
Re: Critical Information Graduate Student Conference Dec 8
From: Artist Organized Art
Subscribe | Unsubscribe | Join us on Facebook or Google+
CRITICAL INFORMATION
GRADUATE STUDENT CONFERENCE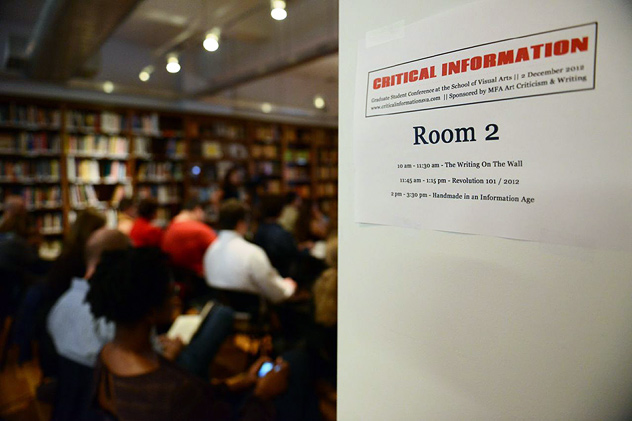 Hosted by the MFA program in Art Criticism & Writing
at the School of Visual Arts, New York City, December 8, 2013
Conference Panels: 10:00am – 3:30pm
132 West 21 Street, 6th floor, New York City
Lawrence Weschler, Keynote Address: 4:00 – 5:30pm, followed by reception
SVA Theatre, 333 West 23 Street, New York City
All events are free and open to the public
School of Visual Arts (SVA) presents Critical Information, an interdisciplinary graduate student conference examining the contemporary dialogue between art, media, and society. Sponsored by the MFA Art Criticism and Writing Department at SVA, the Critical Information conference provides a critical forum for current scholarship exploring the juncture of media, theory, criticism, and the visual arts. Lawrence Weschler, Director Emeritus of the New York Institute for the Humanities at NYU, will deliver the keynote address, "A Typology of Convergences: Towards a Unified Field Theory of Cultural Transmission."
Weschler was for over twenty years (1981-2002) a staff writer at The New Yorker, where his work shuttled between political tragedies and cultural comedies. He is a two-time winner of the George Polk Award (for Cultural Reporting in 1988 and Magazine Reporting in 1992) and was also a recipient of the Lannan Literary Award (1998). Recent books include a considerably expanded edition of Seeing is Forgetting the Name of the Thing One Sees, comprising thirty years of conversations with Robert Irwin; and a companion volume, True to Life: Twenty Five Years of Conversation with David Hockney. His latest addition to "Passions and Wonders," the collection Uncanny Valley: Adventures in the Narrative, came out from Counterpoint in October 2011.
Under the keynote address theme "A Typology of Convergences," the conference's international roster of participants from a wide cross-section of disciplines, will present papers and projects on the following six panels: Of the Word; Indented Margins; Artwork/Network; Art and Sensuality; Identity: Construction, Transmission, Rejection; and Concerns in the Age of Media and Information: Its Effects on Culture and Communication.
The
MFA Art Criticism and Writing Department
at SVA offers a two-year course of study leading to an MFA degree. For students who want to improve their writing and advance their knowledge of contemporary art, theory, literature, and history, this concentrated program offers seminars by practicing critics, editors, philosophers, poets, and artists. The focus in writing is on the essay as form, as well as on shorter forms of review, through intensive writing practicums.
http://artcriticism.sva.edu/
School of Visual Arts (SVA) in New York City is an established leader and innovator in the education of artists. From its inception in 1947, the faculty has been comprised of professionals working in the arts and art-related fields. SVA provides an environment that nurtures creativity, inventiveness and experimentation, enabling students to develop a strong sense of identity and a clear direction of purpose.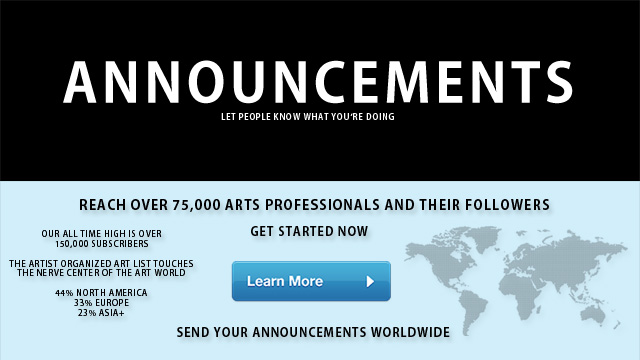 ARTIST ORGANIZED ART
Each Announcement Now Comes With An Inclusion In Our Newsletter Or Social Networks At No Additional Cost
Let people know what you're doing. Our low cost announcements reach over 75,000 arts professionals and their followers. Get started sending announcements about exhibitions, book launches, crowdfunding campaigns, concerts, broadcasts and more. Our all time high is over 150,000 subscribers. Our qualified list touches the nerve center of the international art world. 44% North America, 33% Europe, 23% Asia+ and beyond. We can help turn your next release into a global fact at a fraction of the cost. We are a 501(c)(3) non-profit supporting artist organized media, events and cultural education. When you sponsor an announcement with us you support artists working in communities everywhere in the world. Learn More.
Artist Organized Art
243 5th Avenue, Suite 248, New York, NY 10016, USA
www.artistorganizedart.org
Contact us
Subscribe
Unsubscribe