June 27 2013
Re: JAR3 is now online – Journal for Artistic Research
From: Artist Organized Art
To: The Subscriber Email Address
Subscribe | Unsubscribe | Join us on Facebook or Google+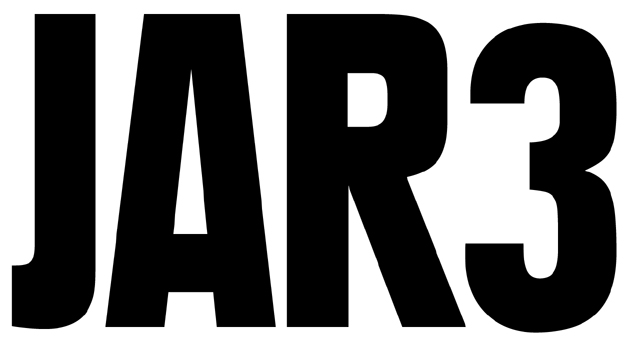 Journal for Artistic Research
An online, peer-reviewed journal for the publication and discussion of artistic research.
JAR3 is now online with contributions by:
Miriam Ewers (QA), Gert Germeraad (NL/SE), Marc Goodwin (FI), Carolina Goradesky (BR), Simón Granell (GB), Michael Kahr (AT), Neil Mulholland (GB) and Tero Nauha (FI).
Browse the issue here or read the Editorial.
Call for submissions:
Supporting JAR's publishing activities is the innovative repository for the documentation of artistic research, the Research Catalogue (RC). Through the RC, we welcome submissions to the next issues of JAR. Submit before August 1, 2013 to be considered for JAR4. Please visit our website for further information.
Artistic research is a newly emergent and rapidly evolving field, whose status is still hotly debated. JAR provides an influential voice in this debate, creating a platform for the re-negotiation of the relationship between art and academia, and the role and function of research in artistic practice.
JAR embraces research practices across disciplines, inviting exchange that enhances artistic research methodologies across the arts, sciences and humanities, emphasizing the transdisciplinary character of much artistic research. Unlike the traditional journal article format, JAR offers its contributors a dynamic online canvas where text can be woven together with image, audio and video. This new approach displays research practice in a manner that respects artists' modes of presentation and incorporates web-enabled possibilities for collaboration, debate and discussion.
Working with an international editorial board and a large panel of peer-reviewers the journal offers a unique reading experience while fulfilling the expectations of scholarly dissemination.
Editor in Chief: Michael Schwab
Editors: Annette Arlander, Henk Borgdorff, Barnaby Drabble, Mika Elo, Julian Klein and Isidro López-Aparicio
Associate Editors: Adam Broinowski, Michel van Dartel, Ana Garcia-Lopez, Rachel Mader, Siobhan Murphy, Joey Orr, Peter Peters and Johan Verbeke
Contact: jar@jar-online.net
JAR is published by the Society for Artistic Research (SAR), an independent, non-profit association. You can support JAR by becoming an individual or institutional member of SAR. More information can be found on our website.
Don't forget to join our mailing list.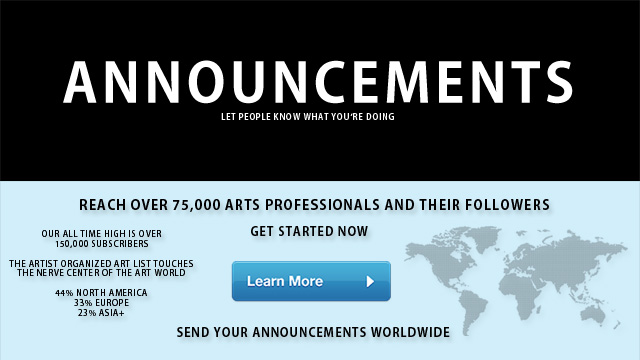 ARTIST ORGANIZED ART
Each Announcement Now Comes With An Inclusion In Our Newsletter At No Additional Cost
Let people know what you're doing. Our low cost announcements reach over 75,000 arts professionals and their followers. Get started sending announcements about exhibitions, book launches, crowdfunding campaigns, concerts, broadcasts and more. Our all time high is over 150,000 subscribers. Our qualified list touches the nerve center of the international art world. 44% North America, 33% Europe, 23% Asia+ and beyond. We can help turn your next release into a global fact at a fraction of the cost. We are a 501(c)(3) non-profit supporting artist organized media, events and cultural education. When you sponsor an announcement with us you support artists working in communities everywhere in the world. Learn More.
Artist Organized Art
243 5th Avenue, Suite 248, New York, NY 10016, USA
http://artistorganizedart.org/commons
Contact us
Subscribe
Unsubscribe