From the start its mission has been to challenge and evolve conceptions of human possibility through the language arts….
A Letter From Station Hill

© Susan Quasha, from Winter Music (with poems by Robert Kelly), 'T' Space Editions/Station Hill, 2014.

Dear Readers,

I am writing to ask for your support for Station Hill of Barrytown and hope that you will consider including our press in your year-end giving plans.

Founded by George and Susan Quasha in 1977, Station Hill has published over 250 books, thanks in part to the generosity of our donors. We are asking for your help to fund current and future projects. All donations to Station Hill, the literary publishing project of the Institute for Publishing Arts, Inc., a 501(c)3 not-for-profit organization, are tax deductible.

Our recent books have included Corona: Selected Poems of Paul Celan, translated by Susan H. Gillespie, as well as titles by Peter Lamborn Wilson, Robert Kelly, and Jerome Rothenberg. In 2015 we will be publishing eight books, some of which will be considered historically significant publications, including Eating The Colors Of A Lineup Of Words, an omnibus collection of Bernadette Mayer's influential yet long out-of-print first books, and the distinguished poet and art critic Carter Ratcliff's extraordinary first novel, Tequila Mockingbird. And we are currently in preliminary production on Clark Coolidge's Selected Poems: 1962-1985, edited by Larry Fagin, slated for fall publication.

These and other books are part of our effort to maintain Station Hill Press as one of a handful of long-surviving independent publishers serving extraordinary innovative writers. From the start its mission has been to challenge and evolve conceptions of human possibility through the language arts. Along the way we have supported little known as well as major international writers not yet established here, such as the great French writer Maurice Blanchot, whom Station Hill introduced to the American trade in 1978 with Death Sentence (trans. Lydia Davis), eventually publishing eight others in the years to follow.

To contribute via PayPal (for which no account subscription is required), please click "Join Our Enterprise!" immediately below. Alternatively contributions may be sent by check payable to The Institute for Publishing Arts, Inc. at: Station Hill of Barrytown, 120 Station Hill Road, Barrytown, NY 12507. We will respond to all contributions with not only an acknowledgement letter but also gifts, corresponding to the scale of your support.

Moreover as you may be moved please be in touch—we look forward to further contact.

We thank you for supporting Station Hill.


Very best wishes for the holiday season,
Sam

Sam Truitt
Director
Station Hill of Barrytown
120 Station Hill Road
Barrytown, NY 12507
845-758-5293
samtruitt@stationhill.org

© 2014 Station Hill of Barrytown, All rights reserved.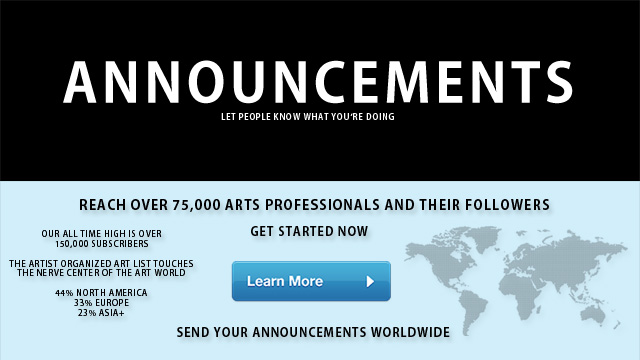 ARTIST ORGANIZED ART
Each Announcement Now Comes With An Inclusion In Our Newsletter Or Social Networks At No Additional Cost
Let people know what you're doing. Our low cost announcements reach over 75,000 arts professionals and their followers. Get started sending announcements about exhibitions, book launches, crowdfunding campaigns, concerts, broadcasts and more. Our all time high is over 150,000 subscribers. Our qualified list touches the nerve center of the international art world. 44% North America, 33% Europe, 23% Asia+ and beyond. We can help turn your next release into a global fact at a fraction of the cost. We are a 501(c)(3) non-profit supporting artist organized media, events and cultural education. When you sponsor an announcement with us you support artists working in communities everywhere in the world. Learn More.

Artist Organized Art
243 5th Avenue, Suite 248, New York, NY 10016, USA
www.artistorganizedart.org
Contact us
Subscribe
Unsubscribe