April 30th 2013
Re: Focus: Artlantic's 2013 Commissioned Artists
From: Artist Organized Art
To: The Subscriber Email Address
Subscribe | Unsubscribe | Join us on Facebook or Google+
ARTLANTIC 2013
Three New Commissioned Artists
ATLANTIC CITY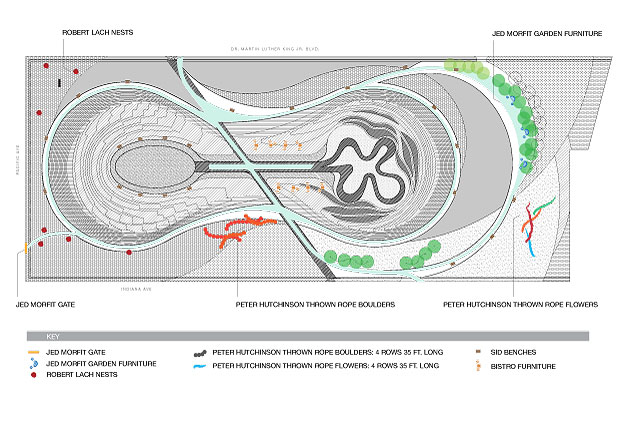 ARTLANTIC 2013 plan for new installations on 1700 Pacific Ave.
between Dr. MLK Jr. Blvd. and Indiana Ave.
Artist Organized Art
In November, 2012, curator Lance Fung successfully opened Atlantic City's art parks, which famously dodged Hurricane Sandy's wrath and were dubbed ARTLANTIC in The New York Times. It's not Lance Fung's first brush with luck. As curator of 2008's Site Santa Fe Biennial, he titled the exhibition "Lucky Number Seven." I've always liked the positive metaphysics of that title. Likewise, ARTLANTIC's 2012 soft opening brings to mind the collective healing of which this special public art campaign has proven capable. So it is with ARTLANTIC 2013. In a storm of austerity and a flood of volunteerism in the arts, a veteran curator of world class culture uses wizardly know-how to invoke public art commissions with staying power.
ARTLANTIC is a series of temporary art exhibitions for vacant outdoor spaces in the heart of Atlantic City. The sites were selected based on location and inspirational qualities for the artists to explore. The ambitious, five-year, outdoor, public-art project is curated by Lance Fung and funded by the Atlantic City Alliance(ACA) and the Casino Reinvestment Development Authority (CRDA) and is helping to re-imagine Atlantic City as a vibrant, dynamic, cultural destination. In 2012 ARTLANTIC launched by engaging some of our most influential contemporary artists Robert Barry, Ilya and Emilia Kabakov, John Roloff and Kiki Smith.
I find it astonishing that in a relatively small city there is an exceptional opportunity by way of investment in public art commissions on a grand scale. Where the ocean meets the land, the second phase of ARTLANTIC offers a seasoned take on the value of artists, infrequent in today's arranged creative economies. While most gateway and resort city stimulus programs shift the function of art and design to tidying up Main Street, Atlantic City is investing in major works via one of a kind commissions. In Atlantic City, the five year campaign to elevate the soul through cultural destination channels a mix of historic and emerging artists while merging the role of curator and impresario.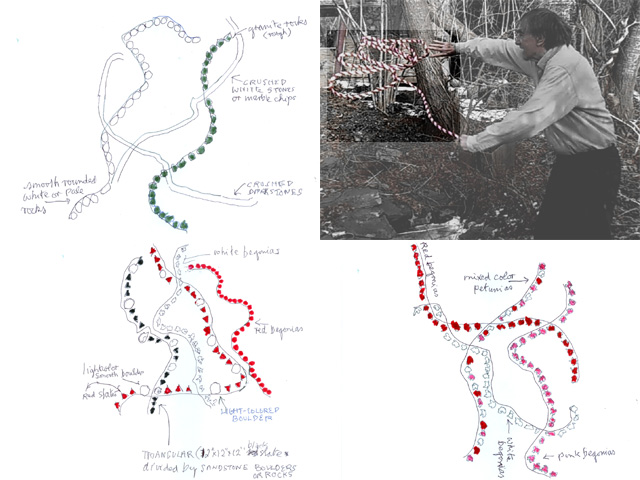 Peter Hutchinson demonstrates planned thrown rope installations
Enhancing these robust artworks, the park, which opened in April and stays open year round, offers free admission to the public. ARTLANTIC is the first public artwork for Ilya and Emilia Kabakov in the US, the largest outdoor installation for Robert Barry, the most important commission for John Roloff and allowed Kiki Smith to realize her dream proposal of a red garden from the 1980's. ARTLANTIC also commissions Peter Hutchinson's largest thrown rope piece to date which will be installed on May 6th. For 2013, ARTLANTIC provides the first public commissions for New Jersey based artists Robert Lach and Jedediah Morfit. In fact, it is the first time either artist has created public art.
What distinguishes a true curator is a constant cultivation of value in and around the work of a variety of artists. The 2013 phase of ARTLANTIC is about seeking out and discovering new artists from New Jersey. About this, Lance Fung says "Now I have the opportunity of commissioning two emerging artists whose work will be placed alongside our 2012 icons. Recognizing the talent that already exists in New Jersey is vital. I feel a responsibility to help evolve a young artist's career by facilitating their work. After an exhaustive search of six months I am delighted to present new commissions by Robert Lach and Jed Morfit. I am also delighted to work with land artist Peter Hutchinson again." Peter Hutchinson, a seminal artist whose earth works of the 1970's changed the art world, will realize his largest thrown rope commission in the United States. About the ARTLANTIC commission Peter Hutchinson says "It is a year long work of four seasons which includes the riot of spring, the dazzle of summer, the calm of autumn and the frozen sensibility of snow with the fecundity of rain, plus the energy and randomness of the thrown rope."
Public art strikes a chord with curators, officials and artists. Yet, in practice, its art forms and its definition of public space evolve with each new commission. Today's works tend to intervene by creatively boosting the community's sense of place and well-being. Though many commissions result in permanent artworks, sculptures and applied arts, they also include process, action and research based forms.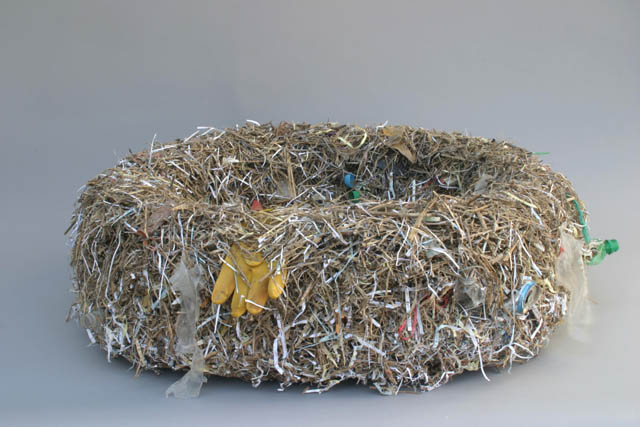 Refuge Nest Colony process image. Courtesy Robert Lach
Commissioned artist Robert Lach, says "I want visitors to be like a bird by sitting in my nest colony installation and viewing the world from a bird's perspective. This series of interactive sculptures will serve as a place for play, observation and contemplation by combining public art and the playground. By building the nest colony in Atlantic City, it will remind the local residents and the visiting population that nature is abundant here, and will serve as a symbol of rebirth and renewal. Through this project, I'd like to encourage people to contemplate what home means to them by providing a place to think about nature." His seven cast fiberglass nests will be illuminated by night, and are four feet in diameter so that children can enter, sit, play and imagine.
Monuments, memorials and statues are the older forms of official public art, however, today architected-sculpture and pure architecture are included. Almost everything in the public environment is being deployed by public art. Public benches and retaining walls, street lights, bicycle racks and commissioned graffiti offer a variety of adaptations. Even ephemera and time based forms like dance, parades, concerts and street events occur within commissioned public art. However what many of the works have in common is an attempt to go beyond the scale of gallery art. Richard Long famously presented a three week walk, called "The Path is the Place in the Line", as a form of commissioned public art.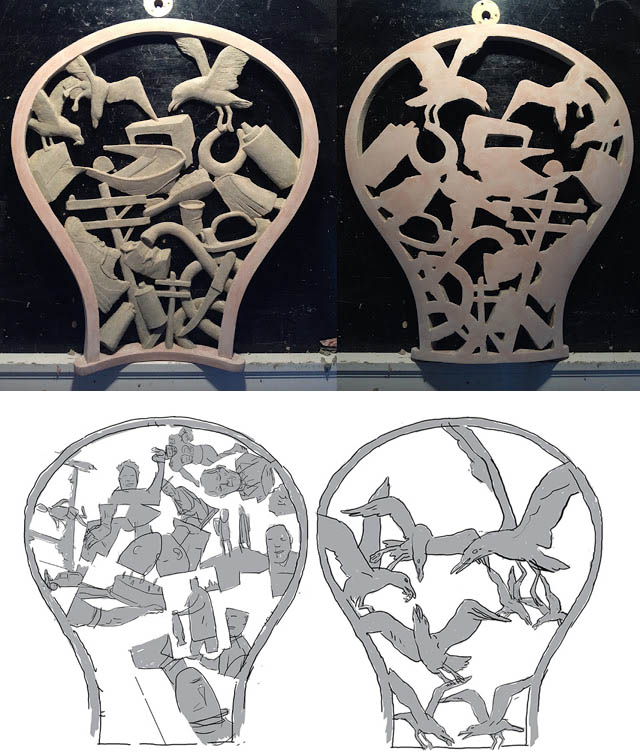 The Flood Suite process images. Courtesy Jedediah Morfit
Commissioned for ARTLANTIC, Jedediah Morfit's aluminum castings relate to the aftermath of Hurricane Sandy and man's relations to nature. These unique aluminum sculptures also function as furniture. His figurative sculpture also graces the entrance as the main gate into the art park. Lach's and Morfit's new commissions will be installed in the summer when there are a maximum of the annual thirty million visitors to Atlantic City's boardwalk. Fortunately the boardwalk itself and the iconic Steel Pier amusement park are in perfect shape and were not affected by Hurricane Sandy. Individuals are welcome and any school or organization can arrange for a free guided tour by Project Director, Layman Lee, no fee required.
About the 2013 commission Jedediah Morfit says "I'm tremendously excited to be part of this project. Fung Collaboratives and the Atlantic City Alliance have given me the opportunity to create new work in a new medium and a new genre, as well have one of my existing sculptures realized in an entirely new context.
The commissioned pieces, "The Flood Suite", will be a comprised of three identical sets of highly sculpted garden furniture. These pieces are inspired by the ornamental cast iron garden furniture that were particularly popular in the early 20th century, and which continue to be in production today.
Each set (three sets of two chairs and a love-seat) will be connected by a visual through line, or a 'high water mark,' flooded with the jumbled detritus of daily life. This disorderly motif was, of course, inspired by Hurricane Sandy, as well by the images of upheaval and confusion that have become familiar in the wake of the latest hurricane, flood, tornado, or tsunami.
As furniture, this project will provide a place to sit down and enjoy the city, the park, and the view. As sculpture, these pieces will offer a commentary on how our perception of our relationship to nature has shifted from one of bucolic pleasure and harmony to that of anxious anticipation and imbalance.
In addition to the newly commissioned work, "Mama's in the Arbor" (2013), will be adapted to serve as the gateway to the park. In many ways, this piece was created as a personal response to the Late Gothic sculpture that has fascinated me since I was a child. As a sculptor, I wanted to try my hand at creating something that complex, overwhelming, and mysterious, without succumbing to nostalgia, or anachronism. In a very direct way, my goal was to create in viewers the same feelings I have standing in front of a carved wooden altarpiece from the Middle Ages; that powerful frisson between the seductive pleasure of the image and the profound, and potentially unsettling, implications of the narrative."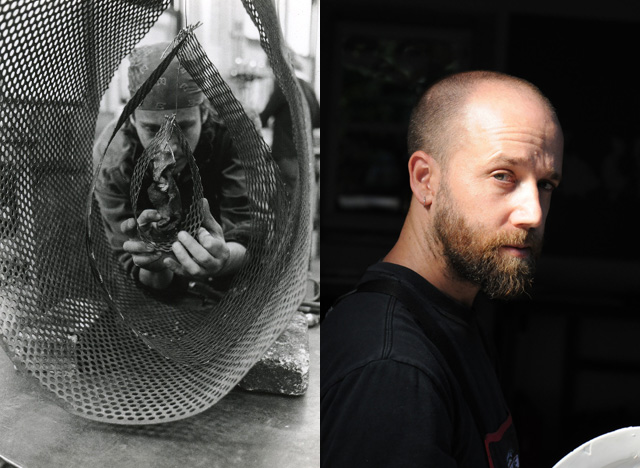 Left: Robert Lach, Right: Jedediah Morfit
Of the 2013 participating artists here is what we know. Chosen artists are Peter Hutchinson, Robert Lach and Jedediah Morfit. While Peter Hutchinson was born in England and lived in the United States for over fifty years, Robert Lach and Jedediah Morfit are USA nationals both living in New Jersey. Hutchinson began as a geometric painter, his close contact with minimal artists in New York such as Sol LeWitt and Tadaaki Kuwayama exposed him to conceptualist thinking at its inception. Yet, he veered from minimalism and conceptualism to follow a poetic and nature-oriented path. This places him squarely in a British tradition we associate also with artists like Richard Long. His public art installation for ARTLANTIC will be his largest "Thrown Rope" piece to date.
By contrast, emerging artist Robert Lach works with sculpture, found art assemblage, photography, and installation. His photography, in particular, works with New Jersey's industrial landscape and decay. He studied at the Visual Arts Center in Summit, NJ, the International Center for Photography in New York City, and this past year received his BFA in sculpture from New Jersey City University.
Also participating as an emerging artist based in New Jersey, Jedediah Morfit, who lives in Collingswood, NJ with his wife and three children, received his MFA in sculpture from the Rhode Island School of Design in 2005, and joined The Richard Stockton College the following year. He was a Fellow at the Center For Emerging Visual Artists, in Philadelphia, from 2007­2009, awarded a New Jersey Council On the Arts Fellowship for sculpture in 2009, and won the Dexter Jones Award for Bas Relief from the National Sculpture Society in 2011 and 2012.
Curator Lance Fung, of Fung Collaboratives, has a reputation for ambitious, innovative approaches to public art. He is perhaps best known for The Snow Show, a series of exhibitions that teamed world-renowned artists with cutting-edge architects to design ephemeral, large-scale installations from ice and snow in Lapland, Finland in 2004 and then at the 2006 Winter Olympics in Turin, Italy. Following the The Snow Show, Fung curated Lucky Number Seven for the seventh SITE Santa Fe International Biennial in 2008 and Wonderland, a public art exhibition in San Francisco in 2009.
Open Space Partners, Ace Gaming, LLC and California Avenue Ventures, LLC, are private companies who have agreed to make their previously empty spaces available to ARTLANTIC for community enjoyment. As of 2013, ARTLANTIC remains on track to be one of the most promising public art campaigns of the decade. Visit www.fungcollaboratives.org
About The Atlantic City Alliance (ACA)
The ACA is a recently established New Jersey not-for-profit corporation whose primary mission is to develop and implement a full-scale, broad-based, multi-year marketing program for Atlantic City. The ACA works in partnership with the Casino Reinvestment Development Authority (CRDA) to market and promote the Atlantic City Tourism District via a public/private partnership. The ACA also works with local and state government, the private sector and other organizations to further enhance the marketing program. Visit www.doatlanticcity.com
About The Casino Reinvestment Development Authority (CRDA)
Established in 1984 by the State of New Jersey, the Casino Reinvestment Development Authority provides capital investment funds for economic development and community projects that respond to the changing economic and social needs of Atlantic City and the State of New Jersey. It encourages business development and permanent job creation, promotes opportunities for business expansion, and commits to facilitating a vibrant economic investment and employment environment for New Jersey. Visit www.njcrda.com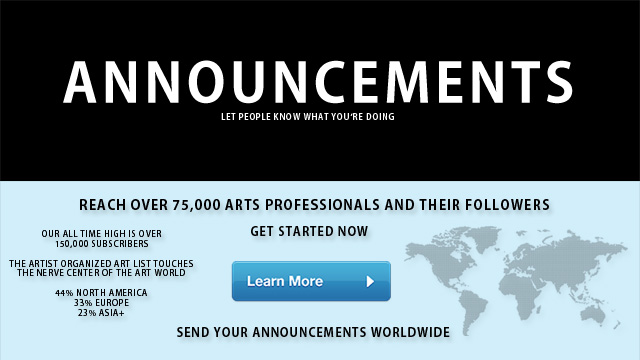 ARTIST ORGANIZED ART
Each Announcement Now Comes With An Inclusion In Our Newsletter At No Additional Cost
Let people know what you're doing. Our low cost announcements reach over 75,000 arts professionals and their followers. Get started sending announcements about exhibitions, book launches, crowdfunding campaigns, concerts, broadcasts and more. Our all time high is over 150,000 subscribers. Our qualified list touches the nerve center of the international art world. 44% North America, 33% Europe, 23% Asia+ and beyond. We can help turn your next release into a global fact at a fraction of the cost. We are a 501(c)(3) non-profit supporting artist organized media, events and cultural education. When you sponsor an announcement with us you support artists working in communities everywhere in the world. Learn More.
Artist Organized Art
243 5th Avenue, Suite 248, New York, NY 10016, USA
http://artistorganizedart.org/commons
Contact us
Subscribe
Unsubscribe