Hudinilson Jr, Hudinilson Jr / Flash Art NY Desk
Opening: 06.03.15, 6:30 pm
07.03 – 04.04.15
Organized by Michele D'Aurizio
The art of Hudinilson Urbano Junior (São Paulo, 1957 – 2013) emerged in the late 1970s, when Brazilian cultural production was stifled by the military dictatorship, and the avant-garde Concretist project of blending art and life had been appropriated by the bohemia. In a context in which the very few extant museums and galleries were presided over by the establishment, and the only interventions in public space had to assume the posture of a guerrilla action (Hudinilson Jr was originally part of the collective 3NÓS3 who, among their many performances, bagged monuments around the city), the artist turned to the intimate domain of his own body: by using a Xerox machine he accessed, reproduced and learned about every single detail of his anatomy. "Already from the beginning, the topic of my work was the body," says Hudinilson Jr in one of his last interviews. "If a person is alone with a Xerox machine, what is the first thing this person will do? […] I first Xeroxed the hand, then the face — but then also all the rest. […] I would close the door, undress and continue my explorations."
The exhibition at the Flash Art NY Desk brings together a constellation of works, mostly from the 1980s, which all insist on Hudinilson Jr's obsession with the male body. Collages, photographs, found objects and sculptures, along with the trademark Xeroxes, allow for a scrutiny of the traits of virility, from clichéd representations of gay pornography to abstractions that result from the feverish process of enlarging, reframing and collaging together pictures of the artist's own body. The narcissistic afflatus, which Hudinilson Jr always intuitively recognized as the thrust of his practice, can also be recognized as an empirical exploration of his queer identity — an impending onanism that exhausts the political gesture by imitating a sexual encounter that can only be nonproductive: hence, the artist's posição amorosa, his "sex position," fosters little more than the "exercise" of reproducing the self.
The exhibition is generously supported by Galeria Jaqueline Martins, São Paulo.
Flash Art NY Desk / Film Center
630 9th Ave (Btw 44th and 45th St.)
Suite 403
New York, NY 10036
T : (646) 682-7268
Thu – Sat, noon – 6 pm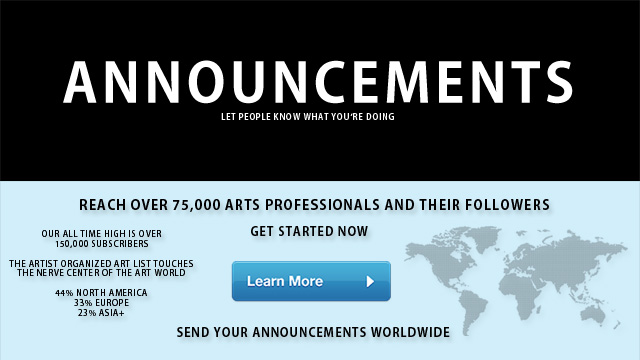 ARTIST ORGANIZED ART
Each Announcement Now Comes With An Inclusion In Our Newsletter Or Social Networks At No Additional Cost
Let people know what you're doing. Our low cost announcements reach over 75,000 arts professionals and their followers. Get started sending announcements about exhibitions, book launches, crowdfunding campaigns, concerts, broadcasts and more. Our all time high is over 150,000 subscribers. Our qualified list touches the nerve center of the international art world. 44% North America, 33% Europe, 23% Asia+ and beyond. We can help turn your next release into a global fact at a fraction of the cost. We are a 501(c)(3) non-profit supporting artist organized media, events and cultural education. When you sponsor an announcement with us you support artists working in communities everywhere in the world. Learn More.

Artist Organized Art
243 5th Avenue, Suite 248, New York, NY 10016, USA
www.artistorganizedart.org
Contact us
Subscribe
Unsubscribe