Chicago: MiYeon Kwon & Prak-sis Project Space To Host Joshua Selman and Artist Organized Art
Artist Organized Art: What We Do
On December 26th at 12:30PM MiYeon Kwon and Chicago's Prak-sis / Gaci Project at 16 W. Ontario is pleased to host Joshua Selman and associates of Artist Organized Art to talk about Artist Organized Art's mission and some of its ongoing and past projects. From its roots in New York City's alternative art culture, such as Fluxus/Intermedia, Something Else Press, New Observations Magazine, The International Artists Museum and the Lance Fung & Emily Harvey Galleries, to its ongoing support of artist organized media, events and cultural education, the 501(c)3 engages with artist organizers in and out of spaces around the world. Over four years ago Artist Organized Art identified MiYeon Kwon, who Founded Prak-sis, as an especially promising artist organizer developing in the Chicago area. For the first time an artist meeting between both organizations will take place in celebration of the new Prak-sis / Gaci Project space at 16 W. Ontario, Chicago, Illinois.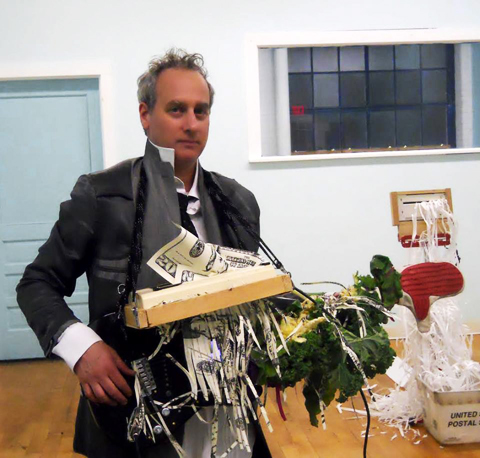 Joshua Selman of Artist Organized Art performing "Full Message"
Western Mass, 2013
Joshua Selman is an artist, composer and graduate of Yale University with a Master of Music Composition whose intermedia practice combines public space intervention, large-scale installation, cultural-strategy and critical journalism. His sound work is included on Westdeutscher Rundfunk, Cologne, Germany. He's also known for performance works and objects with unique virality. Some were included in a Whitney Museum Ray Johnson retrospective. Other collaborations are with Fluxus founders Alison Knowles and late intermedia theorist Dick Higgins. He first exhibited as an intermedia artist at the SOHO NY Fluxus venue, Emily Harvey Gallery. His participation in several artist organized biennials known as Construction in Process led to a post as Executive Director of The International Artists Museum, New York Center. He's also documented as a commercial innovator in social networks, by Wired Online in 2004, and referenced in a Facebook patent. In 2003, he launched the online space Artist Organized Art. In 2007, as President, he established Artist Organized Art, a new media based arts organization, as a tax-exempt 501(c)3. In late 2008 he guided Artist Organized Art to acquire New Observations LTD, publisher of New Observations Magazine, with a mandate to relaunch the seminal arts publication. He has gained long term support for the organization from Google Inc. His networked activities now include thousands of artists in the Americas, Europe, Asia and beyond. Residencies include South Korea, Germany, Australia, Canada, the USA and soon China. His works in Performa, on the High Line, other appearances and interviews are documented in print, on the web and on television.
Artist Organized Art, Inc. was formed in 2007 exclusively for literary, educational and charitable purposes. Specifically, Artist Organized Art, Inc. operates under the premise that when artists themselves organize the community of art practice, new and relevant advances in art history occur. Originally founded as a web project in 2003 by Joshua Selman (formerly an Executive Director of The International Artists Museum, New York Center, Inc.) and rooted in the legacy of self organizing communities of artists such as the Fluxus, The International Artists Museum and others, Artist Organized Art, Inc. exists to help thousands of artists voice their contributions to the fields of art history and art criticism while supporting them as artist-organizers working independently of museums and galleries.
Whereas currently the art world is dominated by an art market which requires a great deal of sophistication on the part of the wider community, through the open access attributes of Artist Organized Art, Inc. many artists can engage their wider communities of artists and the general public on a literary, educational and cultural level directly, without intermediaries. The result is the growing acceptance of artist organized art as a vital category of art practice and cultural exchange.
Today, Artist Organized Art non-profit works with artists & institutions to support artist organized media, events & cultural education by strategic, collaborative & financial means. As a 501(c)(3) tax-exempt organization it provides strategic support to artists and organizations working in & benefiting communities everywhere in the world. Its current following has an all time high of over 150,000 subscribers. Email announcements reach 75,000+ global arts professionals & their followers: 44% North America, 33% Europe, 23% Asia and beyond. Artist Organized Art is advised by, followed by & supported by many independent artists, organizers, curators, historians and institutions, including founding members of Fluxus, members of the International Artists Museum and the publishers of New Observations Magazine.
Prak-sis Contemporary Art Association (Praksis CAA) and Geon-Art Case International (GACI) Project offer a cozy fine art gallery just north of Chicago downtown. The space welcomes Chicago's local community and visitors by providing memorable art experiences and showing stunning art.
GACI Project works with many different artists from nascent to experienced emphasizing the development of their brands as well as enhancing their art careers under director, Mi-yeon (Gwon) Kwon. At G-Art Case, particular attention is paid to solo projects and to representing artists' works on a smaller scale in a gallery for art lovers and collectors.
GACI Project is created by Prak-sis Contemporary Art Association which is a non-profit organization emphasizing art career development and art education. Prak-sis Contemporary Art Association was founded in January 2009 as a not for profit art organization. Prak-sis is a dynamic art experience, migrating to diverse locations across the cityscape. For projects since the Fall of 2010, Prak-sis has worked with small businesses and neighborhood support organizations for mutual benefit. With technology flooding our modern lives, we seek to promote art in new media as well as traditional art forms. Prak-sis continues to further develop and focus on online projects as we organize physical art exhibitions, bridging the gap between new technologies and traditional artistic practices.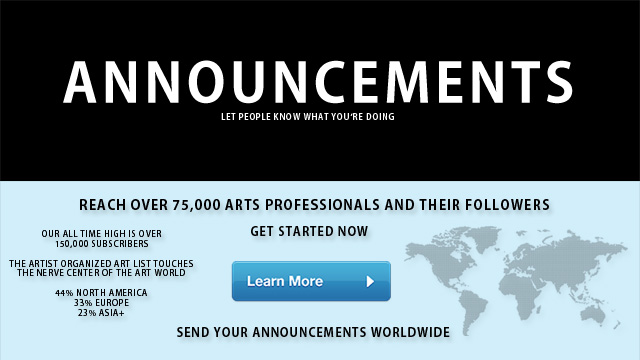 ARTIST ORGANIZED ART
Each Announcement Now Comes With An Inclusion In Our Newsletter Or Social Networks At No Additional Cost
Let people know what you're doing. Our low cost announcements reach over 75,000 arts professionals and their followers. Get started sending announcements about exhibitions, book launches, crowdfunding campaigns, concerts, broadcasts and more. Our all time high is over 150,000 subscribers. Our qualified list touches the nerve center of the international art world. 44% North America, 33% Europe, 23% Asia+ and beyond. We can help turn your next release into a global fact at a fraction of the cost. We are a 501(c)(3) non-profit supporting artist organized media, events and cultural education. When you sponsor an announcement with us you support artists working in communities everywhere in the world. Learn More.

Artist Organized Art
243 5th Avenue, Suite 248, New York, NY 10016, USA
www.artistorganizedart.org
Contact us
Subscribe
Unsubscribe