THE NORTHAMPTON ARTS COUNCIL ANNOUNCES ArtsEZ 2015 GRANTS

The Northampton Arts Council has set a May 1st, 2015 deadline for applications from organizations, schools and individuals for grants that support artistic activities in the local community. According to Arts Council Director Brian Foote, ArtsEZ 2015 Spring Grants can support a variety of artistic projects and activities in Northampton, Florence, and Leeds, including exhibits, writings, festivals, performances, workshops and lectures that take place July 1, 2015 through June 30, 2016.

This year, the Northampton Arts Council will distribute up to $15,000 in grant monies. Previously funded projects include: $750 to the Northampton Jazz Festival. $650 to Northampton High School for "The Skin of Our Teeth." $500 to Wire Monkey Dance for "Embryolo." $500 to Ray Hannah for "The Making of Florence Village, Storied by Village Residents."

Applications must be completed online at http://application.northamptonartscouncil.org/.
Please do not submit paper applications.

For potential applicants looking for advice on the application process The Northampton Arts Council will hold a question and answer session at the City Hall Hearing Room on the second floor of City Hall 210 Main Street Northampton, MA 01060 on Tuesday April 14th from 4:00 PM – 6:00 PM.

Founded in 1980, the Northampton Arts Council has an all-volunteer board, appointed by the Mayor, and staff, consisting of one director, one part-time events producer, and one student intern. The Northampton Arts Council was the first cultural council in the Commonwealth to raise money for a second round of funding every spring. The ArtsEZ Spring Grant round is made possible by two major fundraising events produced by the Northampton Arts Council: Transperformance, an end-of-summer concert at Look Park held every third week in August, and the Four Sundays in February series which includes events such as the Silver Chord Bowl and the Really Big Gong Show. The Northampton Arts Council works to support and nurture the arts in the city of Northampton by funding, promoting and presenting high-quality, community-based arts programming for the benefit of artists, residents and visitors, initiating public art projects, and by seeking to improve public awareness of the arts.

For specific ArtsEZ 2015 guidelines and complete information on the Northampton Arts Council please visit http://www.northamptonartscouncil.org/p/grants or contact Brian Foote at (413) 587-1269/arts@northamptonma.gov.
Copyright © 2015 Northampton Arts Council Inc, All rights reserved.
You are receiving this email because you wanted to know about the Northampton Arts Council and opted in on our website, bought a ticket online, or received correspondence from us electronically.
Our mailing address is:
Northampton Arts Council Inc
240 Main Street
Memorial Hall #5
Northampton, MA 01060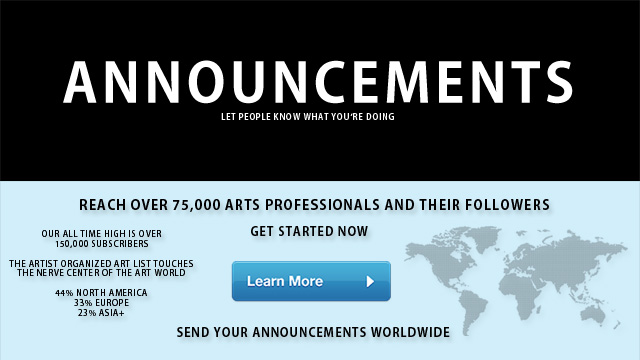 ARTIST ORGANIZED ART
Each Announcement Now Comes With An Inclusion In Our Newsletter Or Social Networks At No Additional Cost
Let people know what you're doing. Our low cost announcements reach over 75,000 arts professionals and their followers. Get started sending announcements about exhibitions, book launches, crowdfunding campaigns, concerts, broadcasts and more. Our all time high is over 150,000 subscribers. Our qualified list touches the nerve center of the international art world. 44% North America, 33% Europe, 23% Asia+ and beyond. We can help turn your next release into a global fact at a fraction of the cost. We are a 501(c)(3) non-profit supporting artist organized media, events and cultural education. When you sponsor an announcement with us you support artists working in communities everywhere in the world. Learn More.

Artist Organized Art
243 5th Avenue, Suite 248, New York, NY 10016, USA
www.artistorganizedart.org
Contact us
Subscribe
Unsubscribe