OPEN CALL FOR ARTISTS
7 solo exhibitions in Amsterdam
6 solo exhibitions in Madrid
and 4 solo exhibitions in Milan


T.I.N.A. is an International platform that allows artists to get in touch with a network of galleries and curators interested in evaluating new projects. T.I.N.A. is open to all artists, regardless of age, technique and nationality.
OPEN CALL FOR EXHIBITIONS IN
AMSTERDAM - MADRID - MILAN
Enrolled artists will interact with an international team of curators, every edition different and constantly growing, and with galleries composing the jury sorted by city. Each gallery will evaluate the work of all participating artists; will choose its favourites and nominate a winner to organize a solo exhibition. Each gallery will appoint one winner. In the current edition we will appoint 17 winners of:

7 solo exhibitions in Amsterdam, 6 solo exhibitions in Madrid and 4 solo exhibitions in Milan.


The basic subscription to T.I.N.A. Prize costs 35 euro and includes the registration to one city with one image. Your registration will last 12 months from today and will allow you to enter all cities of the network at only 15 euro each all year round. Each season our net proposes a new open call in three different cities.
Oker
Fontrodrona Artspace
Home of Art
Kulter
NDSM Treehouse
The Bookstore Foundation
Mixtup
Combustion Espontanea Art Gallery
Factoria de Arte y Desarollo
Galeria Dionis Benessar
Galeria Juca Claret
Modus operandi
Quinta del Sordo
Galleria Bianconi
Galleria Giovanni Bonelli
Maurizio Caldirola Arte Contemporanea
Galleria Giuseppe Pero
For any inquiries please contact info@tinaprize.com. We speak English, Italian and Spanish and will be glad to help you!
Copyright © 2015 Associazione Radar, All rights reserved.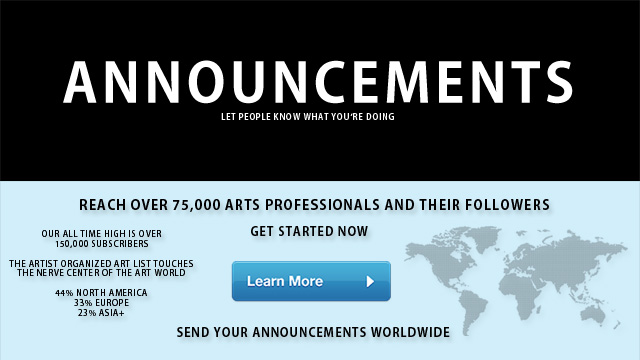 ARTIST ORGANIZED ART
Each Announcement Now Comes With An Inclusion In Our Newsletter Or Social Networks At No Additional Cost
Let people know what you're doing. Our low cost announcements reach over 75,000 arts professionals and their followers. Get started sending announcements about exhibitions, book launches, crowdfunding campaigns, concerts, broadcasts and more. Our all time high is over 150,000 subscribers. Our qualified list touches the nerve center of the international art world. 44% North America, 33% Europe, 23% Asia+ and beyond. We can help turn your next release into a global fact at a fraction of the cost. We are a 501(c)(3) non-profit supporting artist organized media, events and cultural education. When you sponsor an announcement with us you support artists working in communities everywhere in the world. Learn More.

Artist Organized Art
243 5th Avenue, Suite 248, New York, NY 10016, USA
www.artistorganizedart.org
Contact us
Subscribe
Unsubscribe