September 13th 2012
Re: Jaime Davidovich / Angie Eng / Gaia / Dick Higgins / And..
From: Artist Organized Art
To: The Subscriber Email Address
Subscribe | Unsubscribe | Join us on Facebook or Google+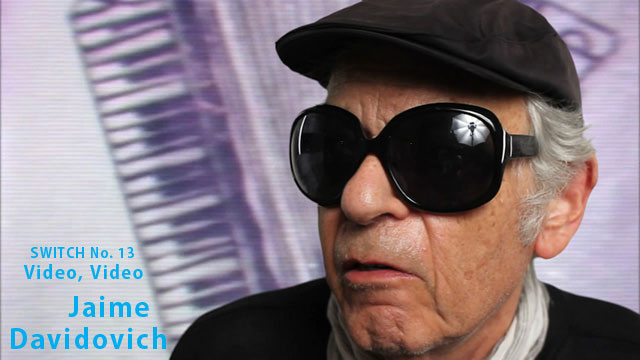 NEW YORK CITY
"Video, Video"
Jaime Davidovich
SWITCH Episode 13



30 Minutes With The Pioneer Of Public Access Television Reframes Youtube
When cable television emerged in the mid-1970s, Jaime Davidovich was one of the first artists to recognize its potential for the contemporary arts. In 1976 he helped establish Cable SoHo. A year later he established the Artists Television Network to encourage the dissemination of video art through a commercial broadcast medium under the name SoHo Television. A project of the Artists Television Network it was broadcast on Manhattan public-access television cable TV. Programming included video art, early music videos, performances and interviews with artists including Laurie Anderson, John Cage, and Richard Foreman among many others.
Jaime Davidovich is also known for The Live! Show, a weekly public-access television program with a variety show format that appropriated the formal norms of television along with avant-garde performances, artwork, political satire, and social commentary. He developed the character Dr. Videovich, a psychologist and specialist in television addiction. The show also featured commercials for Videokitsch, commercially produced items and art multiples.
"Video, Video" Episode 13 of SWITCH features Jaime Davidovich in a groundbreaking 30 minute non-stop interview backed up by a parade of rare footage from his own archive.
Watch it now: SWITCH/13/jaime_davidovich
About SWITCH: www.artistorganizedart.org/switchproject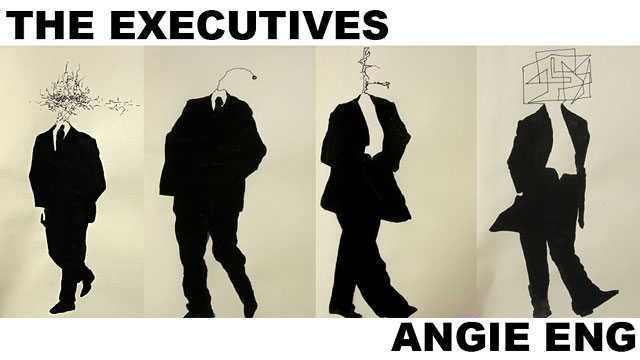 BERLIN
The Executives
Angie Eng
Gallery -Able
8 Sept – 8 Oct 2012
Angie Eng's first European solo exhibition presents a series of paintings and animations, The Executives at Gallery -Able in Berlin. Every decade has its celebrity type. Today it's the CEO. Eng approaches this subject with a Jungian and sociological eye. The executive is grouped as a power authority archetype reduced to a suit and tie. Eliminating the entire body, Eng redraws the psyche as thought patterns visualized by line and gesture. Also on view are her one-liner animations that expand upon her drawings to her preferred medium, moving images.
Located in the Neukölln district in Berlin, Gallery –Able promotes the work of artists from a wide range of contemporary culture and seeks to contribute to the development of cultural activities in the neighborhood. The space allows emerging artists to exhibit their work. Through art exhibitions, film screenings, performances, concerts, lectures, etc. the venue provides a wide range of cultural practices.
For more information contact: http://www.kultur-able.com | info@kultur-able.com
Galerie Able Hobrechtstraße 28 Berlin Neukölln
Angie Eng is a media artist who works in video, photography, installation and time-based video performance. Much of her video work draws inspiration from ancient rituals, mysticism and nomadic cultures. Her work has been performed and exhibited at the Whitney Museum at Philip Morris, Lincoln Center Video Festival, The Kitchen, New Museum of Contemporary Art, Renssalaer Polytechnic Institute, Eyebeam Art and Technology Center, Roulette Intermedium, Experimental Intermedia and Cité de la Musique. Her videos have been included in digital art festivals in local and international venues in Cuba, France, Greece, Japan, Holland, Germany, Former Yugoslavia and Canada. She has received numerous grants and commissions: New Museum of Radio and Performing Arts, Harvestworks, Art In General, Lower Manhattan Cultural Council, New York State Council on the Arts, Jerome Foundation and Experimental TV Center. She lives and works between New York and Paris.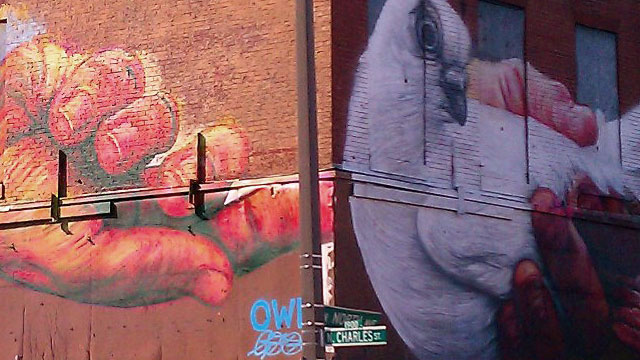 BALTIMORE
GAIA Commissioned
By Baltimore Museum Of Art
Nov 18, 2012 – May 5, 2013
When Baltimore Museum Of Art re-opens its contemporary galleries on November 18 it will include a commissioned work for the space by street artist Gaia. A temporary two-dimensional work will be installed in one of the new spaces of the BMA's contemporary wing. For this commission Gaia is inspired by the museum's iconic painting by Paul Gauguin, Woman of the Mango, and its adjacent Remington neighborhood.
Gaia, a Baltimore-based street artist, whose name stands for Earth Goddess, is known for using animal imagery to convey nature's voice in urban landscapes, often evoking a sense of mythical feedback as an omen from global warming. Other subjects include portraits of urban developers Nelson Rockefeller, Robert Moses, Henry Flagler, James Rouse, Le Corbusier and Mies van der Rohe. Gaia recently curated the multi-site mural project Open Walls Baltimore (OWB) which was scheduled to include fellow artists Maya Hayuk, Swoon, Chris Stain, MOMO, Freddy Sam, Jaz, Jetsonorama, Overunder, Vhils, Nanook, Mata Ruda, Specter, Interesni Kaski, Ever, Doodles, John Ahearn and Sten & Lex.
The carrier pigeon perched within a hand is an image that I have revisited many times in the past year. Much like the hybridized creatures I have produced in the past, this gesture displays a moment of domination and submission but also of steward and nature. Pigeons are beautiful creatures and one of the few that can tolerate the city. This print is a celebration of a dying urban sport and of an unsung animal." – Gaia
http://posterchildprints.com/Carrier-Pigeon/
Purchase Gaia's limited edition print "Carrier Pigeon."
Size 22 x 28 inches, Edition Limited Edition of 135, Materials: Three Color Hand Pulled Silk Screen on Coventry Rag, 100% Cotton Archival Paper
http://www.artbma.org/reopens_with_gaia.pdf
More information from Baltimore Museum Of Art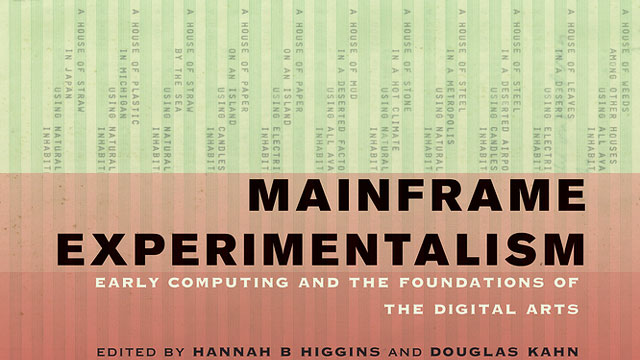 Book Launch: 9/25 (Tuesday) 5PM – UIC, Gallery 400 (400 South Peoria.) The book co-edited by Hannah Higgins and Douglas Kahn; Mainframe Experimentalism: Early Computing and the Foundations of the Digital Arts (UCal Press, 2012)
CHICAGO
DICK HIGGINS
Thousand Symphonies
Fulcrum Point New Music at the
Graham Foundation, 4 West Burton Place,
Chicago IL
Sept 18 7PM
Chicago Timeline:
September 18 (Tuesday):
Founding Fluxus Artist Dick Higgins's Thousand Symphonies will be performed by Fulcrum Point New Music at the Graham Foundation at 4 West Burton Place in Chicago at 7:00. This is the 50th anniversary of the score ('write a thousand symphonies') and of Fluxus, so the event is especially meaningful. Dick Higgins performed it first in 1968 by having a New Jersey police officer shoot up music paper, which was then played. Dennis Rosenthal arranged for Chicago police to shoot new sheets last week and Fulcrum Point's Stephen Burns is arranging a fabulous concert as its new instigator, composer, conductor.
September 20-23:
Dennis Rosenthal will feature Dick Higgins at the new Chicago Expo at Navy Pier. Swing by if you're in the neighborhood.
September 22 (Saturday):
Prof. Hannah Higgins, Daughter of Dick Higgins and the author of Fluxus Experience, speaks at Alexander Eisenschmidt's "Visionary Architectures" Symposium at the MCA.
September 25 (Tuesday), 5:00:
Australian academic Douglas Kahn will be speaking on "Conceptualism and Energy" at UIC, Gallery 400 (400 South Peoria) and after that Hannah Higgins will launch a book co-edited with Douglas Kahn titled Mainframe Experimentalism: Early Computing and the Foundations of the Digital Arts (UCal Press, 2012).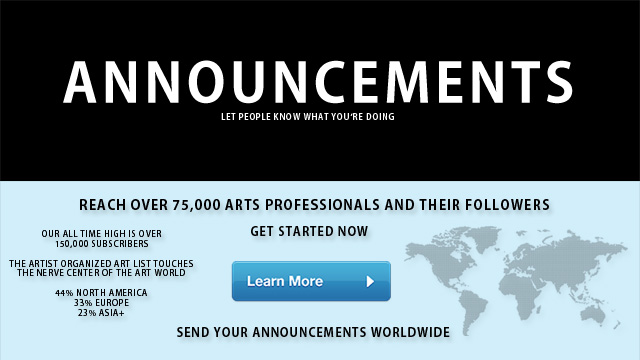 ARTIST ORGANIZED ART
Each Announcement Now Comes With An Inclusion In Our Newsletter At No Additional Cost
Let people know what you're doing. Our low cost announcements reach over 75,000 arts professionals and their followers. Get started sending announcements about exhibitions, book launches, crowdfunding campaigns, concerts, broadcasts and more. Our all time high is over 150,000 subscribers. Our qualified list touches the nerve center of the international art world. 44% North America, 33% Europe, 23% Asia+ and beyond. We can help turn your next release into a global fact at a fraction of the cost. We are a 501(c)(3) non-profit supporting artist organized media, events and cultural education. When you sponsor an announcement with us you support artists working in communities everywhere in the world. Learn More.