February 26th 2010
Re: AOA Acquires New Observations LTD In Historic Alliance
From: Artist Organized Art
To: The Subscriber Email Address
Subscribe | Unsubscribe | Join us on Facebook or Google+
Artist Organized Art Acquires New Observations in Historic Alliance; Strategic Options Advance for Thousands of Innovative Artists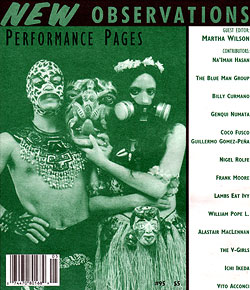 New Observations Magazine
Issue # 95, May/June,
1993 copies available at
Printed Matter
"Performance Pages"
guest edited by Martha Wilson
Contributors: Na'Imah Hasan, The Blue Man Group, Billy Curmano, Genqui Numata, Coco Fusco, Guillermo Gomez-Penña, Nigel Rolfe, Frank Moore, Lambs Eat Ivy, William Pope L., Alastair MacLennan, The V-Girls, Ichi Ikeda,
Vito Acconci
---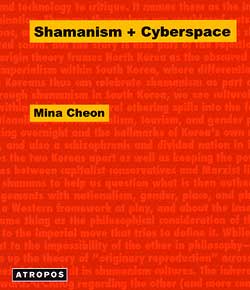 by Mina Cheon
Atropos Press
"Rereads new media theory and shamanism itself, specifically in South Korea. Perhaps most radically, it proposes a new theory of "media mourning" to help us see and hear shamanism colliding with contemporary media art worlds, collapsing time and space, updending gender and racial categories, and confounding the boundaries between East and West."
---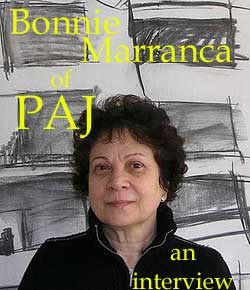 Artist Organized Art Interviews
Bonnie Marranca
Founder, Publisher and Editor:
PAJ: A Journal of Performance and Art
"When we started the journal, what constituted theatre or performance was rather a small world considering where the notion of performance went in thirty years."
---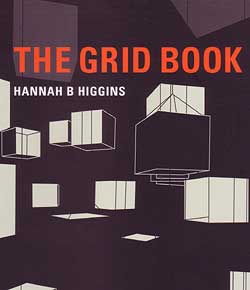 by Hannah Higgins
The MIT Press
"Hannah Higgins's new book on grids is a confident synthesis of art, architecture, geography, geomety, urbanism, and social history. Its elegant prose and easy erudition recall the work of Lewis Mumford; its intellectual energy and subtle humor, the writing of Roland Barthes."
Stephen F. Eisenman, Professor of Art History, Northwestern University
NEW YORK, Feb. 18 — Artist Organized Art (AOA) and New Observations LTD (NOBS) announced today the two organizations will combine their activities in a leap forward for artist organized media, the voice of thousands of innovative artists. Artist Organized Art, a Massachusetts 501(c)3 Non-Profit acquired New Observations LTD a New York State 501(c)3 Non-Profit as a wholly owned free standing subsidiary in the fourth quarter of 2009. The new relationship will allow the organizations to secure increased arts funding from Federal sources, multiple State sources, the private sector and their combined communities of support. Artist Organized Art, Inc. was formed in 2007 with a mission to support artist organized media, events and cultural education and provides strategic and logistical support to artists working in diverse communities. New Observations LTD is Publisher of the seminal New Observations Magazine launched in New York City in 1984. The publication holds 128 back issues spanning 20 years, each guest-edited by a chosen artist leading or emerging in the field.
Based in Massachusetts, Artist Organized Art is a nonprofit organization advancing artist organizers as drivers of creative capital and has led a global independent support campaign since 2003. New Observations LTD, headquartered in New York City, is one of the world's most influential publishers of artist organized media. Having emerged from the critical first half of the 1980's, New Observations Magazine maintains a direct connection between artists and the readership, enriching the dialogue between the arts and the public.
"This alliance is of great importance for artists throughout the world," says Joshua Selman, President of Artist Organized Art. "Through our shared strengths we can now do more to increase support of artist organized art as a category of art making. We can now help more artists increase quality of life benefits in more ways for more communities."
According to Diane Karp, Former President, New Observations LTD, "Aligning with Artist Organized Art gives New Observations a new opportunity to present the ideas and art that make a difference in the world. As a publication that honors the artist's voice, presenting perspectives on contemporary art and writing from diverse corners of the creative community as well as the mainstream, it will continue to bring the most innovative art and ideas to a growing public."
Founder, Lucio Pozzi, adds "As the Founder of New Observations Magazine, a publication which has advanced the arts for over 20 years, I am pleased that this alliance will allow it to reflect even more the life of art unfettered" Karp and Pozzi will remain on the Executive Board of NOBS.
Artist organizers and artist communities are critical drivers of innovation in the arts, design, technology and culture. Indeed, contemporary art has been one of the more stable ventures during the Great Recession. However, in recent years non-profit independent arts have dwindled while private and institutionalized arts have flourished. Whether caused by restrictions to the National Endowment For The Arts in the U.S.A., or through various forms of globalization, support for the artist organizer, the driver of art history itself, has declined throughout the world.
The two organizations stem from common roots and recognize the importance of combining their strategic efforts to magnify support for artist organized media, events and cultural education. The ownership change of New Observations LTD, to become a wholly owned free standing subsidiary of Artist Organized Art, Inc. was a unanimous decision by the Board of New Observations LTD and was carefully guided on the part of Artist Organized Art, Inc. by their legal counsel, the Boston office of DLA Piper LLP (US). The acquisition was in effect as of November of 2009. In the current structure New Observations LTD will continue with the same name, independent operations and will complement Artist Organized Art, Inc.'s global operations. The synergy has already met with an outpouring of artist, corporate and celebrity support.
New Observations LTD will continue to have an independent Board and its own advisory body made up of local and international leaders who live in or frequent New York City and New York State and will maintain it's headquarters in New York City. The publication will continue to work with artists and partners all over the world. Copies of the 128 back issues, though in short supply, are still available through Printed Matter of NYC and online at http://www.printedmatter.org.
Erika T. Knerr, who served for 10 years as Art Director for New Observations Magazine and went on to work as a Designer for Fortune Magazine serves on the Executive Board of Artist Organized Art. She has now been made President of New Observations LTD and says "I couldn't say it better than this phrase by Diane, our mandate is to address the arts from the inside out. We have published 128 extraordinary issues on topics that artists choose. Every issue was coordinated by a guest editor who proposed a topic and invited others to add their unique views on it." According to Ms. Knerr a Twenty Year Anthology of New Observations Magazine is planned for publication. Additional information is available at http://www.newobs.org
More information about the acquisition will be available at http://corp.artistorganizedart.org
Artist Organized Art is a leading nonprofit charitable organization enriching the lives of artists, organizers and the public through artist organized media, events and cultural education. Available to millions of digital media households, Artist Organized Art brings a trusted resource to local communities across a multicultural and diverse society. The company has received copious donations of best of breed legal support from DLA Piper, Boston. Additionally, Artist Organized Art is a recent Google Grant recipient. More information is available at http://corp.artistorganizedart.org
Source: Artist Organized Art